With a population of well over 300,000 residents, Aurora CO is a pretty booming city that has quite a bit going for itself. Although those who are not from the area may not know much about the city, Aurora is a diverse places that is home to people from all sorts of backgrounds. The city also has a rich history that dates back to the 1800s, and Aurora has continued to grow in large numbers over the years. But while the city's past is certainly impressive, its present isn't any less incredible. Although Aurora isn't likely on many people's lists of places they'd like to visit, the city has a lot of interesting activities and places to see. If you ever find yourself in the area, you can rest assured that you won't have trouble finding something to do. Here are five cool places to visit in Aurora CO.
Plains Conservation Center
If you love leaning, but can't stand the thought of sitting in a classroom or walking through a traditional museum, you'll definitely enjoy the Plains Conversation Center. Located on a state-designated area in Aurora, the center is an outdoor learning facility that consists of thousands of acres of land. Guests who visit the Plains Conservation Center can tour the land and see various structures including tipis.
image via goco.org
Arapahoe Park
If you've ever wanted to experience a live horse race, then Arapahoe Park is the place to be. Although horse racing is most commonly associated with gambling, Arapahoe Park is a surpassingly family friendly place where people of all ages can get together and enjoy a classic sporting event. The park is home to dozens of races every year, and many local fans take great pride in attending the events.
image via www.mihiracing.com
Southlands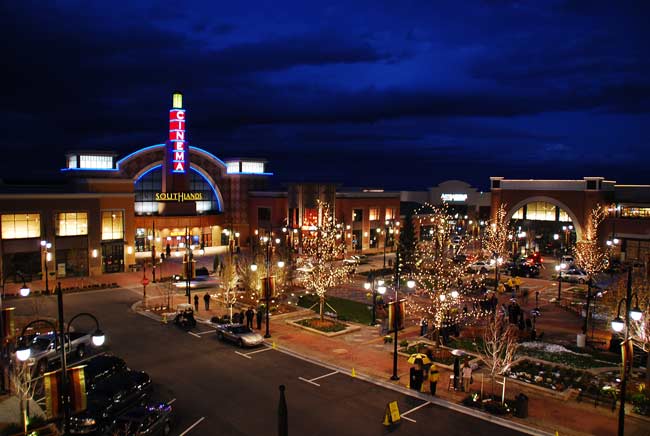 Let' s be real, no trip to any well-known city is complete without taking some time to look at the local shops. Of course, shopping is one of those things that is generally the same no matter where you go, but that never stops people from wanting to explore the local hot spots for consumers. Well, if you're the kind of person who likes to shop until you drop, a trip to Southlands Mall is definitely in order. The mall was opened in 2005, and features "a unique design incorporating a "Main Street" of shops and smaller eateries, surrounded by larger stores near the perimeter of the center." Southlands is home to several well-known stores including JC Penney, Best Buy, and Barnes & Noble.
image via www.jkdesigngroup.com
Cherry Creek State Park
When the weather is nice, there's nothing better than spending some time outside. Whether you're looking for a quiet place to spend the day, or trying to find some outdoor activities that the whole family can enjoy, Cherry Creek State Park will not disappoint. Opened in 1959, Cherry Creek State Park provides plenty of space for people who are looking to enjoy a beautiful day. The park, which is made up of more than 3,300 acres of land, boasts space for several different activities including, fishing, camping, and hiking.
image via www.doggoes.com
The Aurora Fox
If you're ever in Aurora CO, you better hope you're lucky enough to catch a show at The Aurora Fox. Dubbed a local "historic landmark" this performing arts center has more than half a century of history to its name. The nearly 300 seat facility is home to the Aurora Fox Theater Company and the venue prides itself on being able to give guests quality performances in an intimate environment.
image via yelp.com
lead image via entertainmentguide.local.com