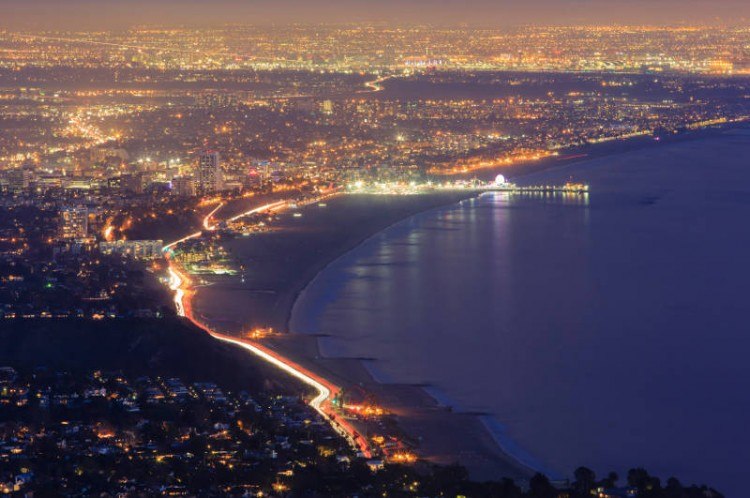 Located next to the famous city if L.A. Santa Monica CA has become a very popular place for people looking to experience the Golden State. With a great location, great weather, and beautiful beaches, it's easy to see why everyone loves Santa Monica. After all, it's pretty hard not to love a place that resembles paradise on earth. Well what better way to spend your time in paradise than to spend your days outside soaking up the sun? With so many beautiful places to hang out in Santa Monica, it can be difficult to narrow your options down. Well, picking the perfect place just got a whole lot easier. Here are five awesome outdoor activities in Santa Monica CA.
Pacific Park
The only thing better than spending your day at an awesome amusement park, is spending your day at an awesome amusement park on the beach. If you're the thrill seeking type, then there's no way you'll want to miss out on a chance to visit Pacific Park. Located on the Santa Monica Pier, Pacific Park has become a popular place for Santa Monica residents and tourists alike. In fact, Pacific Park is so popular that it's made appearances in several movies and TV shows including Hannah Montana and Beverly Hills, 90210.
image via greatworkperks.com
Palisades Park
If riding rollercoasters by the beach isn't your thing, don't worry, there are plenty of other ways to enjoy the beautiful weather in Santa Monica. Palisades Park, with more than 26 acres of land, is a nature lover's dream, and the park boasts awesome views of the Pacific Ocean. Aside from that, the park is also home to several varieties of trees, picnic areas, and a rose garden.
image via disneyhub.blogspot.com
Santa Monica Looff Hippodrome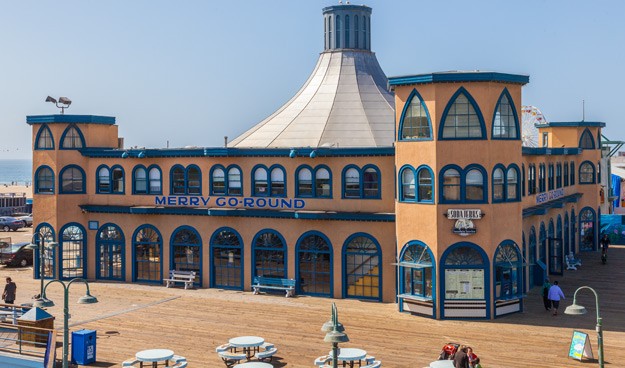 Okay, so this isn't technically outdoors, but it's close enough. Located near the Santa Monica Piece, the Looff Hippodrome is a historic location that dates back to the early 1900s. Originally opened as an amusement park, the Hippodrome has changed over time and is now home to  a carousel. Although the Looff Hippodrome has faced destruction several times over the years, it was officially added to the National Register of Historic Places in 1987.
image via www.smconservancy.org
Muscle Beach
When you think of Santa Monica, one of the first thing that probably pop into your head is Muscle Beach. This now infamous beach was founded in 1934 when it instantly become the heart of the physical fitness movement in the United States. Originally, the beach boasted gymnastics style equipment and countless beach goers jumped at the opportunity to flex their muscles. These days, Muscle Beach has become an extremely popular attraction for people who are looking to experience a classic part of Santa Monica's history while also testing out their strength.
image via www.skatelogforum.com
Santa Monica Pier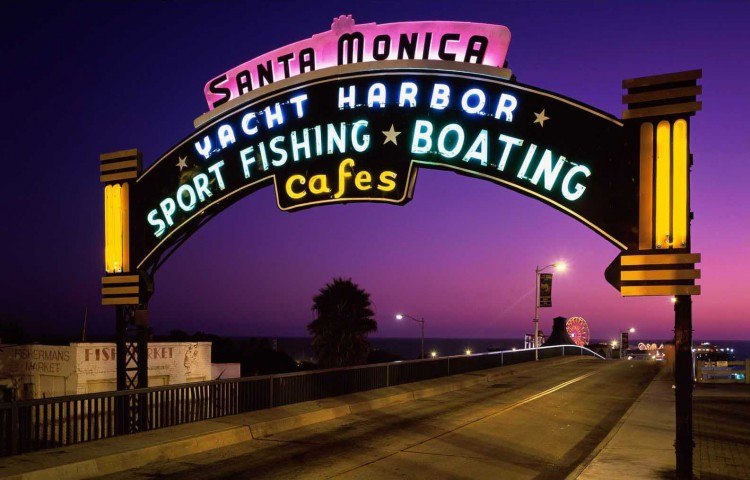 The Santa Monica Pier is easily one of the most popular attractions in Santa Monica. Opened in 1909, the pier has become a landmark and is home to several attractions including the Palisades Park and the Santa Monica Pier Aquarium. Aside from being a well-known tourist attraction, the Pier has also been used to film several movies including Forrest Gump, Titanic, and Not Another Teen Movie. 
image via hdontap.com
lead image via www.apartmentratings.com