What constitutes "weird" when it comes to a particular city in the United States? Well, if you ask the people that read and write for Travel & Leisure, it seems being one of the most famous cities in the country constitutes weird (can someone explain to us how Aspen and Sonoma made their list of weirdest cities in the country, please?). If you ask me, it's all towns in dry counties (because that's weird) or places with strange names. But it seems that there are a number of factors that make a city or town weird, and we have a few for you to enjoy. They may or may not be the weirdest cities in the United States depending on your own personal preferences, but it is entertaining to see what makes a location weird to others.
Photos by Getty Images
Marfa, Texas
Prada made Marfa famous when it opened its doors in 2005. This tiny store in the middle of literally absolutely nowhere is not even remotely there for a reason, but people love it. They love it so much, in fact, that there is a Prada Marfa sign that went totally crazy when the hit show "Gossip Girl" aired and we saw the Prada Marfa sign in the hallway of Lily Van Der Woodsen and the people of the world went totally crazy.
Photos by Getty Images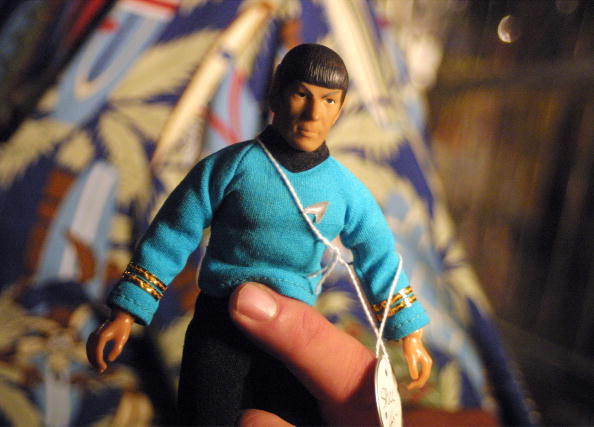 Riverside, Iowa
It's the city in which Captain Kirk will eventually be born. It's still a while away and we will not live long enough to see it happen, but you know what we mean. This is the little town in which he will be welcomed in 2228 when his parents give birth to him. So it's kind of famous for that weird fact; people really believe it's something special and that Star Trek is real. Okay, we get it; they're fans.
Photos by Getty Images
Scottsboro, Alabama
If you ever lose your luggage flying, it goes here. When it's been unclaimed for a certain amount of time, it goes for sale to people who want your things. We have to say that this might just be the best or the worst place to ever go shopping. I mean, if my luggage were lost, the people of the world would be given an amazing selection of Tory Burch shoes, Louis Vuitton handbags and Jimmy Choo stilettos based on how I pack when I travel. I might actually have to go here.
Photos by Getty Images
Oak Ridge, Tennessee
This is known as the atomic city. It is the location where the federal government bought a large plot of land many years ago and built a secret city in which they housed the Manhattan project. It was a long time before people realized that there was a city here, and it was called the atomic city. It's still there, and it's even a place people visit on a fairly regular basis thanks to the sheer curiosity that the project housed here as well as the circumstances surrounding it provide.
Photos by Getty Images
Punxsutawney, PA
This is the home of the world's most famous groundhog, who famously heads out every year on his famous day and lets the world know if winter is ending or not. I mean, it's always ending at some point, but people go crazy for the yearly ritual in which the most famous people in the city, as well as the media from all over the country, show up to see what an animal has to say or do depending on how much – if any – of his shadow he sees when he's brought out of his home.
Photos by Getty Images
Thurmond, West Virginia
All you have here is an abundance of abandoned railroad stations and a completely empty downtown. And what else you have here is a place in which tourists stop all the time to take in the creepy location, the abandoned buildings and the strange area in general. People that like to be scared are happy to stop here and embrace the creepiness of the area, but that's not what's the weirdest part about this town. The weirdest part about this town is the fact that it's filled with 7 residents, 6 of which are looking to run for town office.
Photos by Getty Images
Terlingua, Texas
It's a town that's been completely abandoned, and that's weird. But what is weirder is that people from all over the area head this way on the same day every single year to host a giant cookout in the abandoned town in which people celebrate who even knows what while having a grand old time. Because, you know, there are not enough places to host a party like this where they actually live, in houses and with occupied businesses and things of that nature.
Photos by Getty Images
North Brother Island, New York
Right in the middle of river and in the middle of the city, there is an island that's been all but abandoned. No, scratch that; it's been completely abandoned. This island is completely dilapidated these days, though it once housed a famous hospital and some seriously interesting people. In fact, many of the people held here at the hospital were held against their will, including the famous Typhoid Mary, who was a cook accused of spreading this deadly disease around the country and killing hundreds.
Photos by Getty Images
Nameless, Tennessee
It's a weird little town in that it's nameless. I mean, it has a name, but its name is Nameless. People will come from all over the place to take a picture with the sign as you enter this area. It is the kind of place you kind of don't believe really exists since no one has bothered to go ahead and name it just yet. That's all right, though, since so many people have made the decision to live and visit this small town anyway.
Photos by Getty Images
Cahawba, Alabama
This is a little town that was once the capital of the state. It did not take long, however, for the people that lived here to realize that the area was very prone to flooding. And by very prone, we mean that it might as well just be underwater all the time. The area was quickly abandoned and people left. The town is completely empty now, and it's got a level of creepy that is just unheard of in so many places.
Photos by Getty Images
Hell, Michigan
Aside from the fact that it has the weirdest name, ever, it's the kind of place that does celebrate some strange things. The town does not like to be associated with the devil or anything of that nature, but they do like to celebrate the town. There was that one time on 6-6-06 in which the city decided that they would take their time and go ahead and throw a big party to celebrate 6-6-6, even though they do not want to be associated with that kind of thing. That's weird to us, you know?
Photos by Getty Images
Centralia, Pennsylvania
When a coal mine beneath this little town caught on fire in the 1960s, the town had to be abandoned because of the toxic fumes being released into the air. It's still burning, even though it's been just over 53 years since the fire began. It's been estimated that the fire could continue to burn for another 250 years. The place is among the creepiest in the world, totally and completely abandoned, and pretty much everything has fallen apart.
Photos by Getty Images
Lily Dale, New York
What's weird about this town is numerous. For one, it's a gated community. That's not weird, you're probably thinking. And you're right; in general. What you've yet to realize is that Lily Dale is a gated community filled with psychics who like to head down to the local temple and cemetery to conduct their business and help you reach the dead. They make a serious business of this stuff here, and you can join in on their local events for just a few dollars a person if you are interested in what happens here; or you need to ask a deceased loved one a question.
Photos by Getty Images
Seattle Underground, Washington
It's not something you might see on a regular basis, but it's old Seattle and it's cool. Almost completely abandoned, this area is famously weird for its underground passageways and its strange instances. It's an area in which people go to see the cool underground system, but it makes it just a little bit weird and more than a little strange.
Photos by Getty Images
Gibsonton, Florida
I'm not going to lie; it's not too far from where I live. Gibsonton is well-known in these parts, even though it's a few hours from my home. It is where retired circus 'freaks' go to live when they are done with their career in the circus. The area might seem innocuous at first, but a few more glances will surely show you that this area is exactly what it sounds to be, and it will seriously creep you out in a way that a single circus does on a much grander scale.
Photos by Getty Images
Slab City, California
If you don't like laws and you feel a bit tired of the monotony of day-to-day life, you might this strange location to your liking. It's located in an old war barrack, and people here are really trying to live off the grid. There is no running water, but people do have RVs. Some show up just to see the area, and others come because they simply have no place else to go in the area. It's an interesting area with open-air nightclubs and even a president of its own.
Photos by Getty Images
Monowi, Nebraska
Everyone that lives in this small Nebraska town knows its most famous resident; Elsie Eiler. She's the mayor of the town. She's also the town's biggest fan, she's the most hated woman around, and she's the most loved woman around. She's actually the only woman around. She's actually the only resident of the town, and that makes her the only everything – both good and bad. If that's not enough to constitute weird, nothing is.
Photos by Getty Images
Roswell, New Mexico
It was the alleged landing of a UFO in this area back in the late 1940s that turned it into an alien-obsessed location. The people here are so obsessed with aliens that even McDonald's is shaped like a flying saucer. The town is very popular and brings in a number of visitors each year who are interested in seeing the area and what it has to offer in terms of supernatural and extraterrestrial behavior. It's an interesting location in which people have been visiting for decades.
Photos by Getty Images
Burnt Corn, Alabama
What makes this place weird, other than the fact that the name of this town is Burnt Corn, is the fact that it's the self-proclaimed best little community in the entire state. They like to say that someone knows everyone around here, and that's probably true. But what comes to mind when we hear this name is that this is place that smells a lot like the microwave after you forget that you put the popcorn in there for a few additional minutes. It's not pleasant.
Photos by Getty Images
New Orleans
You did not think we could have a list of weird towns in the United States without featuring New Orleans, did you? This is perhaps the strangest location in the country in terms of weird. The city embraces weird and uses it to make millions off of tourists each year. From voodoo spa treatments at the local Ritz-Carlton to witches and vampires and all things strange, including festivals in which people dress up to scare you, throw beads and make magic happen all around, there is nothing that you won't see in New Orleans.
Photos by Getty Images