Being robbed is not something that anyone ever wants to experience. Whether you are robbed in person, your car is broken into or your home is robbed, it's not a fun experience and no one should ever have to experience this type of unfortunate behavior thanks to those who cannot get their act together. Being robbed is scary. It can remove your sense of peace and your feeling of security, and it certainly does wonders to make you feel like you never want to do certain things or be in certain places again. While there are many things that contribute to your likelihood of being robbed, some cities across the US are just a target for robbery. Here are the 20 cities in which you are most likely to be robbed in some way.
Photo by Getty Images
Flint, Michigan
Not only is Flint one of the most dangerous cities in the country as far as violent crimes are concerned, it's one of the most prevalent cities in the world as far as robberies are concerned. There are a large number of car robberies, armed robberies, breaking and entering and even other types of robberies in the city. It's one with a high crime rate and a big drug problem, and that could mean a lot in terms of why there is so much violence here.
Photo by Getty Images
Detroit, Michigan
What was once a nice city with a lot to offer residents has become one with a high crime rate and a rapid deterioration over the past few years. The economic downturn was rough on this particular city. Many people lost their jobs and now many of those people are living well below the poverty line and struggling to make ends meet. This means that the robbery rates have increased and the crime has increased, and the feeling of safety here has decreased drastically.
Photo by Getty Images
St. Louis, Missouri
A lot of people love this city, and it is a lovely one. However, it's a major drug hub and it's got a lot of violent crime. Many of those violent crimes involve robbery. Though the statistics do not specify what type of violent robberies are more likely to occur here, the general thought is that many of them are drug related, whether it's rival drug dealers stealing from others or its people looking for a fix and in need of money to get it.
Photo by Getty Images
Oakland, California
Oakland has a bad drug problem and a violent crime problem. A great deal of the people that call this California city home do so with the knowledge that they will either be robbed or be involved in a robbery in some way. The robberies here are not always as violent as they are in other cities, but your chances of being robbed while here are a lot more prevalent than they are in other cities across the country.
Photo by Getty Images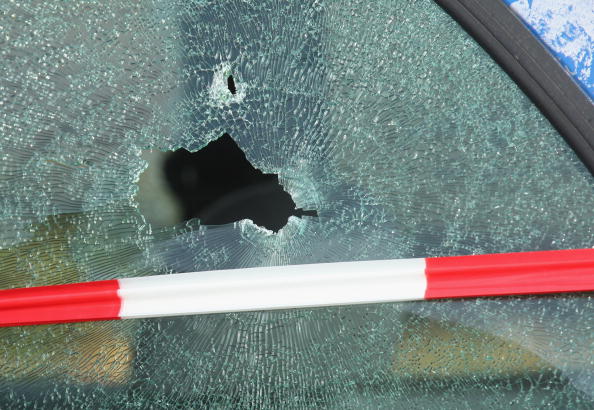 Memphis, Tennessee
It doesn't seem like it would be the type of place that would have a high crime rate, but Memphis is a dangerous city. There is a lot of drug usage here and there are a lot of robberies. In fact, it rates among the areas in the country with the highest crime rate, and it's not all that surprising when you consider how many people that live here are living well below the poverty line and in need of a way to make their families eat throughout the week.
Photo by Getty Images
Little Rock, Arkansas
Little Rock is the home of former President Bill Clinton, and it's a city in which the crime rate is quite high. The number of robberies to residents is staggering, and it's a little surprising given that it is the home of a former president and maybe even a future president of the country. However, that does not change the fact that hundreds of people are robbed here on a regular basis and that they are robbed in ways that are often quite violent.
Photo by Getty Images
Birmingham, Alabama
This is an area with a heavy drug problem. It's been known to get worse before it gets better in many places, and this is one of those places without a doubt. The number of people robbed here each year is often thought to have something to do with the number of drug deals that happen. And while not all the robberies here are as violent as they are in other cities, there are some that are actually more violent than others which makes it a dangerous place to spend any amount of time.
Photo by Getty Images
Atlanta, Georgia
Atlanta is long known as being a very crime-laden city, and robberies are among the top rated crime around here. This southern city meets a major interstate and makes it easy for drugs to travel through, which means that so many of the people who live here are involved in drugs in some way. This tends to increase the number of people involved in crimes, particularly when it comes to robberies and all that goes with that.
Photo by Getty Images
Baltimore, Maryland
Baltimore is a city that does not seem as if it would be a big criminal hub, but it is. There are so many people here who are heavily into a life of crime thanks to the fact that they are involved in drugs and out of work. Most of the robberies here are likely related the number of people in the area involved in the drug trade, and that's why it's such a big area for crime and for danger.
Photo by Getty Images
Stockton, California
Stockton is one of the worst cities in the entire state of California, and not just because of the crime rate. It has a high level of drug and gang-related activity, too. For this reason, many of the people who live here are often involved in crimes that are a bit too violent. Some of the robberies that occur here are a result of those looking to obtain money to trade for drugs and others are drug related in the form of gangs and dealers looking to put other gangs and dealers at a disadvantage.
Photo by Getty Images
Rockford, Illinois
What on earth could be wrong with Rockford, you ask? Well, it's an area with a dangerous reputation. There are more violent crimes – not particularly related to robbery every time – here than in most cities around the country. The job loss rate here is quite high. With so much of the population living well below the poverty line, it's not a shocking surprise that many would be involved in a life of crime, whether that is robbery or other violence and drugs.
Photo by Getty Images
Cleveland, Ohio
It was once a lovely, vibrant and flourishing city. Today, however, Cleveland manages to make its way onto some of the worst lists in the country. It's been on the most dangerous cities in the country list for several years now. The economic downturn of 2008 really did a number of this city, causing many businesses to close and many people to lose their jobs. They were forced into a life of poverty and many of the residents here took it upon themselves to become involved in crime, and the robbery rate has skyrocketed since.
Photo by Getty Images
New Haven, Connecticut
With a name so pretty, it seems that New Haven would be a place that's not so bad, but it's just not the truth. There is a small area around here in which the number of robberies that occur each year are so prevalent that the area tops the lists of most dangerous cities in the country. It seems that with a number of residents living below the poverty line, it makes it difficult for those who aren't living below this line to feel safe in this particular area.
Photo by Getty Images
Hartford, Connecticut
Much like New Haven, Hartford often tops lists of dangerous cities as far as crime is concerned. A lot of the crime that occurs here is violent, and many of those violent crimes involve robberies. Your best hope here is to stay out of neighborhoods that seem questionable, not to be alone and to never go anywhere walking or alone after dark. As far as being home, you should hope that you are not if a robber manages to get in.
Photo by Getty Images
Buffalo, New York
Buffalo is a city that was once a lot more upscale than it is now. It's been known to have become more of a place that has a bit more crime than invitation. The sad part is that this area of the state of New York is so lovely and has so much potential. Unfortunately, it's just not the kind of place that has the same kind of appeal that it had at one point. It's much more prevalent for crime now that it was in the past, most specifically crime that involves robberies.
Photo by Getty Images
Kansas City, Missouri
One of the biggest factors of Kansas City is the fact that it's the kind of place that has a lot of access to traffic ports, which is what makes it such a popular area for drugs. We don't know if you've noticed this yet, but it seems that drugs and the poverty rate have a lot in common, and this applies to crimes including but not limited robbery as well. This is an area that does have a lot of crime in terms of robberies, and that's why so many people are likely to get robbed here.
Photo by Getty Images
Miami, Florida
Miami is a hugely popular tourist destination, and it's also the kind of place that brings in a lot of people since it is such a beautiful area. And while the entire city is not prone to crime, there is a lot of crime here. People leave their beach bags and purses unattended. People are pick-pocketed on the streets and they are the victims of robbery thanks to the fact that there are just so many people in and out of the city thanks to tourism. Additionally, it's a high traffic area for drugs and violent crimes.
Photo by Getty Images
Philadelphia, Pennsylvania
Philly is supposed to be all about brotherly love, but it seems that more people than usual are involved in violent crimes, drug trafficking and robberies. There's a lot of question here as to the number of people living well below the poverty line, which tends to manifest itself into so many other issues, such as the fact that people are willing to rob others so that they can have what they want, or even just make ends meet for their families.
Photo by Getty Images
Nashville, Tennessee
Nashville is the Tennessee location in which all the superstars live, and it's a high-crime area. With a very high poverty rate and a bit of a drug problem, it's just one of those places that has some issues that many people do not want to bother with. There are a lot of robberies here, and it's been said that this has a lot to do with the fact that so many people are in need of cash to help get their families through the tough times they've been having as of late. This does not excuse the fact that crime occurs, but it does minimize the potential that crime will become violent, especially robberies.
Photo by Getty Images
Newark, New Jersey  
Newark; no one really thinks of Newark as the kind of place you want to go, and with good reason. The area is filled with crime, and robberies are just a handful of the crimes that occur here each year. Despite the fact that it's just a handful here, however, it's still a high number of robberies in comparison to other areas of the country, which is what makes this one of the most likely places for people to get robbed.
Photo by Getty Images