You've probably seen them on TV. Drew and Jonathan Scott, better known as "The Property Brothers" have a wildly successful Canadian reality show, hosted by HGTV, where the identical twins help home buyers purchase and renovate classic "fixer-uppers." They've got an excellent eye, a real talent for the work, and the results of their work always look spectacular. That's what you know. Of course, as is the case with most popular TV stars, there's a lot more to them than what you see on camera, and that's absolutely the case with this fun and energetic duo. They've got an amazing range of talent, only a fraction of which is captured and on display on the show you're probably most familiar with. Here then, are a number of fun facts you might not have known about them:
1) They've been in the real estate business for a long time. No, seriously. The twins actually got their start in the real estate game when they were just seventeen years old! They were in college at the time, found an older home and bought it (and yes, it was a fixer-upper, a lot like the homes they help families renovate on their show today). They made it beautiful, and flipped it for a tidy $50,000 profit. From that moment on, they were hooked, and the rest is television history.
2) There's actually a third Scott brother. Sure, the twins are the famous pair, but they've actually got an older brother named J.D. He works with them at Scott Brothers Entertainment, and he actually has his own show too. Hosted by the Great American Country network, it's called "All-American Amusement Parks." If you're a fan of amusement parks, and you like the two Scott brothers you already know, you should definitely check it out!
3) True Scotsmen – Their descendants are Scottish, and in fact, on their mother's side, they can trace their lineage all the way back to Robert the Bruce, who ruled Scotland in the fourteenth century. In celebration of that, both brothers learned to play the bagpipes, which is one of the most difficult musical instruments to play. Both played competitively growing up, and won awards for their skill with the instrument.
4) They actually live in Las Vegas. The Canadian Wonder Twins had been based in and around Vancouver, where they grew up, but during the Great Recession, they moved into the Vegas area, taking advantage of the lower prices during that time. They purchased a house in Vegas that they renovated and live in together when they're not shooting at various locations. Their older brother, J. D., also lives in the city, and their parents, who still live in Canada, come visit them regularly, as their schedules permit.
5) Wax On, Wax Off – Both brothers know karate. Not only that, but both have earned their second degree black belts.  After years of training these guys not only are masters in selling a home and repairing a home but if you happen to ever stay with one of them, either of them are the ultimate form of home protection.  Burglars would be wise to avoid whatever homes either of these two are sleeping in.
6) The Truth Is Out There – Sure, you know them from their work on "The Property Brothers," but did you know that both brothers have acted in other shows before? They have! Drew has appeared in an episode of the hit TV show, "Smallville," while Jonathan had a guest role on the X-files. Both brothers starred together on the Canadian TV series "Breaker High."  And frankly we wouldn't be surprised if they continue to act.  They've got the chops and looks to do it.
7) Johnathan is obsessed with stage magic and illusions. As a kid, whenever he would watch magicians like Siegfried and Roy or David Copperfield, he was able to puzzle out how the magicians performed their seemingly impossible illusions. He actually performed on stage in Vegas before the HGTV series began. When he's not working for the HGTV show, or his own production company, he actually designs illusions for professional magicians to use in their acts. If you've ever seen a magician perform in Vegas, where the brothers live, odds are that you've seen one of Jonathan's illusions.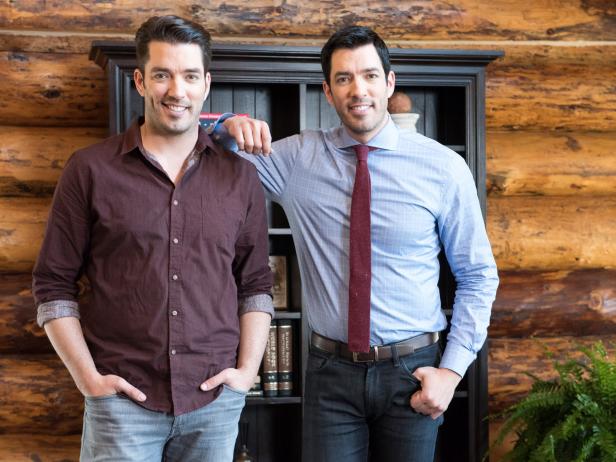 8) Flipping houses wasn't their first entrepreneurial venture. When they were just seven years old, their parents told them that they had to get jobs, so they started JAM Enterprises (which stands for Jon, Andrew, and Mom). Their very first product? Clothes hangers wrapped in woven nylon that featured a little rose on them. The brothers wound up selling thousands when they met up with a woman who owned a chain of stores in both the US and Japan, and wound up buying in bulk from them.
9) Most fans of the show know that Jonathan is divorced, but did you know that he was once offered a spot on the TV show, "The Bachelor?" He turned them down, not being overly interested in the notion of looking for love on national TV, and who can blame him?  Plus we're not exactly in the thought that Jon is going to have a hard time finding a lady given the popularity of the show.  Good for him for turning down The Bachelor.
10) They're both health food nuts. In fact, when they're on the road, local chefs will prepare their meals for them in advance so they can take them with them while they're shooting. That way, they've always got a steady supply of healthy, nutritious meals, and aren't tempted to the Dark Side by fast food.  This is especially solid given their rigorous schedules on television and in the field.  Best to stay in the best shape possible!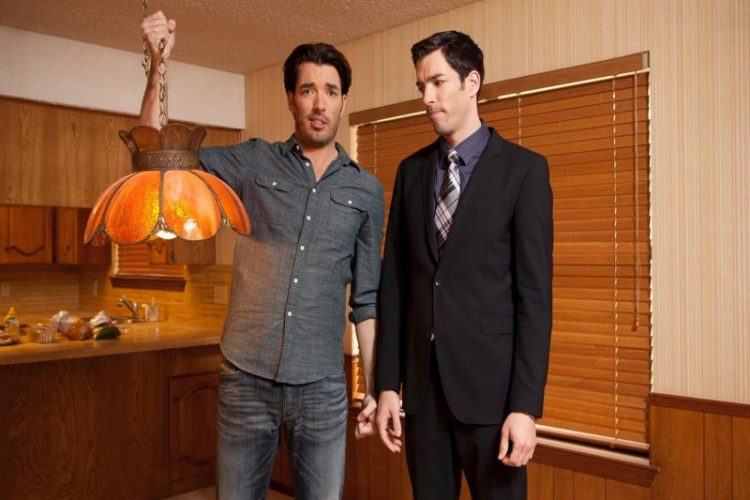 11) Not really sure you could call it a vice, but both Jonathan and Drew love haunted houses, and enjoy them at every opportunity. Can you imagine what these two could do if they put their minds toward the notion of making a haunted house? How spectacular would that be?  Even better, maybe these guys could host a show all about haunted houses and how they make them.   Who knows, maybe it's in the works already?
12) Sometimes it's hard, when watching a show on television, to gauge a person's true height, but the brothers are impressively tall, at a whopping 6'5" apiece.  This is definitely a rarity on television.  Most stars are relatively short but these two men definitely look down on their clients more so than they have to look up to them.  Most of their clothing is custom fit on each and every episode.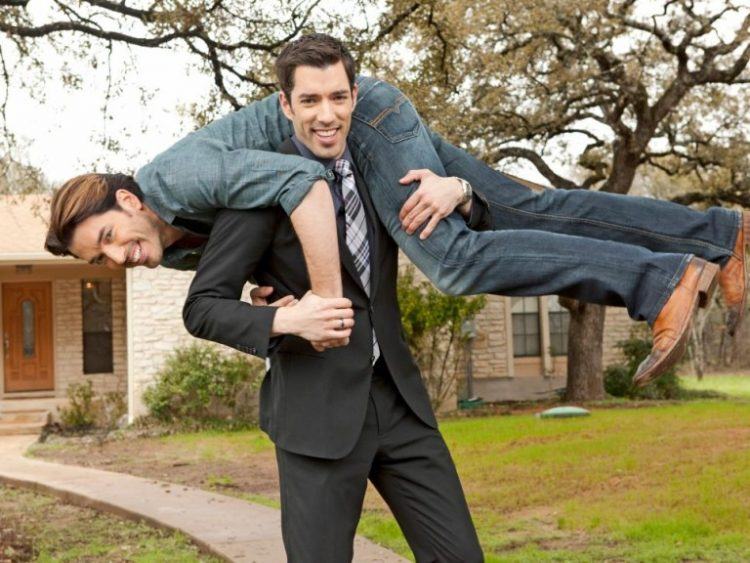 13) Jonathan was in a bar fight.  Yes, despite the fact that the brothers seem charming and nice, they're not without their limits. Just before his 38th birthday, Jonathan was assaulted in a bar. What led to the assault is unclear, but given that the brothers are both second degree black belts in karate, it didn't end well for the person who decided to pick the fight.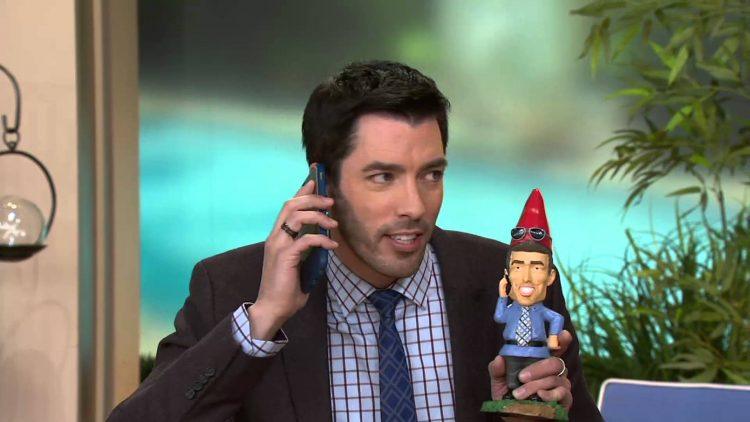 14) They've really branched out. Far from being "one trick ponies," the brothers have leveraged their success, and actually have four television shows in production, although "The Property Brothers" is still the largest and most successful one. They've also got a full line of household items for sale on QVC, under their "Scott Living" brand. If you're a fan of their work in general, you should check it out, here:
15) Can't get enough of the Scott Brothers? You can actually catch them (all three of them) on their own radio show. It's called "Off Topic With The Scott Brothers," and is part of their ScottBrothers Entertainment media company. You can check it out here: Scott Brothers' Entertainment is also in the process of producing feature length films, so you can expect to see more from them in the future.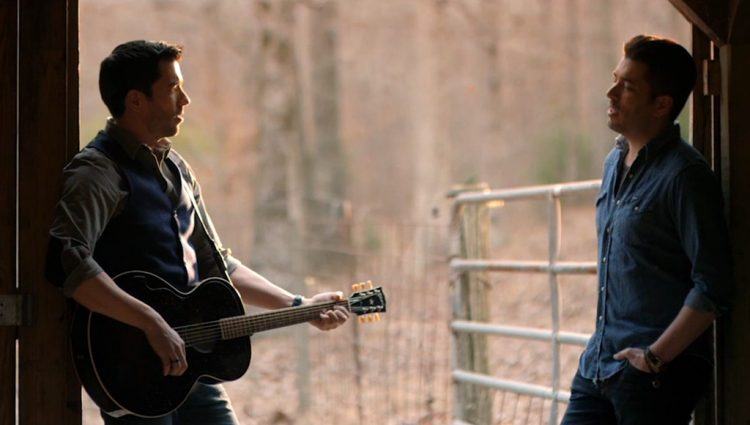 16) You know they're TV stars, but did you know that Jon and Drew also have budding careers as budding country musicians? It's true – you can find their first single, "Hold On," online with their second single "Let the Night Shine In" to be released soon. Check out their work here.  And if you like what you hear, subscribe to their channel. This is actually kind of a return to their roots for the brothers. When they were kids, they formed a band with their big brother J.D. that they called "Western Union." While it was active, they played country music together, so in a sense, the fact that their success has allowed them to revisit that childhood dream has brought them full circle.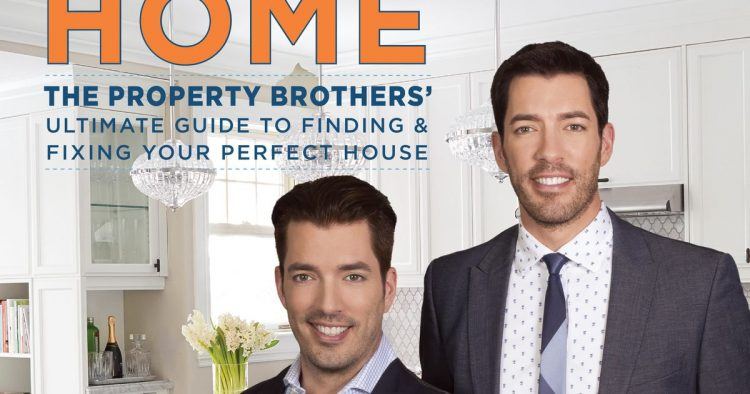 17) If you're interested in all things Scott Brothers, then you should also check out their book on Amazon. Titled "Dream Home: The Property Brothers' Ultimate Guide To Finding and Fixing Your Perfect House," it's crammed with the same kinds of hard hitting, no nonsense strategies you've seen them plan and implement on their show. There's even a Kindle edition, so you can keep it with you and refer back to it when planning your own home renovation. It may not be quite as cool as actually appearing on the show with them and having them help you with the renovations directly, but it's the next best thing.
18) The brothers' comedic side comes out pretty regularly in their shows, but they're fairly big pranksters in real life too. In fact, they've got their own comedy team and perform locally as time and scheduling permits.  And don't be surprised if you end up seeing these guys on other networks getting in on the action.  Only one question.  Why hasn't Ellen Degeneres gotten these guys on her show for some of this?  It would be amazing.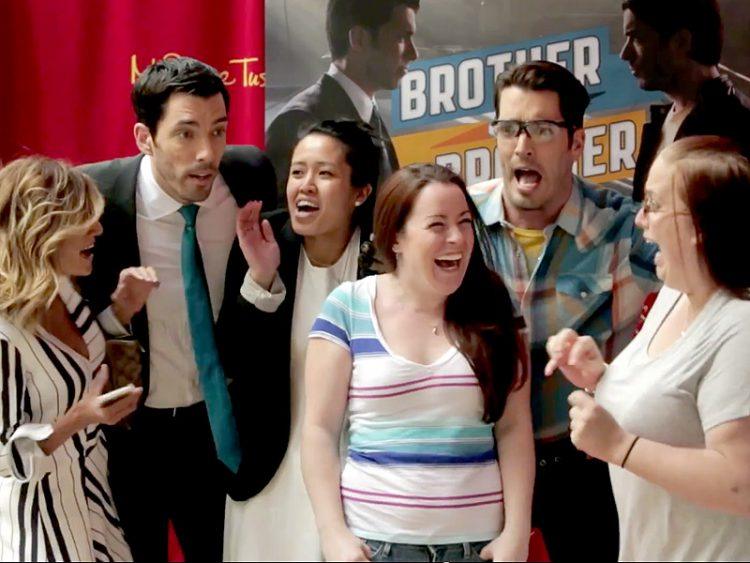 19) They've been immortalized – in wax, by none other than Madame Trussauds, which is world famous for their collection of lifelike wax statues of people both famous and infamous. In fact, they managed to combine this even with their prankish nature to pull a fast one on several of their fans. The brothers appeared at the atrium at Madame Trussauds in New York, and pretended to be their own wax statues. When fans would stop by to have their pictures taken with what they thought were wax figures representing them, most got quite a fright when one or both of them started moving and talking. It's always fun to see people's reactions, and you can catch the highlights here.
20) Drew has a celebrity crush on actress Gwyneth Paltrow. Jonathan, knowing this, will often insert random photos of Ms. Paltrow into slide shows and presentations that the brothers are doing when meeting with various clients. A light-hearted playful dig that none of their clients seem to mind.
If those twenty fun facts aren't enough for you, then here are a few bonus ones to add to the mix:
As with most actors, they got their start doing smaller jobs in advertising. Both brothers, for example, did time as underwear models!
If you are a twin, or know a pair of them, then you know that finding out who's older is a pretty big deal. In this case, the mystery is solved – Jonathan was born first, and is a whopping four minutes older. You also may not have known, but when they were born, the twins were a total surprise to their parents. Their mother had no idea she was carrying two future stars when she was pregnant until quite close to her delivery – what a shock!
Twins dating twins? It's true, when they were in high school, Drew and Jon actually dated another pair of identical twins briefly.
At least part of their devotion to health food is the fact that Drew is sensitive to gluten. He doesn't have Celiac Disease, but he does have a marked sensitivity to it. When they're not enjoying healthy full meals, both love health shakes and smoothies, though Jonathan does enjoy the occasional alcoholic beverage. His favorite drink? The Manhattan.
If you've only recently become a fan of the show, you may not realize it, but in 2013, the brothers were jointly given the "Sexiest Man Alive" award by none other than People Magazine. How's that for a feather in your cap?
The single biggest piece of advice they have for others who want to do what they do – buy houses that are distressed for a bargain, fix them up and resell them for a profit is this: Don't over-renovate. Too often, especially if you're first starting out, you get into the habit of putting more money into renovations than you'll ever get out in profits when you sell. Your best bet is to ask people in the local market what kinds of features they're looking for in a home, focus on those things, while giving the rest of the place a light touch to freshen it up a bit. That way, when you're ready to sell, you're basically catering to the desires of the home buyers in your local market. Good, smart advice.
And there you have it. The Property Brothers are likely in your homes every week when you tune into one or more of their shows, but there's a lot you probably didn't know about them. Did any of the things on the list take you by surprise? One of the great things about getting to know your favorite stars better by finding out more about them is the simple fact that it makes them seem more real. More human. We hope you've enjoyed this list, and if you're a fan of the show and the twin brothers who are the heart and soul of it, we hope that you've learned something new about them!