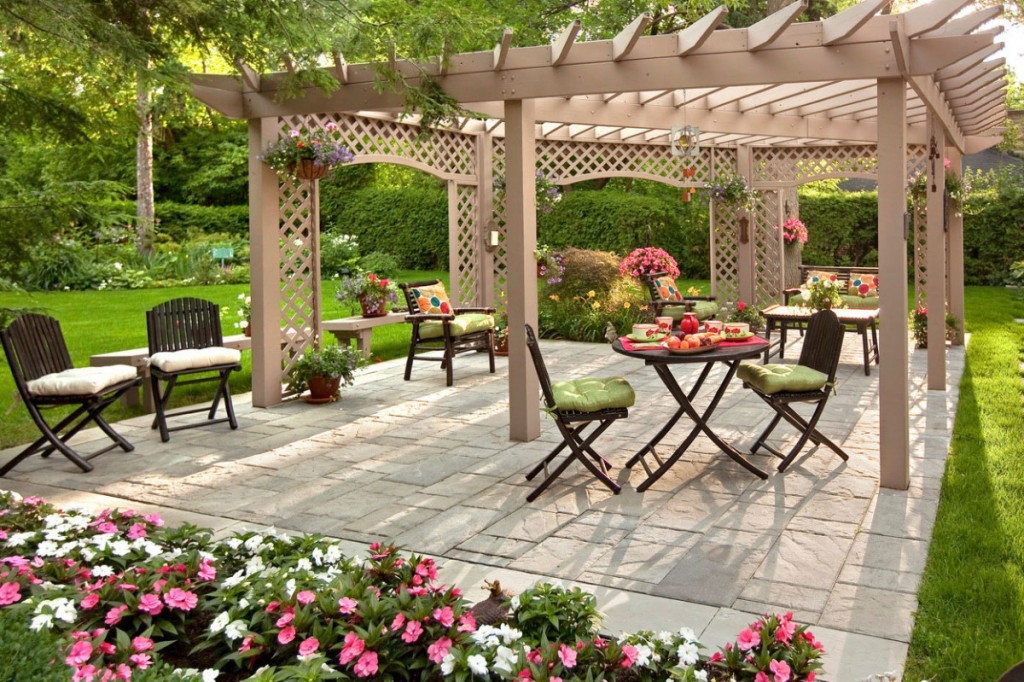 The summer may be over, but that doesn't mean the outdoor fun has to stop. For most people spending time outdoors with friends and family is a great way to enjoy company, and also make use of some great space. However, while lots of people want to make the most of their backyards, they often find themselves stuck trying to think of ways to make things look more livable. Seriously, a backyard can either be a great place to entertain, or a forgotten field of dead grass that can't be used for anything. For those who chose to use their backyards as a place to host company. So whether you're getting ready to use your backyard for the fall, or trying to think of ideas for next summer,  here are 20 strategies to spruce up your backyard.
image via mfcoa.com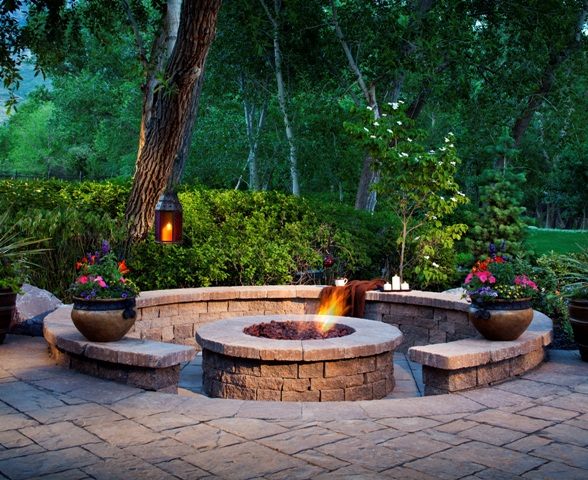 During the summer months, bugs can be a real problem – especially for people living in certain parts of the world. While most people love hanging out outside, most people don't like bugs, and because of that, find themselves heading for the indoors. However, a fire pit can be a great way to keep bugs away, and provide a great place for people to spend time outside in the yard. Having a fire pit can make your house the neighborhood hot spot in more ways than one.
image via installitdirect.com
If you want to sit outside, it's kind of important to have place to sit. Setting up a nice little seating area in your backyard can transform your dull space into your new favorite place to relax after a long day. Decorating the area with flowers can also help liven things up as well.
image via rent.com
Most people would love to have a hammock in their backyard. After all, what better place is there to kick your feet up and just enjoy some good ol' fresh air. As long as you've got sturdy trees, a hammock could be perfect for your yard.
image via bystephanielynn.com
This cute and peaceful corner contains a seating area and two small gardens that are perfect for enjoying peace and quiet. This beautiful stone patio is also unique because it is entirely separated from the house. With a set up like this, your yard will definitely be turning some heads.
image via backyard.arrayofhopes.com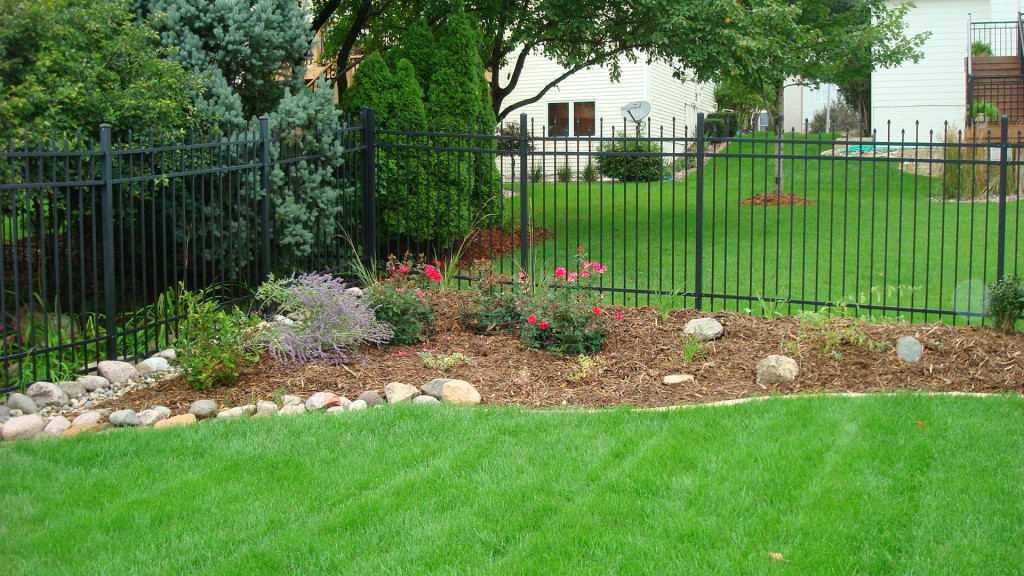 Making a garden in your backyard can be one of the cheapest and most effective ways to make your space look beautiful. This corner garden makes great use of space that may have otherwise gone ignored. Adding bright flowers will also make your garden pop.
image corvoip.com
If you don't have a large backyard, but still want to make the most of what you've got, this could be the perfect solution. Just because you may not enjoy sitting in the middle of a grassy field doesn't mean that you have to be left out. This beautiful space looks like the great place to sit after a long day and just enjoy some you time. With a small quiet fountain, plenty of plants, and covered seating, what's not to like?
image via ihomeids.com
This may not be in everyone's budget, but if you have the money and the space, an outdoor kitchen will take your backyard to new levels. Instead of having to split your summer gatherings between your kitchen and your backyard, you can now take the whole party outside and cook full meals in your outdoor kitchen.
image via kidflash.co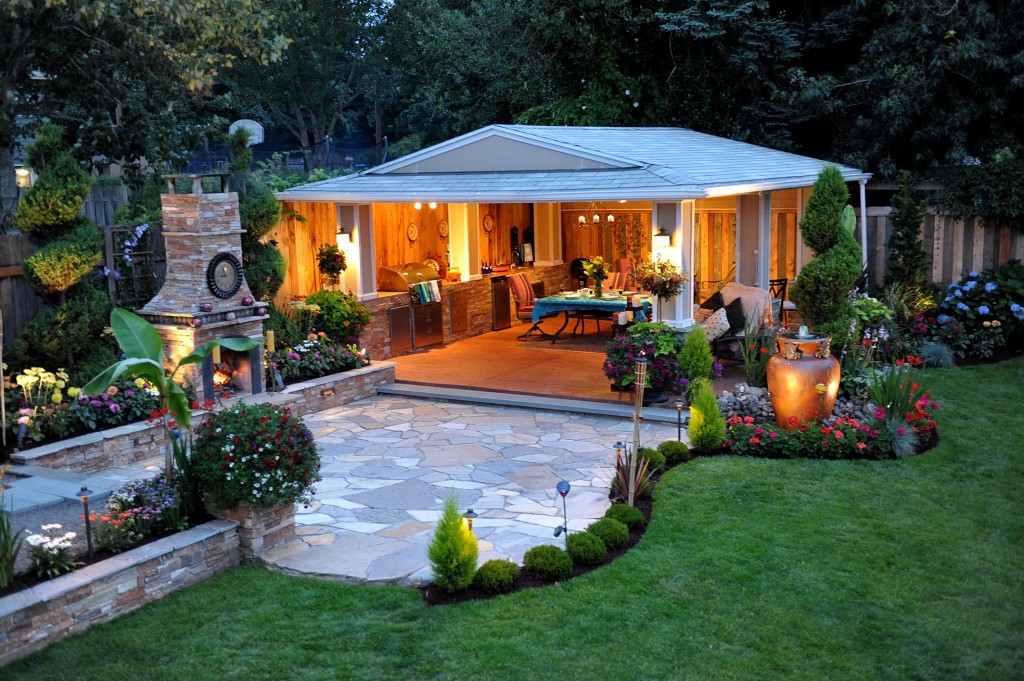 Everyone knows that the weather can be temperamental. Depending on where you live, the summer may even mean that there's more rain than usual. This beautiful set up has the best of both worlds with a design that is both covered and uncovered.
image via redesignhouse.com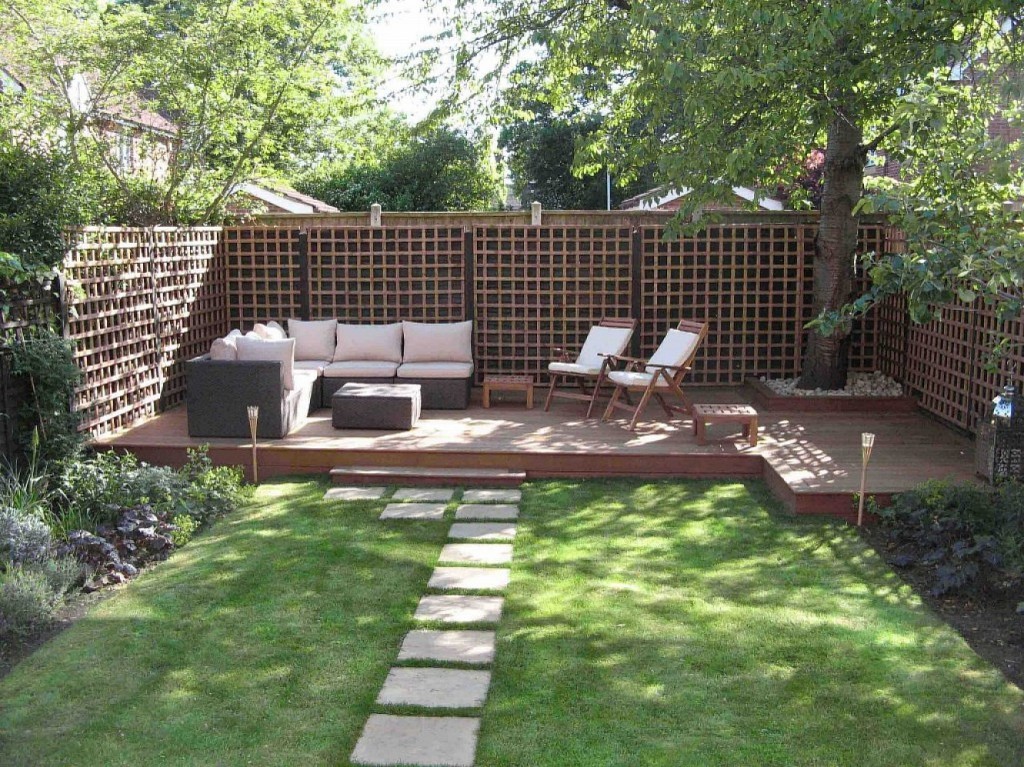 If you love the outdoors but consider yourself a couch potato, here's something for you. This living room style design is perfect for your backyard, especially if you had some extra deck space that you haven't been taking full advantage of.
image via world pictures.xyz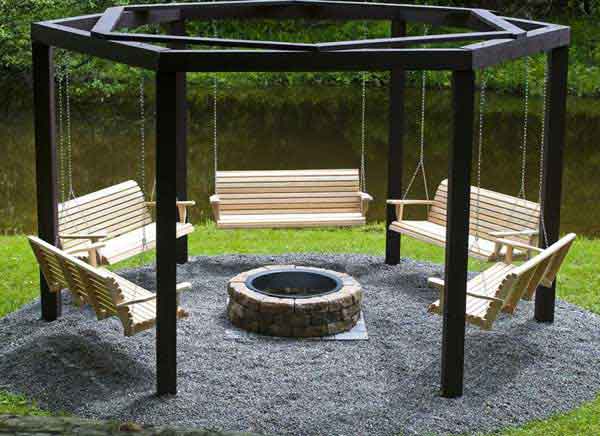 This fire pit comes with a little added bonus; swinging seats. That's right, whether you have kids or whether you're a big kid yourself, these seats are just downright cool.
image via backyarddesignideas.com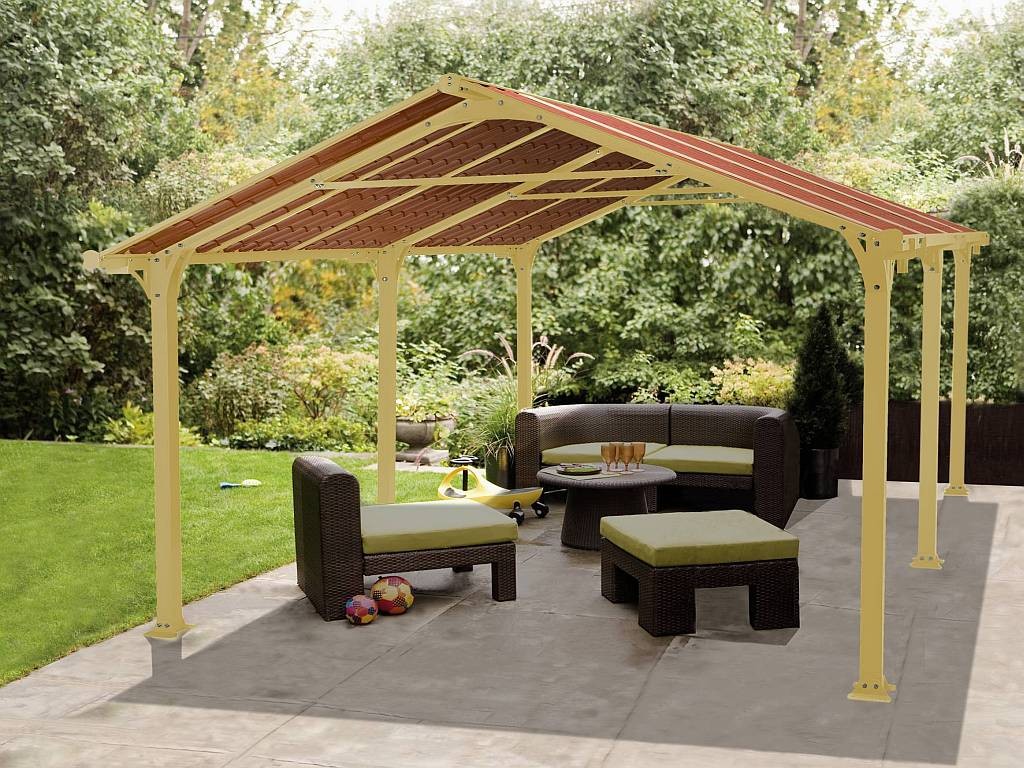 Just the addition of a simple gazebo can take what could have been a pretty boring backyard set up to new heights. Gazebos come in all shapes, sizes, colors, and varieties, and you can definitely find something in your price range.
image via jeffreypew.com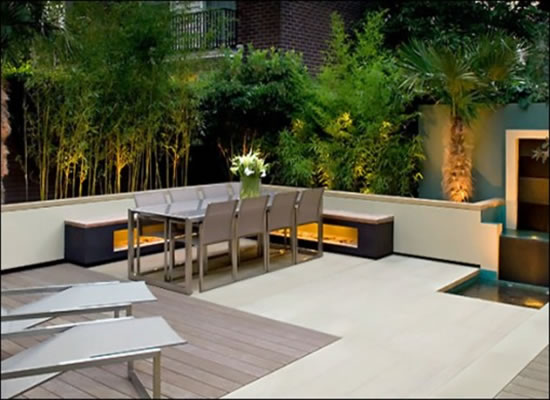 Why sit outside on cheap plastic furniture when you can have a whole outdoor dining room that will be perfect for all of your get togethers. This lovely set up will have your guests feeling like they're eating at a fancy restaurant.
image via homeselegent.com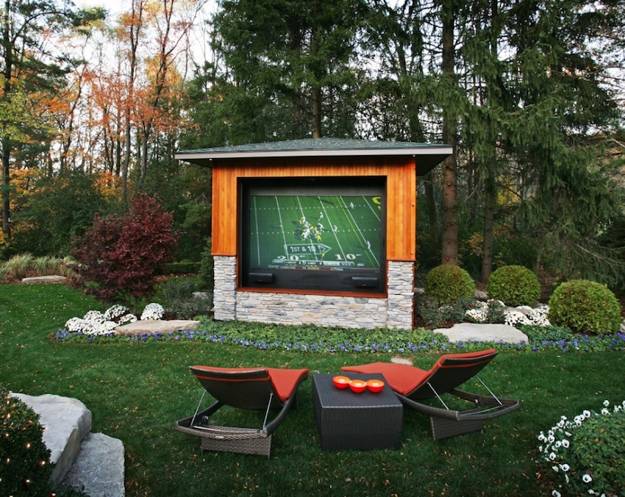 Who says watching TV has to be an indoor activity?! With football season underway, having a big screen TV outside is looking like the way to go. Even if you don't like football, there's probably something you can find to watch, especially with a set up like this.
image via lushome.com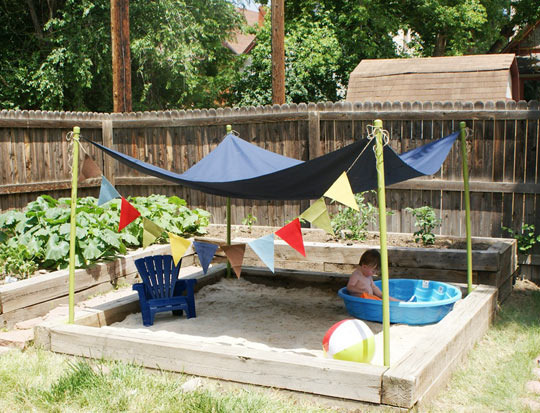 If you have kids, this faux beach design can help them have some fun in the sun – especially if you don't live near the ocean. If you don't have kids, a little creativity can help you transform this design into something a little more suitable for adults.
image via cnbhomes.com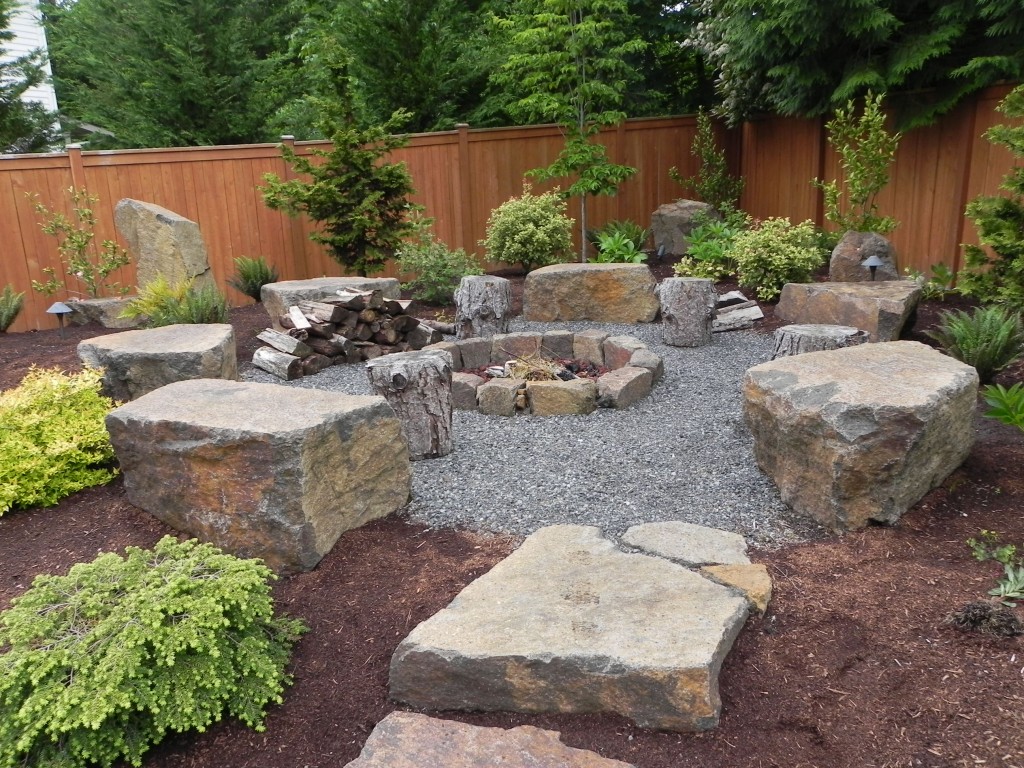 This backyard takes a completely natural approach with a fire pit and seating made entirely from large rocks. If you want to keep it simple, but still want something that will liven your backyard up, this is perfect.
image via julepowen.com
A small (or large) fountain can be the perfect addition to any backyard. There's something about fountains that can make any space seem luxurious and beautiful. This small fountain blends in nicely with its surroundings, but still manages to be a nice centerpiece for this little area.
image via alwaysintrend.com
Since a lot of people enjoy using their backyards at night, lighting is very important. While some people don't mind spending a lot of money on top of the line lighting, there are definitely cheap alternatives such as stringing christmas lights all along the yard. Not only will this help your yard stay well-lit, but it will also give it a nice and fun feel that is great for any gathering.
image via flyestonehere.blogspot.com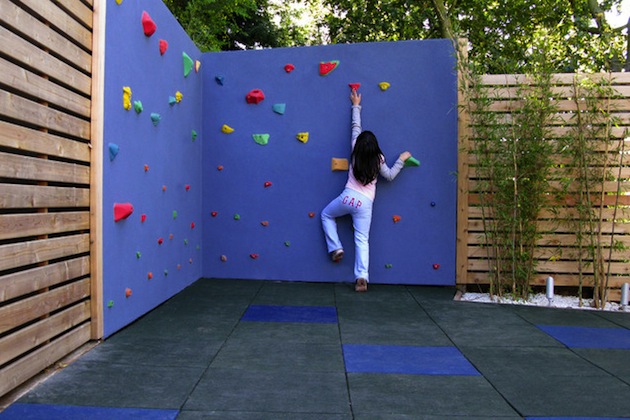 Rock walls are becoming a popular addition in people's homes, and while some people are choosing to build them inside, a backyard is as good a place as any. Depending on your taste, you can adjust the height and difficulty of the wall to suit your needs, and if your handy, you can even build one yourself.
image via tsminteractive.com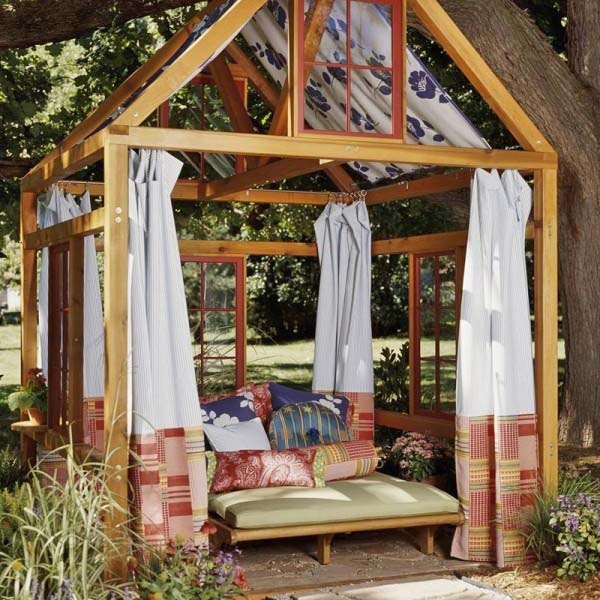 This reading nook is great for your inner book-worm. This secluded space will provide the perfect place to kick back with one of your favorite books and read without interruption. Adding pillows and a comfortable seating area will also help make a reading nook more inviting.
image via revedecor.com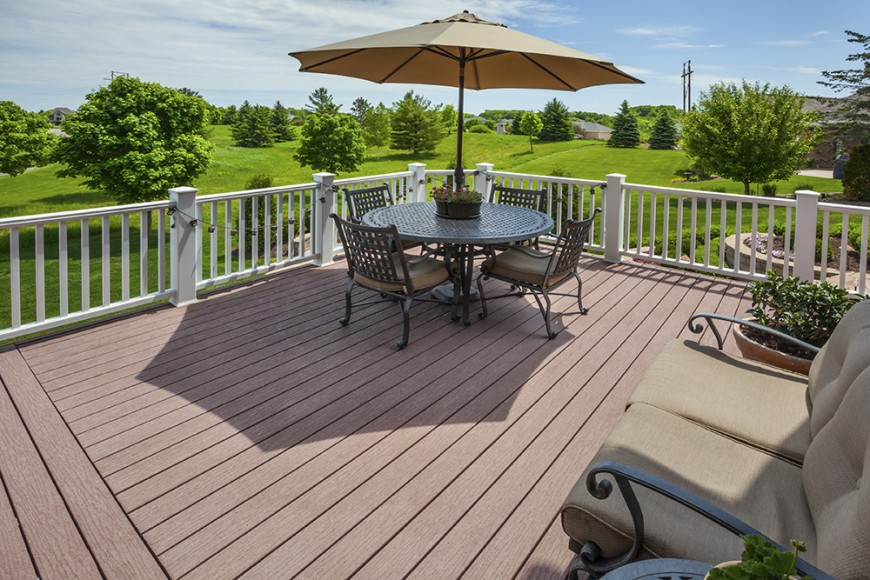 This may seem like an obvious way to spruce your backyard up, but sometimes people forget that it doesn't always take something extreme. A deck will give you a place to enjoy your yard like never before, and can be the perfect place to host gatherings or simply enjoy meals with your family.
image via homestratosphere.com