When it comes to closet design, it's important to make sure that your clothes have a nice place to call home. Sure, a closet may not technically be a room, but it's still a very important space – especially for all the fashion forward folks out there. But with that being said, all closets were not created equal, and closet design can definitely vary in terms of quality in structure. Just because you don't have the space for a massive walk-in closet, doesn't mean that you have to settle for a less than stellar space. The first step to getting the closet you want is knowing what you're looking for, and rest assured that there are plenty of great things to choose from. If you want your closet to truly shine, these ideas will definitely help. Here are 20 solid closet design ideas for any home.
image via www.ultimatehomeideas.com
Most people have more shoes than they know what to do with. But even if you don't organizing your shoes is a very important part to keeping your closet clean – and a simple over the door shoe rack can save the day. No matter what size closet you're working with, this design idea can help tidy things up.
image via homeandawaywithlisa.com
Sure, a closet is meant to be used as storage space – but you can never have too much. Adding shelves and bars to your closet can create extra space for you to put your things.
image via nengy.com
You wouldn't get dressed in the dark, right? So why pick your clothes out in the dark. This simple closet design idea of adding simple rope lights to your closet can help brighten things up and make it easier for you to get to your favorite items.
image via lifehacker.com
If you're one of those people who doesn't like to hang up every piece of clothing, there's nothing wrong with adding a few drawers to your closet. If you don't have a ton of space, you can always opt for a set of smaller drawers.
image via www.shelterness.com
If you're feeling extra creative, this closet design idea is perfect for you. Replacing your closet door with a curtain can be a great way to keep up a color scheme or simply make a small closet and/or room feel a little more open.
image via www.apeemotion.com
Making sure that your closet is organized is important for people of all ages. The more things you accumulate over the years, the more you'll see just how important it is to have a place for everything. This closet makes great use of its space and makes sure that similar items are grouped together.
image via decoist.com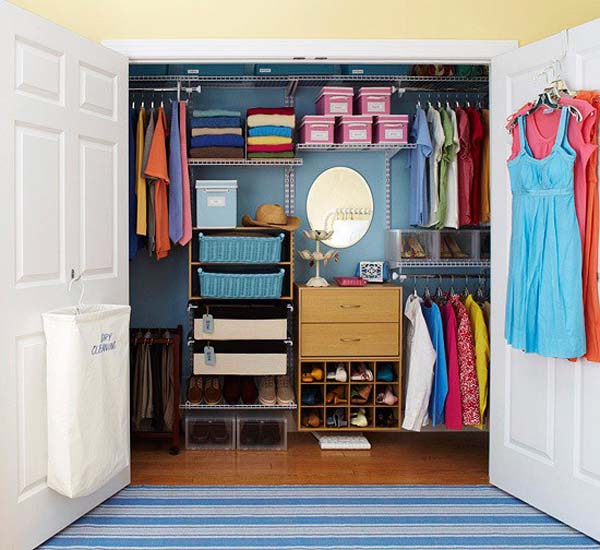 This closet features a one-stop-shop design that is perfect for anybody who doesn't have a lot of time on their hands – which is well, everyone.
image via gnuarch.org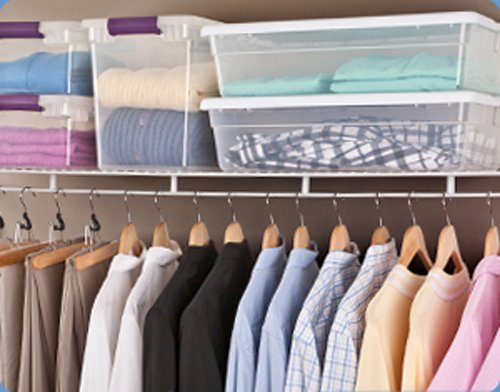 Using plastic containers to store extra clothing is a great way to stay organized and clutter free. If you're the kind of person that doesn't have anywhere to store your clothes as the seasons change, this can be especially useful for you.
image via www.catwhispererproducts.com
When it comes to closet design, people tend to forget just how useful hooks can be. However, hanging a couple of hooks in your closet can really help you find a place for loose items. In this photo, the hooks are being used to store jewelry items, but they can be used to hang just about anything.
image via houzz.com
Whether you live in a place that doesn't have a built-in closet, or just need a little more room for your things, a 'portable' closet for your things may be an ideal solution. These movable closets can blend into any room and come in a variety of sizes.
image via jaizee.com
For people who spend a lot of time in formal wear, having a place to keep your clothes stored wrinkle free is important. These thinner drawers are perfect for storing ties collared shirts.
image via www.cenproweb.com
Whether you're male or female, there's a good chance that you have at least some jewelry that you'd like to keep safe. Jewelry draws like this are great for any closet, and can come in different sizes so that you can definitely find something that works for you. So whether you've got a bunch of costume jewelry or some expensive family heirlooms, they can be kept nice and safe in your closet.
image via www.homeinteriorpic.com
Just because you install drawers in your closet doesn't mean that you have to use them for clothing. This clever closet design uses the draws to store laundry hampers, and this can be a good way to keep your dirty clothes out of sight and save space from having a hamper in your room.
image via www.closettrendsaz.com
Okay, this one may seem obvious, but there are a lot of people who forget that sometimes hangers are the best way to make your closet even better. And just remember, no more wire hangers!
image via blog.theshelvingstore.com
If you need some more space to either hang or lay your clothes, these portable metal closet racks are a good idea. These can be used in or out of your closet, and can be moved easily if necessary.
image via blog.theshelvingstore.com
No closet design is complete without a mirror close by. After all, once you pick out your outfit, you definitely want to see how it looks. Something as simple as hanging a mirror on the inside of your closet door can be a cheap and simple solution.
image via lowes.com
If you're the kind of person who loves routine, these day of the week labels can help you organize your outfits. But if you feel like you've outgrown this idea, it can be great for families with children.
image via iheartorganizing.blogspot.com
Day of the week labels aren't the only thing you have to choose from. No matter how you have your closet set up, you can always organize it by using labels to make it much easier for you to find things in a pinch.
image via dadand.com
Closet design doesn't have to be boring, and this beautifully wall papered closet door is proof. While decorating you closet door won't make the space any more useful, it'll definitely make your closet feel more like you.
image via postmoderndir.blogspot.com
People hang art in every other place in their homes, so why should the closet be different. Small paintings or other pieces of art such as these can add character to your closet which is something that may be important to people who spend a lot of time with their clothes.
image via latteeveryday.com