Looking for cheap bedroom ideas for small rooms?
Of course, everyone would love to turn their bedrooms into beautiful spaces fit for kings and queens.  After a long day, there's nothing better than being able to come home and relax in a space of your own. Unfortunately, everyone doesn't have the money or the space to turn their bedroom into the space of their dream.  However, having a small space and a small budget doesn't mean that your style has to suffer.  With just a few tips and tricks, you can turn your bedroom into a space that you'll love to relax in. If you're looking for a way to transform your small bedroom and don't want to break the bank, here are 20 small bedroom ideas perfect for a tiny budget.
Inexpensive trunks and storage bins can be a great way to save space and reduce clutter in a small space.
(images via homesthetics.net)
Wall decals can be a great way to make your small bedroom feel fancy.  Decals like these can be purchased for a low price from websites like Etsy.
(image via styleathome.com)
Even something as simple as adding an accent wall can not only liven up your bedroom, but make it look more spacious as well.  Painting an accent wall is something that can easily be done on your own.
(image via silentfilmlegend.blogspot.com)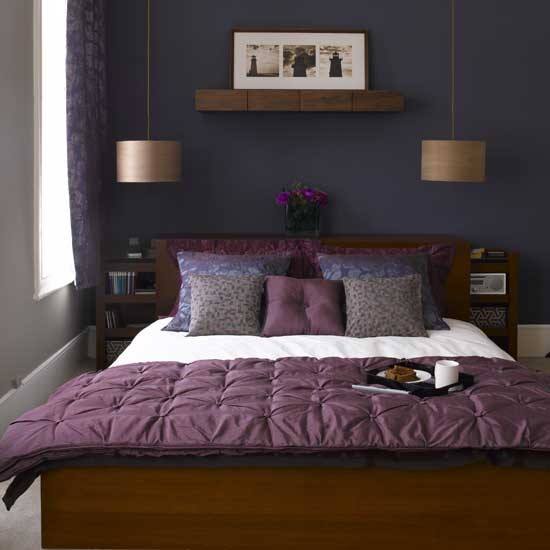 Adding inexpensive throw pillows to your bed can help liven up the room and help things feel a lot less cramped.  If you're feeling extra creative, you can even make your own throw pillows.
(image via www.znanie.me)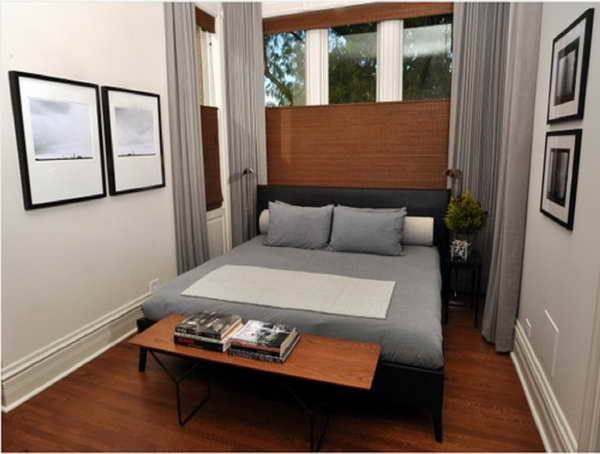 Placing a table at the foot of your bed can be a great way to use space, especially if there's not a lot of room on the sides of your bed. If you're handy when it comes to putting things together, you can purchase an inexpensive table from a furniture store like Ikea.
(image via standrewsbower.blogspot.com)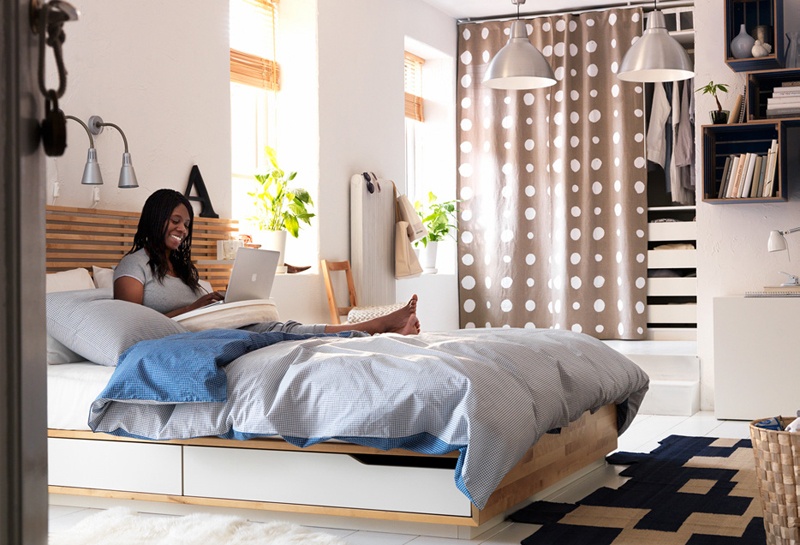 Attaching lamps to the wall is something that is cheap, easy to do on your own, and great for saving space.
(image via veloretard.blogspot.com)
Adding plants to almost any room can be a great idea, but in a small bedroom, plants can make a world of difference.  Also, the great thing about plants is that you can spend as much or as little as you'd like.  Even if your budget is as small as $20, you can still find a plant that may work for you.
(image via www.oftrax.com)
Having a small bedroom and owning a lot of things are two things that just don't mix very well.  Adding shelves to your bedroom can be the perfect solution.  You'll have place to store your stuff, and you won't have to break the bank.
(image via www.dickwithington.org)
When you're dealing with a small space, you definitely want to make good use of all of the space you have.  Using a small corner table/desk can help make use of a corner that may have otherwise gone unused.  A table like this can be purchased for as low as $40.
(image via panangelp.blogspot.com)
Make the most out of the space under your bed by turning it into organized storage space.  Using milk crates (which you might be able to get for free) you can make a whole bed frame and use the crates for storage.
(image via etsy.com)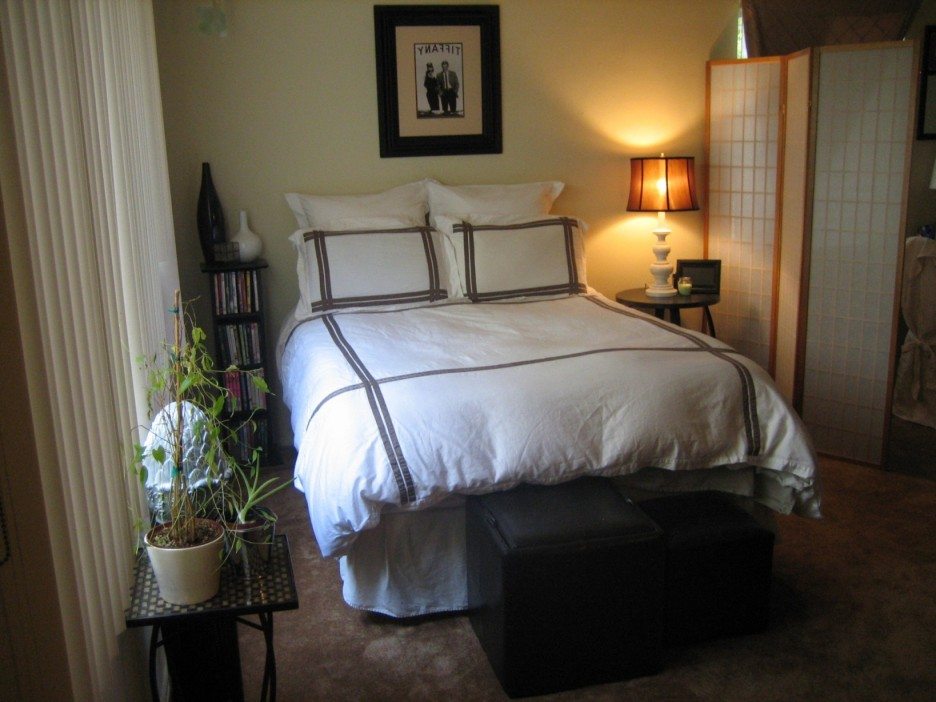 Using dividers can sometimes help make your room feel bigger. You can find dividers for as low as $30.
(image via http://cloquo.com)
Mirrors are also a great way to make any room look bigger.  Not only can mirrors be purchased  for a low-cost, but they're also easy to find at thrift stores and/or yard sales.
(image via www.acglasscompany.com)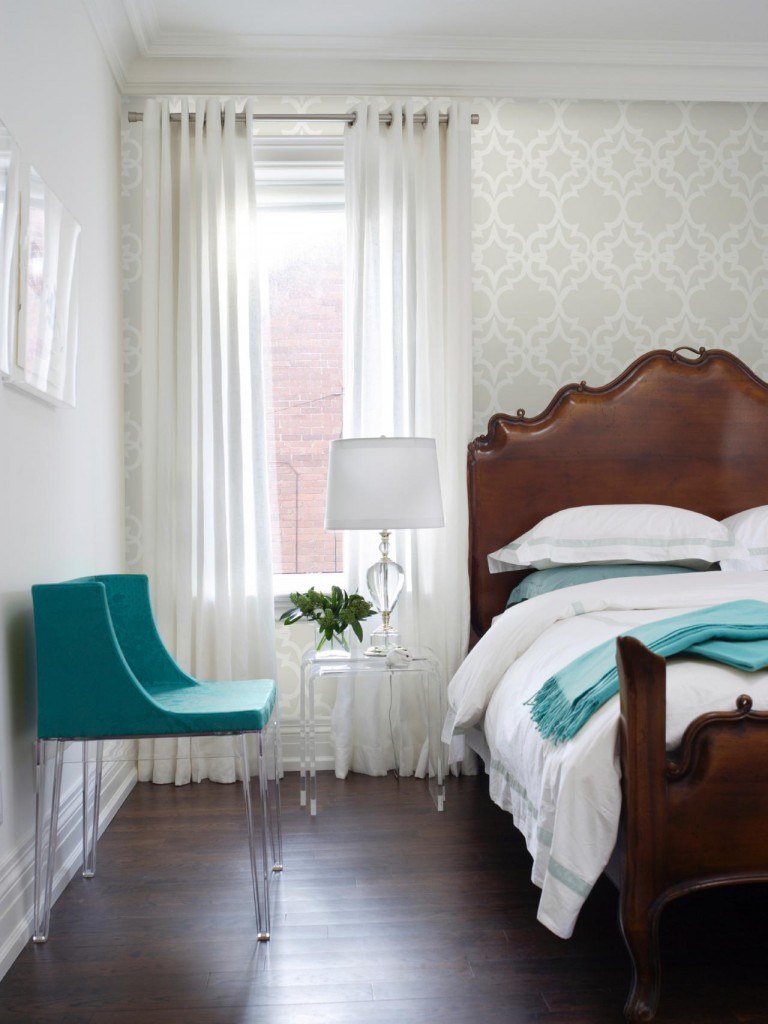 Adding patterns to your walls can help liven up your small space. All it takes is a few rolls of wall paper!
(image via hgtv.com)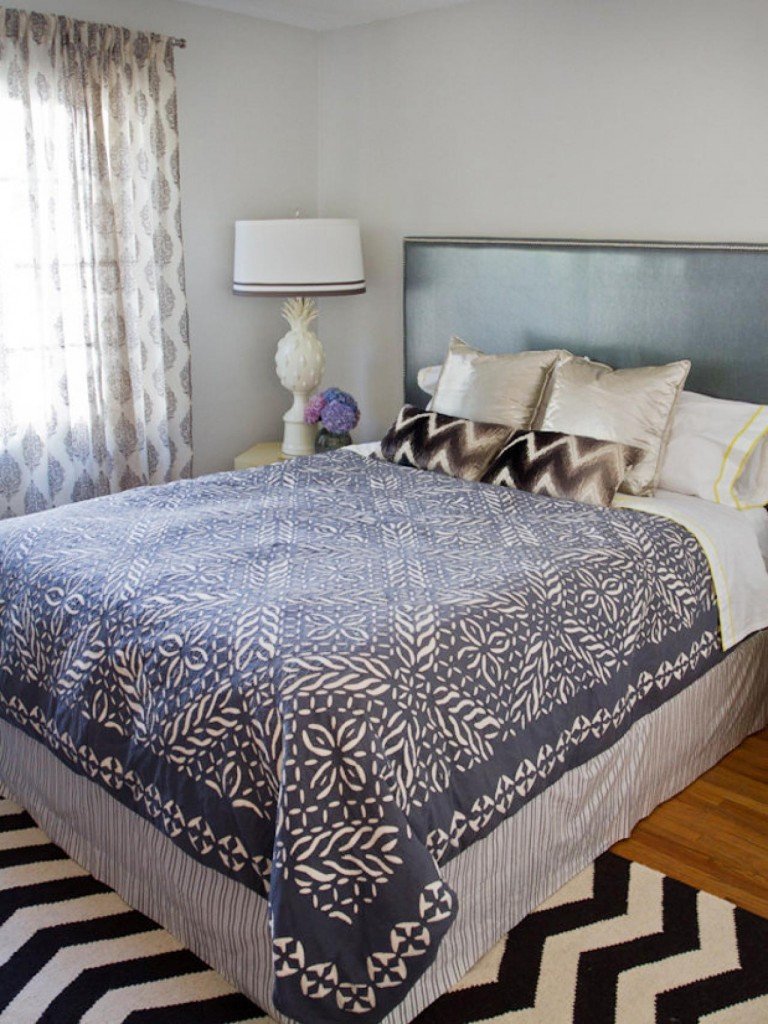 Want to make your bed look fancy? Making your own duvet cover can be an awesome and fun way to do that. Have no idea how to make a duvet cover? No worries! That's what the Internet is for.
(image via elasdesign.com)
Adding embellishments can make even the tiniest spaces look luxurious. If you've got some extra fabric lying around you can easily put together something like this.  If you don't have fabric, no worries, it can be very cheap!
(image via houndseek.com)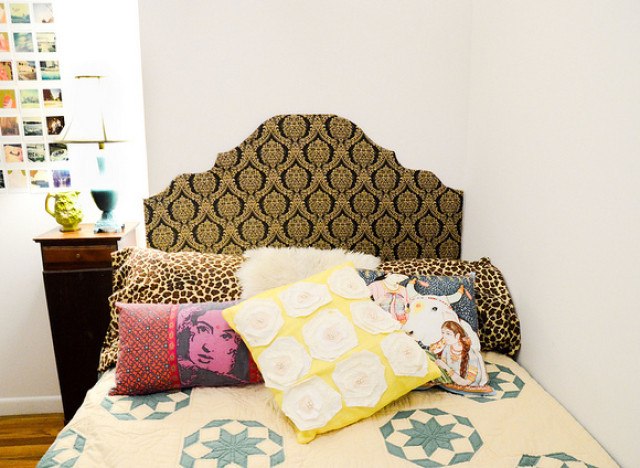 Making your own headboard can be quick and easy.  With just a few pieces of cardboard you can have something like this.
(image via huffingtonpost.com)
Getting creative with your lighting is also a cool option.  You can make awesome signs like this using nothing more than christmas lights, tape, and cardboard.
(image via homeheartcraft.com)
Simply cutting colored construction paper into shapes can be a cool way to design the walls of your room.
(image via weebirdy.com)
Got some extra jars lying around? Try placing some electric candles into them for some added lighting.  Quick, easy, and cheap!
(image via fellowfellow.com)
Don't have a lot of space to place picture frames? Using clothes pins and extra Christmas lights can be a cool way to hang your pictures on the wall.
(image via dormdesign.tumblr.com)
lead (Photo by Peter Macdiarmid/Getty Images)