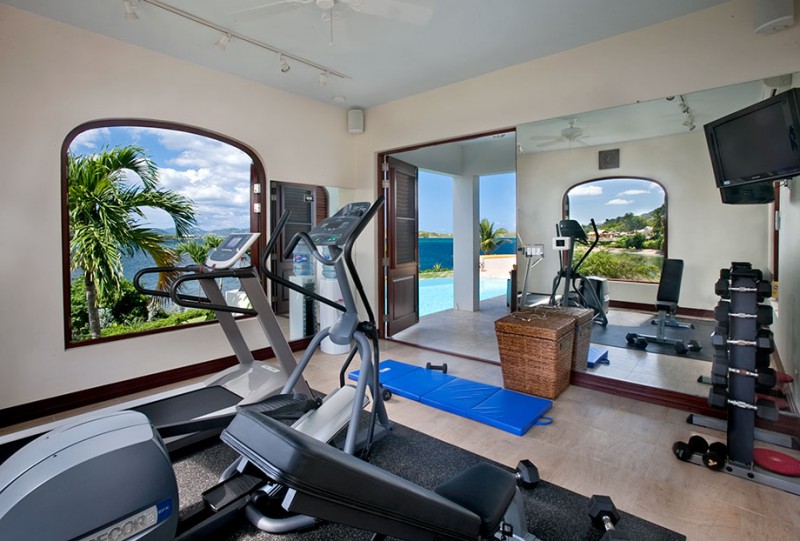 With most people's busy schedules, nothing would make working out easier than having a home gym. After all, after a long day of work, having to make another stop can often be a little too much to ask. Seriously, how many times have you skipped out on going to the gym simply because you didn't feel like leaving your house? Unfortunately, that's the sad reality for most people. Although, everyone doesn't have the extra space in their homes to build a home gym, those who are lucky enough to have one know that the possibilities are endless. With a gym in your home, you'll officially have no excuse to ever miss a workout again, and you can kiss paying ridiculous gym membership fees goodbye. Here are 20 of the most outrageous home gym designs.
image via olpos.com
One of the best things about having a home gym is that you can tailor it to fit the overall look and feel of your home design, this lovely gym has all of the necessary equipment but also features a tough of elegance.
image via home-designing.com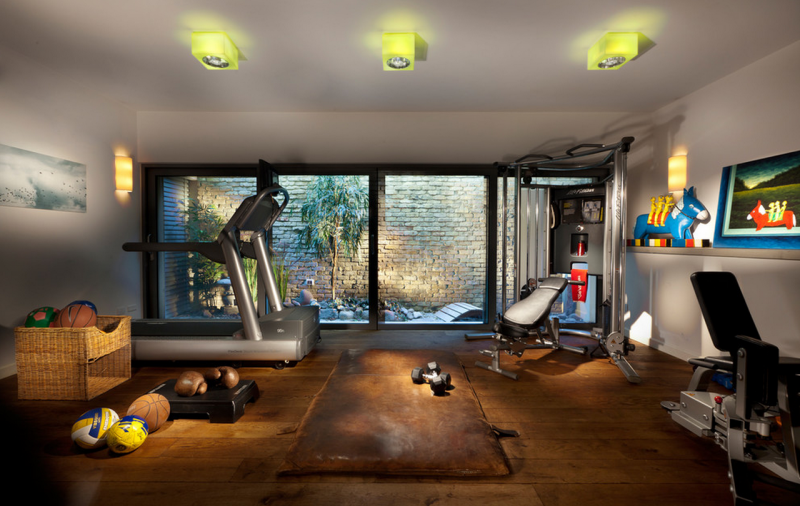 This home gym has beautiful dark wood floors and also has all of the basic pieces of equipment for getting in a good workout. Not to mention an oversized window that provides plenty of natural lighting and fresh air.
image via fbeed.com
This home gym is perfecting for getting in some good cardio, and the full length mirror also adds a familiar touch. There's nothing that can help a person stay motivated like seeing their process!
image via houzz.com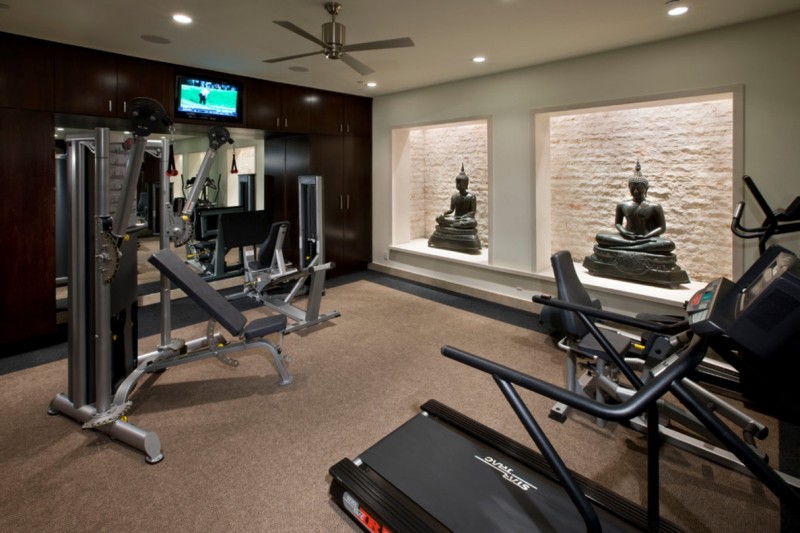 Let's face it, most people don't really enjoy working out, but it's a necessary evil. With that being said, this home gym has the perfect balance of physical and spiritual exercise.
image via fromthisperspective.com
Although hard wood probably isn't the first flooring choice that comes to mind when most people think of a home gym, this beautiful space shows that wood can be a great option and add to the sleek look of a gym.
image via digsdigs.com
With a gym like this, you might not want to ever take a day off. No matter what type of workout routine you prefer, this home gym has something to offer you. Plus, the beautiful glass walls make this space feel open and large.
image via www.balkanartnow.com
If you're the kind of person who likes to soak after an intense workout, this home gym will certainly appeal to you. Not only does this gym feature the necessary cardio equipment and weights, but the addition of a hot tub definitely helps this gym stand out.
image via homedesignetc.com
This luxury home gym almost looks too nice to sweat in. The lovely hardwood floors, ample windows, and chandeliers provide this gym with a fancy feel – but it's good looks definitely don't take away from the fact that there's plenty of equipment to use.
image via priceypads.com
This simple home gym has a little bit of everything, and the bright lightning will definitely make working out feel a little bit more positive and fun.
image via architectscorner.info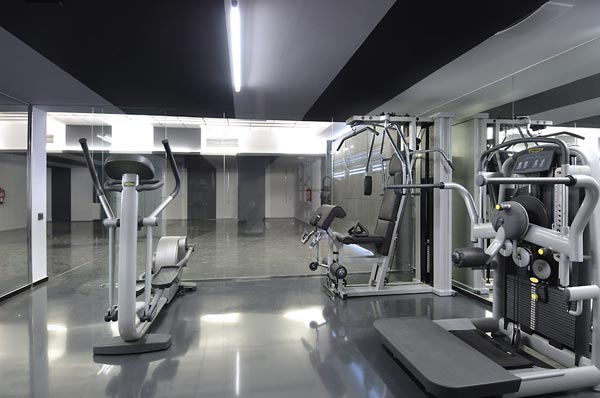 When most people think of a home gym, they imagine a few weights thrown into a corner next to an old treadmill. However, this home gym shows just what a modern touch can do. This sleek gray design combined with glass walls puts this gym in a league of its own.
image via homedit.com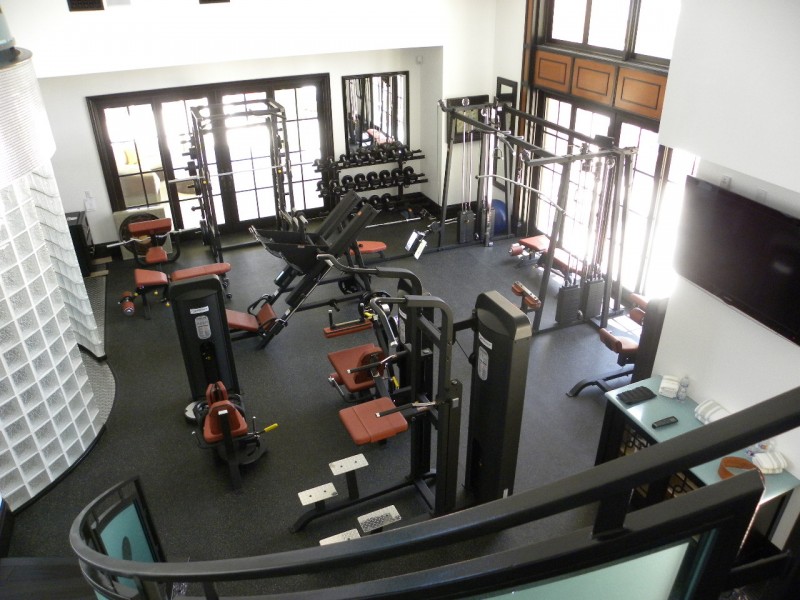 There aren't too many people who have the space to have a home gym like this, but with a space like this you'll really never have to leave the house to work out again.
image via www.valiant-design.com
With a view like this, having to get your daily cardio in will never feel like a chore again. This circular home gym design packs a big punch into a relatively small space, and it also features a beautiful and luxurious touch. Why ever pay for a gym membership when you could have something like this at home?
image via www.terrysfabrics.co.uk
A welcoming design like this is just what most people need to be motivated to get out of bed and exercise. With a clean layout and a lovely design, this gym has everything anyone could need, and the best part of it all, is that it's in the comfort of home.
image via roman-architectures.blogspot.com
Who says that a home gym has to be inside? If you live in a place that is warm for the majority of the year, a unique outdoor design like this might be absolutely perfect for you.
image via www.giesendesign.com
If you have to work out indoors, but also love fresh air – a design like this could certainly be beneficial. Although it's rare to see a home gym on the second floor, this room pulls it off quite nicely, and the addition of a balcony is perfect.
image via yourhousehelper.com
How many people can say that their home gym includes a pool? Probably not too many. With that being said, this incredible design is a dream come true for most people. Whether you like to life, run, or swim – you can do it all in this lovely home gym.
image via zillow.com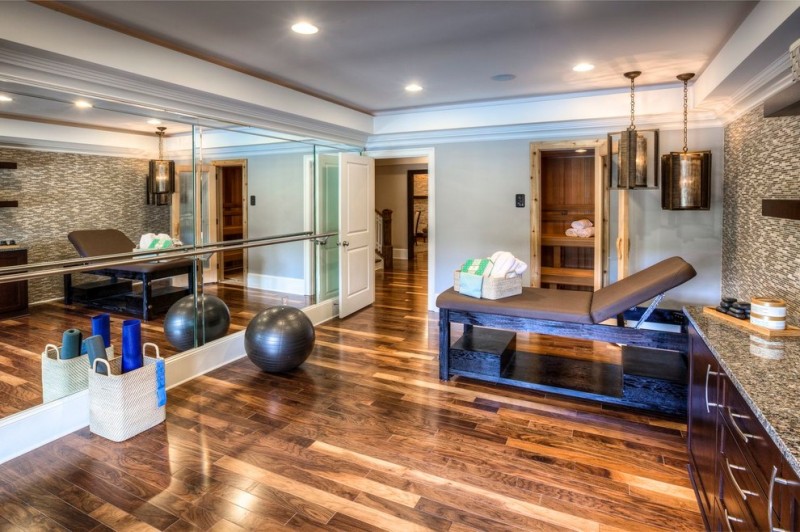 Who says that a gym has to be full of equipment? This simple design is perfect for doing yoga, Pilates, and other sorts of individual and group work outs.
image via apartementlifestyle.net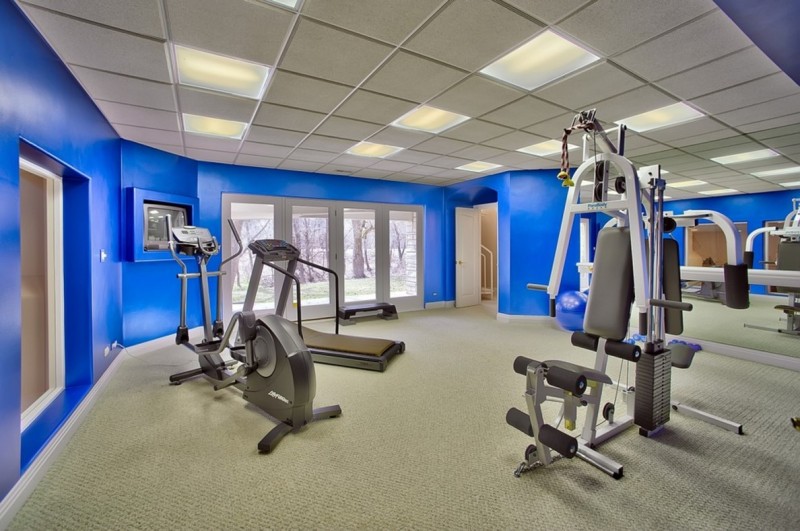 Color is an important aspect to any room in a home, and this gym makes great use of a bold color. Even if blue isn't the look you would go for, the idea of picking a color that stands out is a great way to make a home gym unique, and feel like a special part of the house.
image via decosee.com
This is the perfect layout for a family who has different workout needs. With all of the things that anyone could need, including a mini fridge, getting in shape could easily become a part of the daily routine.
image via sawbuckdesign.com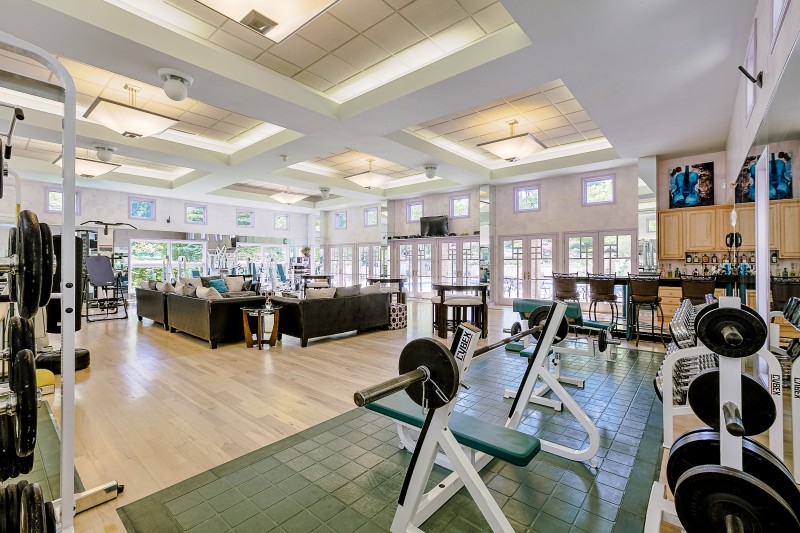 A separate room isn't always necessary for a home gym. This open floor plan allows for the gym to be part of the rest of the house, while also giving it some dedicated space of its own. With a design like this, there's absolutely no excuse to not get off of the couch and go pump some iron.
image via interluxe.com