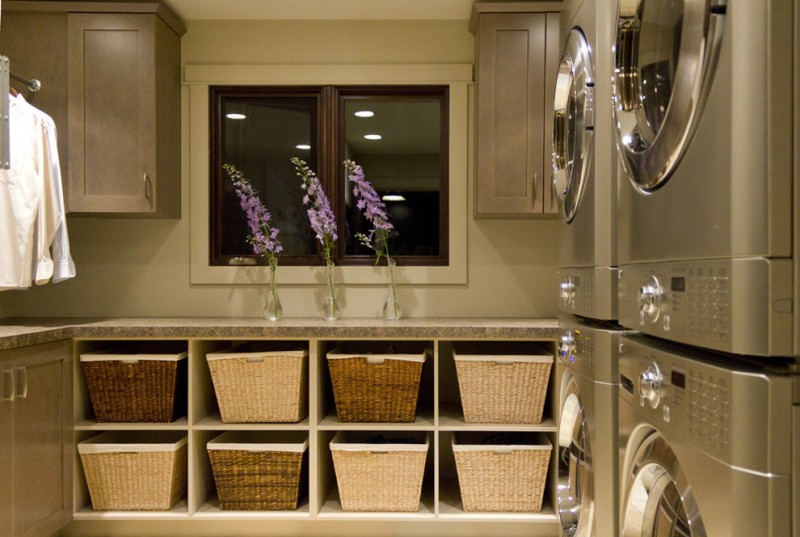 Like any other room in your house, the design of your laundry room is very important. Unfortunately; however, these spaces often get over looked because in most people's minds, as long as the appliances work, that's all that matters. However, although most people hate washing clothes, it's a necessary evil (unless of course you don't mind stinking) – and having a laundry room that you don't mind spending time in is essential. After all, if you're like most people – trips to the laundry room are pretty frequent.  But with that being said, any room that you spend a lot of time in deserves to be stylish and functional. If you want to see just how beautiful a trip to the laundry room can be, here are 20 laundry room design ideas to inspire you to clean.
image via madebymood.com
These days, stainless steel appliances are all the rage. However, sometimes the more classic white appliances are still the best way to go. This laundry room, which features both a white washer and dryer with a silver ring, has a very modern design while still maintaining a very familiar and traditional look.
image via sweethousedesign.com
For some people, dedicating an entire room in the house strictly to laundry just isn't realistic. But that doesn't mean that their style has to suffer. This matching light blue washer/dryer set looks great surrounded by the white cabinets.
image via www.trastus.com
For most people, doing laundry is a necessary evil. With that being said, having a laundry room that is bright and welcoming will definitely make washing clothes a little more tolerable. Not only does this lovely laundry room makes great use of natural lightning, but the use of ceramic tile and hardwood floor make it stand apart from the rest.
image via decorpad.com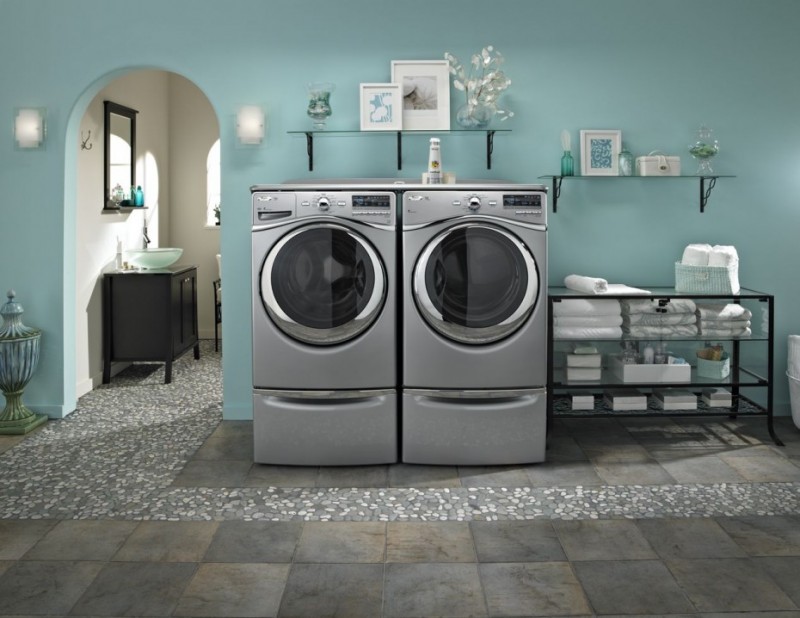 This open floor plan allows for a laundry room design that is both modern and practical. The stainless steel appliances fit perfectly with the light blue wall color, and the towel rack adds some nice extra storage as well as a small folding station.
image via delilahssecrets.blogspot.com
For those who have large families, sometimes one washer and dryer simply isn't enough. As a result, this laundry room design features a two washers and two dryers as well as lots of counter space for folding and organizing clothes. This room also has ample storage space, and multiple cubbies to organize children's belongings.
image via memorabledecor.com
Stackable washers and dryers are great for people with limited space; however, the units themselves tend to be smaller. And for some people, the lack of size isn't worth it. Instead, this laundry room design boasts a traditional washer and dryer that have been stacked on top of each other. With this set up, you don't have to sacrifice the size of your machines to save space in your house.
image via zestyliving.com
One of the key components to staying organized is having a place to store your things. With a laundry room design like this, you can have all of the storage space you need. The perfect combination of both shelves and cabinets allows for storing both clothes and laundry necessities.
image via meddiodesign.com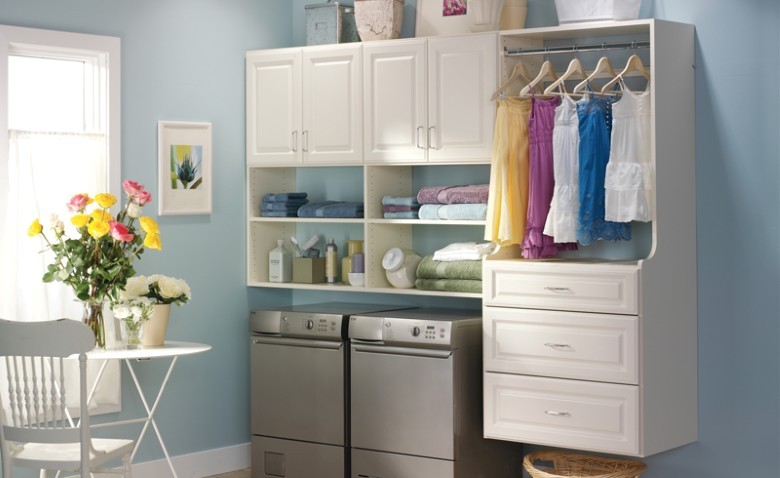 If your laundry room actually feels like a place you don't mind spending time in, you'll be much more like to actually use it. With a nice little sitting area, this laundry room has a comfortable design that will make doing laundry feel a lot less like a tedious chore.
image via www.mdiwebdesign.com
This slightly elevated washer/dryer unit gives the room a unique feel that also saves space because the units are essentially part of the wall. The oversized cabinets are also great to store laundry baskets that are currently not being used.
image via decoist.com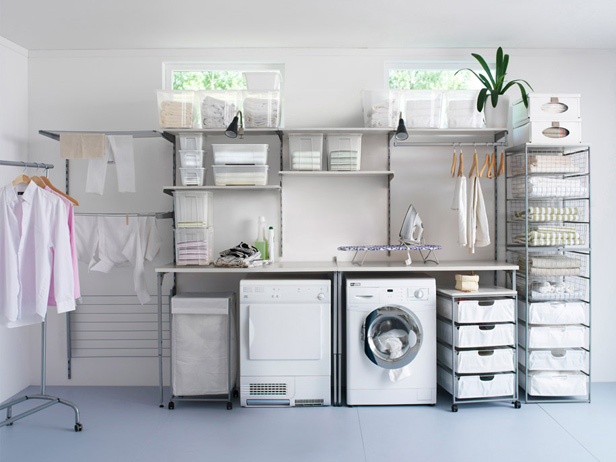 Utility racks are a great addition to any laundry room design – especially for people who don't want to build cabinets. Racks like this can be a great and cost effective alternative. As you can see, this rack spans nearly the entire length of the wall, and adds all of the laundry room essentials including a drying rack, cabinets, and space to hang clothes.
image via www.shirtstock.com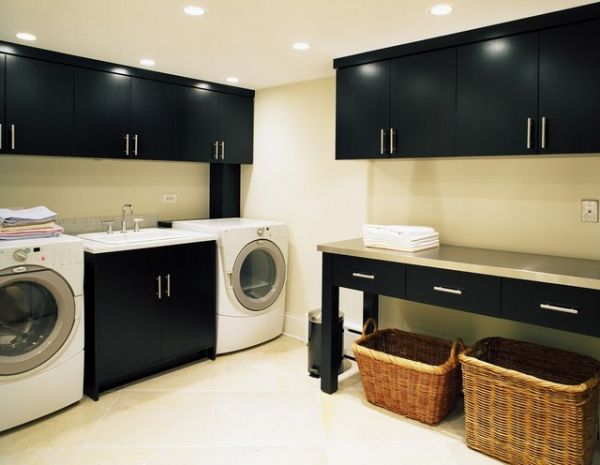 Black probably isn't a color that you see very often in laundry rooms. However, mixed combined with the cream paint and white washer/dryer unit, these black cabinets make a bold and very stylish statement. If you have to do laundry, you might as well do it in a room that looks as fantastic as this one.
image via homedit.com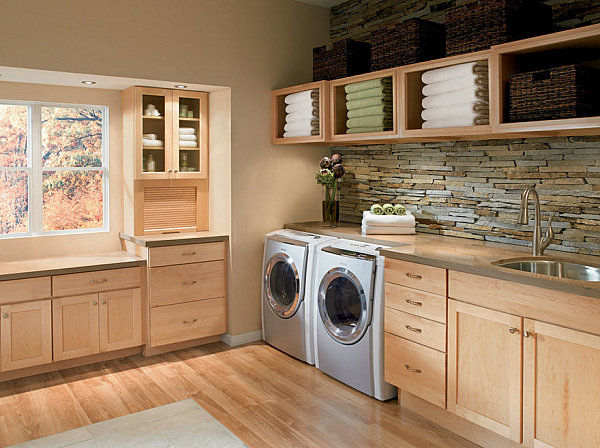 Title is probably the most common floor choice in laundry rooms, but this design proves that wood can also be a great choice. With wooden floors, cabinets, and shelves, this laundry room has a modern rustic look that is sleek and clean. Although backsplashes are more common in kitchens, this laundry room makes great use of a multi-colored backsplash pattern.
image via hdelements.com
When it comes to doing laundry, convince is key. These rolling laundry baskets make moving your clothes around a lot easier, and can add a little spice to your laundry room design. Also, these oversized cabinets are perfect for people who have a lot of things to store, but don't want them to be seen.
image via shdi.net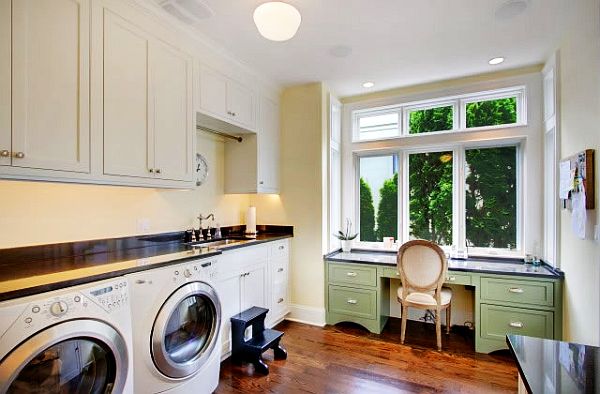 Using one room for two purposes is a great way to get the most out of your living space. This room not only features a beautiful laundry room design that is complete with lots of folding space, but it also features a nice little office area with a nice view of the trees.
image via booie.net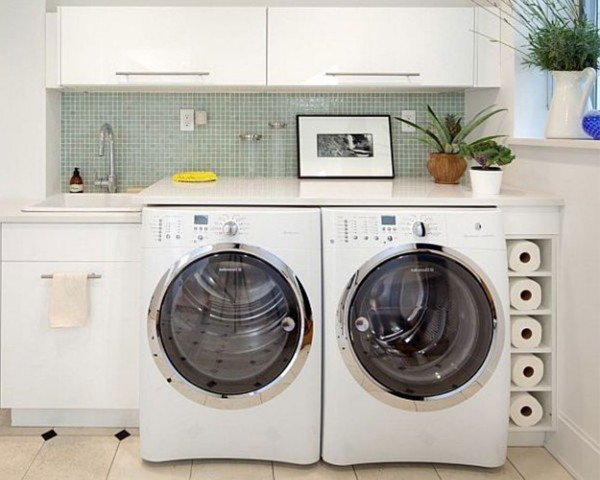 Although some people think bigger is always better, this laundry room is able to pack all of the necessities into a reasonably small area. Although it doesn't have the same amount of space as some of the other rooms on this list, a person could easily handle all of their clothes-washing needs in this area.
image via ideastodecor.com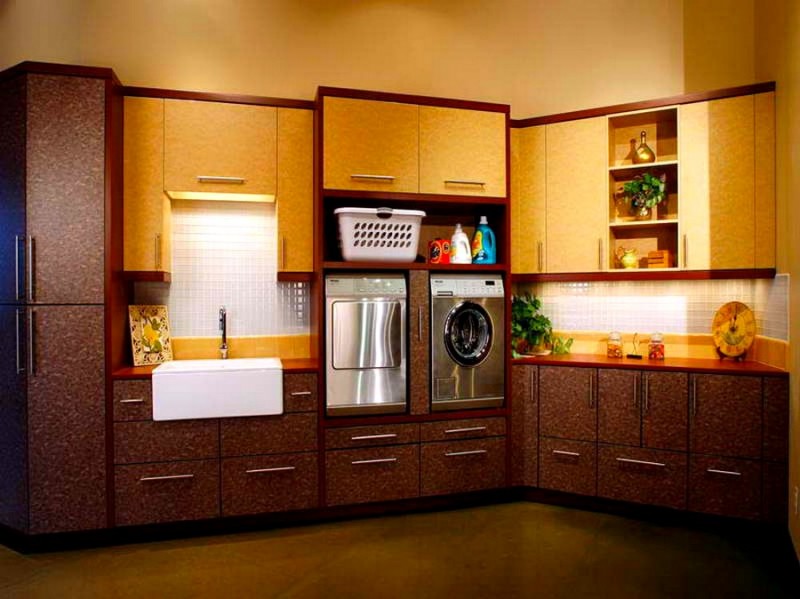 Color isn't something that most laundry rooms have a lot of. Think back to most of the laundry rooms you've seen, and your memory will probably fill with a sea of white. However, this two-toned design makes perfect use of earth tones. This design also features elevated appliances while help this laundry room feel open and clutter-free.
image via www.eastsidehomelink.com
This laundry room is not only sleek, but it's also very practical. This design boasts a large amount of counter space, which makes sorting and folding clothes a job that can be done without having to bend over to the floor. But best of all, with a stool and a flat screen TV, having to spend hours in this room might even feel like a breeze.
image via goodglance.com
Mixing the best of classic and modern design, this large laundry room has all of the things you'll need in this day and age while also borrowing key elements from the past. Using a rolling laundry basket is a great way to move between all of the appliances without having to worry about dropping clothes on the floor. This laundry room design also features a large industrial style sink that can be great for hand scrubbing clothes, soaking, or even bathing the family pet.
image via www.meetpeytonriley.com
Your laundry room doesn't have to be boring. In fact, inserting some of your own quirky style can be a great way to make your space feel more 'like you,' which, in turn, will make you want to spend more time in it. With pops or orange on all the handles, and a trendy black mirror with gold studs, you can tell that someone put a lot of thought into this laundry room design.
 image via visbeen.com
If you have a favorite color, your laundry room might be just the right room to let it shine. This lime green set up may be overwhelming to some people, but at least it gives the room its own identity, and makes it feel warm and bright.
image via industrialconstructionplans.net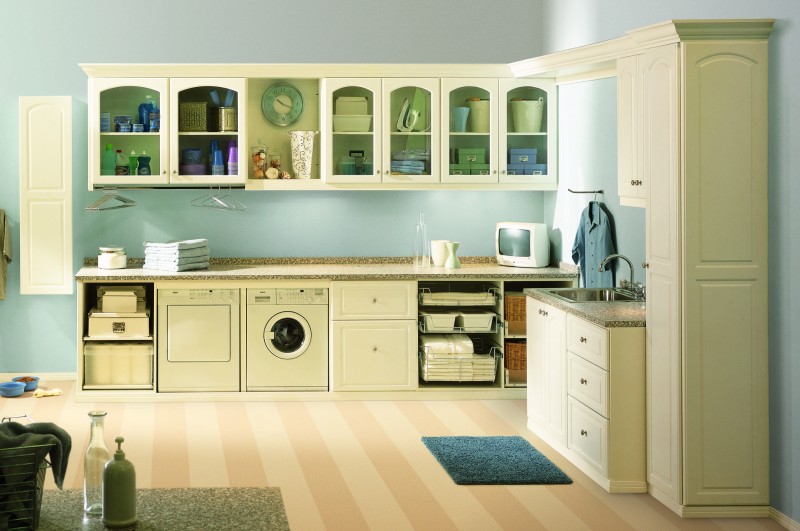 If you've got a lot of space, you might as well make the best of it. These two walls are fully equipped with everything you'll need to do your laundry, and do it in style. The light blue paint is a nice contrast with the cream-colored cabinets, and the pattern on the floor adds a nice touch of creativity.
image via www.summit-flooring.com