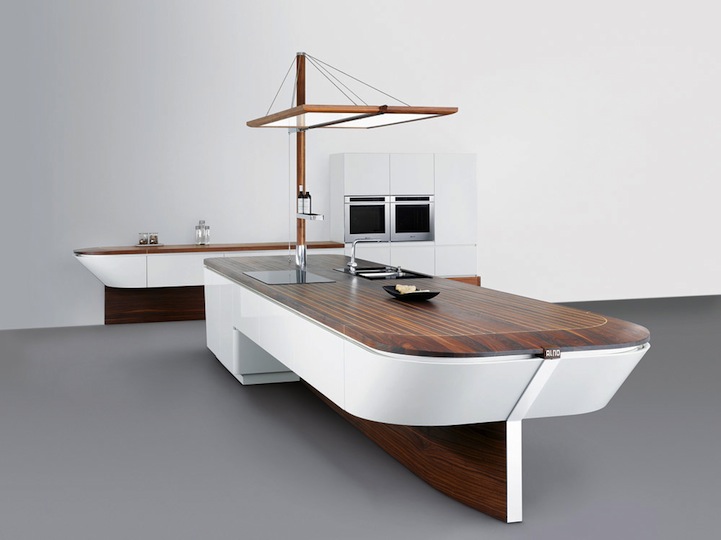 In most homes, the kitchen is one of the only rooms that can bring the entire family together at one time. In a world where everyone is busy, and usually doing their own thing, it can be hard to spend quality time with the people you love. However, since everyone has to eat, the kitchen usually becomes the place where everyone stops at least once during their day, and if you're lucky you'll get to enjoy a nice side down meal with the people in your household. Since the kitchen is such an important room, it's only right that it be one of the most stylish as well. And while there are plenty of ways to spruce up your kitchen, nothing has quite the same effect as a beautiful island. Having the perfect island in your kitchen can not only make great use of your space, but it can also give your kitchen a luxurious feel. With the perfect island, your kitchen can easily become the best in the neighborhood. Here are 20 kitchen islands that will blow you away.
image via ekozona.com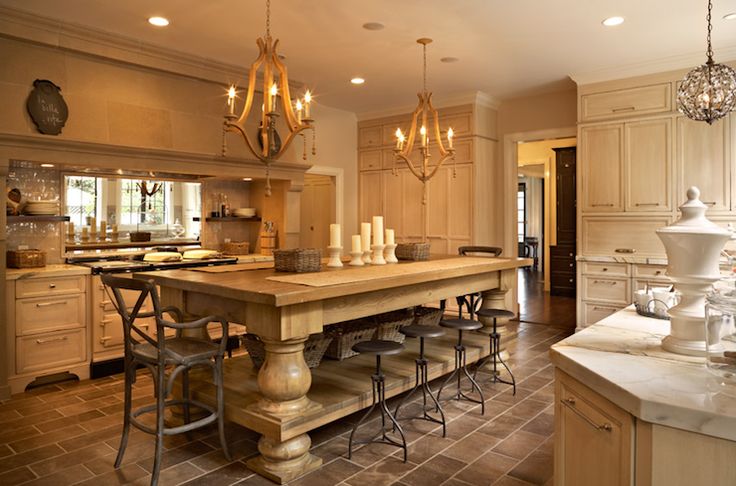 This beautiful wooden island combines the best of both old and new designs. The lovely column-like legs give it somewhat of a classic feel while the smooth finish helps it blend in with its modern surroundings. This island also offers some extra storage space for kitchen items that you may like to have handy.
image via decorpad.com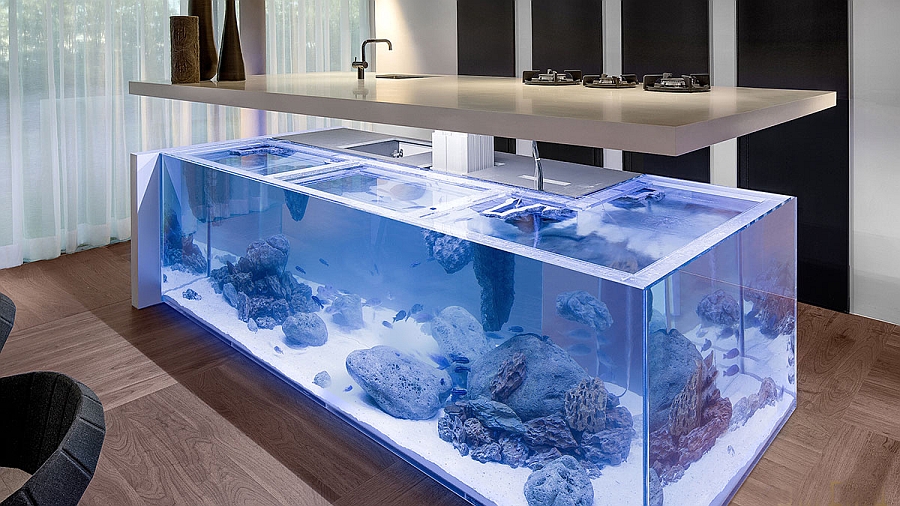 This extremely unique island makes great use of something that real islands are very familiar with: water. Doubling as a beautiful fish tank, this might not be the most practical type of island to put in your kitchen, but it's definitely the most creative and fun to look at.
image via decoist.com
This curvy island makes nice use of the space of this kitchen and even opens it up a bit. If your kitchen may not be best-suited for a traditional rectangular island, something like this may be a great option.
image via faburous.com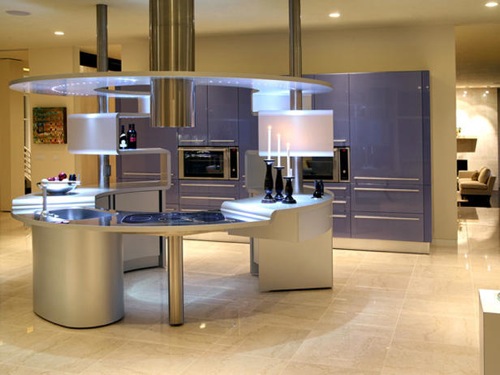 This is the island of the future! This sleek design almost looks like it shouldn't even exist yet. Also making use of the curved structure, this island almost takes center stage in this kitchen and is home to most of the counter space as well as the stove and sink.
image via styleofdesign.com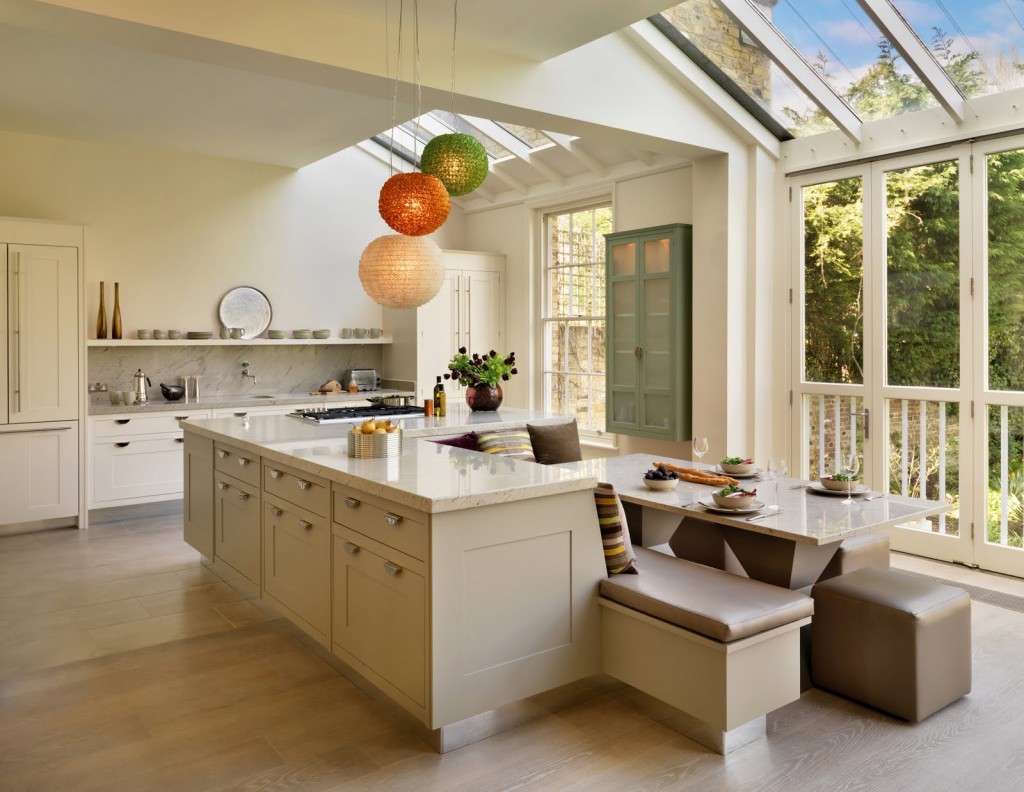 For some people, the decision to build an island in their kitchen means that they have to get rid of their traditional seating, and for some people, not having a standard kitchen table is out of the question. However, this island proves that sometimes you can have both. Making use of the island's corner, this design features an attached kitchen table with plenty of seating.
image via greenstylegallery.com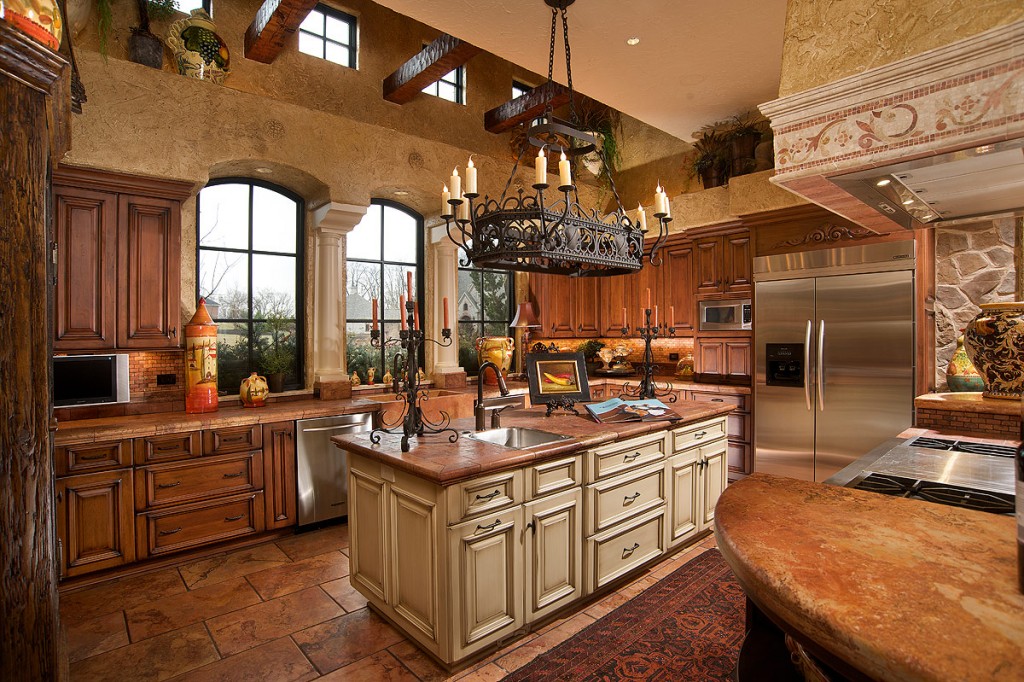 This island proves that simple can still be beautiful. While some people are obsessed with marble and granite counter tops, this island features a wooden-style top. Perfectly fit into this rustic style kitchen this island isn't too busy or too complicated, but it's white base makes it the perfect focal point for this kitchen.
image via drproductions.co
Again, seating can be an issue when deciding whether or not you should build an island in your kitchen, because some people don't just want a bunch of chairs sticking out into the space. However, this island features a cute little nook that stools can be slide into when they aren't being used.
image via ideas.alysonhuber.com
This mahogany colored island is another that makes great use of the island to add an additional table. This island also makes great use of color by blending together brown, black, and white.
image via bidehome.blogspot.com
This double island set up is the best of both worlds. While one island is used for storage and extra counter space, the other is used for seating. Both feature sleek and clean marble counter tops that add an extra layer of elegance to their design.
image via homenewdesign.com
This marble island features a very modern design that will be great for a contemporary kitchen. Making the most of a traditional marble patter, this attractive island houses two appliances and the sink.
image via decoholic.org
Counter space should never be an issue in this kitchen, and that's largely thanks to this over sized island which makes great use of earth tones. This island also has plenty of extra storage space which is perfect for storing pots, pans, and other dishes.
image via apeemotion.com
Sometimes matching is unnecessary and can be over done, but in this case it's perfect. This island, which easily blends in with the rest of the kitchen, is extremely sleek and stylish. No matter how old you get, there's always something about shiny new things that you just can't turn away from.
image via kittzellg.com
With an island like this, everyone will love coming into your kitchen, and you might even be able to get your family to stick around longer during meal times. Featuring an illuminated glass countertop, this island is another that may not be the most practical, but it will definitely score a lot of cool points.
image via houzz.com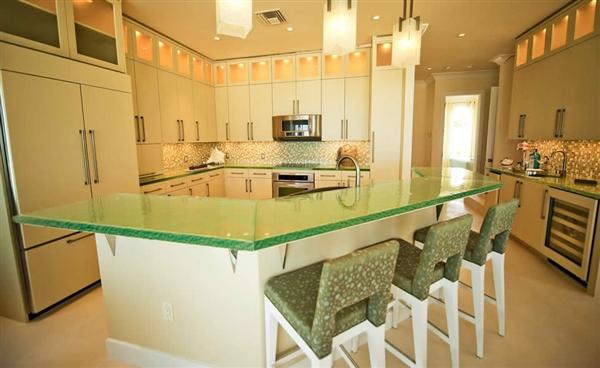 Covered by a thick glass counter top, this island can be used for extra counter space or as meal time seating. Whether you like to have elaborate gatherings or casual get togethers, this island could be the perfect fit for your kitchen.
image via billmyanswer.com
This unique glass design almost resembles an ice luge. With essentially two levels, this island has plenty of counter space as well as a raised area for seating. If you can't decide which is more important to you, going with something like this could prove to be a wise choice.
image via mill-street.com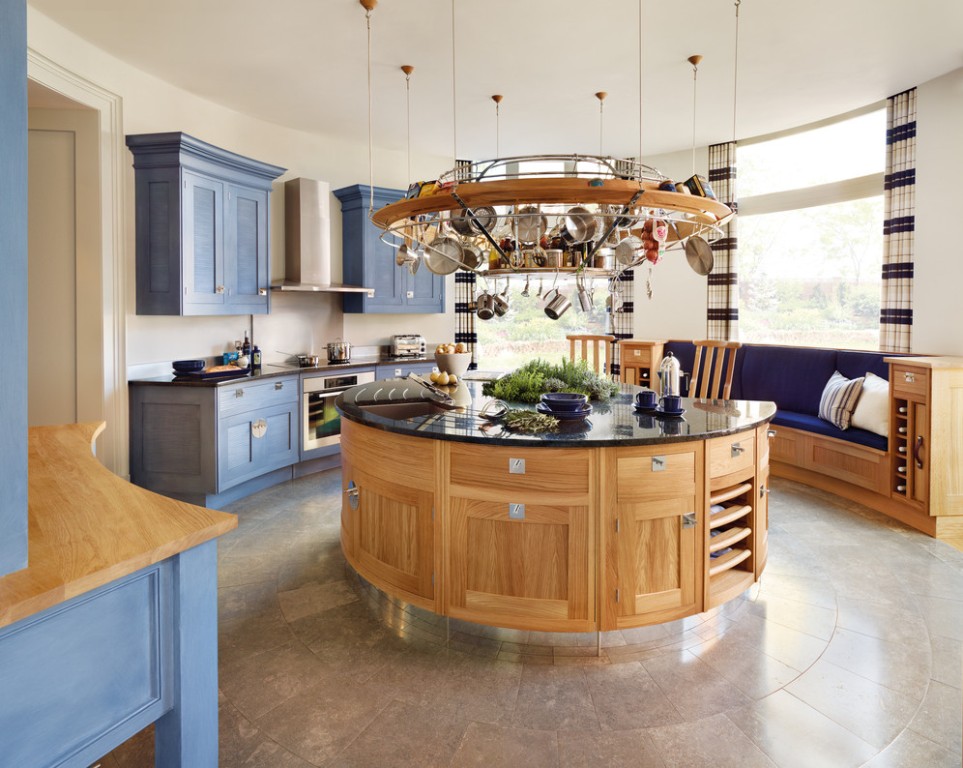 Built into a half circle, this island packs a very serious punch. Although it features a laid back design, it can easily be dressed up to be something a little more formal. Serving as the center piece of the kitchen, it has plenty of story space including shelves and cabinets, houses the kitchen, and offers seating for two.
image via adapartners.org
Half wooden and half stone, this island features a little bit of a rustic design that is contemporary enough to attract anyone. The dark finish also adds a nice eye catching pop that is sure to wow guests.
image via iseecubed.com
This island has everything you could need. If you're a fan of marble counter tops, extra storage space, and extra seating, a design like this will definitely offer you something you won't want to ignore. Also featuring a hanging cabinet, this structure will definitely set your kitchen apart from others.
image via homestratosphere.com
This incredible wooden design looks somewhat boat-like and makes great use of color and shape. While this island won't give you much more counter space or provide you with any extra storage or seating, there's something about its physical design that will definitely make it appealing to lots of people, especially those who don't have the space to build a larger island.
image via adoltiket.com
With a sturdy structure and a laid back look, this creative island features a smooth stone counter top and a thick wooden base. This island stands out in this relatively quiet kitchen and steals the show (in a good way). This is a prime example of how the right island can really breathe new life into your kitchen.
image via countryside-studio.com