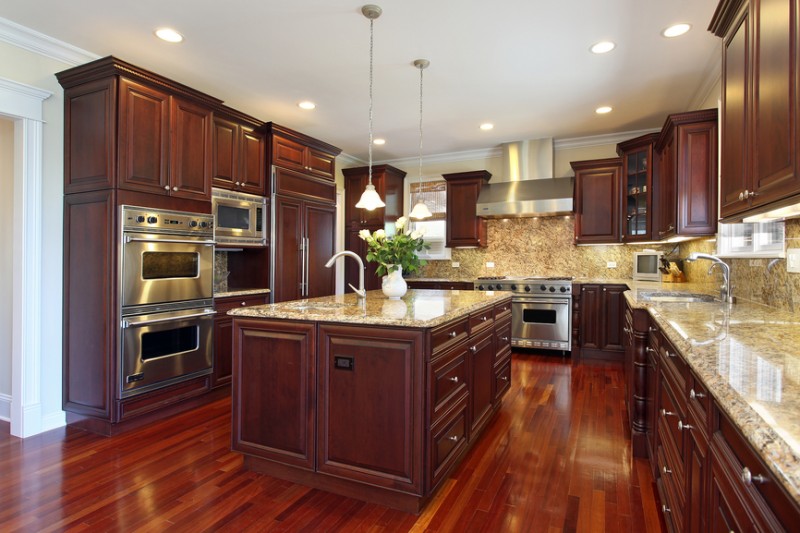 It goes without saying that the kitchen is one of the most popular rooms in any home. Especially with the holiday season approaching, people will be spending plenty of time in their kitchens preparing meals for their loved ones. But despite the kitchen's undeniable importance, for most people, it's the one room that they don't get to update as often as they'd like. Think about it, when's the last time you got the chance to redesign your kitchen and turn it into the space of your dreams? Probably never. However, for those with the right resources, designing a luxury kitchen is a very real possibility. If you're thinking of redesigning your kitchen, or simply want to see what some of the options are, you're in luck. Here are 20 jaw dropping luxury kitchen designs.
image via homestratosphere.com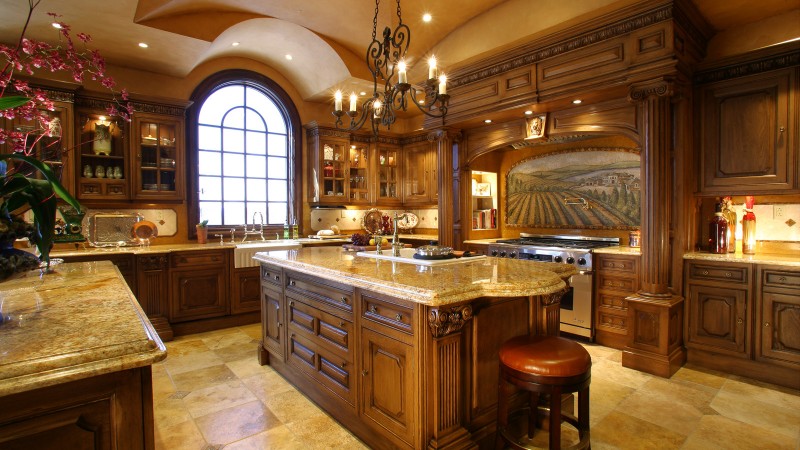 Nothing says luxury like beautiful marble countertops, and this kitchen is full of them. But while the use of marble is undeniably impressive, one of the best things about this kitchen is the attention detail. The woodwork is very intricate and the unique backsplash is certainly eye-catching.
image via www.luxurykitchendesigner.com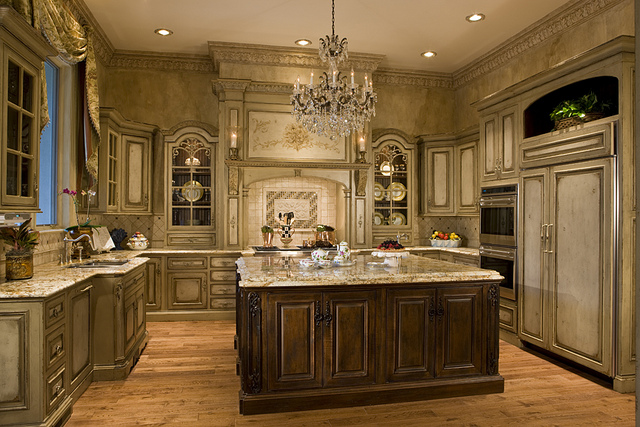 There aren't too many people who can say they have a crystal chandelier in their kitchen, and that is one of the many things that sets this beautiful kitchen apart from many of the rest. The creatively disguised refrigerator and freezer also add a unique touch to this lovely room.
image via homeint.xyz
One of the true marks of luxury is space, and that's one thing this kitchen has plenty off. Not only does it boast tons of storage space, but it's also got double oven, double stove, and an extended alley way. However, if more space isn't your thing, you'll probably be equally as impressed by the double chandeliers and stainless steel appliances.
image via homedesign7.com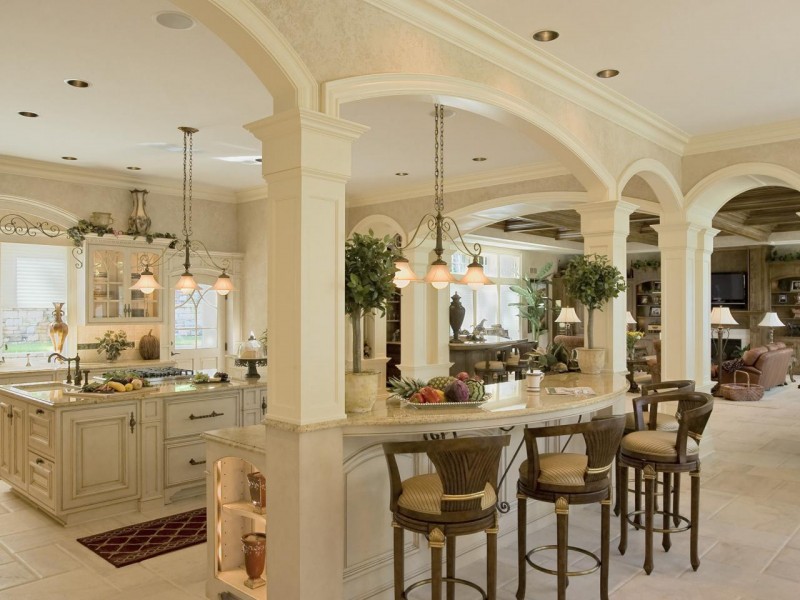 This bright and open kitchen features a design that is both modern and classic. The columns also give it a larger than life feeling that is perfect for entertaining large numbers of guests or enjoying a meal with close friends and family. The unique brown stools also add a nice touch, and even if you don't have the same amount of space as this grand kitchen, the stools might be something you can use in your own home.
image via hgtv.com
This modern kitchen is smooth, sleek, and is a food lover's dream. Although it looks like something out of a magazine, this kitchen still maintains a level of comfort and warmth that most people look for and expect. Plus, the flat screen TV built into the wall is also a pretty nice added bonus.
image via hopehomedesign.com
This modern kitchen with a bit of an old school touch is perfect for those who like luxury but could do without many of the extras. Although this design keeps things pretty simple, it also does a nice job of being attractive.
image via www.traviasuite.com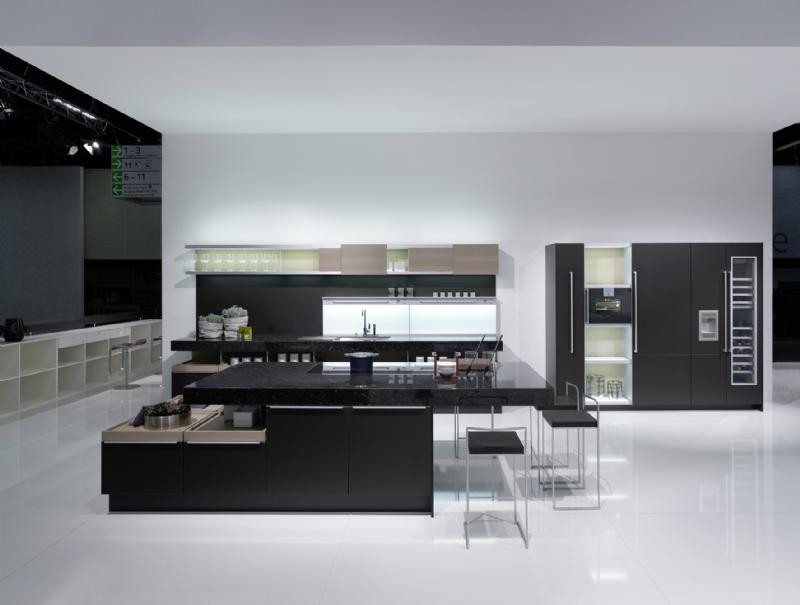 Black isn't a color that you see very often in kitchens, but it is one of the colors that is most often associated with luxury. This kitchen takes full advantage of that and its use of sleek black countertops and cabinets sets it apart from many of the others.
image via trendecoration.com
Old or new, most kitchens follow a pretty standard design. However, this design is very creative and almost looks like something out of the future. These sleek silver stools combined with a luxurious lightning fixture and smooth black finishes is something that you won't see very often.
image via www.minimalisti.com
If you're a fan of light finishes, then you'll probably love this kitchen. Although most designs feature darker woods, this kitchen proves that there is certainly more than one way to do things. Plus, the use of hardwood flooring isn't something you'll typically find in kitchens.
image via bestkithen.xyz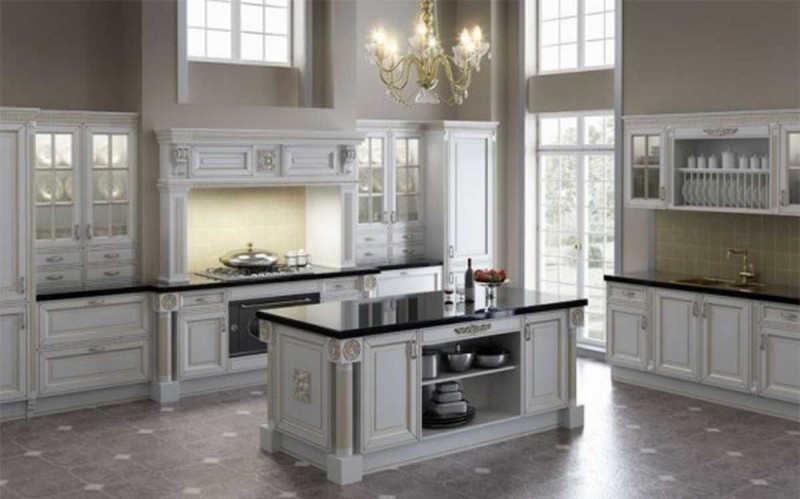 This classic kitchen features a very open floor plan that leaves more than enough space to easily navigate around. This design also says luxury from start to finish, all the way from the tiled floors to the golden chandelier.
image via iseecubed.com
The rustic style isn't something that most people think of when they envision luxury, but this kitchen with a rustic touch is perfect for people who want to have a top of the line kitchen and still maintain a cool and laid-back feel.
image via decobizz.com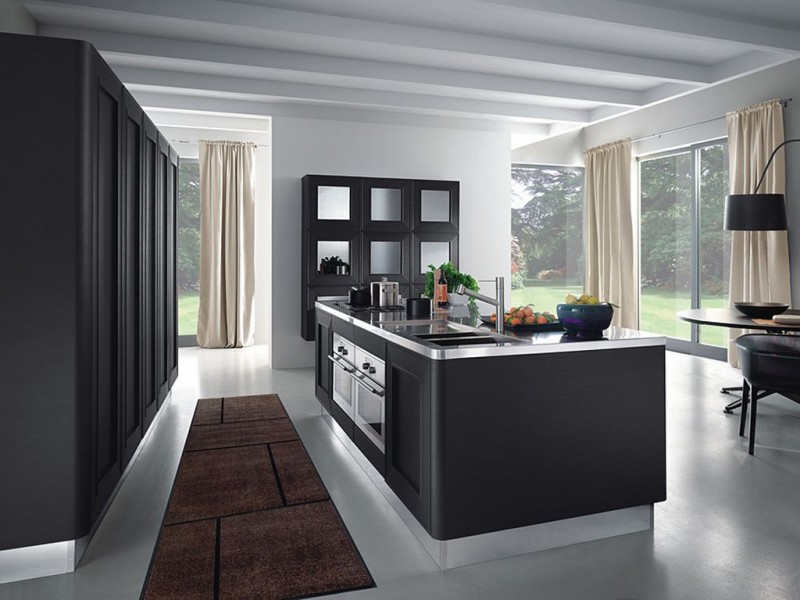 If there's one thing that all kitchen lovers appreciate, it's natural lighting – and that's one thing that this kitchen has plenty off. With ample window space, and an amazing modern design, this kitchen his everything the chef in the house could need or want.
image via tagmask.com
When it comes to most kitchens, bold colors are usually pretty absent.Sure, this design may not be for everybody. However, this bright red kitchen proves that bright colors can work well in the kitchen.
image via decosee.com
There are tons of options when it comes to kitchen tables, but this clear glass square is luxurious and modern all at once. If you've got a bunch of kids in the house, this might not be the best table to go with, but if you think your household can handle it – it's a great way to make your kitchen feel fancy.
image via bestoneinterior.com
This kitchen has a very unique, and almost abstract design that brings back some of the most familiar aspects of luxury and combines them with creativity. Although doing something like this requires a lot of space, it's definitely one way to make your kitchen stand out from all the rest.
image via smallkitchen-design-ideas.blogspot.com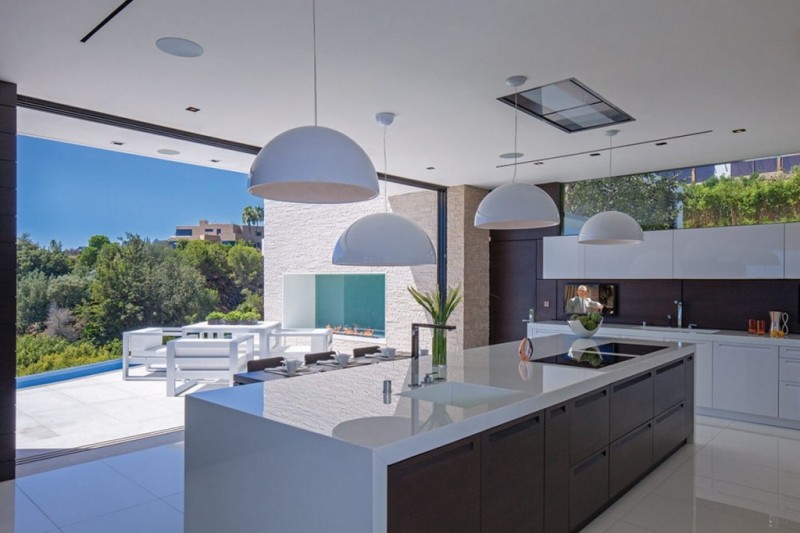 Nothing beats a kitchen with a view, and the scenery from this kitchen alone has luxury written all over it.  But even without the view, this kitchen would be something to marvel over. It's use of white and brown come together nicely, and the half dome lighting fixtures also add a nice touch.
image via dellacooks.com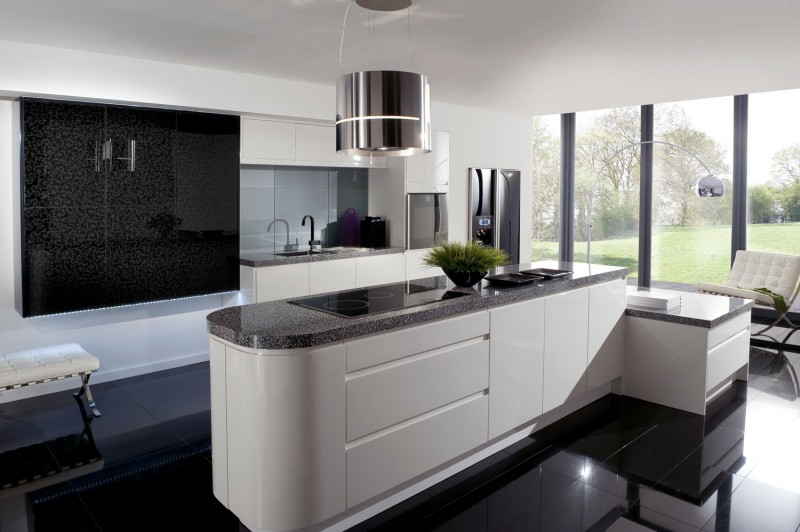 This kitchen doesn't have a ton of counter space, but sometimes luxury means that you have to sacrifice some of the practicalities for a bit more style – and if there's one thing this kitchen certainly isn't running low on is style.
image via meddiodesign.com
This cool country-style kitchen is all about providing an open feel, and it has all of the comforts of home. But despite this designs laid back vibe, it still features all of the modern luxuries — such as stainless steel appliances — that many people are looking for today.
image via www.romainclaudon.net
Brick probably isn't something you see a lot of in most people's kitchens, but after seeing this design you'll probably wish you could see more if it. By making the most of wood, marble, and brick – this kitchen is draped in luxury from every angle.
image via www.homeepiphany.com
With hardwood floors, modern appliances, and classic attention to detail – this is on kitchen that will easily turn heads. While there isn't a lot of space for diners, that's an easy thing to overlook thanks to all of the other great things about this kitchen.
image via hoamhoag.blogspot.com