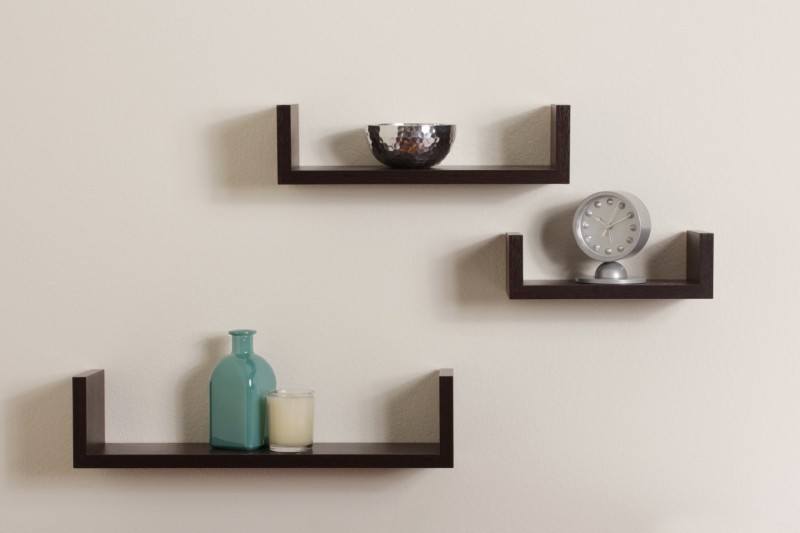 Let's be honest, shelves aren't something that most people think about very often – but floating shelves are about to change the game. While most shelves tend to be boring, and for practical use only, floating shelves provide a little bit of umph while also still serving their purpose. Adding floating shelves to your home can give it a unique and modern look that will set your home apart from the rest. Plus, floating shelves will look great in any room of your home. If you've got some items that you'd like to store or put on display, but are tired of the typical shelves – you're in luck. Your home design will never be boring again. Here are 20 floating shelves designs that are amazing.
image via amazon.com
Although most floating shelves seem to defy gravity, this curved design is taking things to a whole new level. However, despite this incredibly modern design, this shelf remains completely useable for showing off your items.
image via shelving-ideas.net
These floating triangle shelves compliment each other nicely and can also be use to create multiple shelves. Whether you've got a lot of things to show off of just a few, these triangle-shaped floating shelves will suit your needs.
image via floatingshelf.org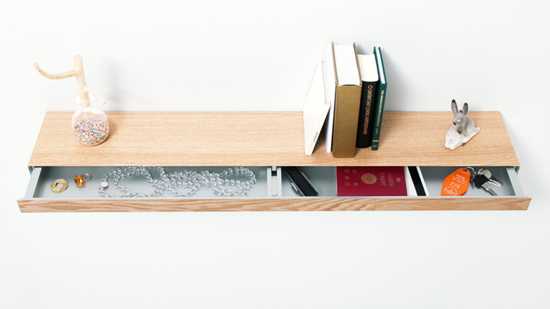 Okay, so you think floating shelves are cool – but still not completely sold that they're practical – this design might change your mind. This shelf and drawer combination is the perfect design for people looking for a little more space than a shelf can provide.
image via lushome.com
This illuminated floating shelf design adds a nice kick to this simple glass shelf. Although most floating shelves tend to be eye-catching, this one definitely adds a nice twist and can be perfect for people looking to put a floating shelf in bar or lounge area.
image via decoholic.org
Covered in chalk paint, these lovely box-shaped floating shelves are creative and cool. These shelves can be arranged any way of your choosing, and are also perfect for storage.
image via kumfree.com
Simple doesn't have to be a bad thing, and these floating shelves are proof. If you're the kind of person who loves modern minimalist designs, this set up will definitely catch your eye. With just enough space to store some necessary things, these floating shelves are attractive but not overpowering.
image via blog.uwdecals.com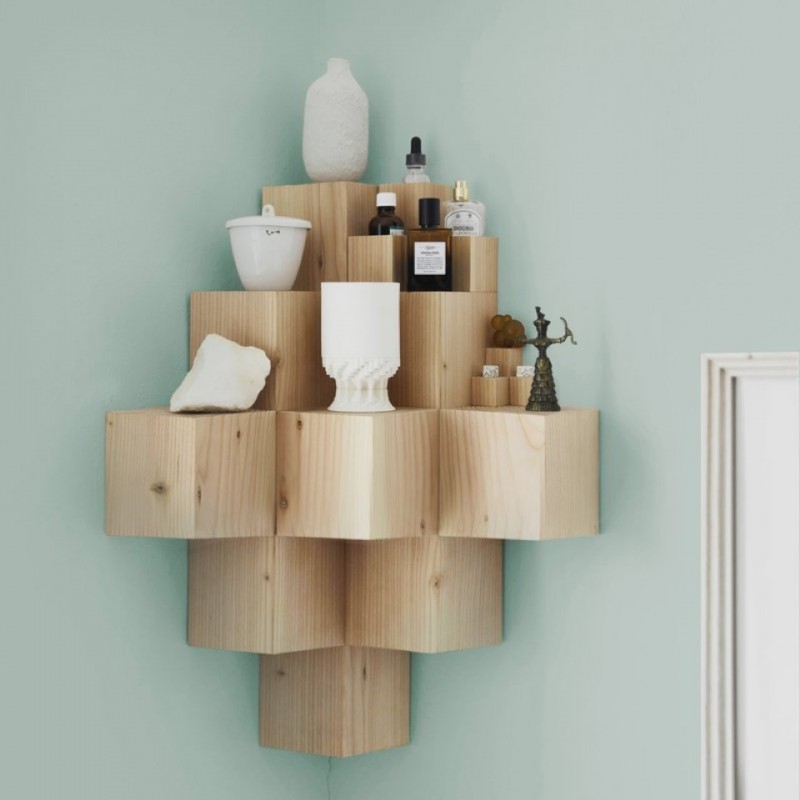 These stacked cubed floating shelves are almost like a work of art. This design is perfect for displaying little knickknacks or maybe even pictures and could even make for a fun DIY project if you're the kind of person who prefers to create your own decorations.
image via dewebsign.com
This elaborate design features a variety of connected floating shelves. Although these shelves take up nearly the entire wall, they provide lots of space for books and other items. So if you've got the space – this might be a great way to go.
image via oddfunny.com
If you're like most people, you probably have plenty of things in your bedroom that you don't know what to do with, and these floating shelves might be the perfect solution. Whether you want to store books, pictures, or even close – this set up will have all of the space you need. Plus, it also looks pretty cool and will definitely give your bedroom a new flair.
image via typehouse.com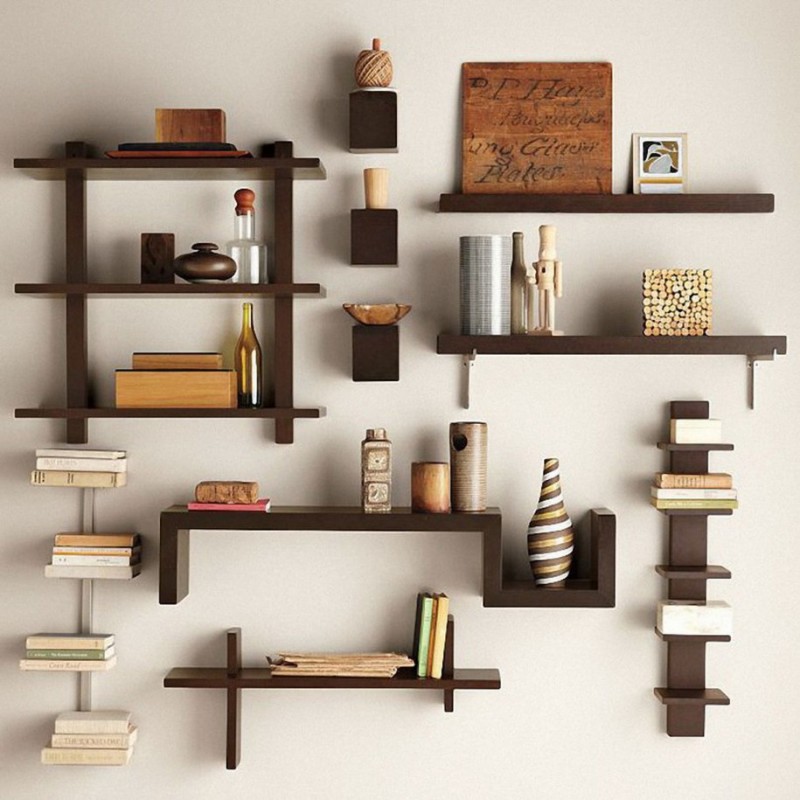 If you can't decide what kind of floating shelves would look great in your home, you don't have to. These set up features an array of floating shelves in various shapes, sizes, and designs. These shelves also show just how versatile floating shelves can be, and prove that there is a design that can fit your needs.
image via mazungo.com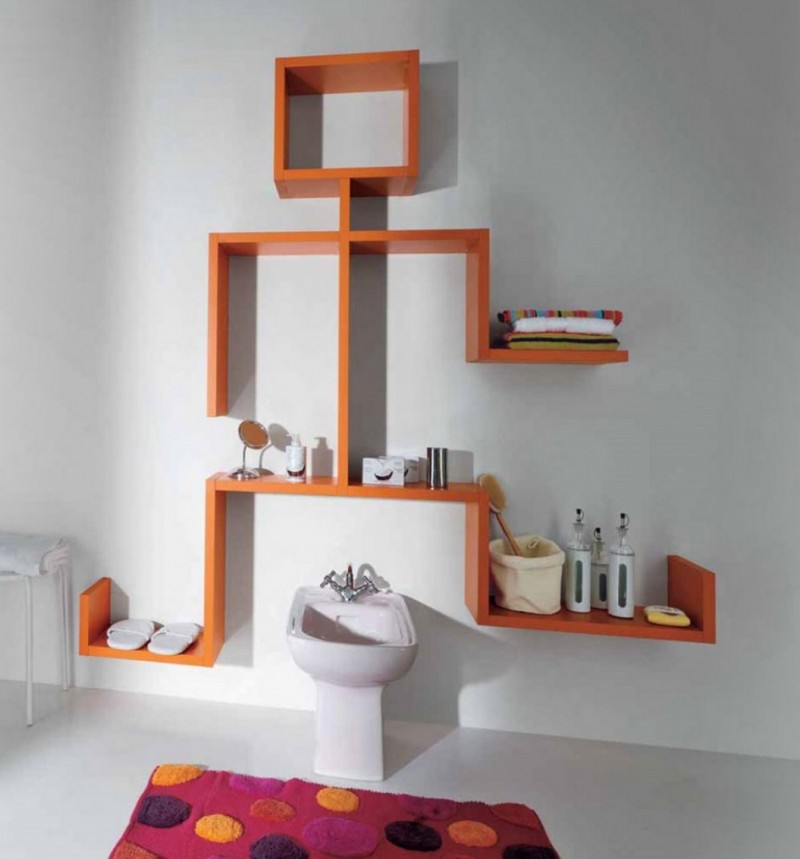 This is by far the most creative design on the list. This group of floating shelves, which has been designed into the figure of a person adds a fun effect to a useful design. Located in the bathroom, this set up is great for holding all of your daily toiletries and towels. With these in your bathroom, your linen closet will probably become a thing of the past.
images via proferocutlery.com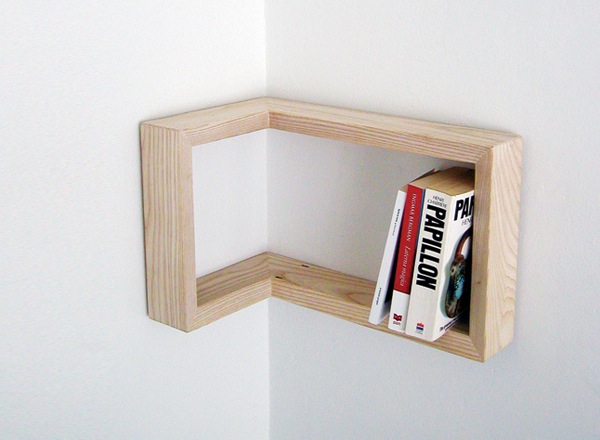 If you love to read, but don't have the space for traditional bookshelves, this simple design may be the answer you've been looking for. If this individual shelf isn't enough for all your books, you can always add more shelves.
image via woohomedesigns.com
Cubed floating shelves are perfect for showing of the items in your home that you really want to be seen. Because this design is very simple and clean, they will call attention to your items without overpowering them. So with that being said, it might be time to dust off those old trophies and give them a chance to shine.
image via hometone.com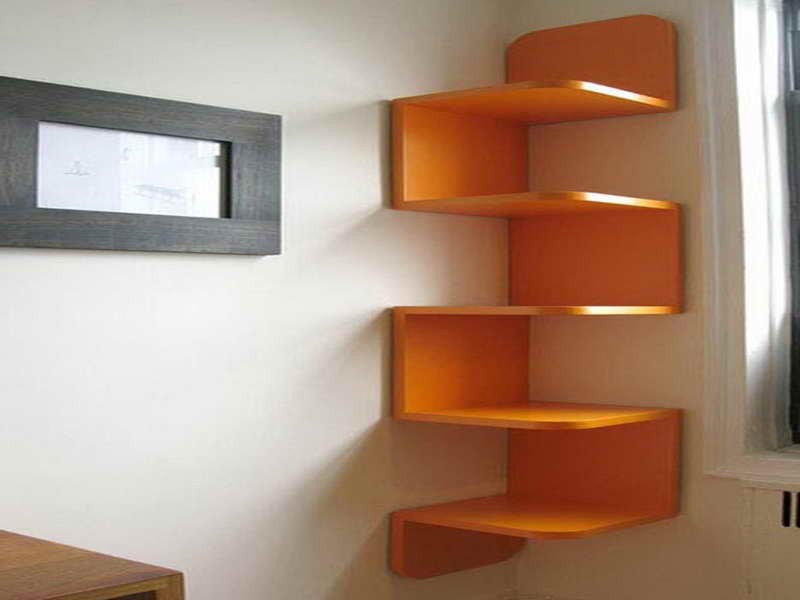 This orange DIY shelf design is packed with plenty of space for anything you may be needing to store and it will look great in the corner of almost any room. If you love floating shelves and are looking for your next project, this might be a good move.
image via www.examsuites.com
Make the most of your floating shelves with a design like this. A fully usable shelf which also features coat hangers is a great way to get the most out of your shelf – especially if you need a little more storage space by the entrance to your home.
image via hi-be.com
Glass has a reputation for being very fragile, but when accompanied with the right components, glass can be a powerful material that can be used in a lot of different ways. These glass floating shelves are proof of that, and as you can see they also look great.
image via glassshelves.net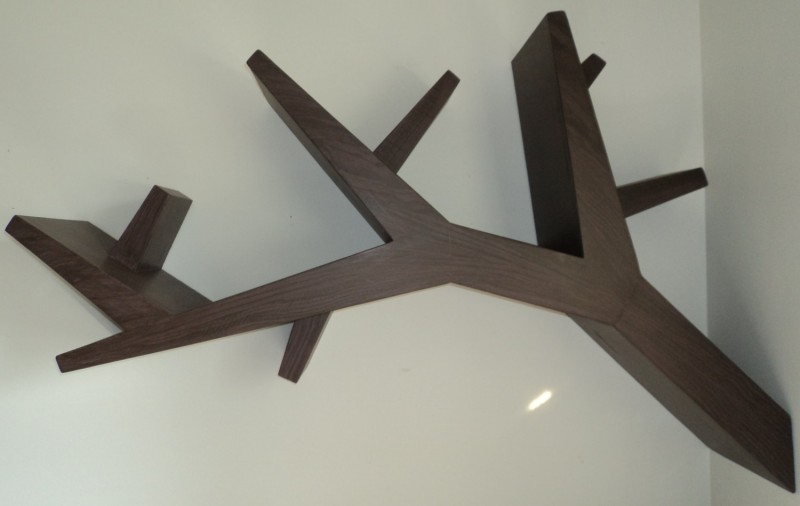 Designed in the shape of a tree, these floating shelves speak for themselves. Not only will you be able to use these, but they'll definitely spruce up your overall home design. There probably won't be anyone else in your neighbor that will have shelves like these!
image via www.nilebliss.com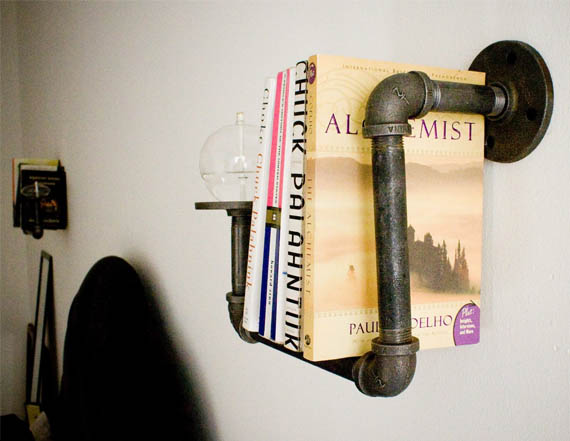 Have you ever thought about pipes and shelves in the same sentence? Probably not. However, this creative design takes floating shelves to the next level by incorporating something a little unusual. Your books will never be bored again with shelves like these to hang out on.
image via www.remodelaholic.com
These DIY floating bookshelves are perfect if you want the floating look but don't want your walls to be completely taken over or covered by something. After all, you usually can't go wrong if you keep things pretty simple.
image via lanewstalk.com
Cubed floating shelves can be perfect for bringing a modern look into your home, and they're also great for storage. These oversized shelves add to the overall design of the home, and also add a nice pop of color to the room.
image via bmorelive.com