Nothing says fancy like a beautiful and classy staircase.  The perfect set of stairs can really make a home reach new heights, in more ways than one. Unfortunately, fancy staircases are not a common site in most homes, because while many people enjoy looking at them, they tend to find them a little unnecessary.  Also, depending on who is living in the home, the most beautiful staircase may not be the most functional.  However, harsh reality has never been very successful in keeping people from dreaming, and these beautiful staircases will make you wish you had one of your very own. Here are 20 of the most exquisite staircase designs.
1.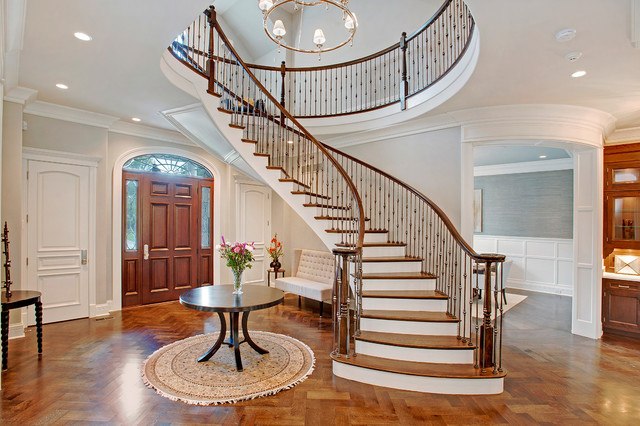 This staircase is simple, yet beautiful and really adds a nice touch of class to this home.
(image via houzz.com)
2.
Climbing the stairs just got a lot more fun!
(image via nicedoors.com)
3.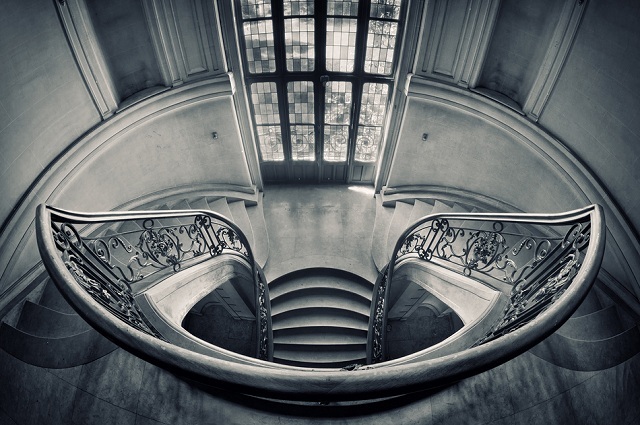 This amazing staircase features its own set of wings, and is the perfect location for taking lovely photographs.
(image via emorfes.com)
4.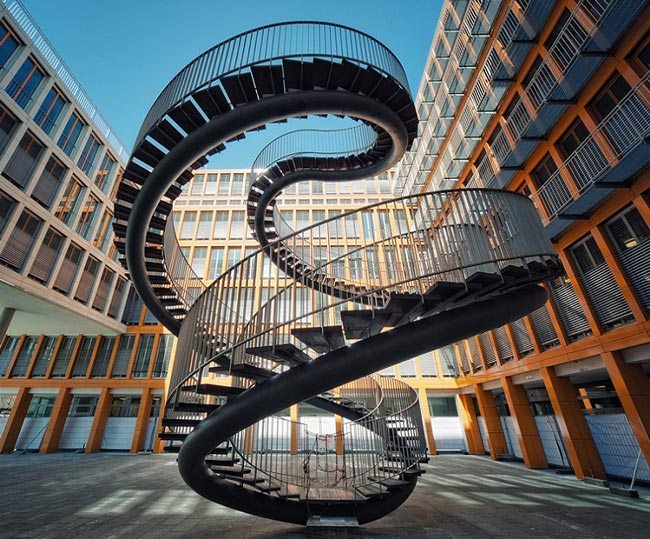 Apparently, when a staircase is this amazing, it doesn't even have to actually lead to anything.
(image twistedsifter.com)
5.
This beautiful gold handrail adds a nice touch to this stairwell right before it splits into two separate sides.
(image distractify.com)
6.
Everything about this staircase just screams excellence and elegance.  From the lighting fixtures, to the columns, to the statues, this staircase literally has it all.
(image via travelpanda.com)
7.
Classy doesn't always have to mean classic, and this modern staircase proves that a touch of new doesn't always have to be a bad thing.
(image via gattox.com)
8.
Who doesn't like options?  With two sets of stairs leading in opposite directions, this staircase give people a chance to experience things from both sides.
(image via patrickhouseplant.photoshelter.com)
9.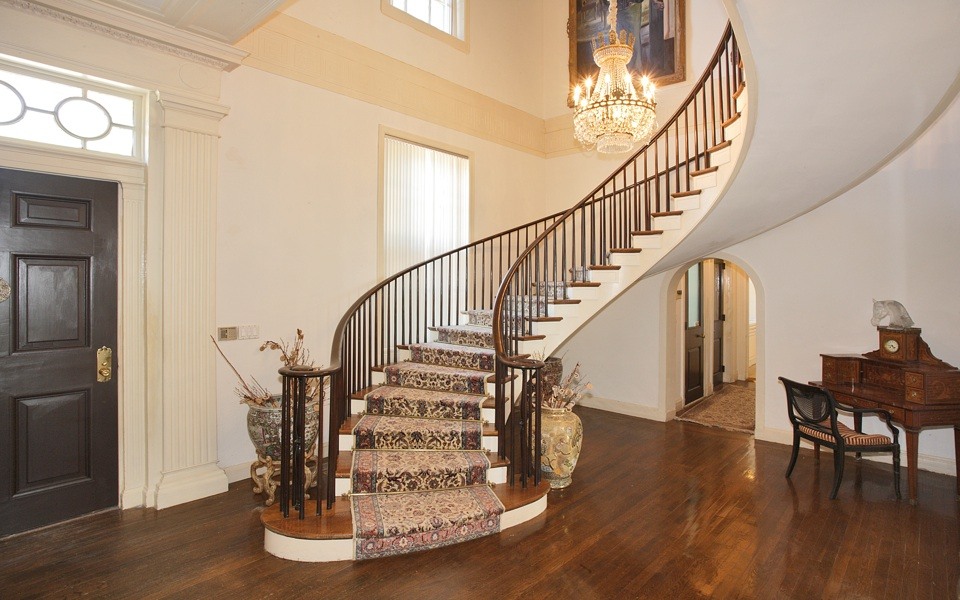 Adding a rug to the steps can help make any set of stairs look better.  Plus, it can also help make wood stairs a lot less slippery.
(image priceypads.com)
10.
This opening in the middle of this marble staircase really opens up some space in this room.
(image via takemyfoolishadvice.com)
11.
This house certainly has no shortage of stairs, but with these gold and iron railings, walking up and down the stairs can be more of a masterpiece than workout.
(image via https://www.pinterest.com/casablancanet)
12.
Sometimes simple is the way to go, and these stairs are a prime example that expensive looking touches are not always necessary.
(image via lephre.com)
13.
The only word that comes to mind for this staircase is amazing.  There's a pretty good chance most people would love to have his one.
(image via https://www.pinterest.com/jamesd0591)
14.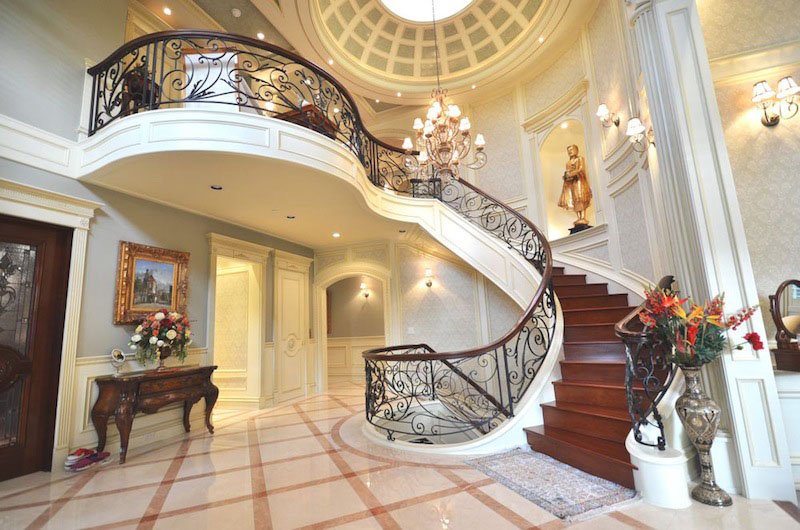 Having a balcony is always nice, and with these stairs, people will have a chance to overlook the foyer.
(image via idesignarch.com)
15.
Black and gray have never looked so good together.  This double staircase's design allows for a lot of sunlight to enter the home, and create a spacious environment.
(image via https://www.flickr.com/photos/88370030@N04/)
16.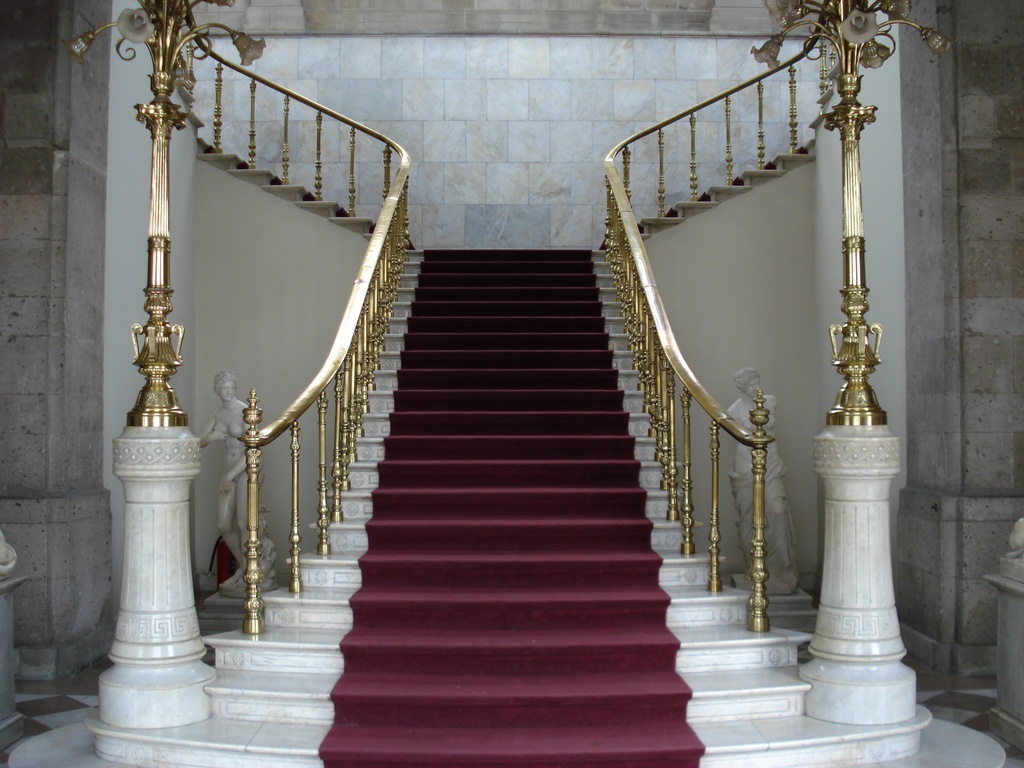 Although it may not seem like there is much to this staircase, the gold hand rails and other fixtures certainly make these steps one of a kind.
(image via quangcaotacta.com)
17.
You know stairs have made it to the top when they have their own light fixtures.  But the question is, could you make it to the top of these bad boys.
(image via nouveauricheclothing.wordpress.com)
18.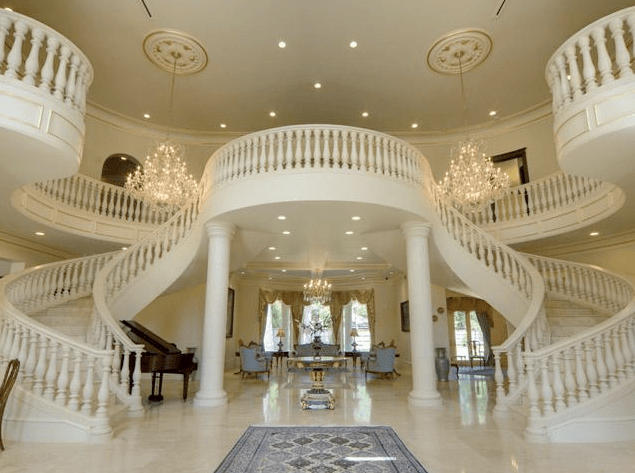 This design gives the stairs and balcony an almost castle like look which will certainly make any home look elegant.
(image via https://www.pinterest.com/jolerose)
19.
Not only are these stairs amazing, but they also feature an elevator for everyone who dislikes stairs.
(image via o.canada.com)
20.
Unlike most fancy staircases, this is set off to the side instead of being the venter of attention.  However, even without being in the middle of the room, this staircase commands attention.
(image via naturallivingmag.com)
 (Photo by Dan Kitwood/Getty Images)