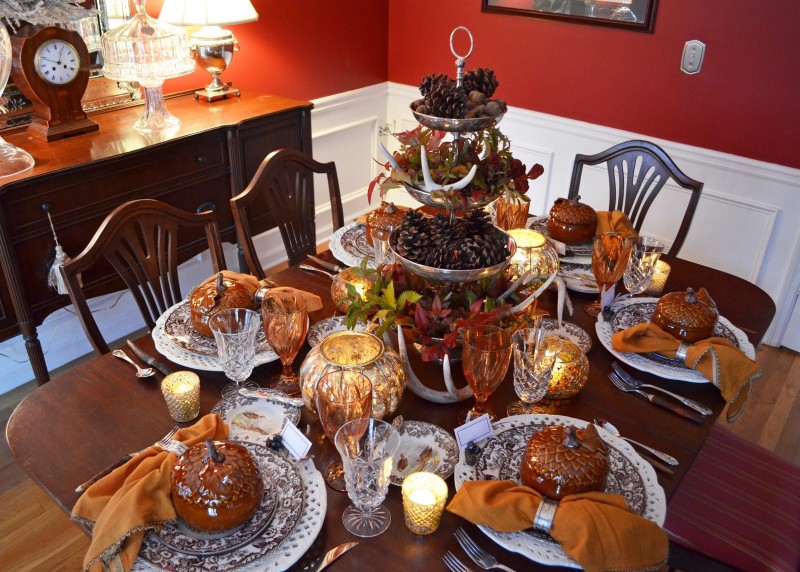 Thanksgiving is easily one of the most popular holidays in the United States. Each year, people travel miles to spend time with their loved ones and enjoy a great meal. But while spending time with family and friends and being grateful for all you have are definitely the key components to a good Thanksgiving, all the hosts and hostesses know that a beautiful dining room is also very important. After all, for many people, there are only a few occasions throughout the year that warrant a formal sit down in the dining room, and Thanksgiving the grandaddy of those occasions. So, whether you're a pro at creating the perfect set up, or looking for some new things to implement into your design – the possibilities are endless. Here are 20 dining room designs perfect for thanksgiving.
image via decodir.com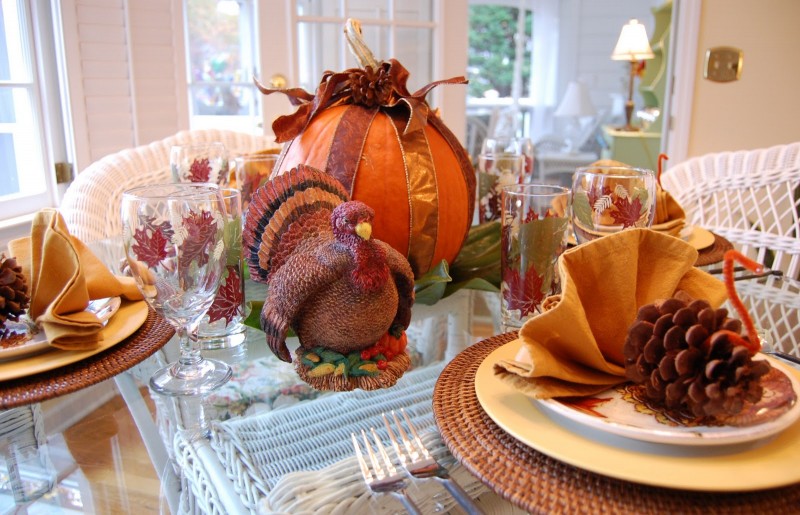 The set up of the dining room table is a great way to welcome your Thanksgiving guests. With that said, having creative table settings along with decorative plates and glasses is a great way to keep the holiday theme going. Also, it never hurts to throw a turkey into the mix.
image via chantiki.com
Although most people place all of their decorating energies on the dining room table, there are other areas in the room that need love as well. When you're coming up with decorating ideas for your dining room this Thanksgiving, it's important to remember that the entire space is your canvas.  This set up may not be on the main table, but it still adds a very nice touch.
image via www.weddingpitures.xyz
One of the most important aspects of the dining room table is the center piece. While some people choose to go with elaborate pieces, sometimes simple can be the go, especially during Thanksgiving. This holiday themed piece is full of fall items that will help promote the Thanksgiving spirit during your special meal.
image via www.deivos.com
For most people, having an extremely formal dining room design is a Thanksgiving tradition. However, this lovely table proves that keeping things casual doesn't have to be a bad thing. Complete with all of the things you'd expect to see on a dining room table, this set up is perfect for people who aren't expecting a lot of guests.
image via geriscamera.com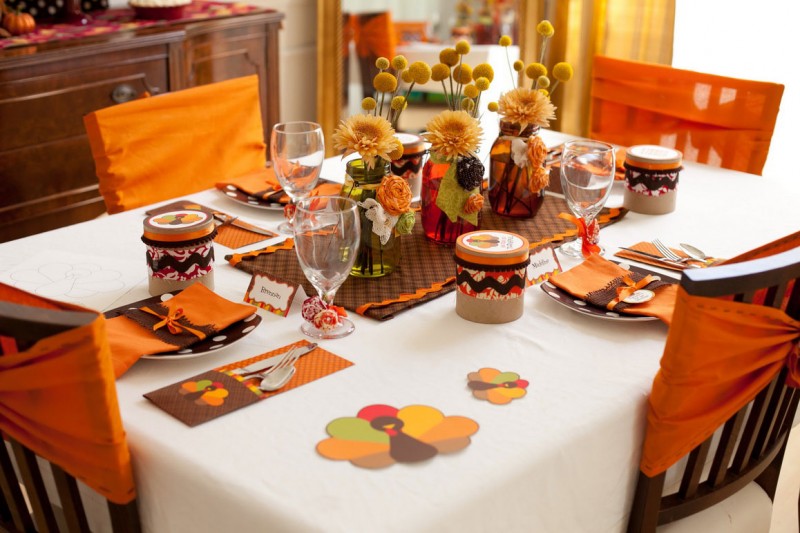 Although the overall design of the dining room is important, the chairs tend to get overlooked. After all, when's the last time you actually thought about decorating a chair? Exactly. Well, this design proves that sometimes the small touches are exactly the things that can take your dining room to another level. With just a simple piece of orange cloth, these chairs were transformed from regular to Thanksgiving themed.
image via sikhco.com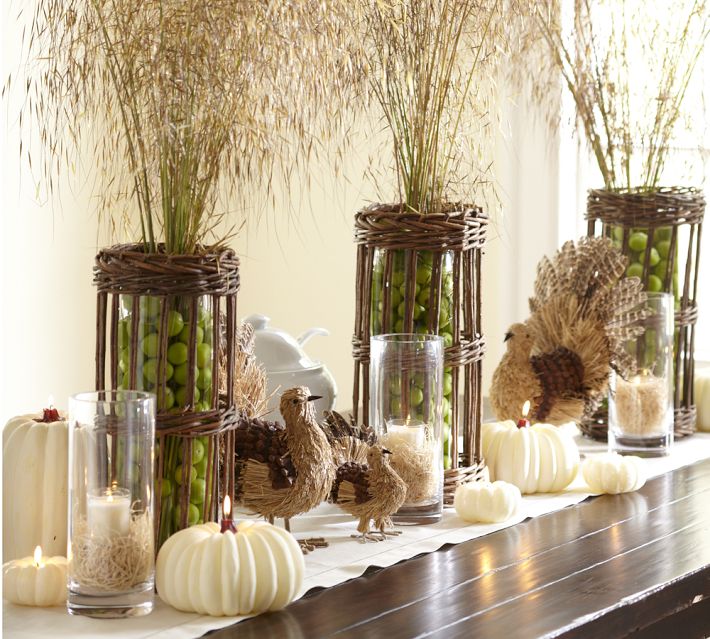 These little wicker turkeys are perfect for adding a touch of Thanksgiving to your dining room design, and they can be used on a set table or as part of the main tables centerpiece. Also, the use of creative white pumpkin candles adds a sense of coziness to the room while allowing everything to flow together nicely.
image via www.interiordecodir.com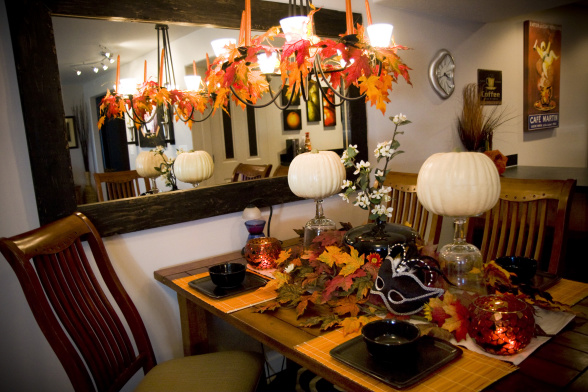 If there's one thing almost everyone loves about the fall, it's the foliage. Even if you don't live in a place where the leaves transform into beautiful colors, it's still something that everyone can identify with. With that said, using leaves for decoration can be a great way to get your dining room ready for Thanksgiving.
image via aveitech.com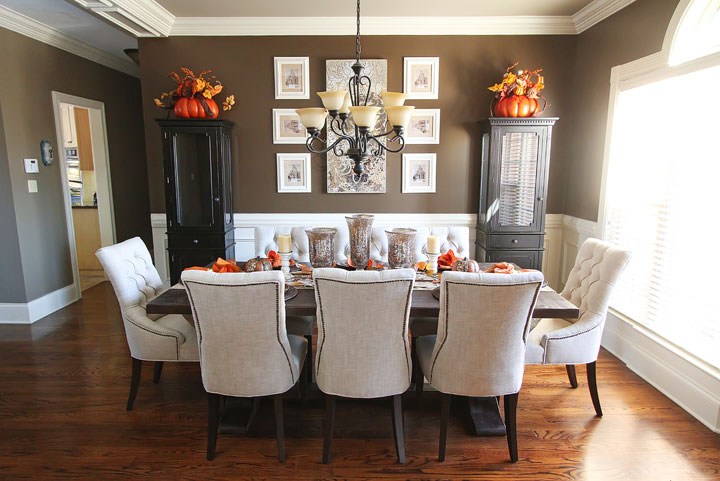 This beautiful dining room features the traditional set up with a little contemporary flavor. From the chairs to the chandelier, the modern look is very present in this dining room, and if you want to mix the best of both worlds you may want to consider going with a look like this.
image via decorilla.com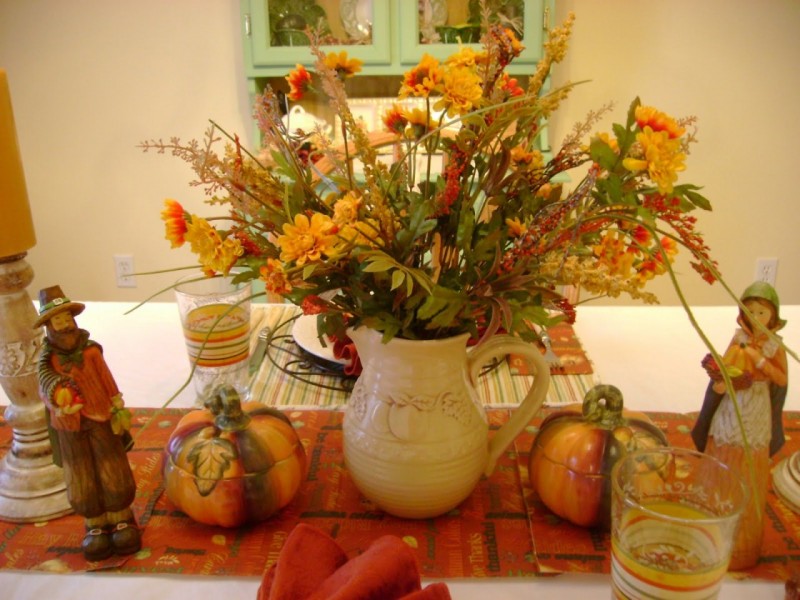 Flowers can be a great addition to your dining room table, especially when used as a centerpiece. Little nicknack can also help your dining room feel more festive, but be careful not to over do it or use figurines that don't fit with the occasion.
image via seatbolts.com
This classic dining room table is perfect for anyone who is planning on hosting a lot of people for Thanksgiving. Not only is there plenty of room, but having name placeholders for everyone adds a special touch that will make everyone like you're thankful for them.
image via www.advenaes.org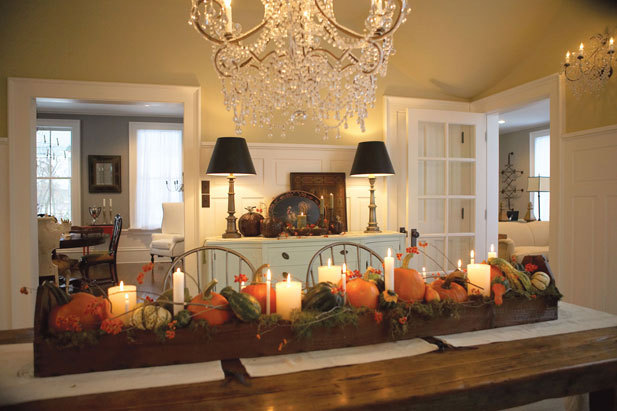 If you have a large table but are looking for ways to make it feel more intimate, candles might be the answer you're looking for. Sitting around a table that's lit with candles will make the experience more memorable for everyone.
image via decohubs.com
There's nothing wrong with a little Thanksgiving themed bling, and this dining room table pulls it off nicely. Will still maintaining the fall colors, this design borrows a little glitz and glamour to help the table feel brighter and more festive.
image via www.kevinandamanda.com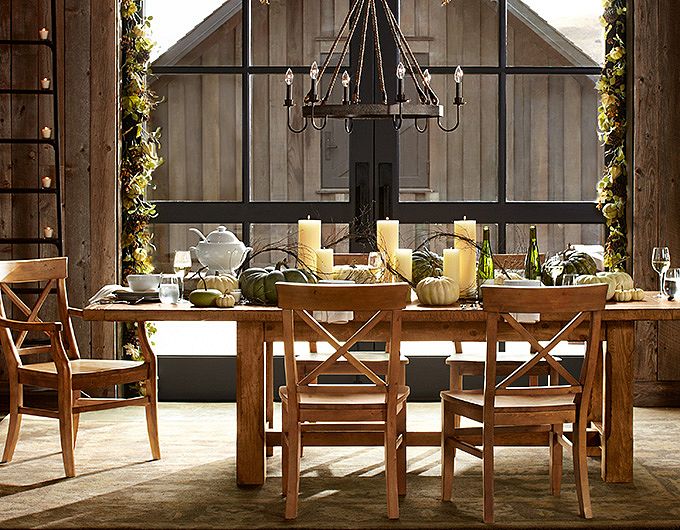 This rustic dining room is simple yet beautiful and relies heavily on candles and natural lightning. A design like this is perfect if you're not the kind of person who is interested in elaborate table settings and lots of colors.
image via www.homestoriesatoz.com
Orange and brown are two of the most common colors associated with Thanksgiving. However, this dining room design is able to maintain the Thanksgiving feeling without using either one of those colors. The use of white pumpkins is not only creative, but it will make your dining room look unique.
image via livshome.com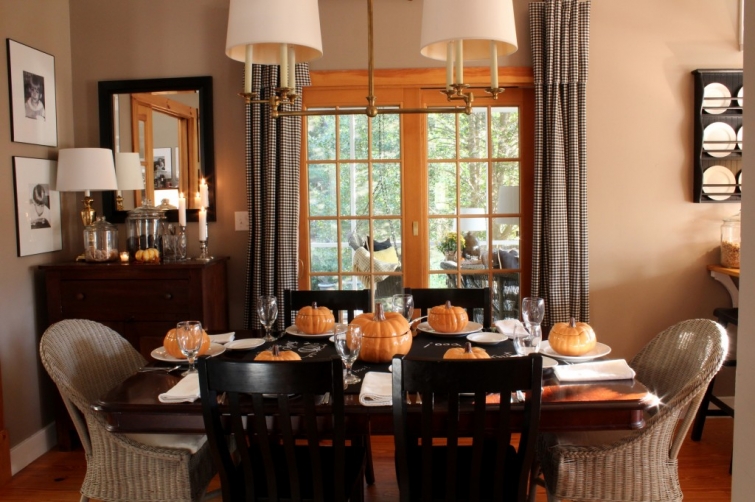 Sure, pumpkins are a fall fixture, but it's not often that you see pumpkin serving dishes. This dining room takes a popular Thanksgiving item and gives it a practical purpose. With pumpkin shaped bowls, whoever eats dinner at your house will definitely leave with something cool to talk about.
image via www.talkofthehouse.com
Thanksgiving may be an American holiday, but that doesn't mean influences from other cultures aren't welcome. With the backdrop of a European countryside, this dining room design is beautiful and classic.
image via southernseazons.blogspot.com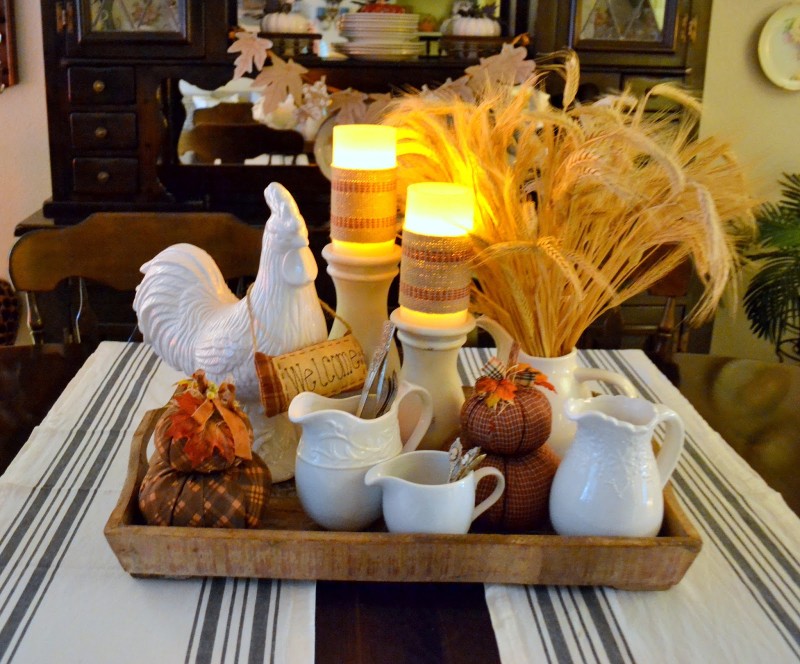 Using a tray like this can be a great tool when serving food on Thanksgiving. It can be used to bring out condiments, utensils, or anything else you see fit. However, a tray can also be use for some small decorations and can even be used as the base for a lovely centerpiece.
image via cas-anoasisinthedesert.blogspot.com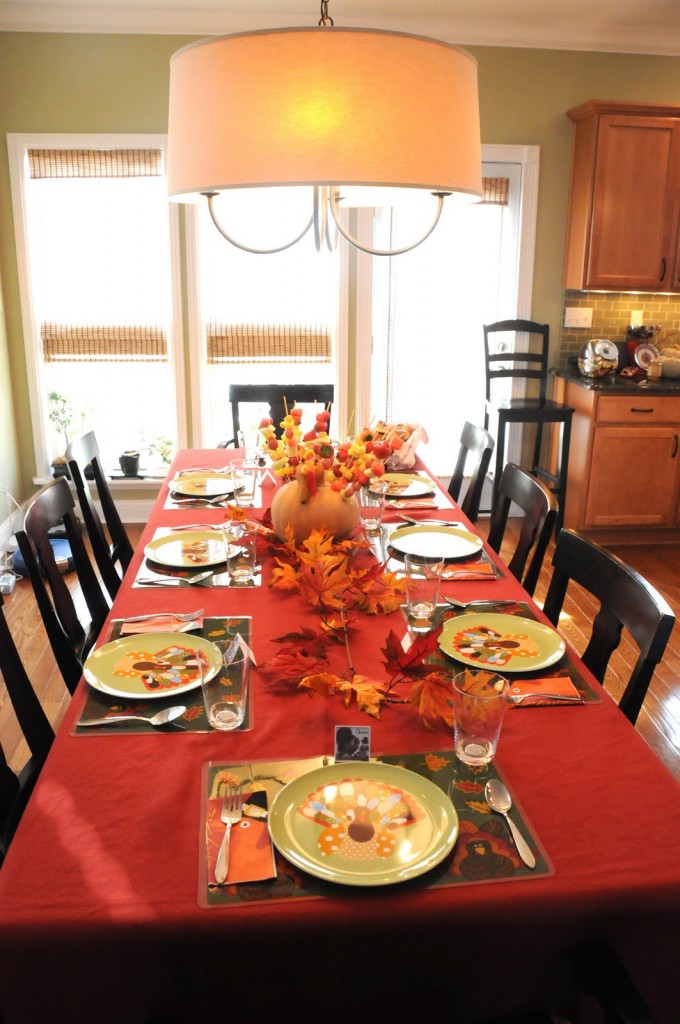 Some people prefer to take a more subtle approach to decorating, while others have no problem making things loud and clear. This dining room screams Thanksgiving table from start to finish. Complete with turkey place mats and napkins, there's no way to confuse which holiday this table is decorated for.
image via www.decolibs.com
If you live in a place that isn't too cold during the fall, having your Thanksgiving festivities outdoor may not be a bad idea. If you've got a patio or sun porch, setting up your dining room table in those spaces can add a fresh element to your holiday but with the right decorations you can also give things that traditional feel.
image via betweennapsontheporch.net
Tables aren't the only place where candles can be used. This dining room replaces a chandelier or other lighting fixture with a hanging tray of candles. Not only will this set up make your dining room feel more intimate, but it will also provide your guests with a stunning visual. However, if you're planning on doing something like this, you might want to think about going with fake candles.
image via houzz.com