For most people, getting crazy with the design of the rooms in their home is simply out of the question. After all, playing it safe is usually the way to go for people who are trying to keep a simple and traditional look. Think about it, when's the last time you went into a room in someone's house and been completely blown away by the level of creativity and uniqueness? That probably isn't something that happens very often. However, for those who take risks, sometimes the reward is certainly worth it. With the right design, you can take a regular room and turn it into something that people will never forget. Here are 20 crazy room designs that will blow your mind.
image via www.home-designing.com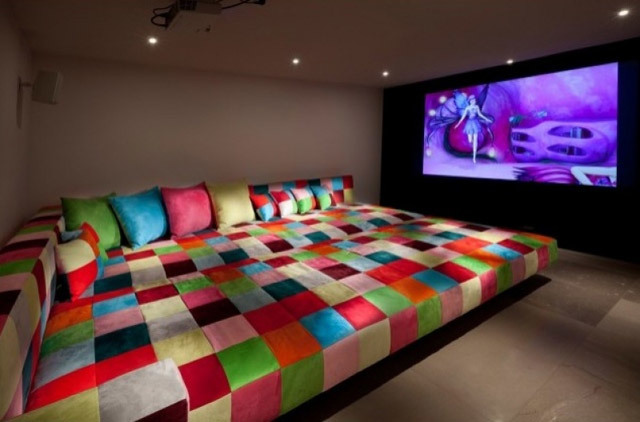 Lots of people like watching movies at home, but there aren't too many people who can say they've got a couch like this to watch them on. This crazy couch/bed hybrid is perfect for kicking back and watching your favorite movies.
image via www.architecturendesign.net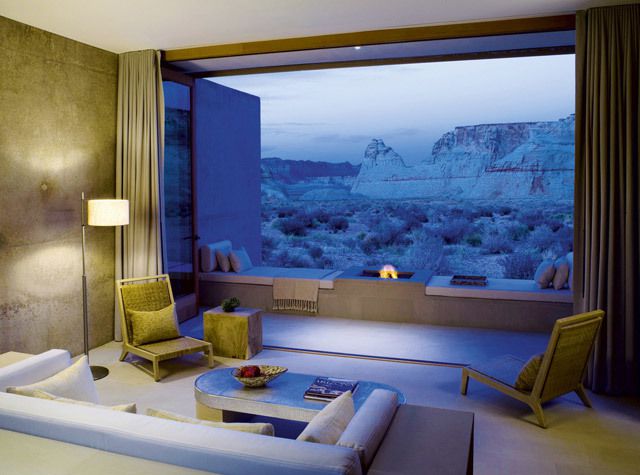 Not only does this room have a sleek design that is sure to catch anyone's attention, but the view is absolutely crazy. Imagine putting your feet up and having something like this to look at. Seriously, who needs TV when real life looks like this.
image via lockerdome.com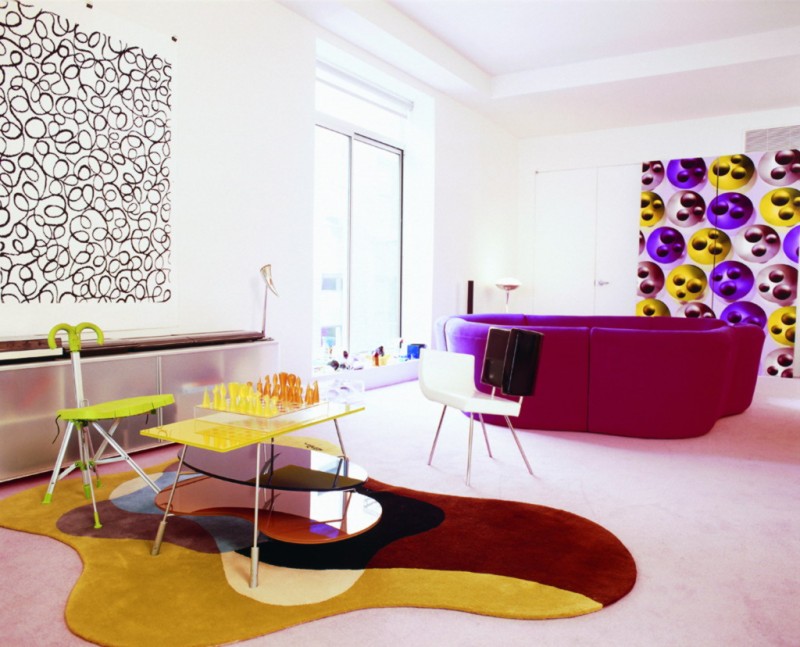 There's nothing that can make a room stand out like beautiful splashes of color, and this room has them all. In fact, something even as simple as walking into a room like this can make your ay feel a little brighter. With an almost whimsical design, this crazy room will definitely turn a few heads.
image via www.trendecoration.com
Who needs a fish tank when they can have a bedroom like this? Waking up to an aquarium full of tropical fish is definitely a luxury that not many people have.
image via www.dailymail.co.uk
Why paint your bedroom one color when you can turn the entire space into a graffiti art show? This unique bedroom features a crazy design that is impossible to duplicate. If you're a fan of street art, this is one room that you won't be able to look away from.
image via kenhegan.com
Let's face it, bricks can be pretty boring. Sure, they can add a touch of class, and take a room to a different level, but after a while looking at brick walls can get a little old. However, this cool room puts a spin on the traditional brick wall by adding a little color.
image via dailytechgadgets.wordpress.com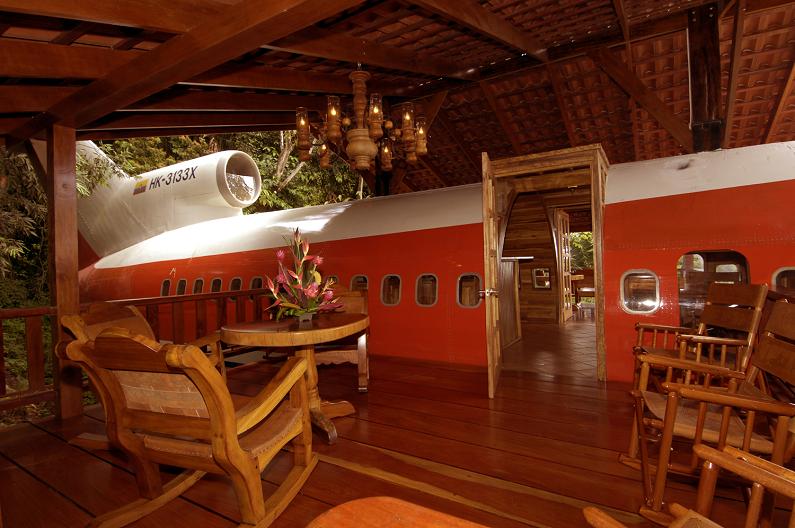 This isn't the type of thing you see every day, but you've got to admit that it's hard to turn away from. This hotel room which is partly made up of an airplane takes something completely unexpected and turns it into something extremely creative.
image via www.shockblast.net
There's nothing wrong with a little luxury, and this crazy room design takes it to a whole new level. With a bed and a bathtub that are both trimmed in gold, this bedroom looks like its fit for a member of the royal family.
image via www.crazybeargroup.co.uk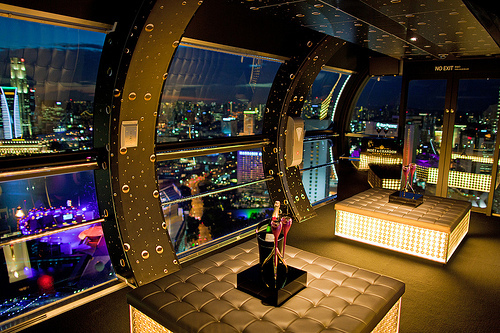 If you have a fear of heights, you might want to consider staying on the ground. However, nothing says you've made it like a room with a view, and this incredible room can give you a glimpse of the city like never before.
image via www.the-luxury-marionette.com
If you love technology, this crazy room design will definitely appeal you to. Fashioned after a circuit, this room has a futuristic look that is wired to keep people entertained. With a room like this in your house, you'll always have something to show off to new guests, and you won't have to worry about any of your neighbors trying to copy you.
image via forum.xcitefun.net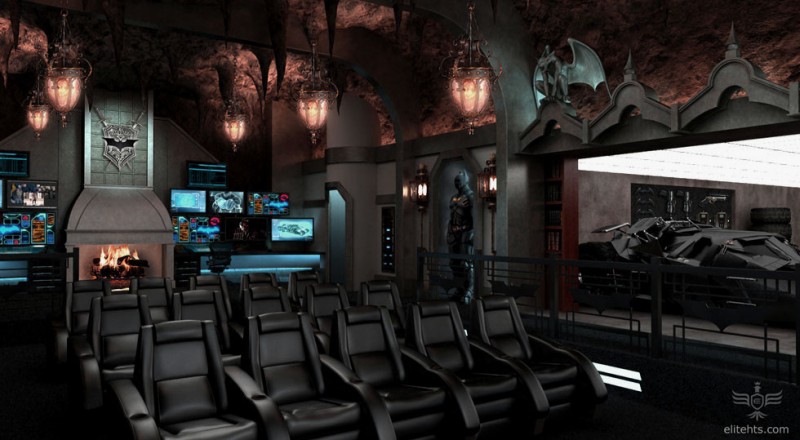 Going to the movies is easily one of the most popular pastimes in the country. However, who needs to take a trip to the local theater when they have a home theater like this? Modeled after the Batman franchise, home theater is all about keeping things cool and entertaining.
image via busydoor.co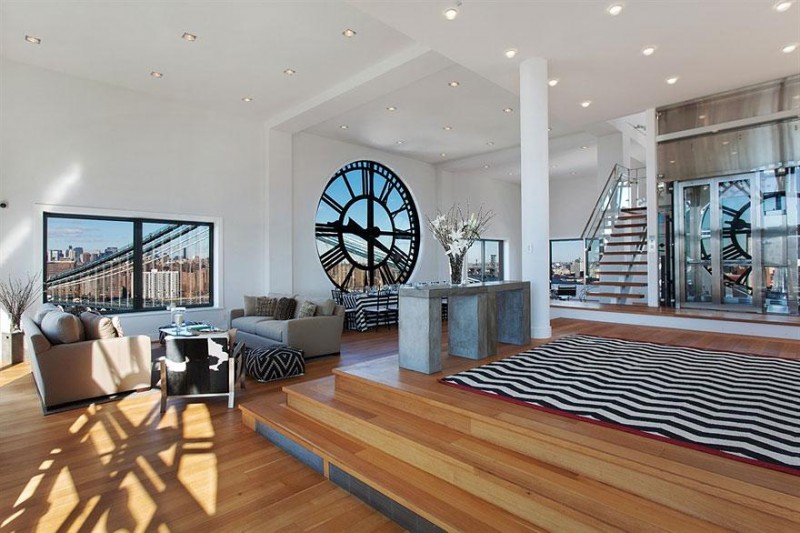 You're probably pretty familiar with rooms having a clock on the wall, but you probably haven't seen too many rooms that actually have a clock for a wall. This incredible design is unique and breath-taking, and it definitely sets this room apart from the rest. With a design like this, you'll never have an excuse to be late for anything.
image via www.slipnet.org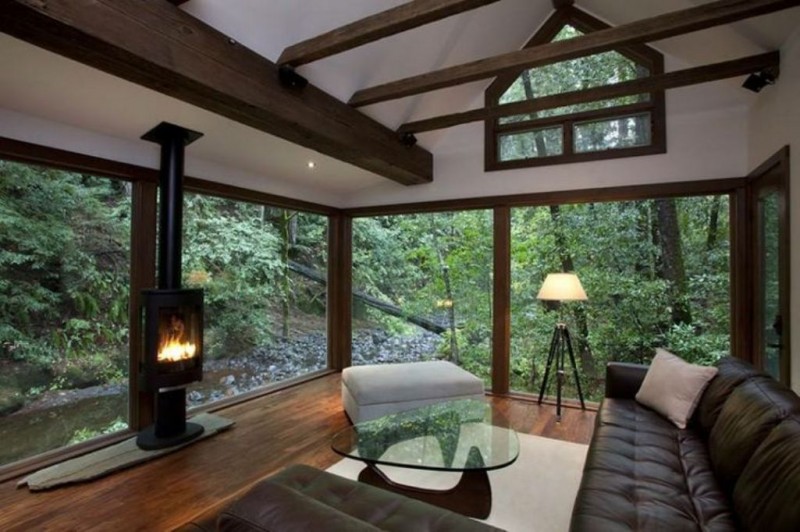 Most people are used to walls that feel confining. However, this crazy living room design features glass walls all the way around that open up into a pretty incredible view. Getting plenty of natural light will never be an issue with this room, and the use of glass provides an open feel that is very refreshing.
image via rilane.com
As children, most people probably wished that they could have a ball pit at home. Sure, trips to Chuck E. Cheese were cool, but nothing compares to having things in the comfort of your own home. Having a ball pit at home can be a great stress reliever, and give you a little something extra to look forward to after a long day at work.
image via sfluxe.com
Having a backyard swimming pool is nice, but what about having an indoor pool. This room, which is right off of the kitchen, has a lovely indoor pool that is perfect for taking a dip. Sure, this may not be the biggest pool in the world, but it'll get the job done.
image via getitcut.com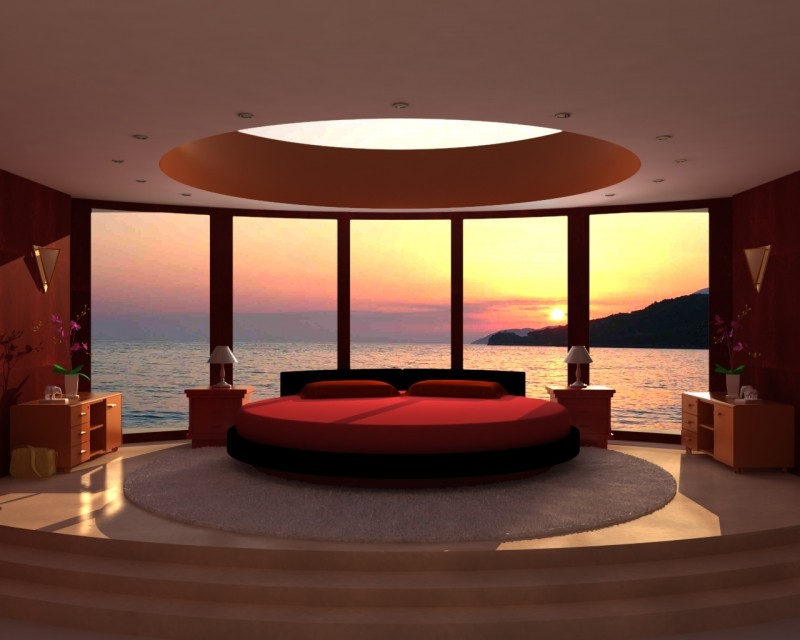 Lots of people have sky lights in their homes, but there aren't many people who can say they have a skylight like this. Designed in the shape of a circle, this amazing bedroom opens right up to the sky and can make for a great place to view the stars at night.
image via trendecoration.com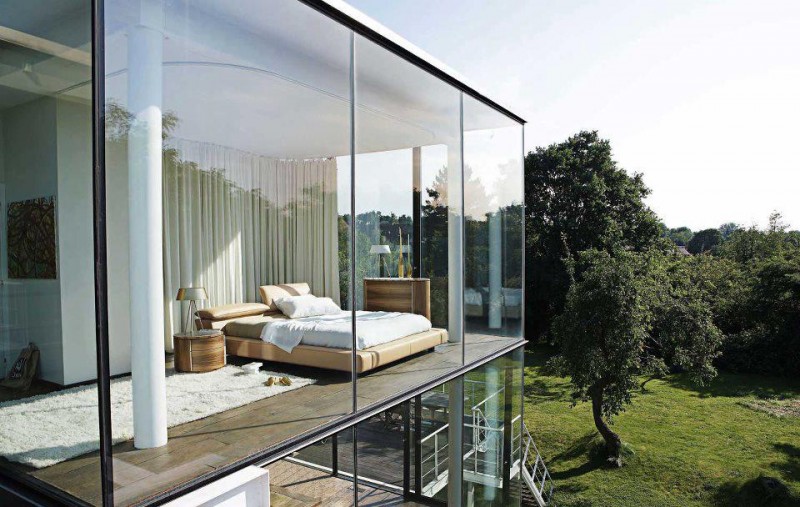 When it comes to crazy room designs, this bedroom encased in glass is one of the craziest. Getting a fresh start to your day is probably a breeze when you can get up and see the sun shining from every angle. However, if you value your privacy you probably won't take too kindly to having a bedroom with walls made of glass.
image via www.vangviet.com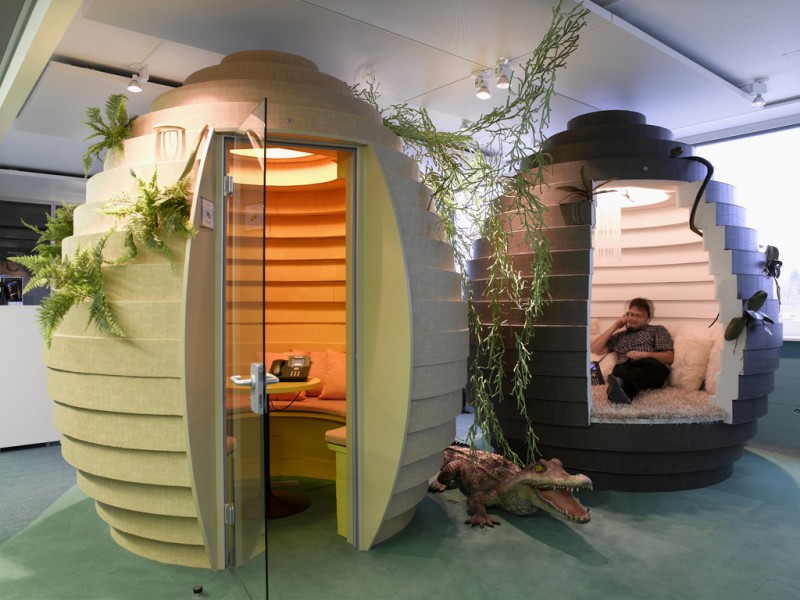 These rooms within a room feature an incredibly unique hut-like design that almost resembles a coconut and a pineapple. If you've got a thing for tropical places, you might enjoy spending time in these cool little rooms.
image via decosee.com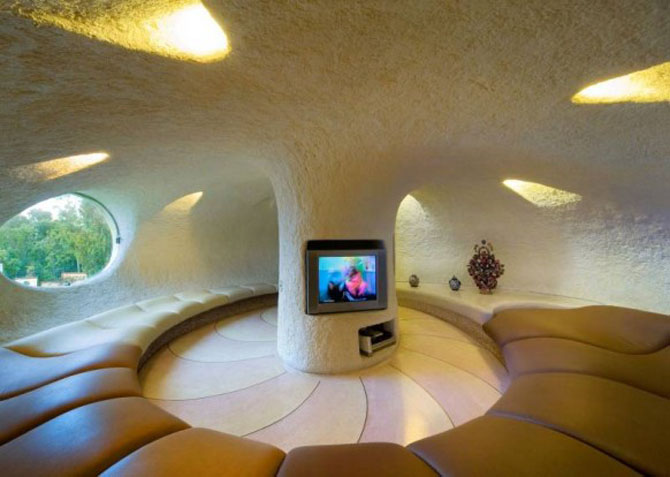 If you've ever had to deal with not having enough seating to host an event at your house, you would probably love a space like this. With a room made almost entirely of places to seat, this crazy seashell-like design is definitely one of a kind.
image via www.newhouseofart.com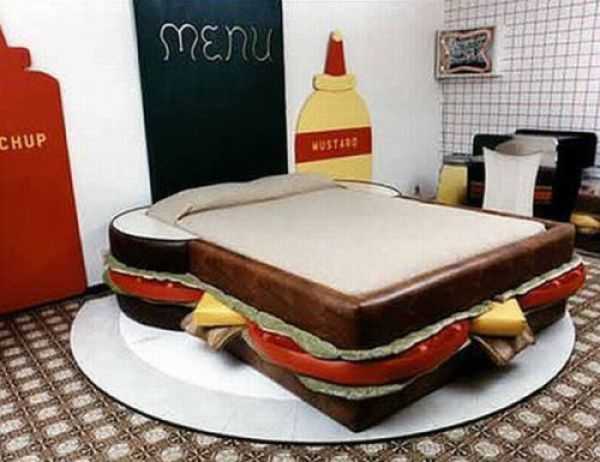 If you've ever wished your bed was a little cooler, you clearly aren't the only one. This bedroom, which looks a lot like a middle school lunchbox, features all the food and condiments you could need. Whoever sleeps in this room probably spends an awful lot of time dreaming about food.
image via www.decor4all.com