Pizza; it's not even American but it's like an American staple. It's actually an Italian-based dish, but we are so obsessed with it here we can't even stand it. We order it from delivery places, we pick it up on the way home and we even make it ourselves from scratch. But there is one thing that is absolutely certain about pizza, and that is the fact that it's just never as good as the stuff made by the pros. And we're not talking about the people that work for Pizza Hut, either. We mean real pros, and there are 20 cities across the country in which you will find the absolute best pizza imaginable.
Photo by Getty Images
Seattle
For being a city known primarily for things like rain and coffee, the people of Seattle seem to have made their mark in the pizza industry. Perhaps it is the not-so-classic twist that goes into making the specialty pizzas you will find here or something else entirely. Whatever it is, however, you can be sure that you will not find anything else more amazing when you go to the city. Maybe things equally as amazing, but be sure to find some pizza when you're here.
Photo by Getty Images
Austin
It's not a big surprise that Austin makes the list. This is, after all, a city in which people come to relax, have fun and enjoy the vibrant music scene. With all that to offer people in Austin, there's no reason that there should not be amazing pizza, too. And it's Texas; by default that means everything here is bigger, better and more exciting. We think that absolutely applies to pizza.
Photo by Getty Images
Nashville
It's DeSano Pizza Bakery that puts Nashville on the map as far as amazing pie is concerned. There are so many good pies here that it's not even funny. And it's located right off of Music Row, too, which is another reason so many people love this place. Good pizza and a good location make it nearly irresistible to the people who come here most often, whether they are residents or just those who are in town for a concert or a visit.
Photo by Getty Images
Kansas City
It's the city best known for its BBQ, but that does not mean that they don't know how to make a great pizza, too. There is a place in the center of the city called Pizzabella that apparently makes some of the most amazing pizza in the country. And that's not the only place, either. There are a couple of pizza joints around here that make a mean pie, which means that people around here have it pretty good when it comes to eating well.
Photo by Getty Images
Minneapolis
What makes Minneapolis such a pizza place is the selection. It's a city filled with pizza makers that like to put a spin on classic favorites and make them just a bit different and a bit better than you might imagine. You can get a scrambled egg pizza here, and you can get so many more flavors here. It's just one of those things that makes you want to make a trip just to try it. and actually, many people do precisely that.
Photo by Getty Images
Savannah
Places like Vinnie Van Go-Go and Screamin' Mimis put this sweet southern city on the map for some of the best pizza in the country. It's here that you will find dishes you'll only wish you could have on a regular basis, and you'll never want to bother with anything like carry out from the local fast food pizza joint ever again. And it's funny that Savannah would be located on a list of pizza joints when it's a southern city, but the south does everything better.
Photo by Getty Images
Portland
Oregon does not seem to be well-known for much in the way of food, but they have some seriously good pizza here. And to top that off, there are some amazing wineries (my favorite Pinot Noir comes from Oregon) around the area. This means you can pair your pizza perfectly with a fine red that will complement the flavor and enhance the experience of eating great pizza and drinking great wine. Actually, I can't think of much that sounds better right now.
Photo by Getty Images
Dallas
Another Texas city makes the list, and it should come as no surprise to anyone. There is a lot of good food in Texas, and we love the concept that you can get some good pizza here made in a way that you will not find it anywhere else. It's big and bold and bright, and it's good. The flavors are perfect, the pizza is soft and decadent, and the people here are just as nice as can be. Get yourself some pizza the next time you are in Dallas. You won't regret it.
Photo by Getty Images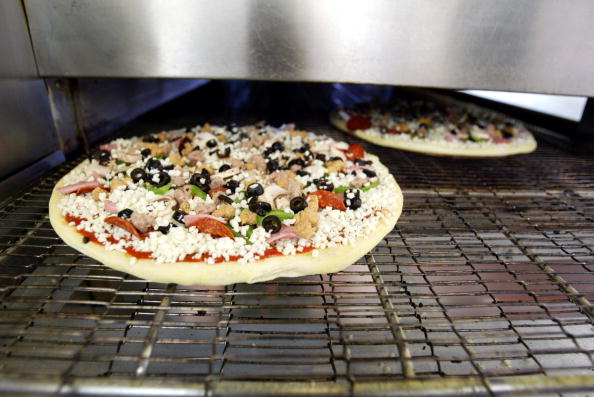 Philly
Cheesesteaks are not the only food of choice in Philly. The city of brotherly love is known for its amazing pizza, too. Perhaps it's just that east coast flair that the city has seeing as how it seems all east coast cities on this list make great pizzas. Or maybe it's the spin on traditional favorites, the classics that have been made to perfection and anything else that you might consider amazing that comes from this city. We don't know what it is, but people love the pizza here.
Photo by Getty Images
Washington D.C.
There is a lot wrong with the nation's capital. If you ask the vast majority of people happy to complain about any and everything, they'd say that the White House currently rates as the biggest problem in the city. Regardless how you feel about capital politics, however, you cannot argue with the fact that this is one city with some amazing pizza, and the chefs around here keep proving themselves time and time again. If you're in the city, skip the fancy dining options and go, instead, for some good old-fashioned pizza pie.
Photo by Getty Images
New York
Of course New York would make the list of most amazing cities for pizza in the world. There is no pizza like a real New York-style  pizza, and anyone will attest to that. You can order all the fast food pizza you want, but it does not stand a chance in comparison to the pizza you get around here. It's really the best there is, and there is no one else that even comes close to serving real, delicious pizza like New Yorkers.
Photo by Getty Images
Chicago  
There are many fine dining establishments in Chicago, and they are certainly some of the best in the world. But they aren't as well-known to people as some of the pizza places here. Even though it's not a place that's typically known for its pizza, it's still good and there are plenty of pies from which you can choose that will leave you feeling good about your selections.
Photo by Getty Images
Providence
I don't know of any other city in the country in which you can order a grilled pizza. It might be the only reason this place makes the list, but it's a good reason. The grilled pizza is made like any other pizza, except it's not. It's grilled on one side, flipped, the toppings are then added and it's grilled the rest of the way through. I don't know about you, but this just went onto my bucket list and I'm not even a huge pizza fan for the most part.
Photo by Getty Images
Boston
Boston pizza ranks among the best in the nation for many reasons, and it's because it's just good. There are some seriously good pie makers around here, and they know how to make a pizza that defies logic. You'll find age-old favorites and some concoctions you might never have considered probable around here, and all of them are amazing in their own right. It's why the city makes it on the list of best places to get pizza in the entire country. It's a big honor.
Photo by Getty Images
Los Angeles
Most people would not consider LA the best place to get pizza. And it's not. But it is a good place to get pizza, and it's because there are so many people around here that know how to cook. And anyway, remember that pizza that Ellen DeGeneres ordered in the middle of the Oscars a few years back? I'm willing to bet those starving actors and actresses still consider that the best pizza they've ever eaten in their lives. If you're in the area and looking for some  pizza, don't assume it's not going to be good just because this is a city better known for its health food. You'll find good pizza here.
Photo by Getty Images
Denver
The mile high city has a lot to offer people in many aspects, including amazing pizza. It's here you will find many different options that run the gamut from traditional to not-so-traditional, and that's why the pizza places around here make the list. They are seriously good. It might help, too, that the people around here are exceptionally active, and nothing is better at the end of a long, active day than a pizza made to order and hot out of the oven.
Photo by Getty Images
San Diego
Here is where you will find Hillcrest Bronx Pizza, which brings east coast pizza to the west coast. People in San Diego are obsessed with t his pizza, and that's why it's been voted one of the best pizzas in the country. With thousands of pizza restaurants in tens of thousands of cities, it really is an honor to make it onto this list of amazing pies, and it is not the only amazing dish that the city is known for, either. They're up there on just about everything. San Diego has a lot to offer people here for many reasons, and good pizza is just one of the many things you might want to visit to try.
Photo by Getty Images
Phoenix
Arizona is not typically known for making amazing pizza, but this is one city in the state that does make that list of amazing pizza places. There are some traditional classics found here and made by people in places that really know what they are doing in addition to some pizzas that are far from classic, but really close to perfect. It's been recommended that eating pizza here requires ordering something you might not have ever tried, because you will not regret the decision to eat something new and exciting.
Photo by Getty Images
San Francisco
This is a city well-known for having amazing food all around, and it's not a big surprise that the people here have so much to offer in terms of selection. So it should come as no great surprise that you have several options here when it comes to amazing pizza. It's a city filled with culture and good food, and pizza is no exception. We recommend that you make time for at least once slice when you're around her for a few days. You will not regret the decision to do so.
Photo by Getty Images
New Haven
Connecticut is not a place known for its amazing food as far as pizza is concerned, but there are a few places around here that serve some good stuff. And perhaps it's the east coast flair that all the pies around here have, but they are certainly some of the best. Of course, there are a number of east coast cities in which the same can be said, but you should still add this one to your list so that you can truly enjoy some good pizza if you ever find yourself in town.
Photo by Getty Images