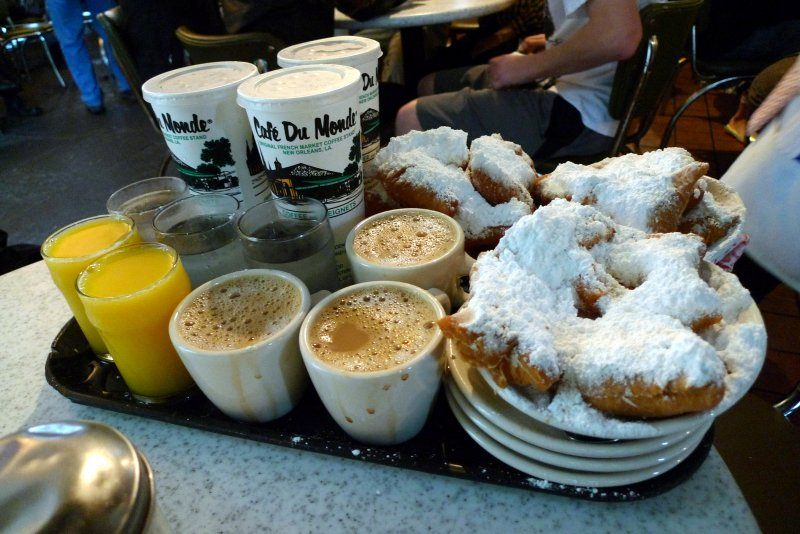 Having gone to college in New Orleans I've gotten a decent sense of the culture, living experience, as well as amazing food in one of the most iconic and exciting cities the world has ever seen.   And having gone back to visit numerous times, there's always something new and amazing to discover about this city.   But if you plan on making New Orleans your permanent home then 1.  you're in for a treat and 2. you've got to know all the little subtleties about the food there.  Because if you don't then you're just missing out.
Here are 1 5New Orleans Food and Spirit staples you have to try at least once in your life…..
The Beignet from Cafe Du Monde – perhaps the most famous treat in New Orleans is the Beignet.  It's perfect for kids because it's a pastry that reminds you of the Zeppole you'd find at a carnival and it's just as fitting for an adult who needs some sweets after a long day of site seeing and listening to music.
The  Lucky Dog – easily the least healthy and probably "worst" one on this list is the Lucky Dog.  However, if you want nearly a pound of Hot Dog goodness, then plunk down the 5 bucks and try this thing.  It's massive and kind of reminds of me of the Hot Dogs they used to serve at Yankee Stadium in the 80s.
Go to a Crawfish Boil….Anywhere – seriously, this is a rite of passage for anyone.  From the tearing of the shell to the ridiculous surprise you get when you realize how hot and spicy these things are.  It's just incredible.  Plus the sausages, corn, and potatoes that come with this are just scrumptious.
Shrimp 'Po Boy – I had to include a 'Po Boy on this list because well…I just had to.  There are loads of places where you can get 'Po Boy's AKA subs but I would recommend shrimp just about anywhere.
Gumbo at K-Pauls – Gumbo is good just about everywhere in New Orleans but K-Paul's is about as New Orleans as it gets.
Jambalaya at Coop's Place – I've never seen something as unanimous as people saying the best Jambalaya to get is at Coop's on Decatur street.
Red Beans and Rice at Crescent City Pie and Sausage – there are about 1000 places where you can get good Red Beans and Rice in New Orleans ( none better than home cooking ) but Crescent City is tops in my book.
Bananas Foster at Brennan's – Brennan's is the number one place for the traditional Bananas Foster in New Orleans.  They've been serving them up for centuries and won't be stopping any time soon.
Hurricane at Pat Obrien's – it may taste like Fruit Punch but it does a lot more damage.  And where better to pick up a Hurricane than at Pat O's, the place that invented them?
Hand Grenade 0 Tropical Isle – they taste a little like the old Hi-C Ecto Coolers but they are a bit stronger.  You really don't need more than one of these.
Anything from Commander's Palace – Hands down the best restaurant in New Orleans.  Just go there and see.  Trust me.
Bloody Mary at Igor's – ask anyone who's been to college in New Orleans or who lives there and they'll tell you Igor's on St Charles is the place to get a Bloody Mary.
Abita Purple Haze….Anywhere – my personal favorite New Orleans brewed beer of all-time.   They're sold all over the country these days but it just feels right to have one in New Orleans.
Oysters at Drago's – The oyster king of New Orleans, Drago Cvitanovich long ago established connections that bring the best Louisiana oysters to bear not only on its raw operation, but its original char-broiled jobs.
Burger at Port of Call – Not enough people know about Port of Call in New Orleans.  Once you try their burgers you'll never forget.