New York City is one of the most popular places in the world.  Although there are plenty of other cities, nothing seems to compare to the Big Apple.  There's something about New York that draws people in and makes them want to come back again and again. However, with all of it's popularity, New York has become extremely crowded, filled with people at all times of day and night.  Nicknamed "the city that never sleeps," New York has proudly lived up to that name, and there are many places in the city that really never seem to slow down. If you don't like crowd you'll probably want to avoid these places, but if you love bumping into people (literally) these may be the perfect spots for you. Here are 15 places in NYC that are always crowded.
Times Square
Located in Manhattan, Times Square is a hub of life, excitement, and lights. No matter the time of day, Times Square is always filled with people coming and going.  The area is also home to some of the city's most popular attractions including the Broadway Theater District and The New York Times.
(Photo by Neilson Barnard/Getty Images)
Veselka
Veselka is a popular Ukranian restaurant located in the east village in Manhattan.  The restaurant, which is open 24/7, has become a popular spot for both natives and tourists and the menu features tons of great choices at a very affordable price.
(image via ny.eater.com)
Rockerfeller Center
Located in midtown Manhattan, the Rockerfeller Center has a rich history in the city of New York. The 22 acre area is home to some of the biggest commercial buildings in the city.  Although the space is used primarily for business, it's become a popular destination for tourists looking to see another side of the city. As a result, people visit Rockerfeller Center at all times of day and night at various times throughout the year.
(Photo by Slaven Vlasic/Getty Images)
SoHo
SoHo is one of the most popular neighborhoods in Manhattan.  Over the years, the area has  become well-known for its artsy feel.  The area is also a great area for those who like to shop, and is home to several beautiful buildings that have become a must see for those walking through the city.
(Photo by Scott Gries/Getty Images)
Union Square
Union Square may not be a familiar name to those who are not from the city, but to many residents, the area has become a popular hang out spot. Due to its location in regards to several neighborhoods subway stops, Union Square is very accessible.  It has also become a great central location for rallies and protests.
 (Photo by Preston Rescigno/Getty Images)
Greenwich Village
Also referred to as "the village," Greenwich Village has been referred to as "the Bohemian capital, the cradle of the modern LGBT movement, and the East Coast birthplace of both the Beatand '60s counterculture movements." Over the years, the area has become a popular place, especially for young hipsters.
(Photo by Spencer Platt/Getty Images)
9/11 Memorial
September 11, 2001 is a date that has been etched in the memories of people all over the country, especially New Yorkers.  The tragic events of that day have left their mark on the busy city, and every day countless people flock to the 9/11 memorial to pay their respects to those who lost their lives as a result of the terrorist attacks.
(Photo by Allan Tannenbaum-Pool/Getty Images)
Harlem
Harlem is one of the most popular neighborhoods in all of Manhattan.  Home of the famed Harlem Renaissance, the neighborhood has a rich history of art, culture, and music that remains today.  Harlem is full of life, and there is always something to do regardless of the time of day.
 (Photo by Mario Tama/Getty Images)
Penn Station
Penn Station is New York's main train station accommodating over 600,000 travelers a day. As a result, there's always a ton of people in and out of the station.  Penn Station has tracks for commuter rails and for trains that travel to Washington D.C., Philadelphia, and other popular cities in the northeast.
 (Photo by Chris Hondros/Getty Images)
Subway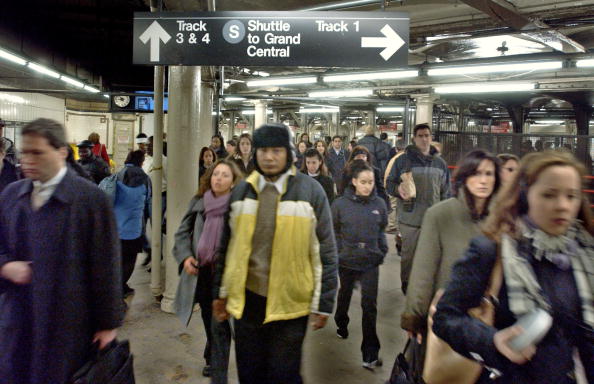 For many New Yorker's the city's subway system is their main mode of transportation.  Because of this, there are always a ton of people riding the subway.  During peak hours, it can be impossible to find a seat, and there's a good chance you'll end up rubbing elbows (if not more) with several other passengers.
 (Photo by Stephen Chernin/Getty Images)
Grand Central Station
New York's Grand Central Station is home to the majority of the city's commuter trains.  Opened in 1871, the building itself is full of rich history and beautiful architecture.  Grand Central Station is a great place to visit, even if you don't have a train to catch.  However, no matter when you decide to go, you'll probably run into crowds of people.
(Photo by Michael Graae/Getty Images)
Chinatown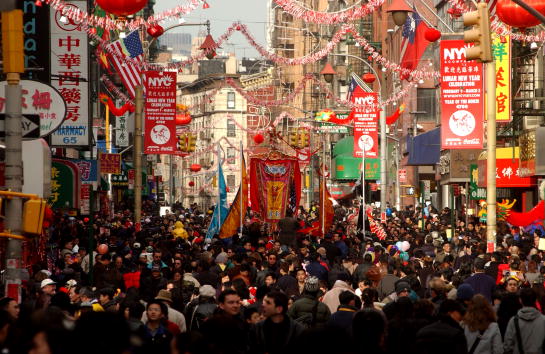 Chinatown is home to the largest population of Chinese people in the Western Hemisphere.  Those who appreciate and want toe experience Chinese culture will definitely enjoy taking a trip down to Chinatown to take in all of the great things that the area has to offer.
(Photo by Spencer Platt/Getty Images)
LaGuardia and JFK Airports
Since New York City is a very population for travelers from all over the world, it should come as no surprise that both of the city's main airports are always full of people entering and leaving the city.
(Photo by Scott Olson/Getty Images)
Port Authority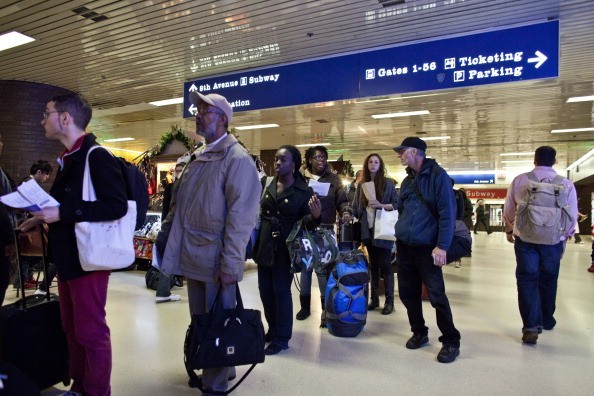 The Port Authority bus terminal is a constant buzz of movement.  Busses run to and from the city at all hours of day and night, the terminal offers several options for food.
(Photo by Ramin Talaie/Getty Images)
The city itself
No matter where you go in the city, there's a pretty good chance you'll always be able to find a good crowd.  Regardless of the time of day, New York is always full of life and excitement.  After all, they don't call it "the city that never sleeps" for nothing.
(Photo by Astrid Stawiarz/Getty Images)
Lead Photo  (Photo by John Moore/Getty Images)