The trend towards smaller dwellings, especially among millennials, has lead to an increased interest in design solutions that are appropriate for modestly sized spaces. The home office is something that's common in large homes, and it can be incredibly convenient to have. However, when you're working with much less square footage sparing an entire room for an office or study simply isn't an option. Enter the wall desk, a smart way to utilize space and add more function to any house or apartment.
Some wall desks are floating style, while others work much like a Murphy bed and fold up and down when needed. Still, there are other creative ways to fit a desk into your space even if you have nearly no room at all to spare. The best part about wall desks is they're both functional and stylish, meaning you don't have to compromise the look of your pad to fit one in. Here are ten wall desk ideas that are ideal for small spaces.
1. Compact organization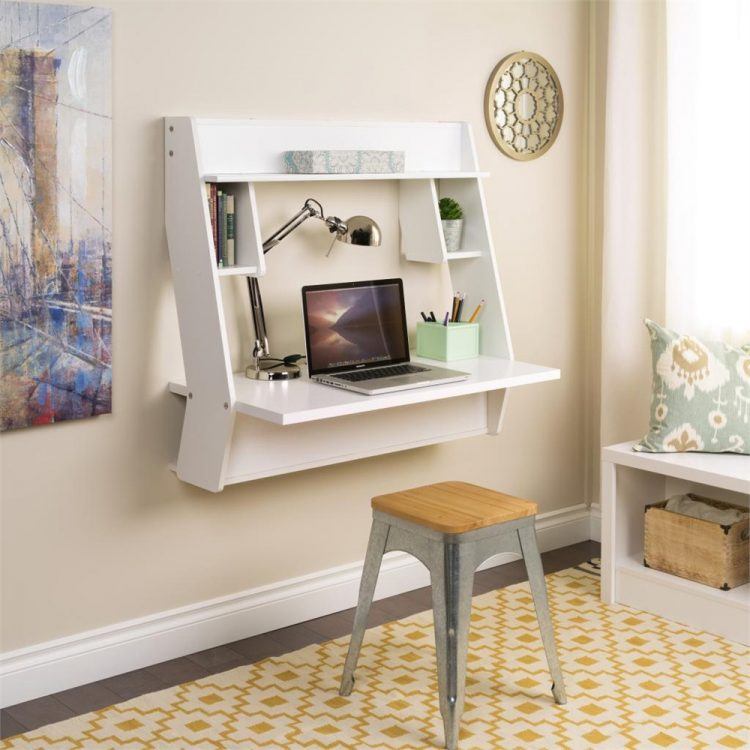 This floating desk effortlessly blends with the room's decor due to being painted the same color as the trim along the wall. In many ways, it's become something of a decorative accessory itself, as it reflects the space's modern aesthetic. The desk is flanked by a large art print and a golden mirror, and for seating a stool with an industrial edge was chosen to pair with it.
2. Fold out Murphy desk
Murphy beds fold down from the wall and are serious space savers, and the same goes for this Murphy desk. When you need to get some work, studying, or bill paying done you simply pull it down, set up the leg, and you're ready to go. Folding it up is just as easy, and this Murphy desk looks great along with the chic cream colored chair.
3. Stylish simplicity
Though many wall desk ideas are modern, this one has a transitional look that blends traditional and contemporary elements. The key to influencing the decor style that your wall desk exudes is being careful with the seating you choose. The armless chair here is a contemporary piece that works well with the other decorative elements and furniture in the space.
4. Option for a standing desk
If you're really short on space and need wall desk ideas that are compact, consider a standing desk setup. Standing desks have become increasingly popular because of their health benefits and how they encourage more physical activity during the work day. This standing desk folds out and makes the perfect perch for a laptop. The organizer that holds supplies on the side of it is a nice bonus.
5. The perfect study space
Even small bedrooms can benefit from having a wall desk that's well placed. The one featured here has clean lines and a minimalist aesthetic, which works well with the style of furniture in the room. The profile of the chair chosen to go with the desk is unique, but it also flaunts clean lines.
6. Mini home office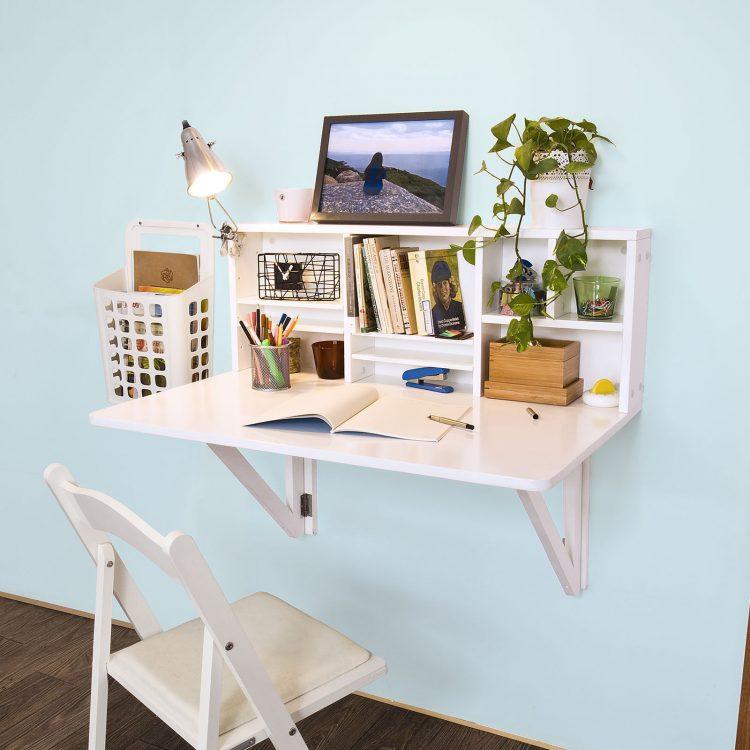 If you'd like a home office — or you actually need one to be more productive — but you can't dedicate a room to setting one up, choose the most efficiently designed wall desk that you can find. Alternatively, build one that will suit your needs. This wall desk has ample space for writing or placing a laptop, and right in front of it is a collection of shelves for organization and storage. To the side of the desk is a hanging basket to store and file papers.
7. Mid-century modern appeal
Love mid-century modern decor? Then you'll definitely appreciate the stylish look of this setup, which includes a wooden floating wall desk and Eames inspired chair. The desk is wide enough to accommodate a computer, clock, and array of cool accessories but it doesn't jut far out into the space, which makes it a great solution for homes without a ton of room.
8. Tucked away
Many kitchens have an odd niche that sits unused or could be put to better use. If this describes your home, take a cue from this floating desk tucked into a kitchen's corner. It's comprised of a drawer topped with a platform made of the same material as the kitchen counters. You can do the same to give your desk area a look that truly complements the kitchen it sits in.
Another way to give such a desk setup a big dose of style is putting a chair with a fun or interesting print under it. The striped chair here infuses color into the room without clashing with the other elements in it.
9. Floating work space
Not only is this wall desk a great way to maximize space and organize study and work materials, it's very stylish and trendy. The design of the desk itself isn't complicated and could be replicated by someone who is a handy DIYer. However, what makes it remarkable is how well it works with the other decorative elements and furniture in the room. Overall, the aesthetic is modern, masculine, and perfect for small spaces.
If you're looking for wall desk ideas that will allow you to decorate the area with an array of desk accessories, this setup is a good one to replicate. The desk even includes a slide out platform for a keyboard and mouse as well as an area for a lamp, small plant, books, and candle.
10. Dressing it up
This wall desk on its own is nothing notable. Yes, it saves space and is a smart way to fit an office area into a small home, but aesthetically it's plain. To remedy that, the corner where the desk is placed was outfitted with a large wall gallery filled with interesting and colorful prints. You can dress up your wall desk area in the same way, using the prints of your choice. The decision to place a stool with a richly colored pillow and mid-century modern style under the desk also keeps the arrangement from looking plain.