Thanksgiving is the premiere holiday of the fall season, and nothing is better than going into a celebration of the day and seeing a beautifully laid out table. The star of the Thanksgiving table has always been the meal itself and the gathering of people around it. However, if you want to really impress you don't necessarily have to bake a ton of pies, go with a ham and a turkey, and offer up a variety of eight side dishes. Instead, create a tablescape that will drop your guests' jaws and have them talking well after Thanksgiving is over. If you need some design inspiration, here are ten Thanksgiving tables that look extraordinary.
1. Gorgeous aqua accents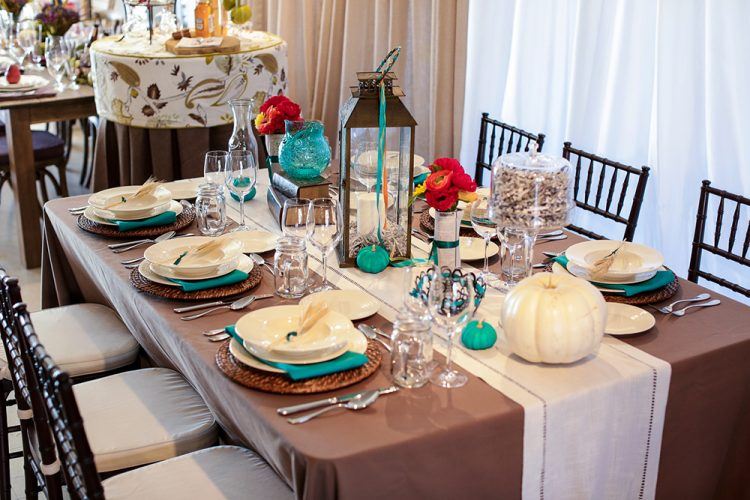 Thanksgiving tables often have classic falls colors, such as rich red, gold, orange, brown, and plum. However, if you want something different why not try a brighter and more vibrant hue? The table at this holiday gathering has incredible pops of aqua that really make it come alive. The backdrop of the table is cream and taupe, but adding brightly colored aqua napkins, painted mini pumpkins, ribbon, and vases is enough to give it a very stylish and chic twist.
2. A modern turkey motif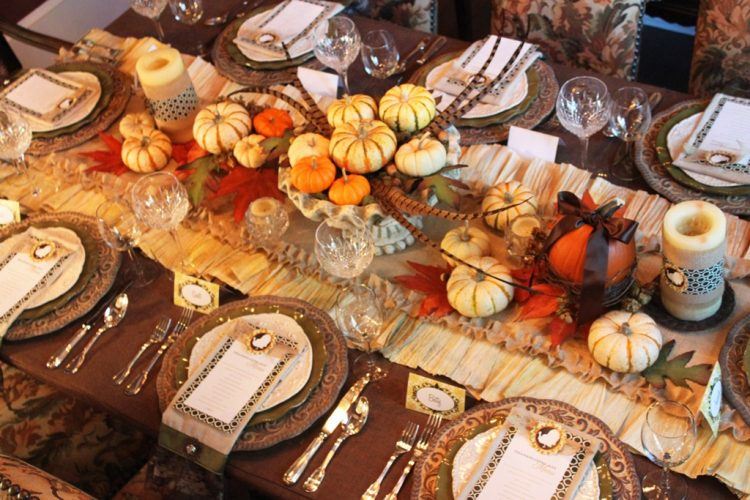 Many people avoid having a turkey motif at their Thanksgiving tables because it can tend to look kitschy. However, if done the right way this could be a good theme for your table design. A turkey design is integrated into this table in two key ways: an elegant silhouette on the menus and candle wrappers, and an assortment of dramatic feathers tucked into a vase overflowing with gourds. The rich sage, cream, ivory, and orange look beautiful together and the resulting tablescape is cozy, elegant, and inviting.
3. Abundance outdoors
If you live in an area that still enjoys warm weather at Thanksgiving time or you simply want to take your celebration outdoors, you can create a tablescape that incorporates nature and looks absolutely stunning. This one does just that and is comprised of painted pumpkins, lovely votive candles, greenery, and pieces of wood artfully arranged in the center of the table. The table itself looks like it was made of reclaimed wood, but it's actually a standard table with a wood board placed on top to give it a more organic look and feel.
4. Stylish and inviting
One of the most common decorative items placed on Thanksgiving tables is pumpkins, and it's easy to see why. They're easy to obtain, look autumnal, and just about everyone likes the look of them. However, if you want something totally different this table will show you how to have a pumpkin free set up that looks beautiful and elegant. A couple of pine cone votive holders, tall cylindrical vases with bright yellow blooms, and a burlap runner look clean and very stylish. Another plus to a tablescape such as this one is it leaves plenty of room for food dishes and guests.
5. Towering tiers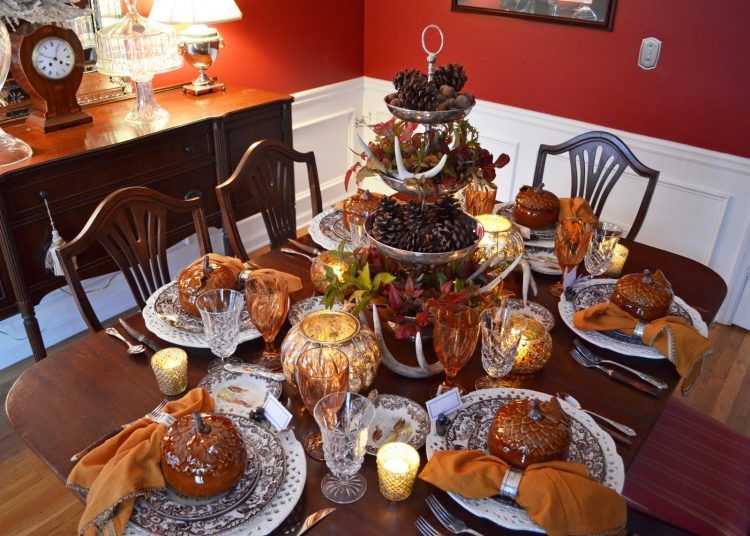 This is another table design that foregoes pumpkins, but instead of leaves its focus is pine cones and acorns. Trays of each are assembled on what's typically used as a dessert tray. If you have a tiered platter of your own, consider using it to display similar objects, flower buds, or even candles. The amber, gold, and brown hues look beautiful along with the dishware, and a few antler shaped decorations make the entire scene look even more rustic.
6. Beautiful blue and purple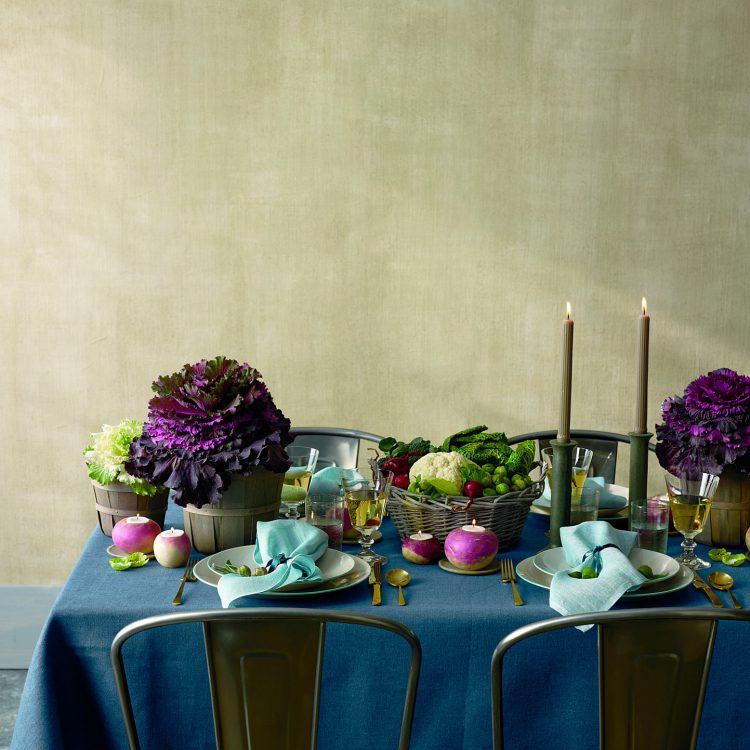 Thanksgiving tables that accentuate the abundance of the season tend to look the most stunning, and that's the best way to describe this blue and purple gem. A cobalt tablecloth holds pretty candle sticks, baskets of vibrantly colored veggies, and tea light holders carved out of actual turnips. The gold toned flatware on the table adds another visually interesting element and a touch of upscale style.
7. Picture perfect crimson and gold
There's nothing wrong with Thanksgiving tables using what are traditionally considered to be Christmas colors. This design is a fabulous mix of white, crimson red, and antique gold that serves as a beautiful background for holiday nibbles. A cornucopia fulled with greenery and leaves sits in the center, and painted gourds, a scattering of pine cones, and golden candlesticks flank each side. The best part is that you can use the same napkins and chargers for Christmas if you just switch out the decorations on your table runner — two tablescapes for the effort of creating one can't be beat.
8. A floral masterpiece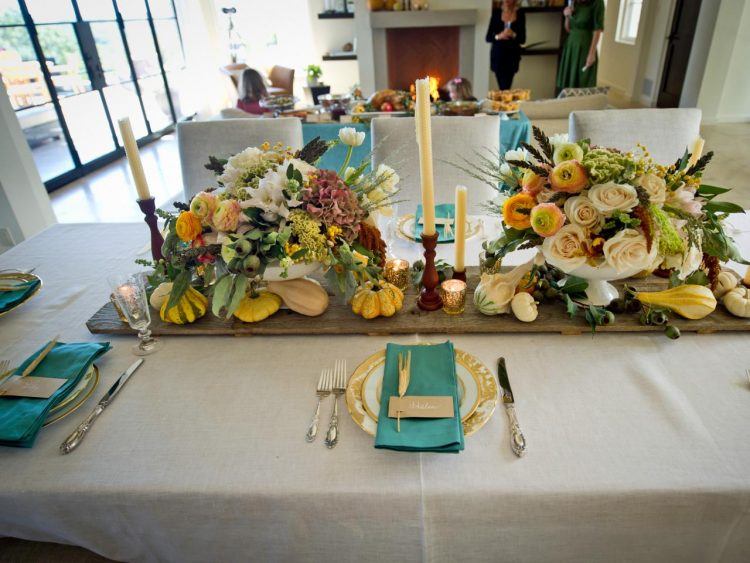 How wonderful are these flowers? They make this table set up look chic, beautiful, and very high end. Placing the two white porcelain bowls of blooms on an unfinished wood plank adds the right bit of autumnal flair, while pops of teal give it an updated appearance. You can recreate this design by using what ever napkins and dishware you have on hand. Choose flowers from your garden or any variety that are available from your local florist. Keeping the arrangements low is key, so opt for a short vase or vessel to hold the flowers.
9. A lovely neutral color palette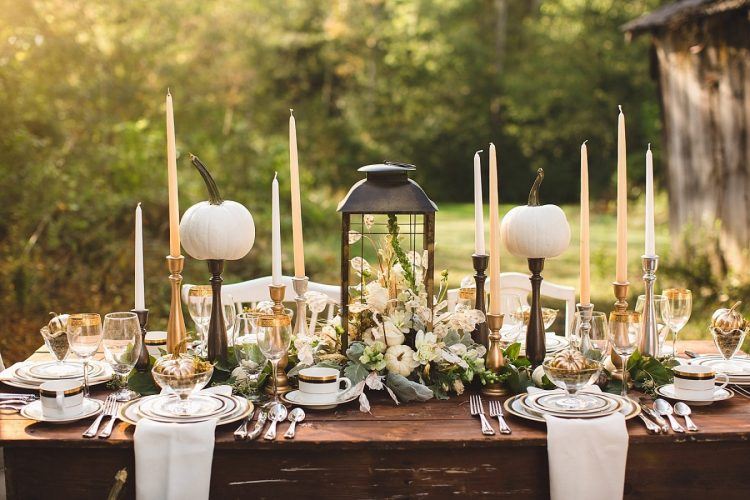 Neutral colors can look beautiful all on their own without any vibrant accents. This table combines rich espresso, walnut, gold, and white to create a tablescape that's intimate, wonderful to look at, and the perfect setting for a Thanksgiving feast. The table is set outside, which really makes the colors on the table pop — in the background is fall foliage that provides a striking contrast.
10. Keeping it simple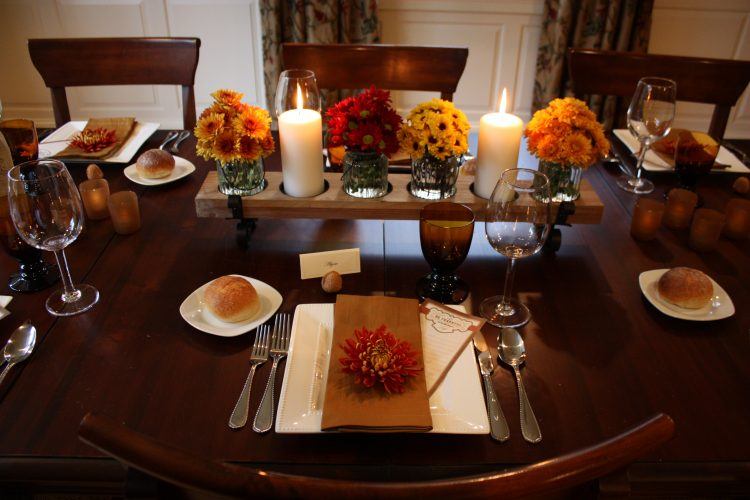 If you're on a budget, don't have much time to come up with a super elaborate table design, or you don't like the look of too many decorative pieces on your table, this set up will pique your interest. It's so simple and verges on being minimalist, but it looks amazing. A few small containers of pretty flowers, pillar and votive candles, and place card holders made of walnut shells come together flawlessly.