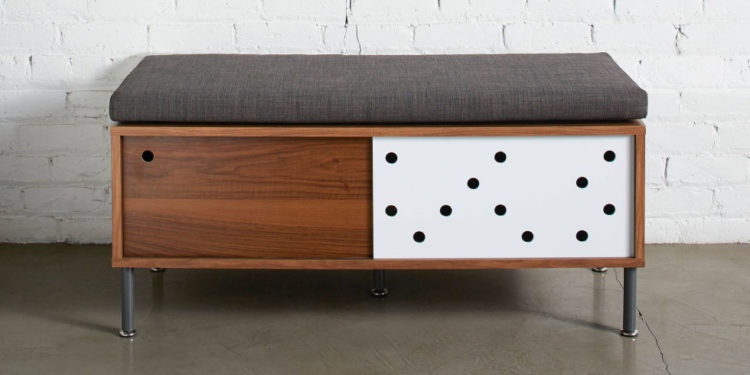 Storage space is one of those things that's just never easy to come by. Most of us would love to have a little more room for our things, but creating extra space isn't always possible. That's why pieces of furniture that can double as storage are great, and storage benches are especially nice pieces to have. Not only do storage benches provide you with some additional space to keep your belongings, but they can also double as places to sit or rest your feet. Storage benches can look great in bedrooms and/or living spaces. They're also available in a wide variety of sizes which means that you don't have to have a lot of extra space in order to make one work. If you're looking for a way to store your stuff in style, look no further.  Here are 10 storage benches that will look great in your home.
This simple yet stylish storage bench has plenty of room for things like books, magazines, and other miscellaneous items.
If there's one thing that everyone can agree on when it comes to interior design, it's that a piece of [faux] leather furniture will always be timeless.
Storage benches don't have to be bulky and ugly. They can be as much a part of your decor as any other piece of furniture, and this beautiful fabric storage bench is proof.
While some storage benches have a trunk-like design, this item utilizes several shelves that can be used as a shoe rack.
Unlike the other offerings, this item features a round ottoman design. Its circular shape makes it perfect for living spaces.
Looking for elegance with a hint of contemporary style? This storage bench has got it. As the item's description states, "This modern storage ottoman accentuated with button tufting provides ample storage and features a royal blue soft fabric with black legs."
A foldable design makes this storage bench an even more practical choice. When it's not in use, you can easily fold it up and tuck it away somewhere neatly.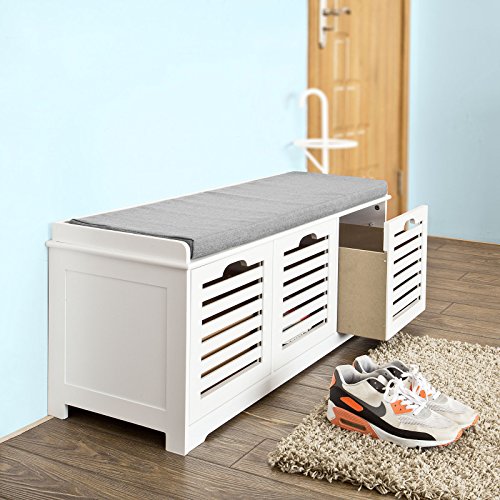 With a built-in shoe cabinet, this bench will not only look good on your home, but it can help you stay organized as well.
With a classic design, this beautiful storage bench has arms which adds to the items luxury and elegance.
Designed to be used as a bench or an ottoman, this item has a nice fabric design that can blend in well in any type of environment.
lead image via bestproducts.com