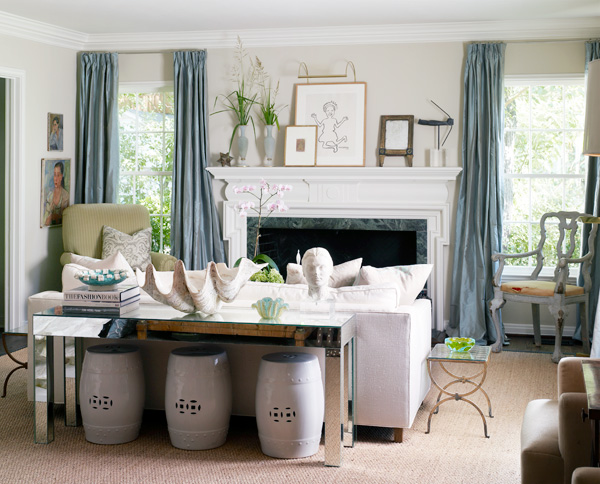 Living rooms are usually the biggest room in a home, and because of that they can be a little difficult to decorate. Even with couches and chairs, living rooms can easily feel empty and unfinished, so it's important to pick the right accessories to make your space look and feel complete. This is where sofa & console tables come into the picture. Although they may seem like small additions, sofa & console tables can really make a difference. On top of that, they can also give you a little bit of additional storage space for things like pictures, books, and magazines. If you're looking for the perfect thing to complete your living room, you should definitely consider a sofa or console table. Take a look at 10 sofa & console tables that are great for your living room.
With a simple contemporary and sleek design, this console table is perfect for a hallway space.
Sofa & console tables can have lots of character, and this beautiful item is proof. Although its design is relatively simple, it's still very stylish.
If you're just looking for a small table to go at the end of your sofa, this item is it. Not only will it complement your space perfectly, but it'll give you a little bit of space to place a few things.
If you're really looking for a console table that can provide you with extra storage space, this is an excellent option. Two drawers provide plenty of additional room for storing your belongings.
Sofa & console tables can be incredibly unique. Boasting multi colored shelves, this item is sure to turn more than a few heads.
This adorable table was "Designed with a reclaimed grey finish. X-shaped side supports for a charming decorative effect." A lovely rustic design will allow this table to fit into almost any type of environment.
There's nothing wrong with wanting a sofa table that is extremely simple. This item definitely won't stand out, but it'll get the job done.
There's nothing better than a piece of furniture that is both stylish and sturdy. According to this product's description, "This transitional assortment is built to last with its powder coated metal X-frame beautifully welded together. With gorgeous sleek lines and an open concept feel, this collection offers a fresh, clean look to spruce up your home."
Boasting a classic design, this console table is a little on the larger side but it's definitely worth it to have the elegant design.
With the perfect combination of drawers and shelves, this item is a great example of why sofa & console tables are perfect for living rooms.
lead image via twostorycottage.com