While you may think your home is advanced with its remote temperature control system and some of you might even go as far as to get the Amazon Echo to control every single room in the house, these awesome smart homes will make your humble abode look like a cave dwelling.  These homes clearly are the wave of the future but they go beyond that.  From interchangeable exterior "skins" to voice controlled systems, these are the homes of the future, but are available today.
Maximum Security Mansion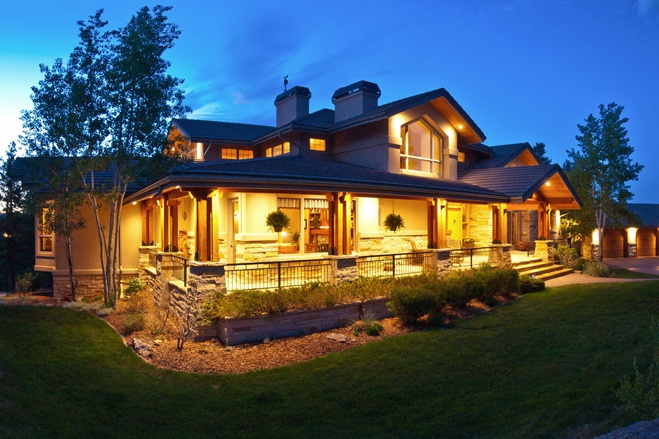 Located in Evergreen, Colorado, this house uses its "smarts" for security purposes. The $6 million security and surveillance system has incredibly sensitive thermal imaging and night vision cameras throughout, all visible via connected devices from anywhere in the world. The home also monitors itself for leaks and sudden temperature changes, just in case.
Museum of Science and Industry in Chicago, Smart Home: Wired + Green
Designed as a museum exhibition, this three-story home, intended for two occupants, showcases the perfect example of what a mainstream, wired home may look like in just a few years. Using both smart and green technology, such as an automation system that monitors the home's energy consumption, it is the best of both worlds. Peering into the bathroom mirror will show you not just your reflection but also the news and weather, while controls let you set a shower time limit and sounds an alarm when you've exceeded that limit. Skylights and window shades are remote controlled and security and entertainment systems are controlled through state-of-the-art touchscreen panels. The kitchen counter may appear normal but will charge your electronic devices when they are placed upon its surface. Lastly, the home comes complete with its own robotic lawn mower so check one less chore off your list.
Wired Living Home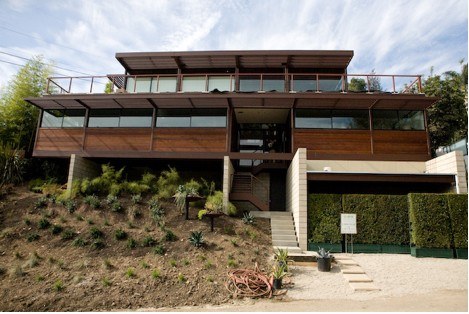 When you think about modular homes, you probably don't think of them as cutting edge, but the house built by LivingHomes for Wired.com is just that. Nestled in the Crestwood Hills development in Los Angeles, this home is a masterpiece of technology. A central media server sends updates to screens throughout the home from any docked cell phone. In addition, a central automation system controls all of the lighting, heating, air conditioning, home entertainment and security systems in the house as well as doing double duty as an intercom.
Xanadu 2.0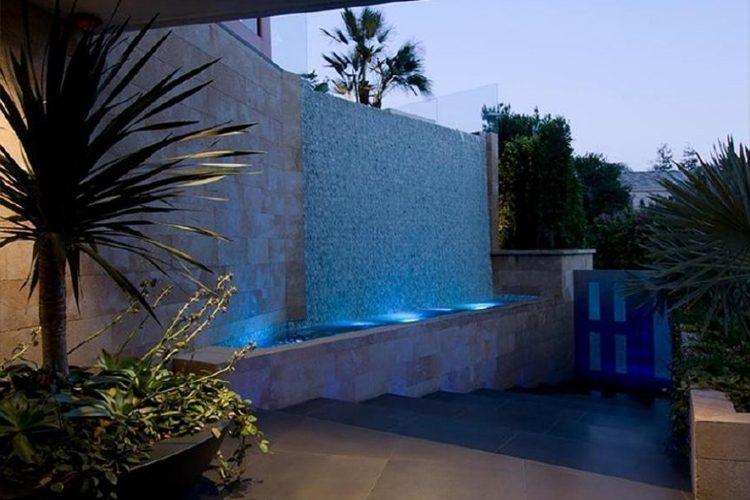 Perhaps one of the most famous of wired homes, the abode of Bill Gates is as technologically advanced as you would expect. Nicknamed Xanadu 2.0, it took 7 years to build this home, located in Lake Washington, Washington. Each occupant wears a pin, which is monitored by sensors throughout the home, so lights and temperature are automatically adjusted as you enter a room. The home also adjusts to your entertainment needs; music can "follow" you through the house and large computer screens throughout the home will display your favorite paintings and pictures with just the touch of a button. All of this technology isn't confined to the main house though, the guest house also features the same connectivity. The landscaping as well gets the wired treatment with Gates' favorite tree remotely monitored so if moisture levels drop too low, it can be automatically watered.
Switchable Skins
Built by Proto Homes in Los Angeles, CA, the interior and exterior of these homes can be controlled by a special iPad. Temperature, lights, cameras, security system, music and the fireplace can all be controlled remotely while window shades can close automatically in response to outdoor light conditions. However, the most standout features of these homes are the changeable "skins" on the exterior, which allow the homeowner to remotely change panels on the exterior at their whim.
Harbour Hide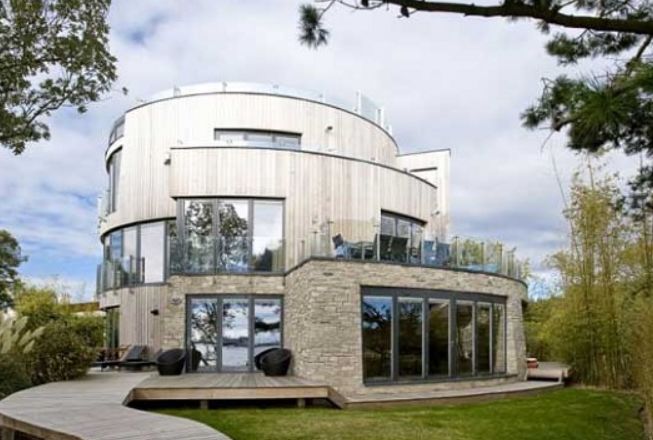 This beach front house in Dorset, UK offers exceptional views along with the latest in technology. Each room features an Android tablet which controls the lighting and temperature throughout the home as well as the entertainment system, curtains and blinds. Even the pool receives the smart treatment with remotely controlled hatch and temperature controls. However, the most impressive feature is the electronic photochromic glass which can be darkened or lightened according to sunlight.
Intel Tiny House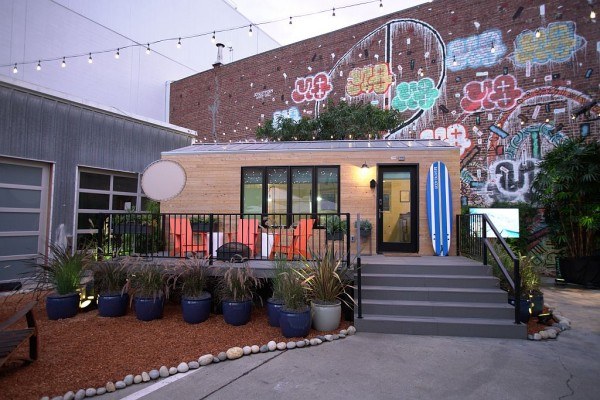 Coming from a tech company that is obsessed with making things smaller, this house is no surprise since its 210 square feet manage to pack in tons of smart features. During the development the aim was to seamlessly incorporate technology from multiple manufacturers into a coherent system; which they did with great success. A single tablet-based app can control lightbulbs from three manufacturers, door locks, facial recognition keyless entry, climate control and leak sensors, all without a hitch. The entry system can also be controlled remotely so you can see who is at your front door from across the country, and let them into the home. Best of all, you don't even need to lift a finger, voice recognition software lets you control things with simple voice commands. Designed as a "living lab", this tiny house, more than any other smart home, works to incorporate everyday technology into a home for the future.
Although the location of this home is decidedly historical, the clock tower of 98 year-old former factory, the technology is cutting edge. This 3 bedroom, Brooklyn penthouse features a central system for controlling the temperature, lighting, entertainment system and window shades. Perhaps the only thing more impressive about this "apartment" than the technology are the views of New York icons such as the Statue of Liberty and Empire State Building.
Techie Paradise Mansion
Located in Kihei, Hawaii, this home offers a little slice of tropical heaven with tons of technology, just as the name implies. An AMX system controlled automated butler is operated using an iPad and everything in the home- lights, sound, music, solar shades and more- is remotely controlled. Best of all, this 4,800 square foot home comes in at an affordable $5.5 million.
West Court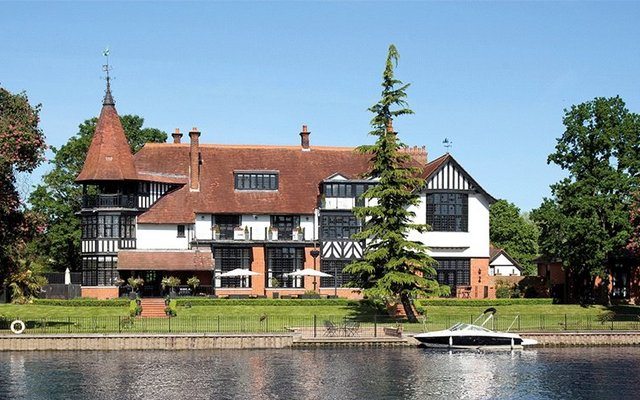 Originally built in 1901, this Thames river front home, located in Berkshire, UK, has been brought into the future with a slew of smart technological advances. A smart phone can control the heating and lighting throughout the home, allowing for different temperatures throughout the house, even when not at home. Sound systems, which are hidden in the ceilings, can stream personal music play lists, and televisions throughout the home can be controlled remotely. Even more impressive, vigilant parents can see what their children are watching in their bedrooms through a "smart box".