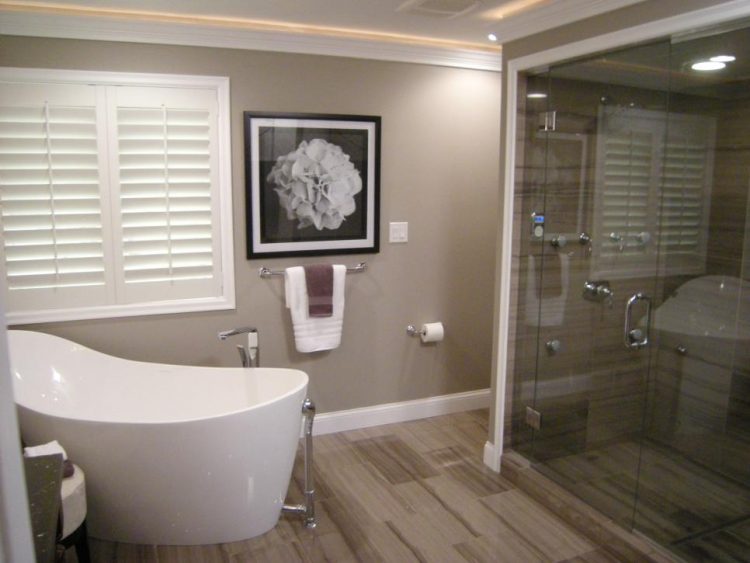 Bathroom DIYs are often disregarded as hectic, time-consuming projects that require profound home improvement skills. But that is a misguided myth. There are several things you can do to improve the appearance and efficiency of your bathroom effortlessly, and most of them are quite budget-friendly.
Here are 10 quick and easy bathroom DIYs.
1. Mount Mason Jars Above Your Sink
Mason jars can come in handy for those items you want to keep in close reach within the bathroom without cluttering your counter. Using hose clamps, you can mount these items to a piece of wood for a simple, attractive storage solution. This includes such things as makeup brushes, Q-Tips, and cotton balls. The quandary is that overloading your counter can give you a hard time when cleaning. The idea is simple. Just connect hose clamps to a wooden board, and then screw this to onto a wall. Attach mason jars to the mounted board and store your stuff! The jars are relatively easy to unmount when you need to wash them.
2. Create Your Own Smart Mirror
If you have an android device and a two-way mirror, you can create your own smart mirror that relays information such as the weather and calendar appointments. In addition to your android device and power supply (as well as a long USB cable), you'll need:
Scissors
Velcro tape
Packing tape
Dark file folder or black construction paper
Velcro tape
Power run to your favorite position
3. Update Your Bath Fixtures
For those who have basic home improvement skills, this is perhaps the easiest and fastest Bathroom DIY. This include such things as installing a new showerhead or changing the faucet. You may be surprised at the difference these little details can make in your bathroom.
4. Create Your Own Bath Mat
If one of your hobbies include collecting wine corks collecting dust (don't worry, we aren't judging anyone), you can convert them into a smooth, naturally mod resistant bath mat.
How to make a wine cork bath mat
Supplies
hot glue sticks
175 wine corks
Non-adhesive shelf liner
Tools
rotary cutter and mat
hot glue gun
cutting board
pocket knife (sharpened)
cutting board
coarse sand paper
Using a sharp pocket knife, divide the cork halfway, lengthwise, being careful not to cut off your finger. It is advisable to stick to natural cork wine corks with the same width and length. If some of your cuts look jagged, smooth the bottoms flat.
Organize the corks into a rectangular shae, with the flat sides down, using a ruler to ensure that the cofiguration depicts a rectangle as accurately as possible.
Using a cutting mat, ruler, and rotary cutter, measure and cut out the shelf liner to size
Glue the outer columns/rows of corks onto the top side of the shelf liner. Spread some glue in a rectangularly shaped line on the flat side of every cork, approximately 1/8th inch from the edge. Align the cork with the end of the mat and compress using your hands. Remember to wipe off any running glue before it hardens completely, but after cooling to avoid burning yourself.
Once this is done, move the remaining corks to their respective positions on the mat. Chances are you will have to make some trading and rearranging to incorporate all the corks. Now, remove the corks one at a time and stick them down using glue. Voila! You are done.
5. Incorporate a Secondary Shower Rod for More Space
Bathroom DIYs don't get easier than this: with just a shower tension rod, some baskets, and a few hooks, you can create a lot more storage room in your bath in five short minutes. You can even use the second shower rod to dry swimsuits and towels. Of course, you'll have to invest in hangable baskets, but these are cheaply available. Attach these onto the shower curtain rings if there are no hooks provided.
6. Create a Bathroom Storage Unit Using a Full Length Mirror
This is a great bathroom DIY, but may not be ideal for small bathroom spaces. If your bathroom can accommodate it, this mirror and cabinet combination can provide plenty of additional storage. You will only need wood stain, hinges, wood, and other regular supplies. On average, you should spend less than $100 for the entire storage unit.
7. Incorporate Rope Lighting Below Your Bathroom Cabinet
Making bathroom trips in the middle of the night can be risk, especially when you are navigating in the dark. Adding lighting under your cabinets can go a long way towards preventing stubbed toes while giving you just enough light without waking you up completely. Fortunately, the strands are inexpensive and come with tension clips. These clips are designed to secure the lighting onto the side of a house during holidays, but they are just as effective at holding the lighting below the desk.  Here is a full tutorial at Lifehacker.
8. Use Mounted PVC Pipes to Control Cords
Cords can be a nuisance in the bathroom just as they are anywhere else. PVC pipes can be effective at taming cords by mounting them onto the cabinet door, helping you store such gadgets as curling irons easily. If you are not particularly interested with the PVC appearance, you can always use a magazine holder or a mesh file box to contain all your hair appliances nicely in the bathroom.
9. Declutter Your Bathroom Counter Using a Stackable Plate Organizer
Bathroom counters are easily susceptible to clutter. Using a stackable plate organizer can help you free some of the space on your counter while also keeping them attractively presentable. You can purchase one, but since we are talking about DIY, consider creating a personal DIY tiered tray. The idea is simple: glue candle holders and plates together.
10. Create a Slide-Out Cabinet Drawer in About One Hour
Rather than kneeling and struggling to reach to the back of your cabinet, a slide-out cabinet drawer can be useful. The best part about this Bathroom DIY is that it can be customized to suit your organizational needs, for instance, using multiple shelves, or to accommodate odd cabinet widths. Alternatively, you can attach a swing-out shelf to your cabinet for an easy-to-reach storage solution for such things as your toiletries.
Here's a full tutorial