These days, the number of people who work from home is increasing rapidly. With lots of companies moving towards telecommuting, working from home adds flexibility for both employees and employers. With that being said, however, if you're going to be working from home, a dedicated workspace is a must. This includes a nice home office desk. Picking the perfect desk is important to the overall flow of your work. You want to pick something that not only has enough space for you to work, but also fits well in your home office space. With so many choices out there, picking the right desk can get a little overwhelming. Keep reading for 10 of the nicest home office desks for your workspace.
L-Shaped desks are great for people who want to make the most of their corner space. Not only are these desks attractive, but they also provide plenty of working space.
Sometimes simplicity is key, and home office desks are no exception. This desk may not be flashy, but its minimalist design is sleek and practical.
Not only is this desk stylish, but it's practical as well. As the description states,  this item "can conveniently be placed on the left or right side offering you multi functionality". On top of that, this desk has plenty of storage space which can help you keep your workspace organized.
Home office desks come in a wide variety of shapes and sizes, so it's important to think about what size and style best accommodate your needs. This small writing desk is perfect for someone who just needs a simple workspace to complete minor tasks.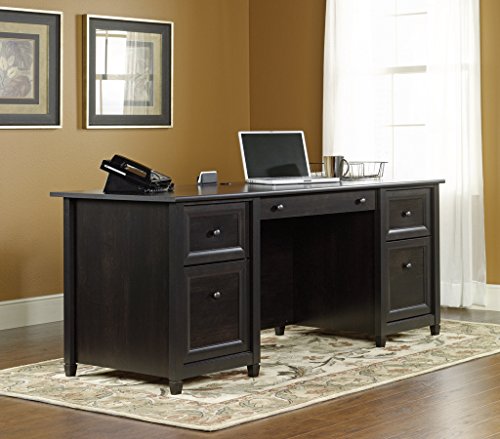 Boasting a sturdy design, this executive style home office desk will make you feel like a real boss from the comfort of your own home.
Simple, yet elegant, this beautiful wooden desk has plenty of storage space for you to place important work documents.
This stunning desk comes with a frosted tempered glass top which gives it a unique look that can really transform your home office space.
This beautiful antique home office desk has a strong metal frame with an antique nutmeg body.
With a simple design, this desk has a nice amount of work space to accommodate a desktop or laptop computer as well as some additional storage space.
Complete with a beautiful built-in shelf, this desk "features an original rotating design that can be adjusted to your needs and contains plenty of storage space".
lead image via manofmany.com