Gone are the days when home offices were simple looking areas with a desk, chair, and perhaps a potted plant and a decorative paperweight. Now offices in homes often rival the look and style of those found in formal office buildings and contain a wealth of tech and amenities. This is particularly true of modern home offices, which combine edgy style, efficiency, and practicality. Here are ten awesome looking modern home offices that will make you rethink your own space.
1. A neutral toned niche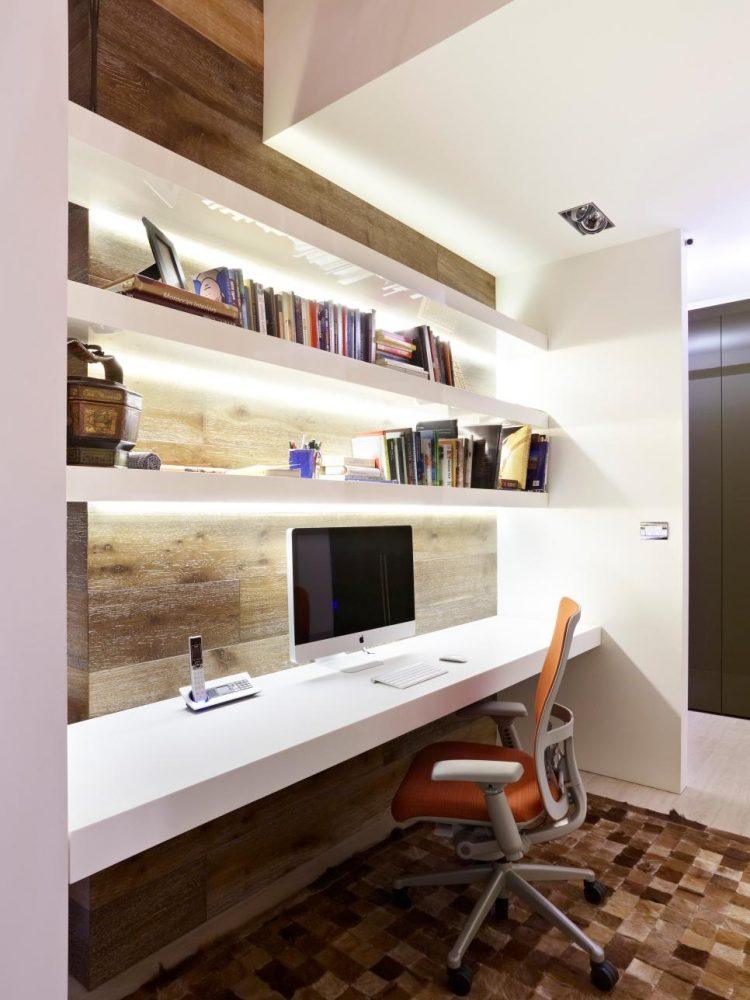 Modern home offices don't have to be huge to look incredible, as this one proves. It doesn't even make use of bold colors, but what it does have is a lot of visually interesting textures. The flooring itself is comprised of furry patches, while the wall behind the desk has wood panels with a unique finish. A set of shelves provide plenty of space to house all of the books and supplies needed to conduct business from home.
2. The epitome of cool
This uber modern home office is filled with clean lines, cool art, and plenty of tech to make this business more streamlined. The space contains two separate rooms — sans a door — offering enough areas to both hold meetings and actually work on projects. Pops of bright neon orange, green, and yellow break up the monochrome palette and inject personality and color into the design.
3. A peaceful work space
No matter what colors are apart of the design, modern home offices can definitely have a look that's peaceful and calm. Here a palette of soothing neutral browns, whites, and grays are the backdrop to a minimalist setup that has several work spaces. The layout makes use of zoned areas that make getting work done much easier. The cabinet with square sections is especially interesting, and provides much needed storage space while also serving as a decorative element.
4. Making everything efficient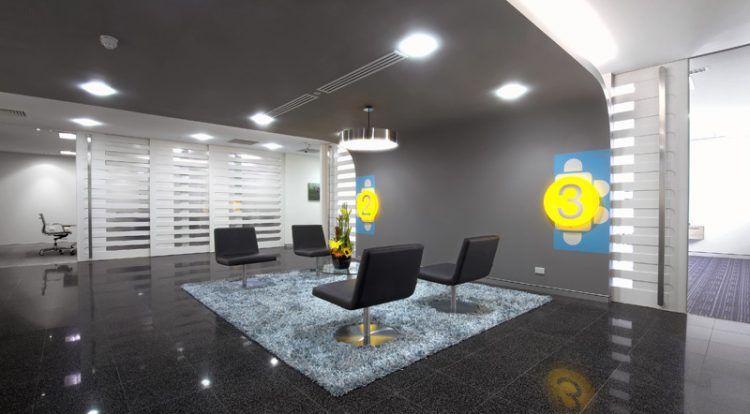 One of the best things about this modern work area is how smartly it was planned. Placing objects and furniture strategically looks appealing and helps with the flow of the space. There's room for several desks, all placed along one wall, and the shelving system houses work materials and supplies behind a large cabinet. Two art prints add just the right amount of decoration to the area.
5. An office with a view
Have an incredible view right outside of your home? Then place your home office in a room that takes advantage of the scenery. It can significantly boost your mood throughout the day and provide ample natural lighting. The view out of the window of this office is awe-inspiring, but the design of the room itself it also gorgeous. Comfortable, modern furniture melds with a palette of clean whites and neutral colors. A few choice pieces of coastal decor completes the theme and makes the room look sensational.
6. Modern and luxurious
This home office isn't just modern and high tech, it's also quite luxurious. Those who have lots of space to work with and can dedicate a significant amount of room towards creating an office have a ton of options. This design has an upscale look thanks to the style of furniture, decor, and high quality equipment. One of the best features in the office is a niche with a curtain that encloses it — couldn't you picture sneaking off for a nap there during the day?
7. Bringing the industry home
For those whose job deals with music or entertainment, it can be hard to fit all of the equipment needed to get work done into the typical sized home. This design provides a solution that not only contains everything needed for sound engineering, but also looks amazing. Going vertical with storage and placing equipment further up the wall helps save additional space, and this design could easily be adapted by those with artisan businesses and offices that need to double as production or shipping areas.
8. The open concept office
You may not have a ton of square footage to work with when arranging your home office, but this design shows how to make open concept rooms work for business and personal needs. The office space itself can also be a living area, and right next to it is a kitchen. If you're trying to fit an office into an open concept room with kitchen, living, and dining areas, the answer is to work your office area into the design rather than trying to separate a portion of the room. For instance, there's no reason that a chair for company can't also serve as the chair that you work in during business hours.
9. A stylish and laid back room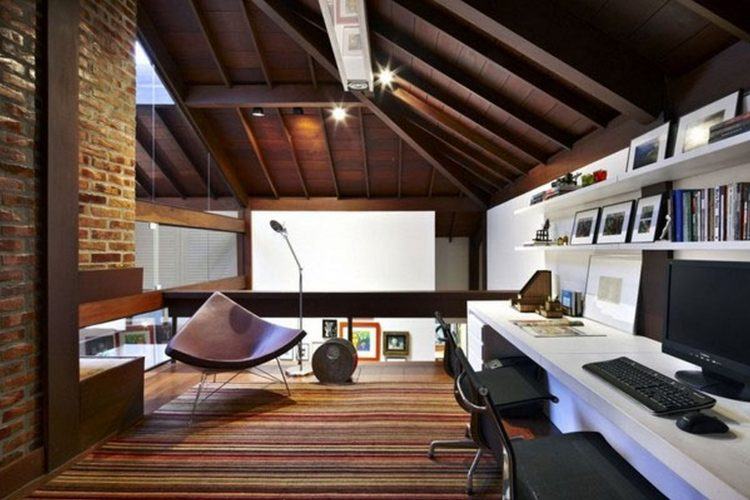 Here is a home office that exudes modern style but is also casual, comfortable, and could easily double as a place to kick back after work. As an alternative, the room could be a combination library and home office — there's plenty of shelving to make it work. The setup accommodates enough work space for more than one person, and because of the way the ceiling is the designer had to get creative with integrating storage areas. The entire room is as organized as it is appealing.
10. Effortlessly combining spaces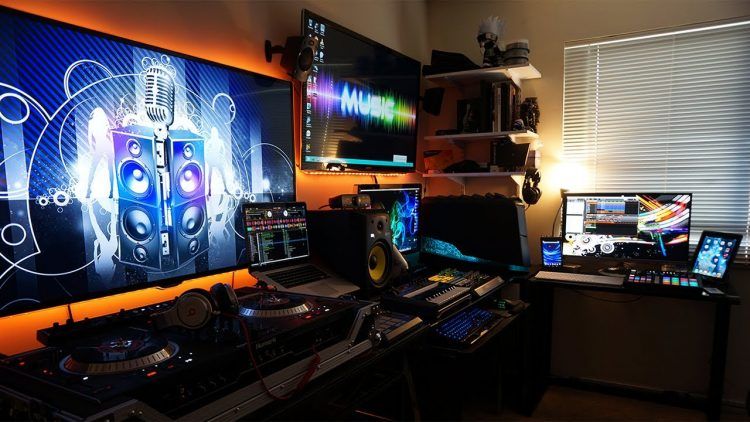 What's an audiophile to do when he doesn't have enough rooms for both a home office and a studio? Combine them into one. This is an excellent idea if you have several things you want to do within your home, but you just don't have enough separate rooms to dedicate to each activity. There's not much space for decor in this design, but it's really not needed — in a way, all of the tech and equipment looks artful in its own right.