How much do you value your dog? Man's best friend deserves all the love in the world, and many dog owners have been expressing this love by building the best abodes for their faithful pets. Some are humble but comfortable, and others are out-right luxurious; perhaps even more opulent than your house. The phrase 'to the dog house' loses its meaning with some of the emerging luxurious dog houses. Here are ten luxury dog houses that are nicer than your house.
Swiss Chalet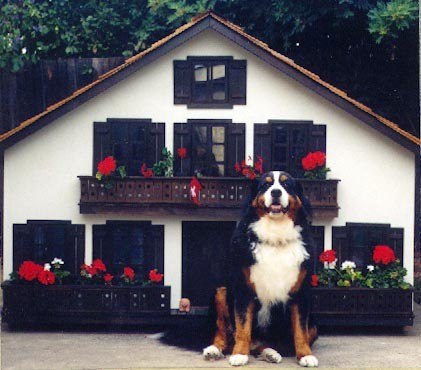 This dog house is an almost perfect replica of alpine country houses except for its small size. Nevertheless, its proud owner has all the room he would need and more. This Swiss Chalet dog house gives great attention to detail. For instance, it features a Juliet balcony which, although it is just for decorative purposes, gives it a homely feel. What's more, the house's roof is brown, the walls are white, and the glass windows are held by black frames just like in a typical alpine country house. It also features plant boxes on the lower level that blend in beautifully with the surrounding landscape.
Beverly Hills
This dog house is one of the biggest in the list, and it is an almost perfect replica of a typical Beverly Hills house; it features all the aspects, including red brick walls, a portico with stone columns, air con, tiled roof, and even running water and electricity.
Cubix Dog House
This dog house is more than just about housing; it is a piece of art. It features a Bauhaus design which is only appropriate considering that it is a German product. To this end, it features the bright red accents that are popular with artists, which also go a long way in highlighting its overall beauty. Notable features of this dog house include a floating roof pad and weather-resistant glass windows that keep the dog comfortable in any weather and give it an unhindered view of its surroundings. This dog house is not exclusive only to one dog; even you can order one from Germany.
Pool House
This is the only dog house in the list that comes with its own outdoors pool. The pool is centered on a wooden platform that gives it an exotic look and feel, even for a human. The house, too, is quite large and elaborate. It is a typical suburban-like house that features a concrete base and wooden upper. It even comes with an entrance hallway that leads up to a large room with glass windows and ample natural lighting. Outside there are flower vases, and the house is located right beneath a tree that provides good shading.
Dog Castle
The dog that gets to live in this miniature castle gets to relive the past days of kings; the designer went a long way to replicate every typical feature of a castle. For instance, it features a built-in mote and even a drawbridge. It also rises a bit higher than your typical dog house to resemble a real castle. What's more, it is surrounded by a sizeable compound that features lush grass and a small tree growing at the left back corner. And, to give it a complete medieval feel, there are two relatively large and rugged rocks at the entrance.
Mediterranean
With a look and feel of a Mediterranean hotel, this dog house gives you the feel of an exotic retreat. In essence, this is a mansion for a pooch in many aspects: it is bigger than other dog houses on the list, it makes use of the best quality materials, and it gives attention to the tiniest details. It features terra coat roofing, stucco walls, and corner porticos that offer shade and shelter on sunny days. There is also a lot of playing room in the surrounding compound, which features lush grass and some colorful flowers.
Pawquarium
Elegance does not get better than this with the Pawquarium. The lucky dog that gets to sleep in this dog house has the luxury of 'sleeping with the fishes', literally. The main body of this dog house is filled with fish and aqua plants, while the roof, corners, and floor is made of wood to give it a homey touch. The aquarium is also lighted to highlight every little movement in the aquarium. And, for a final touch, the entrance is laid with a beautiful floor mat that welcomes the door every time it gets home.
iDog
This dog house has a feel of technology and modern architecture, and it is certainly the classiest living aboard a dog could ask for. It is an elaborate piece of work built in a corporate-style structure that comes with its own lighting. The center of the house features a grey centerpiece that houses the dog, while the sides are complemented by wooden towers. That is not where it ends, however, as the compound is dotted with small trees and other green plants that give it a serene feel.
Hollywood Royalty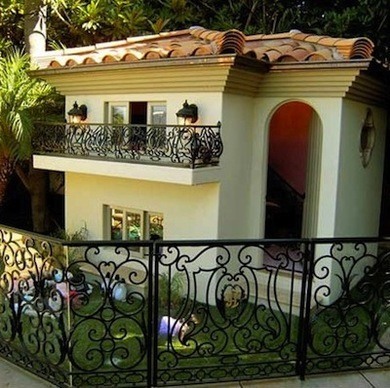 Being Paris Hilton's pet dog comes with its perks, in this case a $325,000 dog house. Everything about this dog house exhibits luxury, from its exterior looks to its serene interior décor. The interior was designed and decorated by Faye Resnick, a renowned interior decorator. To this end, the dog house features elegant décor and more than enough space for Paris Hilton's pooch. The exterior, on the other hand, is appealing to say the least. The walls are painted white and they blend in well with the brown roof. It features aspects such as a Juliet balcony, terra cotta roofing, and ornate fencing. It even has electricity for the interior and exterior lanterns.
Taj Ma-howl
The top spot of the best luxury dog house goes to this small replica of the Taj Mahal. It is cheaper than Paris Hilton's dog house as it goes for $40,000, but it is every bit as elegant and beautiful as its life-sized version. It is made of stucco and architectural foam, and the outer walls feature fine imprints of décor similar to those on the real Taj Mahal. The interior is pretty bear, but it offers all the space that a dog would need for comfortable living.