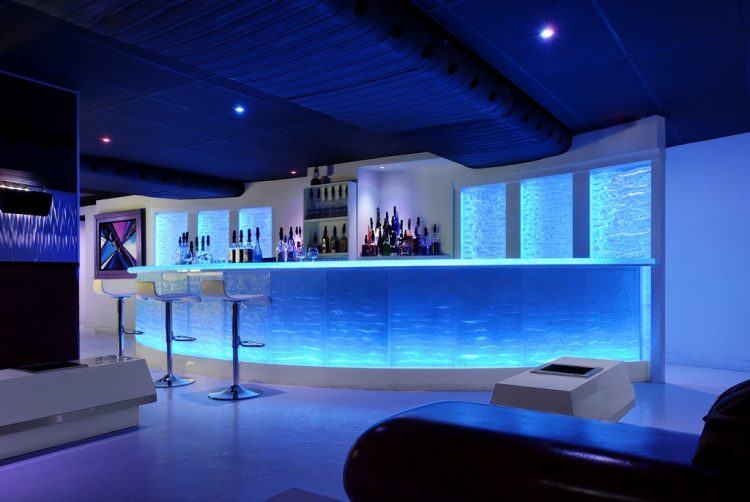 These days many people consider the home bar to be an essential element in any house. While some people only have enough square footage to carve out a niche or opt for a bar cart, others dedicate entire rooms to their home bars. A home bar doesn't have to be large to be lavish, but if you can find the dedicated space to spare you'll find that the benefits of having one are huge. Home bars are excellent for entertaining, relaxing, or hosting movie nights for the family, and you can also find other uses for them. Here are ten incredibly lavish home bars that will give you loads of design inspiration.
1. Modern and high end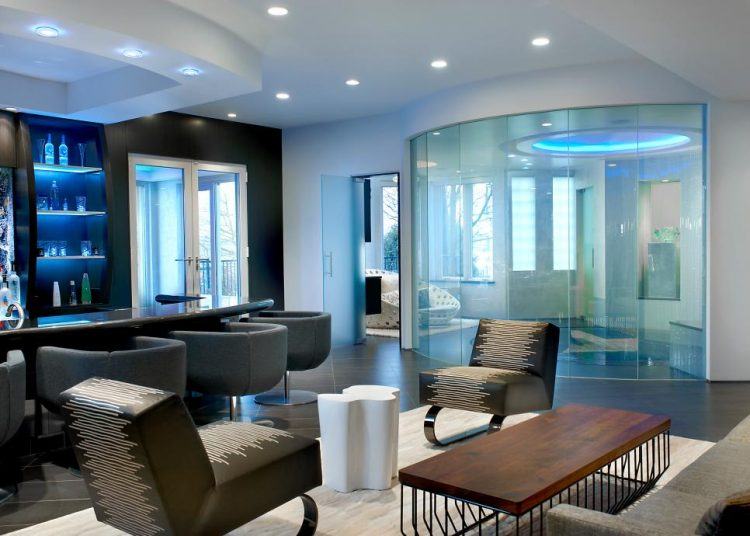 This home bar looks amazing and the array of finishes and fixtures in it are impressive. The combination of luxurious furniture and the glass partition in the space truly take it to another level. Most club lounges don't have bars that look this good, and the multiple seating areas is a great touch.
2. Contemporary sophistication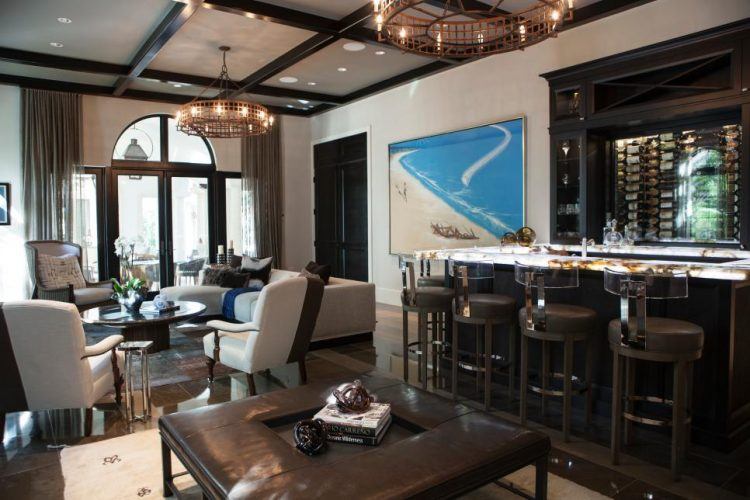 Some home bars are basic, but this one is refined and has a gorgeous contemporary appeal. The two light fixtures hanging from a coffered ceiling add a lot of style to the space, as does the profile of the bar stools and marble counter. Fine leathers, plush fabrics, and a relaxing color palette adorn the rest of the space.
3. Awesome arcade and bar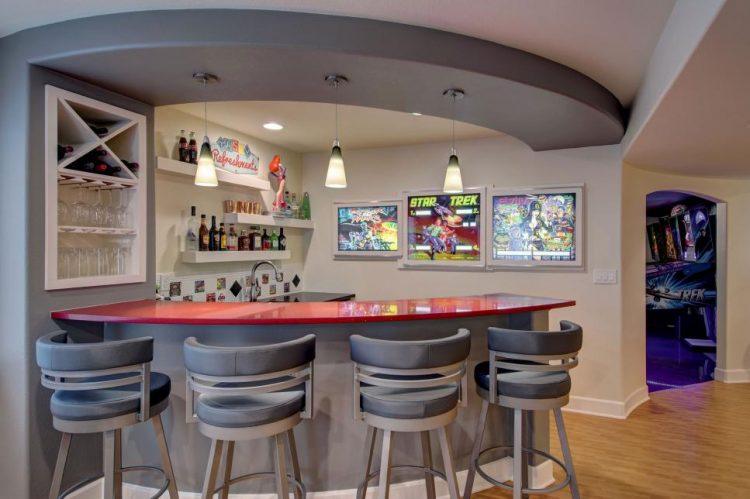 If you have a passion for a certain show, comic book, or hobby, why not incorporate it into your home bar? Themed home bars can look incredible, such as this one in a Star Trek lover's abode. The bar has a retro vibe to it, full of memorabilia and a vibrant color palette. The great thing about this design is that the theme is continued in the next room with a Star Trek arcade — the design does a great job of bringing together the homeowner's interests and practical elements.
4. A rustic and inviting touch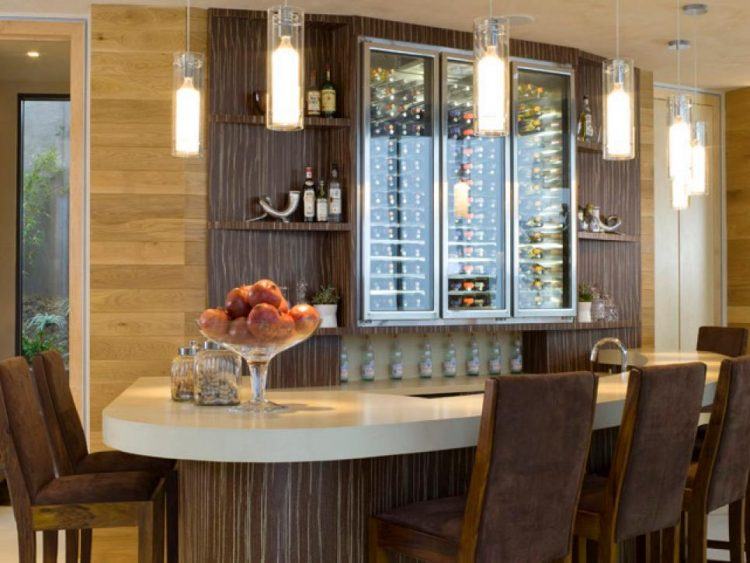 You don't have to adopt an ultra modern aesthetic to create a great looking home bar. This one has many rustic and organic elements, but it's far from outdated. The custom wine storage built into the wall looks amazing, and the entire bar itself incorporates wood with a beautiful grain. Hanging pendant lights add decor and illumination, while well curated decor provides key visual interest to the design. Overall, this bar looks welcoming and quite attractive.
5. Rich and sumptuous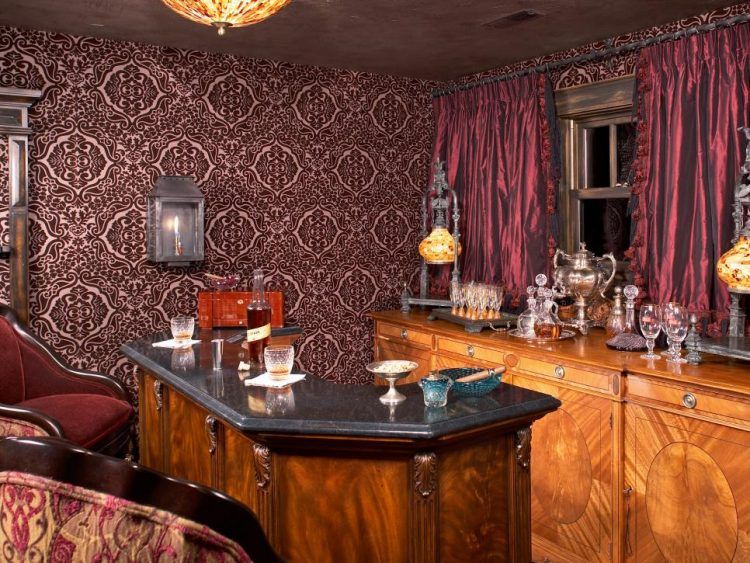 The look of this home bar is lavish with a touch of Hollywood Regency thrown in. Gorgeous custom wallpaper provides a ton of visual impact, while luxe window treatments and fabrics give this bar a beautiful look and feel. Vintage barware adds even more flair, as do the unique light fixtures and paint finish applied to the ceiling.
6. Industrial and innovative
Industrial design is huge, and this home bar has elements that bring the style to mind. One of the most prominent pieces in the space is a huge silver metallic light fixture that commands attention. The use of a towering bookcase to serve as the bar's backdrop and storage area is an innovative idea, and it helps give more function to the space. This design proves that you don't have to stick to one formula and can use just about any mix of materials and furniture in a home bar.
7. The barn bar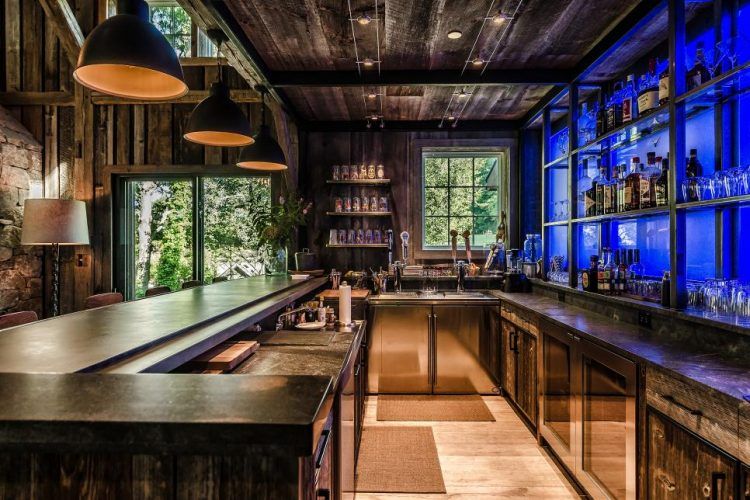 Imagine bringing your friends over and leading them into this home bar — they couldn't help but be impressed. This bar is actually a renovated barn that the homeowners decided to make into a space for entertaining. The re-use of the original barn's elements is apparent, and it gives a ton of character to the space. Though the barn was old, the design is fresh and full of modern elements that make this an ideal hangout spot. Along with amazing decor, the bar's collection of liquor and wine storage is notable as well. The way that the counter and area behind the bar are set up is efficient, attractive, and flows well.
8. Amazing lights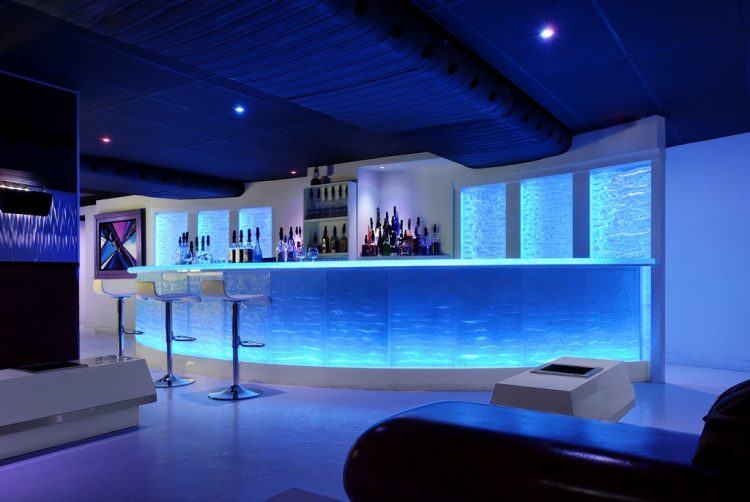 It's difficult to tell whether this is a home bar or an upscale lounge in a club just by looking at the photo, but it really is a bar inside of a house. What gives it the appearance of a lounge is the combination of neon lighting and the choice of furniture and fixtures. It's modern, upscale, and it would be the ultimate place to host a party. The furniture in the space serves as a type of decor itself, but there are also art prints on the wall that add color, visual, and textural interest to the design. The ceiling is a unique feature of the room, as is the frosted finish applied to the large bar and the wall behind it.
9. A touch of glamor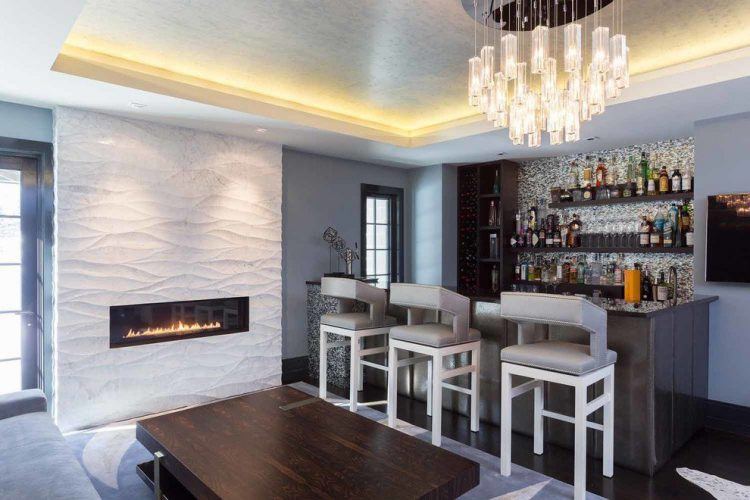 You truly don't need a huge space to create a bar inside of your house, and some of the most stunning home bars aren't large at all. This is an example of a design that's functional, gorgeous, and doesn't require a ton of square footage. It has a very glam and luxe look, thanks to a color palette that incorporates gleaming metallics, cool shades of gray, and rich woods. The style of the fireplace stands out and provides a conversation piece and a way to stay cozy year round. The bar itself has a unique texture, and a striking chandelier in the center of the room tops off the design.
10. Home sports bar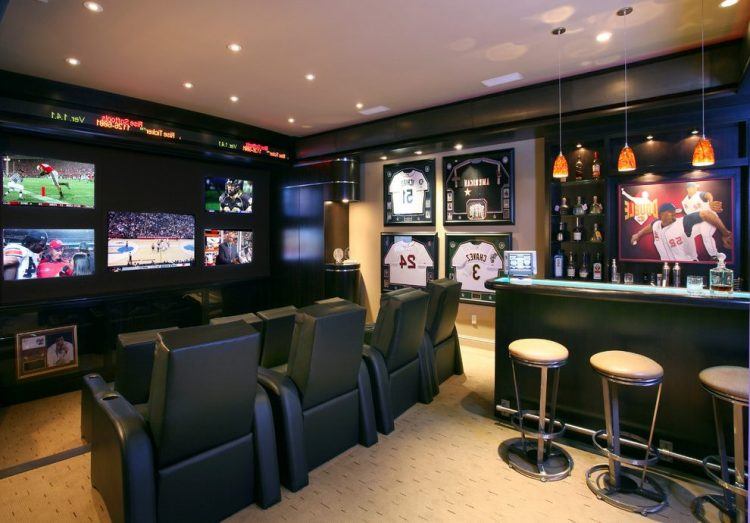 Any sports fan could appreciate the awesome look of this basement bar. It's not just a place where friends can grab a drink and watch the game, the space also serves as a home theater for family nights. As far as themed home bars go, this one was superbly designed. The color palette in the room has a contemporary edge, and just the right amount of decor and memorabilia were incorporated. The storage and space around the bar is also ideal and ensures that anyone who steps into this basement will have a great time.