Just getting to a yoga class can be an exercise in frustration and totally throw off your practice. Rather than battling traffic, rushing to get out the door, and worrying about finding a good spot, you can always create your own yoga studio at home. How you go about it will largely depend on the amount of space you have available, but the good news is you can pull this off in any size home.
Rather than trying to replicate the look of your favorite professionally run yoga studio, take elements from it, add in things that calm and soothe you, and you'll be well on your way to creating a beautiful yoga studio design. Even if you only have a corner of a room to work with or you opt to turn a large closet into a meditation area, creating a yoga space will enhance your practice and provide a way to relax right in your own home. Here are ten home yoga studios that will give you inspiration.
1. Calming neutrals
Even if you don't have the views that this home does, you can still create a space that's as relaxing and prime for practicing yoga by incorporating neutral tones into your yoga studio design. The rich wood flooring here not only looks great but is a good surface for yoga, and the greenery adds an organic element that makes the space feel more soothing.
2. A multi-functional space
If you want both an exercise room and a place to do yoga, this home yoga studio design shows how to get the best of both worlds. It's ideal for doing a number of different exercises, but the flooring and vibe of the space is also well suited for yoga. Calming white paint on the walls, simple and chic soft lighting on the ceiling, and carefully chosen decor perk up the space without being overwhelming. Great storage along one wall provides a place to store yoga mats and other fitness essentials and is a good idea to incorporate into any yoga studio design.
3. Pouring in light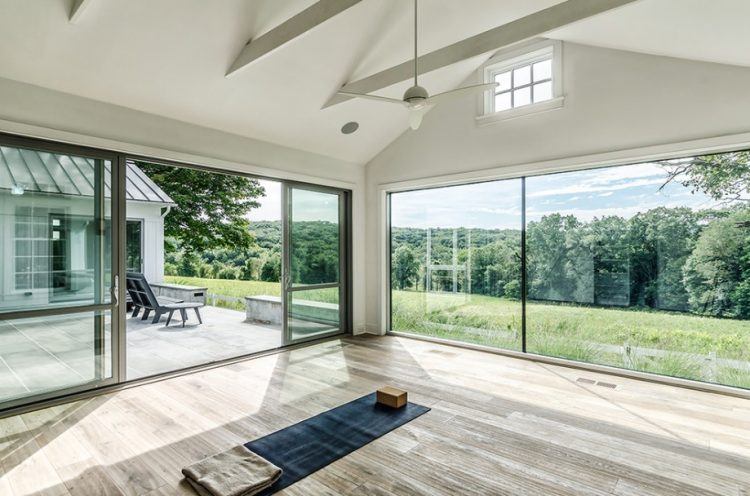 There's not much in the way of decoration here, and that's the great thing about yoga spaces — you don't have to fill yours will decorative elements and can focus on creating a functional space that's peaceful and relaxing. Huge windows let in a flood of light and provide a beautiful view of the outdoors, and right next to the studio is a patio area that would be a nice place to rest after having a yoga session.
4. Creating a peaceful place
If you can't dedicate an entire room in your home to making a yoga studio, carve out a niche instead. This yoga studio design features breezy window treatments, natural woods, and essentials for meditating and practicing yoga. You could also do other types of exercise in a room such as this one because of the sturdy flooring.
5. A minimalist vibe
Minimalism and yoga studio design are a perfect match, as the less clutter around you the more focused you can be. A large surface was placed in the middle of the room to make practicing yoga more comfortable, and elsewhere is a small display of decor. The contrast between the white walls and deep brown on the doors and windows is eye catching but not too dramatic for the space.
6. Small hideaway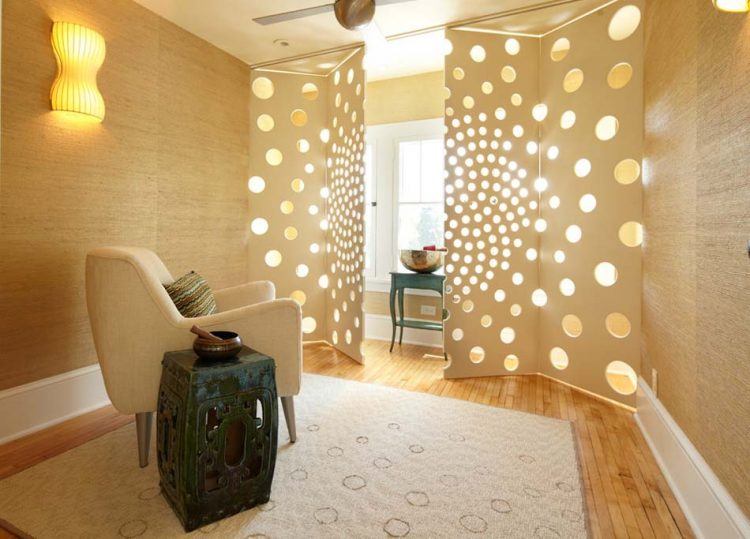 If you only have a very small area to use for your yoga studio design, this is one option for how to pull it together. While seating was placed into the room here, you can easily just lay down a mat and put in a basket for your yoga mats. Soft lighting is key, as anything that's too harsh isn't conducive to creating a peaceful and relaxing atmosphere. The wallpaper used here was an excellent choice that's not only stylish but neutral and not distracting.
7. Bright and open
Here is a bright and open workout room that incorporates elements of a yoga studio. When you're mixing spaces for aerobics and yoga like in this home, try to visually separate each area. Keeping the decor and artwork to a minimum was a smart move, and instead of including tons of decorations it only has two large art prints and a vase. Dimmers for the lights is another good idea that will help while trying to focus during yoga sessions.
8. Room for rejuvenation
This yoga studio design includes a massage table, beautiful flooring, mirrored wall, and plenty of space to store yoga gear. There's also a sauna off to the side of the room, but what makes the design of the space so great is it meshes well with the rest of the home. There are also a number of subtle but stylish details that are well done, such as the tiled wall, hanging pendant lamps, and built in storage counter.
9. Vibrant and simple decor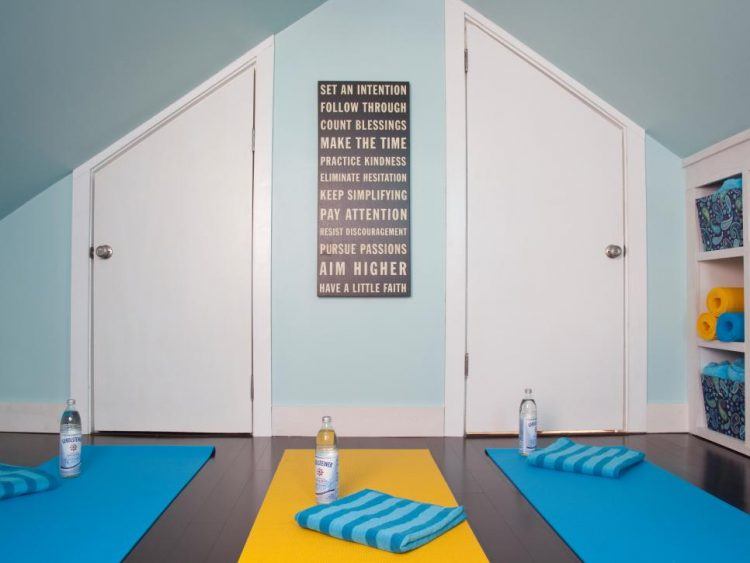 If you're working with a small space and you're aiming to turn it into a bright, cheerful, and functional yoga studio, take cues from this room. A light and soothing shade was chosen for the walls, and it's complemented by more vibrant yellow and sky blue yoga mats, fabric bins, and towels. Adding color via your yoga gear is an excellent idea, and it would even allow renters to make a yoga studio design without having to paint or alter the architecture of a space.
10. Double duty area
Many people don't have a separate room available for use as a yoga studio, and when you have to mix spaces resourcefulness and creativity are important. This room is used as both a yoga practice area and a home office. The key to making it work is keeping clutter on the office side to an absolute minimum and incorporating smart storage that's both stylish and practical. By using an appropriately sized desk and chair there's still plenty of room left to roll out a yoga mat for a session and then store it away.