For so many of us, it's simply not the holiday season until we get our Christmas tree all set up and decorated, string colorful lights around the outside of the house, and hang lush green wreaths for guests and passersby to admire. However, for those of us who don't live in a spacious house, decorating for the holidays can be a bit of a let down. It's not that we don't want to decorate — that's not it at all. It's just that we don't have much space in which to do it. If you live in a small home, a one bedroom flat, or even a studio apartment, where do you put a big tree and all of your fun holiday stuff?
If you're an apartment dweller, a small house owner, a dorm room occupant, or just someone who has less space than is ideal for holiday decorating, you don't have to scrap the idea entirely and avoid having guests over this holiday season (lest they catch a glimpse of your undecorated residence). With a little planning and creativity, mall spaces can be decorated just as beautifully as large ones, and we've got the tips to prove it. Here are ten great holiday decorating ideas for small spaces.
Instead of a tree, make vases of live greenery.
Trees take up a lot of room, but you can put a vase of evergreen branches any almost any surface in your home. They give off the same good cheer vibe, but they're smaller, less expensive, and easier to care for. If they're big enough, you can even hang a few ornaments from them.
Use strings of lights to outline windows and doorways.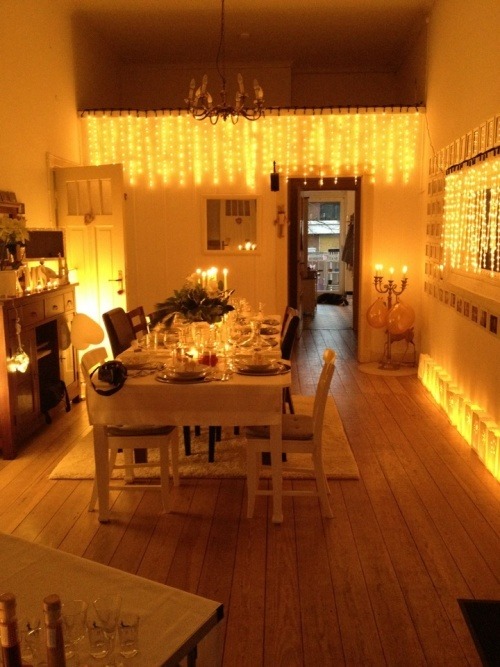 Small holiday lights, either in white or in colors, are a subtle yet clear sign of the season, and they can go anywhere. Consider using them to outline doorways and windows inside your home, as well as mirrors. Or, if you like the look of the icicle lights, you can hang those from the ceiling. This adds a nice punch of brightness, and it looks festive without getting in your way.
Use holiday themed throw pillows.
Swap out your usual throw pillows with some that conjure up the holiday spirit. Whether you prefer the more obvious designs with Christmas trees and images of Santa Claus, or more subtle snowflake designs, there are lots of holiday pillows for sale at major retailers. Or, if you're feeling crafty, you can make your own! It's an easy way to brighten up your living room for the season.
Make a clothesline for your holiday cards.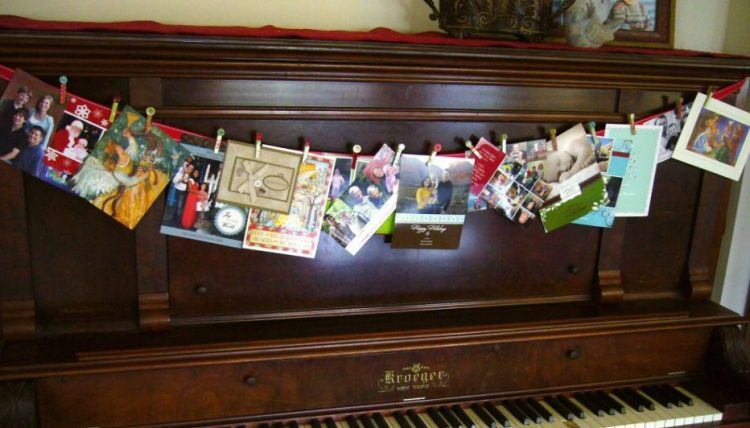 You know Christmas is coming when you start getting stacks of holiday cards in the mail, but where you do you put them? Instead of just letting them pile up, hand a long length of pretty twine high in your main living space (or on doors or furniture), get some small clips, and hang your cards clothesline style. It's perfect for small spaces, it allows you to display all of your cards, and it's an inexpensive way to decorate.
Make your presents your decoration.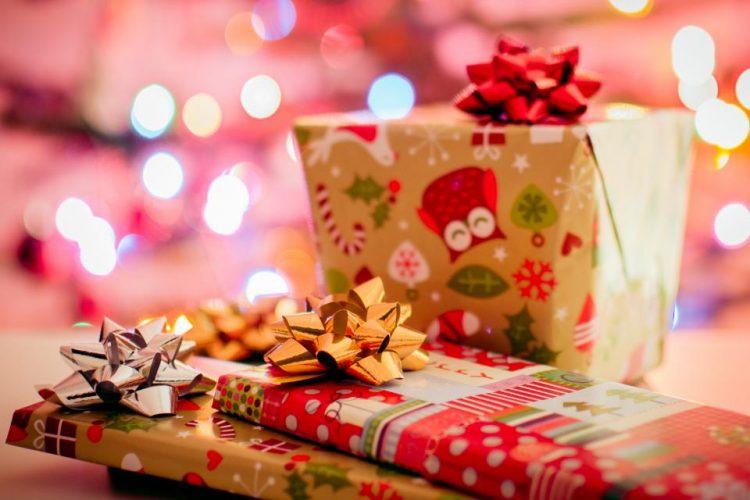 You probably need to buy some presents for friends and family, right? Why not buy them early, wrap them extra carefully, and create stacks or arrangements of them on tables and against walls for instant holiday decor? By the time Christmas rolls around and you're ready to take down your decorations, all you'll have to do is give yours away, and their recipients will appreciate the extra-nice wrapping job.
Use temporary wall decals.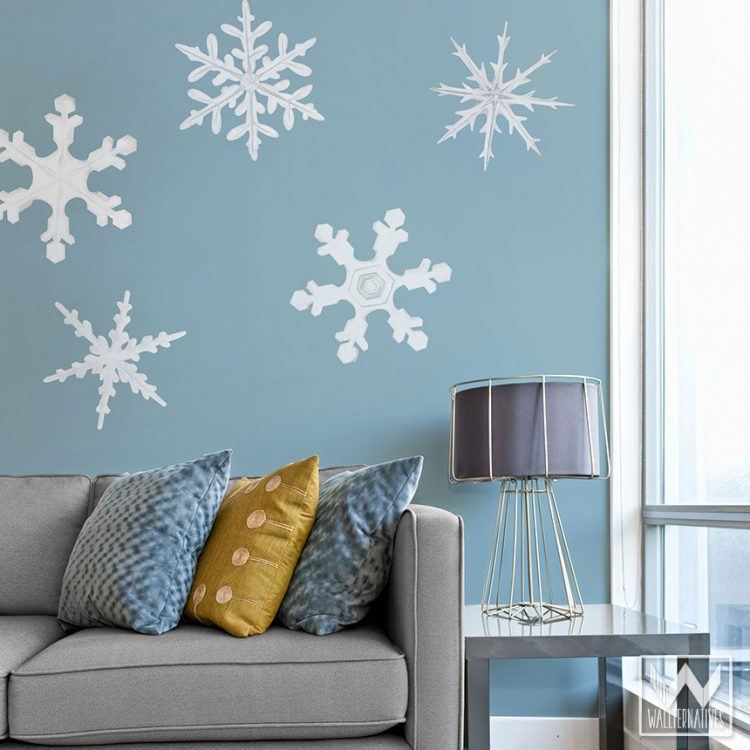 Painting a holiday mural on your walls is probably out of the question (for several reasons), but temporary decals are a great way to add some holiday imagery to your walls. You can buy these from lots of different places: craft stores, big box retailers, and independent resellers on Etsy all carry wall decals in many different colors and designs. They're not at all difficult to apply, and they're even easier to remove when the holidays are over. Best of all, they won't damage your walls or your paint.
Put mistletoe in a few doorways.
Even if you're not planning on kissing anyone this holiday season, a little mistletoe hanging in one or two of your home's doorways is a fun and subtle decoration that's easy to procure and matches any home decor. And if you are hoping for a quick peck (or perhaps a little more), it sends a clear signal!
With ornaments, think beyond the tree.
If you've got a small space, you probably won't have a tree. However, that doesn't mean you can't have ornaments! Be creative with where you put them: consider using ribbon to hang them from curtain rods, hook them on fresh wreaths, or remove their hooks and fill a clear bowl with colorful round ones. If you're feeling especially crafty, you can shape them into a Christmas tree and hang them on a large canvas to put on your wall. Don't just limit yourself to what you've always done with ornaments: consider them an adornment that can be displayed just about anywhere.
Focus on your door.
You may not have guests over during the holidays, but anyone who passes by your home sees your door. If you focus on decorating just one part of where you live, make it the part that everyone looks at. Whether you hang a simple and elegant wreath or go all out with greenery, lights, and more, use your door to make a statement of holiday spirit.
Make it smell like the holidays!
Decorating for the holidays should involve more than just your sense of sight. Delight your guests' olfactory nerves as well by making a stovetop or crockpot potpourri using cranberries, citrus, and spices. Or, if you'd prefer to keep it simple, burn some lightly scented candles; cinnamon, vanilla, or gingerbread are all perfect for this time of year.