These days you can find dining tables of just about every shape and size, but one of the most good looking and timeless remains the circular table. Not only is it versatile, but there's no better dining furniture to get if you want to create an atmosphere of intimacy, an inviting vibe, or a communal feeling during meals. Dinner parties especially take a new turn when circular tables are used, as it allows for the easier exchange of conversation and will help make each guest feel included.
As far as design goes, opting for this type of dining table will provide a wealth of options. Circular tables can easily go from classic and traditional to modern, contemporary, or even eclectic. Here are ten beautiful dining rooms with circular tables.
1. Classy and elegant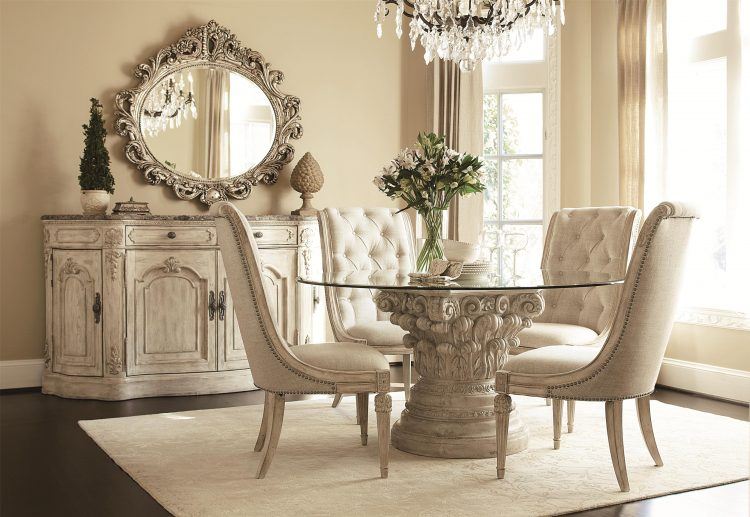 This dining room design has a decidedly sophisticated and elegant look, and one of the highlights of the room is a glass top circular table on an elaborate stone base. Four stately tufted chairs sitting around the table look equally impressive. The combination is stunning and looks gorgeous along with a chandelier hanging above and a buffet cabinet sitting behind the seating area. Warm white and cream tones dominate the room and give it a more open and spacious feel.
2. Casual and stylish
Transitional dining rooms with circular tables such as this one are often very stylish and full of character. One of the best things about the design here is that the table and chairs feature two different shades — the table is stained dark walnut while the wooden chairs are painted bright white. It's the ideal pairing to fit into the open concept kitchen and dining space, as is an over-sized bulb fixture hanging over the table. Flowing window curtains with a fun graphic print and a whimsical piece of art on an accent wall help bring the relaxed look together.
3. Beautiful Colonial style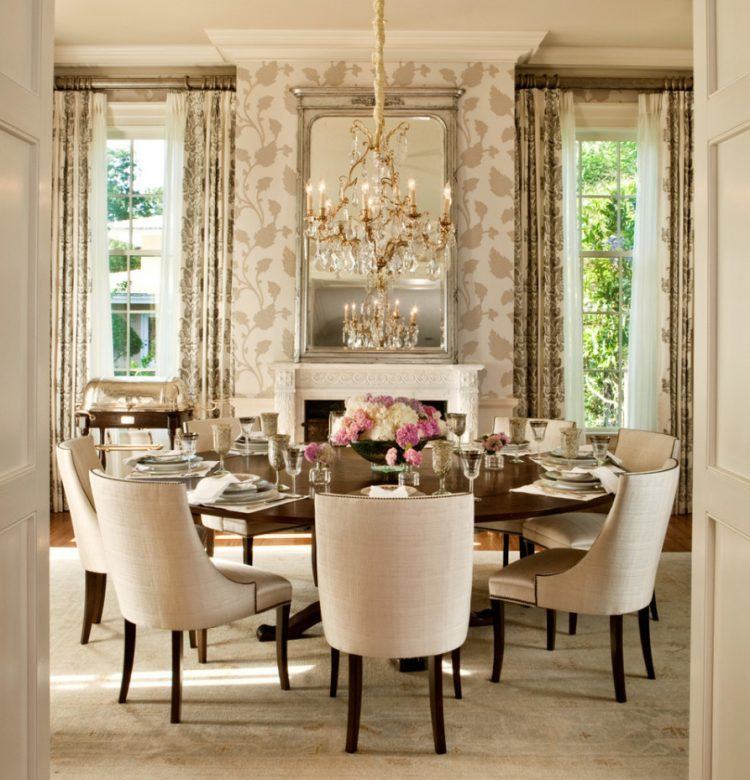 Some steer clear of dining rooms with circular tables because they want a formal look, but you can definitely create a formal space with this type of table. The dining area here is a prime example of how beautiful it can turn out. The space has a Colonial appeal and looks stately, full of elegance, and it's also quite stylish. Surrounding the large circular table is an assortment of chairs with cream colored fabric and darker trim. Sweeping floral print window treatments and a dazzling chandelier bring even more upscale flair to the design.
4. A booth-style arrangement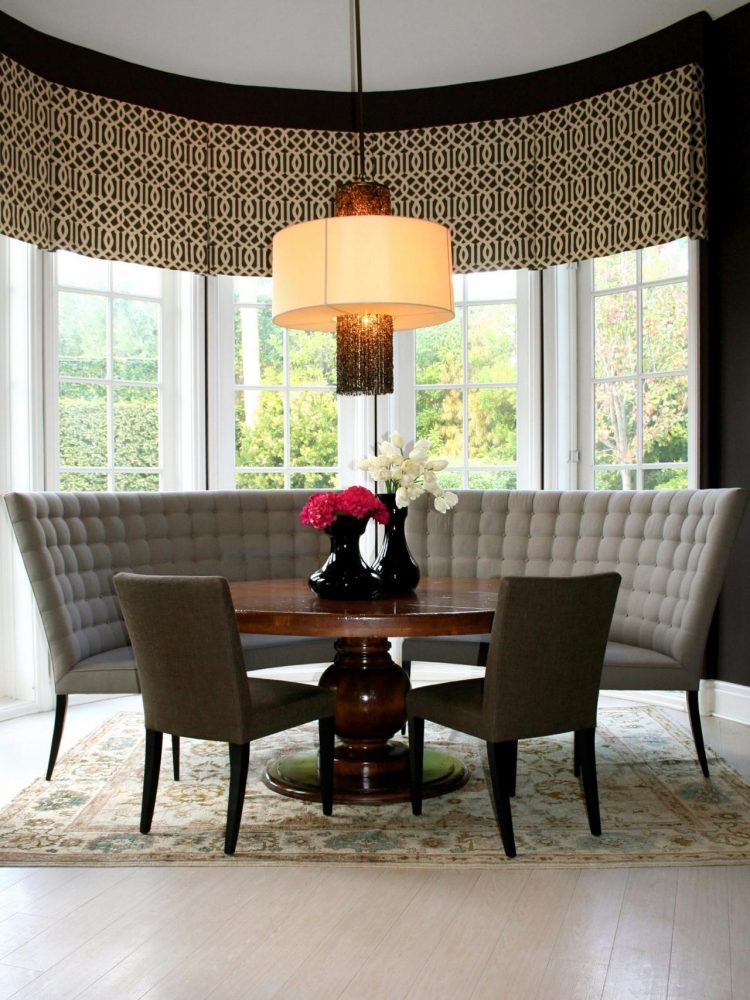 Booth arrangements of dining tables have become increasingly popular, especially among those who have families with children and those who prefer dining rooms with a laid back feel. If you want a booth setup in your dining area, you don't have to settle for getting a rectangular or square table and can opt for a circular one instead. This space shows how easily circular tables accommodate all types of seating, from traditional chairs to a set of curved settees. The mix of seating and style of the table's base come together beautifully, and the light fixture in the room adds a great boost of style.
5. Bright and fun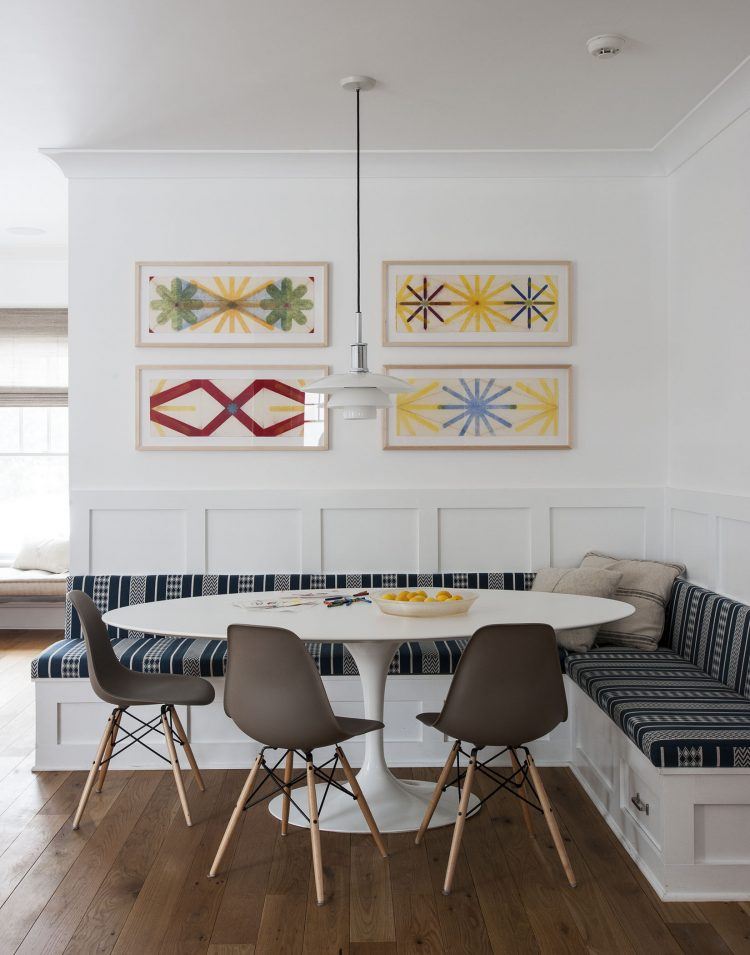 Here's another dining space with a circular table and booth style seating, but the design makes use of benches instead of settees. Along with a white pedestal table and a trio of mid-century modern chairs, there's ample bench seating tucked into a corner of the room. An eclectic light hangs above, while four colorful art prints add lots of charm. This would be a wonderful room for a large family or anyone who adores vivid art prints.
6. Beautiful marble
Dining rooms with circular tables can contain a mix of styles, which is the case with this design. It strikes a transitional appeal because it has both contemporary and traditional elements. One of the highlights is a circular table clad with marble. It and four chairs sit on a large striped area rug with tones of peach and coral — it's an unexpected combination, but one that looks fantastic.
7. Fashion forward and trendy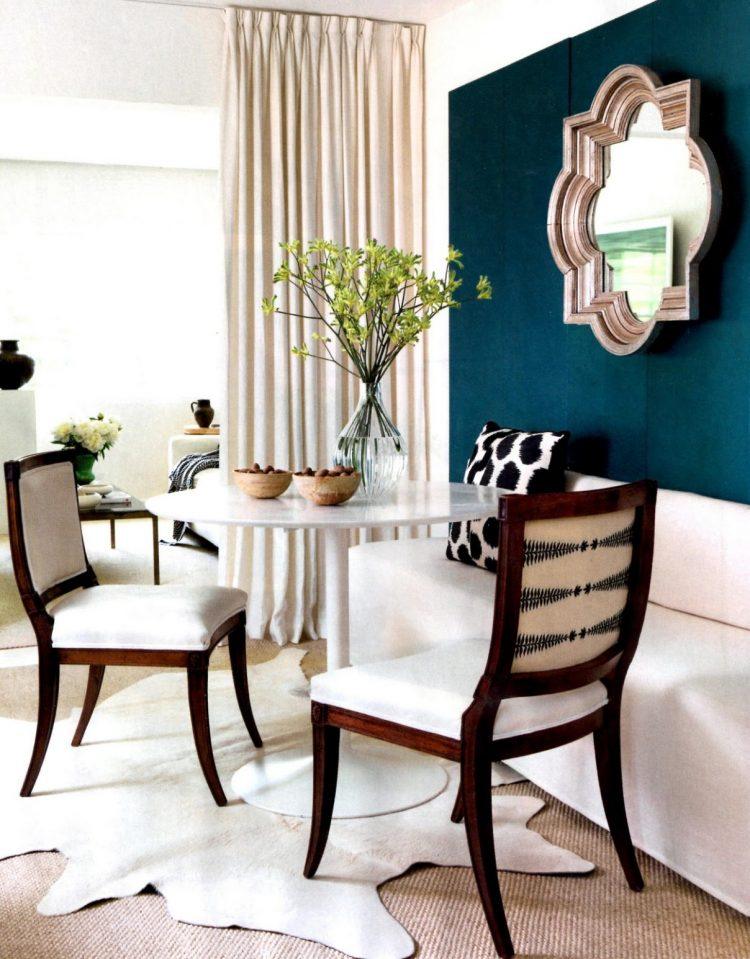 Whether you have a dedicated dining room or you need to squeeze one into a smaller or open concept space, circular dining tables will fit the bill. This dining niche isn't very large, but it's huge on style thanks to a gorgeous accent wall and the inclusion of luxe fabrics and furniture. A compact bench sits along a portion of the wall and paired with it is a small table and a pair of upscale chairs. The interesting accent rug and mirror hanging on the wall provide decor and visual interest.
8. An eclectic delight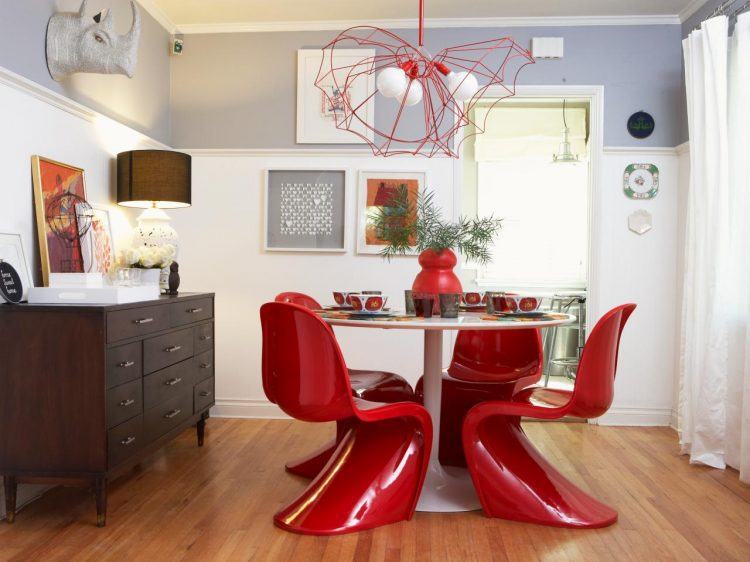 Few tables fit as well into eclectic dining spaces as circular ones, as this design shows. And if you have a penchant for picking chairs with a shape that's far from traditional, you'll find that they fit best under circular tables with a pedestal base. The bright red chairs in this dining room are just one fun element. They're joined by a wild red wire light fixture, faux rhino head high on the wall, and an assortment of modern art prints.
9. Cottage style goes modern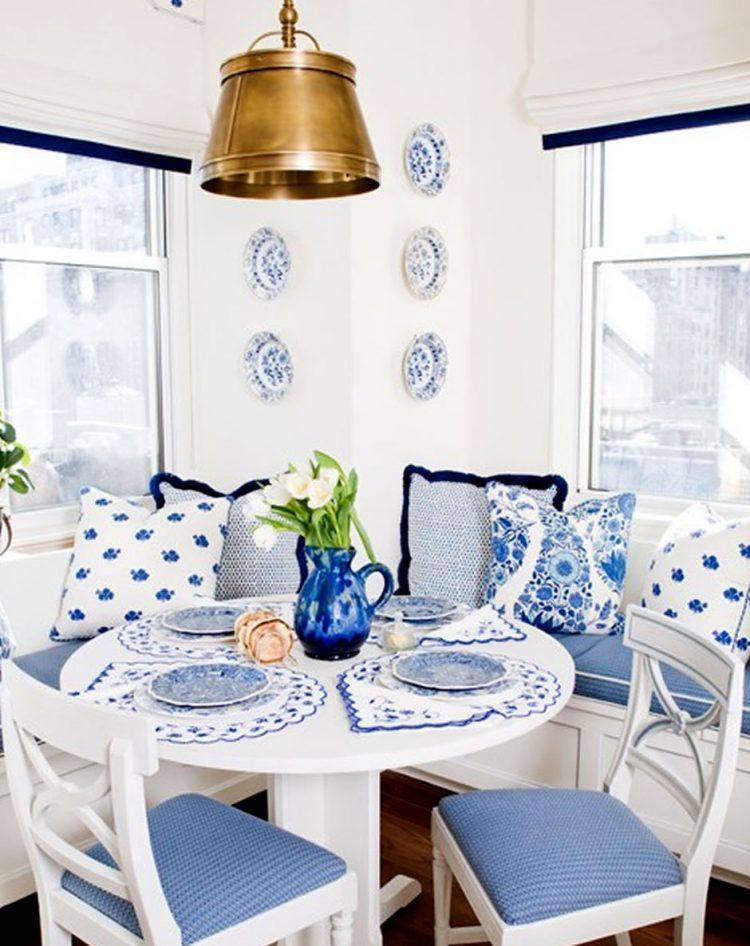 Here's a dining room that shows what's so great about circular dining tables and how well they work when trying to create a cozy and inviting atmosphere. Plush pillows on comfy benches, lovely chairs, and a circular table with just enough space would make any guest feel at home. The mix of blues and whites looks great and contrast well with each other, and the style of the light fixture hovering over the table adds a great touch of decor.
10. A seaside scene
This design would be ideal for anyone who likes coastal themed designs, breezy decor, and dining rooms that have loads of character. Because the room is modestly sized, a circular table is the best space saving option. The shape of the table is also a nice contrast to the many tall rectangular windows in the room.