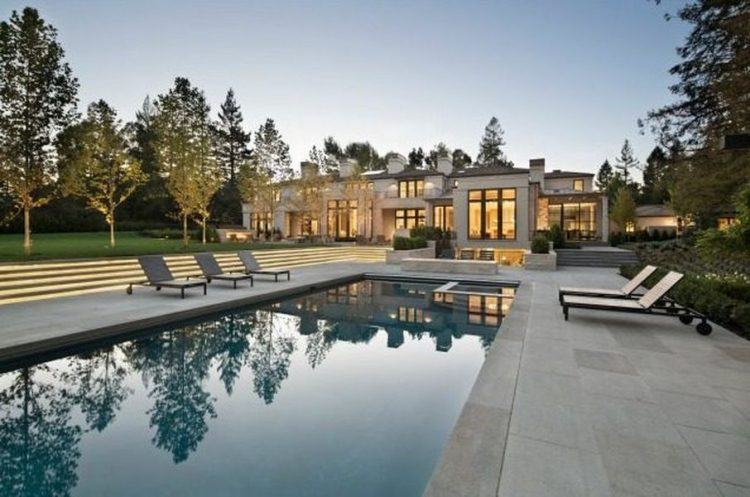 Northern California is a popular region that is brimming with beautiful landscapes and luxury amenities. Although this part of the state has its share of low income areas, it also has some of the most expensive suburbs as well. There is a great wealth of cultural diversity in the area and for some, this is one of the most appealing features. We've chosen ten of the most expensive suburbs in Northern California to live in order to to take a closer look at what makes each of them such special ind interesting places to live.  These are listed in no particular order.
Mountain View
Mountain View is a wealthy suburb in Northern Cal that seems to have a powerful attraction for wealthy young professionals who are on the tech savvy side. Google just happens to be located in this suburb and that is much of the attraction for those who call it home. The company employs more than sixteen thousand people so there is no great mystery as to why the wealthy young techsters prefer to live here.  The median home price is $1,775,000 and has increased in the past year by 5.6%. Homes only average fifteen days on the market before selling.
San Mateo
San Mateo is another area where the wealthy have settled in large numbers. The average income is more than a hundred thousand per year with some making considerably more. You can drive through some of the more affluent neighborhoods and find many amazing mansions, some worth more than $1 million. The median family income is $97,000 annually and the average home value is $1,200,000.
El Dorado Hills
El Dorado Hills is one of the more expensive suburbs near Sacramento. The median home value is $577,000, with a median family income of $129,292. It isn't difficult to understand why people are attracted to living in this suburb. It features more than two hundred acres of open space, parks and recreation land. The livability rating is high with a low crime rate and good schools. This is one of the better places to live and raise a family in the area.
Redwood City
This area lies south of San Francisco by approximately twenty four miles. The downtown area has been revitalized and it is known for having the "best climate in the world." Living in Redwood city is expensive but the environment and amenities are top notch which makes it an attractive choice for so many. The median family income is over $90,000 annually and the average home value is $1,300,000.
Fremont
Fremont comes in at number five statistically as one of the wealthiest areas in Northern California. A few of the things that make it so popular with residents is that the city itself is a conglomerations of five smaller towns which incorporated as one. Each of these towns was made up of a range of residents with the majority being in the middle to upper income brackets. Lake Elizabeth is located in Fremont Central Park and it serves as a wonderland of recreational activities for residents. This city has been popular since the early 1960s for its amenities. The cost of living in a bit on the spendy side, but it is truly a lovely place to live if your budget will allow. The average annual income is $104,838 and the median home value is $912,000.
Pleasanton
Pleasanton is also known as P-Town. This may be one of the most expensive neighborhoods in Northern California in which to live. The median home value is one of the highest in the state with the statistics placing it at $934,000.  While not all homes go for this astronomically high figure, it is the average cost. The average annual household income is $121,622.
Palo Alto
Palo Alto takes the cake when it comes to expensive living. While the average home price in Pleasonton seems high, comparing it with Palo Alto makes the town look fairly affordable. In Palo Alto the average home value is $2.4 million. It is number one in its placement on the most expensive suburbs to live in Northern California. The median annual income of residents in this area is $135,000.
Folsom
This San Francisco suburb is well known for the prison that Johnny Cash brought attention to in his song, but it is also famous for being one of the better places to live in Northern California. The median family income for the suburb is at one hundred and sixteen thousand five hundred and twenty seen dollars annually. nearly a third of families living in the area are reported to have at least one minor child living in the household and the crime rate is low in the area. Folsom has plenty of amenities including a historic district, outdoor recreation and plenty of shopping. It has a low poverty rate and is one of the most attractive places for families who are looking for a safe and beautiful environment to live. The median home value is $470,000.
San Ramon
San Ramon is one of the wealthiest cities in Northern Cal. The average annual income rivals that of Palo Alto at $135,000 a year. It places high in the most expensive suburbs to live in within the North part of the state. The median home value is $943,700.
Atherton
According to recent statistics, Atherton is one of the most expensive areas to live in Northern California. The median home price came in at $6.2 million which shows an increase in home values for the suburb of about a $1 million. It appears that the cost of living in this wealthy area is going up. The income level in the area is high as well because homes which are listed on the market are scooped up within four months and this is on the long side of listings. If you're in the market for a ten million dollar home and want to settle in an area that is known for beautiful and expensive luxury homes, then Atherton is likely to be your best choice in Northern California. The average annual income is over $200,000.
Final thoughts
There are quite a few amazing suburbs in the Northern part of California. We've highlighted the top ten most expensive suburbs in the region targeting the value of homes and average annual income levels. Although the cost is high, there is good reason. These are all amazing places to live and most offer lower crime rates, top notch school districts and amenities that make them comfortable places to settle.