Chaise lounge is the American term for the original French term "chaise longue". It simply means a long chair. The name change took place in America when it became obvious that lounging was the preferred activity for this special category of chair. Chaise lounges have always been synonymous with style, and certainly privilege. Lounging is much more than relaxing, it is a frame of mind. It is relaxing in elegance, and for this reason, the long chairs have often been statement pieces included in private retreats.
Chaise lounges are multi-cultural, and have appeared in rooms around the world since the time of Cleopatra. As each design period emerged, chaise lounges were built featuring structural and ornamental elements from each period in history. So, the dimensions and number of legs have varied over time. Earlier versions often had six to eight legs, while contemporary designs have taken advantage of advances in construction and materials which allow for the chaise lounge to have a simple supporting frame with a single base. Whether antiques or custom ordered, chaise lounges are enduring symbols of luxury.
1. 18th Century Duchesse Brisee Chaise Lounge
This is a Louis XVI Duchesse Brisee painted in cream, with original paint and minor restorations. There are two parts which match together to become a chaise lounge. The pair has been reupholstered in a grey silk fabric. The chaise lounge was manufactured in the late 18th Century in France. The dimensions are 37.8 inches H by 28.35 inches W by 72.83 inches D. The seat height is 17.72 inches. The condition is good and wear is consistent with use and age. White Glove shipping to the Continental U.S. and Portugal is complimentary, within 2 days to 4 weeks. The chaise lounge is offered by Miguel Arruda Antiques of Lisbon, Portugal.
Reference Number: LU103864924543 The price is approximately $12,522.
2. 19th Century French Empire Chaise
This original Empire chaise lounge has a solid walnut frame with pegged construction. It is sturdy and strong, with eight legs and subtle details on the feet. The patina is exquisite, and the overall proportions of the piece very nice. It has down filled cushions, and has been upholstered in a cream beige fabric of linen blend. It was manufactured in France between 1800 and 1820. Its condition is excellent, with wear consistent with its use and age. The chaise lounge is offered by Olivier Fleury, Inc. French and Continental Antiques, Winter Park, Florida, United States of America. Global shipping is available.
Reference Number: LU84862781402 The price is approximately $7,000.
3. Fine Early 1820s Biedermeier Chaise Lounge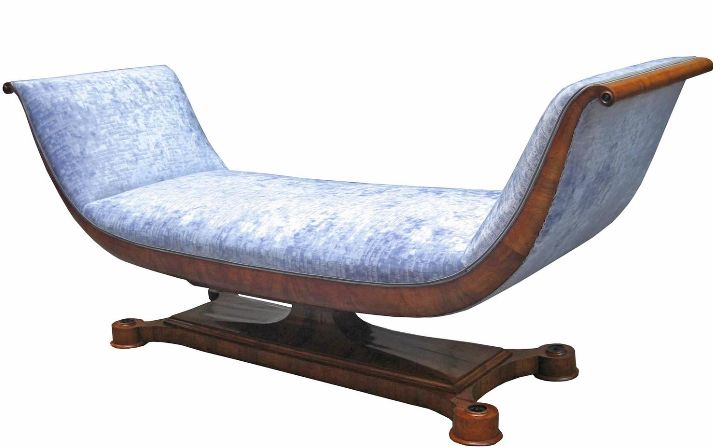 Made from walnut with ebonized fruitwood details, this chaise lounge was manufactured in Austria during the Biedermeier Period. The form is curved and sleek, with fine woodworking details on the feet and frame. It features grey fabric upholstery. Its dimension are 32 inches H by 75 inches W by 24 inches D. The seat height is 19 inches. The piece is offered by Karl Kemp Antiques, New York, New York.
Reference Number: LU102543347762 The price is approximately $68,000.
4. Original 1930s Art Deco Chaise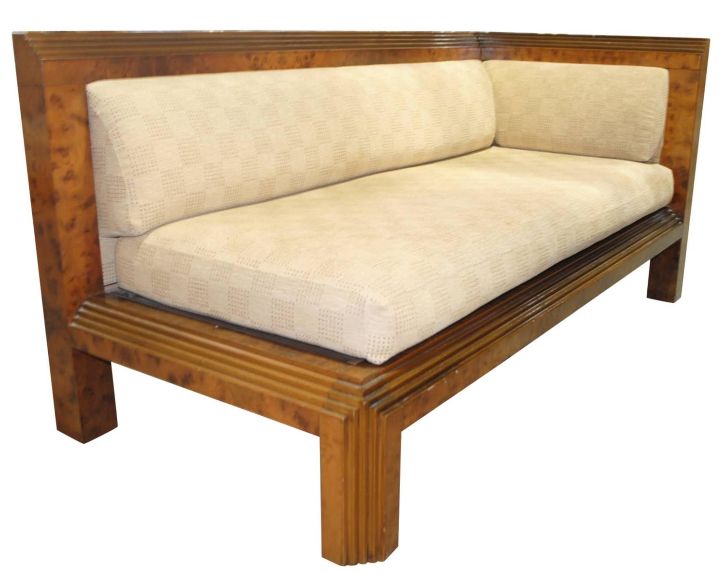 Hand-crafted of walnut in the 1930s, the place of origin is unknown. The veneers on the piece feature stepped details and a bold, yet elegant profile which is distinctively Art Deco. The fabric is a tan and taupe alternating square design. Cloud 9 offers bespoke restoration and re-upholstery in leather or fabric of the client's choice. The piece is in good condition. Its dimensions are 28 inches H by 60 inches W by 28 inches D Offered by Cloud 9 Art Deco, Wigan, Lancashire, Great Britain.
Reference Number: LU208635186743 The price is approximately $6,661.71. Shipping to the Continental United States is $1,500.
5. Mies van der Rohe MR Chaise Lounge
The MR Chaise Lounge was designed in 1927 by Ludwig Mies van der Rohe for the Stuttgart, Germany Weissenhof exhibit. The piece remained with a single owner since 1980, when it was acquired from Knoll International. The piece includes the original label, which is attached underneath the leather cushions. It is a minimalist style, with extremely comfortable original leather which is stuffed deeply for comfort. The frame is tubular steel with the original leather belting intact. This is a fine work from the Bauhaus movement. All original leather and hardware remains. Its measurements are 35 and ¾ " H, by 23 ½ " D by 51" L; with the seat at its lowest point measuring 12 ½ " H. The chaise is offered through Silla Fine Antiques.
Item #: C102702. The price is approximately $7,850.
6. Italian Designer Chaise Lounge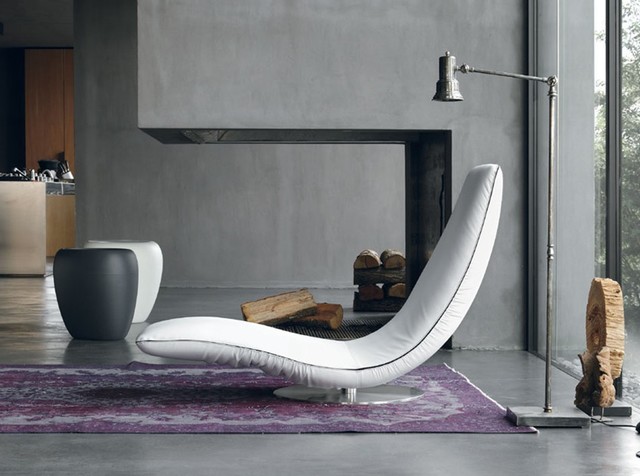 Angelo Tomaiuolo designed this Chaise Lounge for Tonin Casa Italian furniture. It is a sculptural piece with unique tailoring techniques incorporated to provide extremely sturdy, highest quality contemporary style and function. It is available in 21 Italian genuine soft leather colors and 21 eco leather colors. This is a special order piece, with an estimated delivery time of 10 to 14 weeks. Shipping charges are about $200. Its dimensions are 93" W by 39" D by 30" H. The seat height is 16". The chaise is made in Italy.
The price is approximately $5,325.
7. Aston Modern Baroque Leather Chaise
Manufactured in Italy by Gamma Arredamenti, the Aston Chaise Lounge is part of the Aston collection of elegant, classic seating options. It includes chesterfield styling with handmade Capitonne tufting and genuine Italian leather upholstery. The leather options include Club and Piuma leather. Club is finely pigmented with a uniform grain, semi-glossy surface, and buffed to softness texture. Piuma is thick, tender and soft, fine grain, fully worked, opaque and natural with an extremely soft texture. The frame is solid wood with leather legs. The seats are feather and foam. A choice of right or left arm facing is available. The stitching is available in the same shade as the leather, a shade lighter or a shade darker.
The price is approximately $8,375. An optional bench is also available at approximately $3,000.
8. Zero Designer Chaise Lounge
Nolen Niu is the designer who has created this extraordinary minimalist modern chaise lounge. Each Zero is individually made to order in the United States and hand crafted in a choice of colorful fabric and leather options. It is constructed with ergonomic design, using tubular steel lined with high resilience, commercial grade foam. The base is 1-inch thick stainless steel and the seat is 2 inches thick. The lounge has a 400-pound maximum weight capacity, with the addition of 200-pound weight limit for the foot rest. Two upholstery variations are available; with one-tone choices including Kvadrat wool, Elmo leather or contract fabric, and two-tone choices including Elmo leather and contract fabric.
The price is approximately $4,500.
9. Sylvester Designer Chaise Lounge
Designed by Leonardo Dainelli for the Italian company Cattelan Italia, this handsome chaise features soft leather upholstery available in a choice of 23 eco colors, including three which are stamped crocodile. Made in Italy, the lounge has a solid wood frame, steel support and chrome detailing. It is 79 inches long and 28 inches wide, with a height of 28 inches. It is a sleek, contemporary piece designed with comfort and functionality in mind.
Its price is approximately $2,875.
10. Cleopatra Classic Heated Limestone Lounge Chair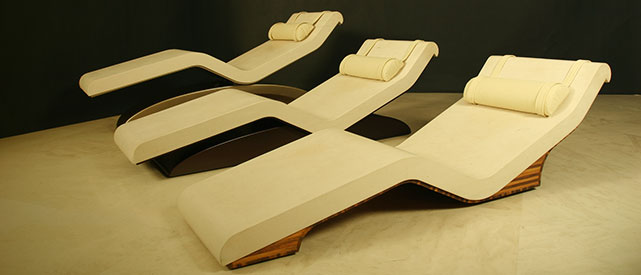 This chaise lounge is made of high density limestone. Each chair is cut from one piece of stone. The design is ergonomic, providing comfort, while the heating system provides radiant heat to penetrate into the body as therapy. This chaise is designed for both indoor and outdoor use. Its heating system is based on silicon materials which resist corrosion and humidity. There is an LED temperature control display. An optional motor may be integrated into the lounge for hydraulic tilt. The lounge weight 506 pounds, is 76 inches long and 26 and three-quarters inches wide. It is delivered by truck with a typical lead time necessary of 143 days. There are eight choices of colors for the leather headrest, and the lacquer base. It is a German product sold by SpaEquip Universal Companies. The price is approximately $13,950.