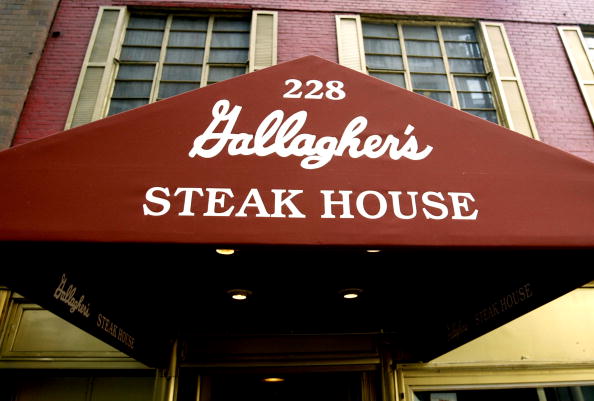 As we all know, New York City is the center of the universe, filled with late-night spots, bustling streets and something to do on every corner. It's also the home of some really delicious steakhouses. Unfortunately, not all steak is either cheap or lives up to the expectation that guests have when they first enter a restaurant. Whether it's bad service, a line that's out the door—even with reservations—or food that's just way too overpriced for how bad it tastes, here are some of the worst steakhouses that New York City has to offer.
10. Bull & Bear Prime Steakhouse
For anyone who has ever been to a Bull & Bear before, you probably get the sense that it's more of a bar than anything else. Well, the company decided to expand into the full steakhouse realm and has a place that isn't the talk of the town, unfortunately. In addition to high prices, the culture feels a bit more recent college grad than established, following the theme of their traditional restaurants and bars around the country.
9. Nebraska Steakhouse
With bad reviews from customers and high prices, Nebraska Steakhouse is, unfortunately, on the list of the biggest ripoff steakhouses in New York. While the food is just under being comparable to other places in the city that are more well-known, the prices are jacked up more than one would think when choosing Nebraska over those with a bigger brand identity. For that reason, it's best to avoid this place and just go with the others if you're going to spend the money and get the best steak possible.
8. Sparks Steak House
It might be the self-proclaimed "Greatest Steakhouse in Manhattan," but Sparks Steak House isn't what it claims to be. At least, not based on some of the ratings that customers give it. Whether it's bad service, over-evaluated food or both, this joint seems to miss with those who come in and try it out. Like others on this list, Sparks is quite expensive and lacks a few details to make it compete with some of the other big boys in the steak house realm.
7. Desmond's Steakhouse
Family owned and operated from day one back in 1995, Desmond's Steakhouse lost points because the food just wasn't up to par with the prices. While the service had been applauded on Yelp, many seemed to walk away disappointed with paying for a dish that was over $50. And seeing as how the place was seized for failure to pay rent on their space in Midtown West earlier this year, management seemed to lack the leadership in order to make the restaurant work.
6. Benjamin Steak House
Located between established streets like Park Avenue and Madison Avenue in Midtown, Benjamin Steak House has both an established address and an incredible menu and atmosphere. So why is it on this list? Simply put, it's too crowded. While reviews of service and dishes were above-average on Yelp, there were many who thought that, for the price of such luxury, there would be a bit more privacy, with tables being so close to each other that it was hard to carry on a conversation. That might be petty, but when a meal costs over $200 when alcohol is included, it's something to keep in mind.
5. Keens Steakhouse
If you want an old-school and traditional atmosphere, look no further than Keens Steakhouse, which has been around since 1887 and is one of the few places on this list that is a staple in New York City. The problem with such a restaurant, though? Naturally, the prices, as a few reviews on Yelp actually joke about a meal here costing the price of rent in some cities. While that's an exaggeration, Keens will set customers back quite a bit for embarking on a Mad Men-like experience.
4. Gallagher's Steakhouse
Located right in the heart of the hustle and bustle of Times Square and recognized as a New York establishment, Gallagher's Steakhouse is one of the most sought out places for a night on the town. That also happens to be one of its downfalls, however, as long lines and overbooking tends to make customers unhappy with the experience. Like others, the prices are comparable and the food is fantastic, but with difficulty actually getting a table, some may be turned off by the long lines.
3. Wolfgang's Steakhouse Park Avenue
While many might think that Wolfgang's Steakhouse on Park Avenue is a restaurant by famed chef Wolfgang Puck, it's actually the brainchild of Wolfgang Zwiener, a former waiter who has mastered his craft over the past 40-plus years. Although his hard work is commended, his steakhouse lands on this list for almost being a bit too exclusive, with reservations difficult to get for being in such a prime area. For an address on Park Avenue, that's a bit expected, though—even if the food is delicious and worth the wait.
2. The Old Homestead Steakhouse
With three locations in the New York area, one would think that The Old Homestead Steakhouse is one of the more established on this list. That's definitely the case, but it doesn't mean that it's one of the best places, either. Like a few others on this list, reviews on the restaurant aren't up to par with what they're serving, it seems, falling short on matching the expensive prices that come with one of their dishes.
1. Texas de Brazil
While I'll never knock a change restaurant that has stood the test of time in a number of different cities, the Texas de Brazil steakhouses aren't exactly respected by those who prefer a real, hardcore steak. With servers using the traditional Brazilian serving style of literally cutting the meat off of a stake at each table in front of customers, there is a bit of honky tonk in the way that the restaurant does things—even if it is commonplace in their native Brazil. Maybe it's just our society being too snobby, but Texas de Brazil misses on tacky decor and, worse, price—as a dinner for two will set someone back over $200 easily.
Photo by Paul Hawthorne/Getty Images