Nicknamed The Centennial State, Colorado is known for its beautiful mountains and ski resorts.  Although Colorado might not be the first place that comes to mind when you think of a great place to live, it's actually much more attractive than you might think. Although Colorado has been a popular vacation spot for years, it's actually so much more. With the perfect mix of big cities and small towns, the state of Colorado definitely has something to offer anyone who is looking for a great place to settle down. Whether you have a family, or are just enjoying life on your own – there's definitely a city or town in Colorado that will suite your needs. Here are 10 of the best places to live in Colorado.
Buena Vista
With a population of less than 3,000, the small town of Buena Vista is a great place to live for those who want to experience a taste of the quiet life. Although Buena Vista has some beautifully breath-taking mountain views, the cost of living in the small town is relatively low – allowing for people to live comfortably.
(Photo by Marc Piscotty/Getty Images)
Wellington
Sometimes the best places to live are the ones you've never heard of before. While some people opt to relocate to popular cities, others prefer places that are a little more off the beaten path. When it comes to the best places to live in Colorado, Wellington is a small town that you've probably never heard of before. However, that doesn't mean that it shouldn't be on your radar. Wellington earned a spot on the list due to the city's low cost of living and high median income of $66,524 which is higher than the national average.
(Photo by Marc Piscotty/Getty Images)
Bennett
They always say you can't get everything that you want, but when it comes to Bennett – that simply isn't true. The small town of Bennett has become a popular place to live in Colorado because of its combination of the best of both worlds. Bennett offers a nice quiet small town feel with beautiful nature views that are great for outdoor lovers. However, for those who don't find living so close to nature appealing, they're in luck too. Bennett is located just about a half hour from Denver which allows for ample opportunity to experience the culture of a major city.
(Photo by Doug Pensinger/Getty Images)
Pueblo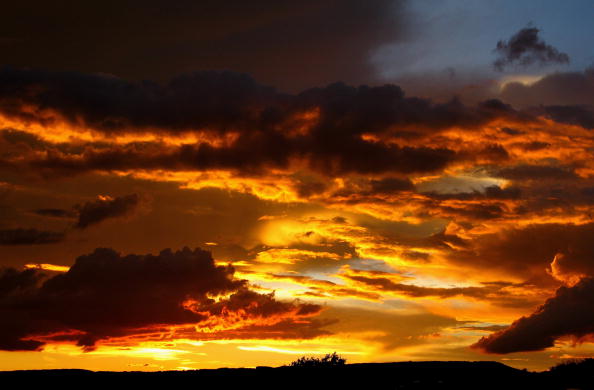 The city of Pueblo is often overlooked when people think of great places in Colorado. However, this lovely – and relatively large – city is one you certainly don't want to miss out on. Despite being a city, Pueblo is fairly inexpensive and offers some pretty great amenities to its residents. Pueblo has a great public school system, and the city is also home to the Colorado State Fair, which is the largest event held in the state. Pueblo also has plenty of great dining options for both serious and aspiring foodies. The city's location is also desirable for those who like to have access to the mountains.
 (Photo by Doug Pensinger/Getty Images)
Loveland
Let's be honest, you've probably never heard of Loveland – and you're not alone. However, the city of Loveland has become one of the best places to live in the entire state of Colorado. The city has a median income of slightly more than $81,000 which is well over the United States' national average. But if a high income isn't enough to make you consider the lovely city, Pueblo also has a low unemployment rate – which, even in a more stable economy, is something that is hard to come by. Pueblo also has great weather, especially in the summer, where the temperature will keep you warm without making you feel like you're melting.
(Photo by Marc Piscotty/Getty Images)
Denver
Denver is probably the most popular city in all of Colorado. As a result, it's become a pretty popular place to live for people moving to Colorado from out-of-state or for those who are looking to experience what it's like to live in a city. Sure, Denver is plagued with some of the issues that are common among big cities, but it's got a whole lot to offer. Denver has plenty of museums as well as the country's second largest performing arts center. Denver is also home to several professional sports teams which is perfect for any Colorado fan or for a person looking for new teams to cheer on.
(Photo by Doug Pensinger/Getty Images)
Colorado Springs
The city of Colorado Springs is not only one of the best places to live in Colorado, but it's also one of the best places to retire. The city is located in close proximity to the mountains, giving it plenty of beautiful views. The city also features dozens of popular attractions including the U.S. Olympic Training Center.
(Photo by Spencer Platt/Getty Images)
Castle Rock
In 2014, Money Magazine named Castle Rock  one of the best places to live in Colorado – and it's easy to see why. Castle Rock has a growing economy that is helping to put the city on the map, as well as property values that are constantly on the rise. But if you're not the kind of person who is easily impressed by financial things, Castle Rock also has beautiful scenery and a nice laid back vibe.
(Photo by David McNew/Getty Images)
Superior
Unlike some of the other places on the list, Superior isn't a particularly cheap place to live. However, those who live in the city are definitely getting their money's worth. Superior offers a high quality of life, and a great public school system. Although the city has a relatively low population of just over 12,000, it has the perfect mix of a small town and big city feel.
(Photo by Doug Pensinger/Getty Images)
Boulder 
Boulder is another pretty well-known city in Colorado, and it's also a great place to live. Boulder is widely considered one of the best cities in the state, and the entire country. Not only is Boulder a beautiful city, but it's got a great laid back attitude that many people have found appealing. Boulder has lots to offer all types of people including plenty of outdoor sports and opportunities to experience art and music.
(Photo by Dana Romanoff/Getty Images)
Lead (Photo by Kevork Djansezian/Getty Images)