When it comes to one of the best places to live in the United States — maybe even the world — Hawaii is at the top of a lot of people's lists. Although most people only get a chance to visit Hawaii for a short period, most people who visit wish they could stay forever. After all, with its warm weather and beautiful beaches, Hawaii is like paradise on earth. If you love to surf, swim, or just hang out and enjoy the beauty of nature – Hawaii has something to offer you. But even in a place like Hawaii there are still some cities and areas that are more desirable than others. If you're thinking about packing up and saying Aloha to the Aloha State, this list will help you find the perfect area to call home. Here are the 10 best places to live in Hawaii.
Kaneohe 
Technically located in Honolulu, Kaneohe is a census designated place that was once an agricultural hot spot. However, these days, Kaneohe is a popular residential area which is home to more than 34,000 people. While the cost of living in the area is high, the median income is over $81,000 which proves that the area is a very desirable place to live. Kaneohe also has a great educational system and has a student-ratio of 16 to 1.
(Photo by Marco Garcia/Getty Images)
Ocean Pointe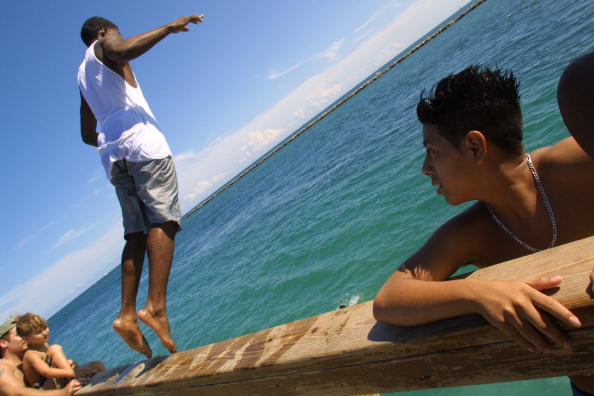 When most people imagine the best places to live in Hawaii, the beach is probably one of the first places that comes to mind. Well, if there's one thing Ocean Pointe has a lot of – it's water. The area, which was known as 'Ewa, is not a relatively small community that is home so more than 8,000 residents. Ocean Pointe boasts great public schools, great job opportunities, and great housing.
 (Photo by Joe Raedle/Getty Images)
Kailua
Over the last few years, Kailua has become an increasingly popular destination in Hawaii, and subsequently one of the best places to live. In fact, President Obama has vacationed in Kailua several times during his time in office, and if you've ever seen its beautiful beaches you'll understand why. The area also hosts several family friend events throughout the year, and is home to great public and private schooling options.
(Photo by Kent Nishimura-Pool/Getty Images)
Waimalu
With a population of nearly 14,000, Waimalu is one of the best places to live in Hawaii for a number of reason. What Waimalu lacks in other area, it makes up for in amenities and affordability. The area has a relatively low cost of living, and boasts a high median household income of $76,244.
(Photo by USGS via Getty Images)
Pearl City
Pearl City was once full of rice patty fields, but in recent years it has become a very popular place to live and now boasts nearly 50,000 residents. Like most places on the list, Pearl City has a high median income ($82,629); however, the area also has a very low unemployment rate which adds to the desirability. If you have to live somewhere, it's nice to know that stand a good chance of getting a job. So if good money, good jobs, and good weather are your thing – it's easy to see why Pearl City is one of the best places to live in Hawaii.
(Photo by Michael Buckner/Getty Images for Maui Film Festival)
Aiea
Aside from all of the typical things you'd expect one of the best places to live in Hawaii to offer, Aiea also boasts the state's largest mall. So if beautiful weather and beaches aren't really your thing, but you love to shop – then you'll definitely find Aiea very attractive. But aside from all of those things, the area also has a low unemployment rate and a low crime rate.
(Phil Mislinski / Getty Images)
Halawa
Halawa is a beautiful place with lots of things to do. Aside from the typical beach activities, there are plenty of great places to eat and other desirable amenities. The weather in Halawa is also warm and comfortable and there are lots of opportunities to get out and explore all of the lovely things the area has to offer. But if all of those things don't tickle your fancy, don't worry. Halawa also has a low unemployment rate and great public schools.
(Photo by Jerry Morrison/DOD via Getty Images)
Napili-Honokowai
If you love some good food, Maui Tacos alone might just be enough of a reason to put Napili-Honokowai on the list of the best places to live in Hawaii. However, if you could live without tacos, Napili-Honokowai still has plenty of positives. Great weather, great money, great weather, and short commute times make this area a very popular destination for those looking to settle down in Hawaii.
(Photo by Donald Miralle/Getty Images)
He'eia
Not only is He'eia one of the best places to live in Hawaii, but it's also a great place to visit. Although the population is relatively low at under 5,000, He'eia isn't lacking in things to do. Located on the island of Oahu, He'eia has some pretty cool attractions including the Stairway to Heaven Trail. If you love getting out and enjoying the beauty of nature, and would like to live away from much of the crowd, He'eia is perfect for you.
(Photo by Michael Buckner/Getty Images for Maui Film Festival)
East Honolulu
East Honolulu is easily one of the best places to live in Hawaii. The area is booming in almost ever area and boasts high graduation rates, high median incomes, and low crime rates. No matter what it is you're looking for (except for maybe snow) you'll be able to find it in East Honolulu, and it might actually be paradise on earth.
(Photo by Donald Miralle/Getty Images)
(Photo by Kevork Djansezian/Getty Images)