For those raising a family, living right inside The Windy City can be too much, so a list of the best Chicago suburbs is important for anyone looking to see what else the area has to offer. With that being said, most people still want to have access to the big city while enjoying a quieter life outside of the city limits. But with so many Chicago suburbs and neighborhoods to choose from it can be extremely difficult to pick the best. While the midwest may not seem like the most exciting place in the country, these suburbs definitely pack a punch and are great for families of all sizes. No matter what type of atmosphere you're looking for, the area will surely have something to offer you. Here are the 10 best Chicago suburbs for raising a family.
Lake Forest
Most people dream of raising their families in a place like Lake Forest. The small Chicago suburb is one of the best places to settle down thanks to its great public school system which regularly produces students with high test scores. But everything isn't about the books in this all-American suburb. Lake Forest has plenty of other family friendly amenities including great summer camps for kids of all ages. But while this little suburb is picture perfect, it ranks in at number 10 due to the fact that it's a pretty expensive place to live.
(Photo by Tim Boyle/Getty Images)
Elmhurst
Elmhurst is one of those places that's kind of hard not to like, so when it comes to the best Chicago suburbs, it goes without saying that this town has earned its place. As a great place to call home, Elmhurst offers plenty of options for families of any size. The unemployment rate it low, and the  median income is one of the highest in the area. Elmhurst also offers a great school system, and nice museums and libraries. But if your kids are more of the outdoors type, Elmhurst also offers something for them. This cute little suburb has nearly two dozen parks and plenty of pools and other great amenities.
(Photo by Justin Sullivan/Getty Images)
Itasca
While many of the best Chicago suburbs still have a bit of a large town feel, Itasca manages to have that good ol' fashioned small town charm that so many people love. With that being said, don't think that 'small town' means that this town is stuck in the past and lacks options, because that simply isn't the case. Itasca offers all of the modern opportunities you expect, but still manages to provide its residents with the feel of an all-American small town.
(Photo by Scott Olson/Getty Images)
Glen Ellyn
With a history that spans from the late 1800s, Glen Ellyn has a reputation for being one of the best Chicago suburbs. Glen Ellyn offers a quiet and laid back environment for families looking to raise their kids away from the hustle and bustle of Chicago. However, since it's located just 25 miles from the city, it gives residents easy access to enjoy all of the things Chicago has to offer.
 (Photo by Timothy Hiatt/Getty Images for Knowledge Universe)
Des Plaines
Also known as the "City of Destiny," Des Plaines location makes it one of the best Chicago suburbs hands down. Located right next to the O'Hare International Airport, Des Plaines is just close enough to Chicago to reap it's benefits, but just far enough away to escape its problems. Des Plaines is a great place for children to grow up and features plenty of opportunities for them to grow and learn. Plus the city offers plenty of opportunity to explore the outdoors with places such as Lake Park.
(Photo by Tim Boyle/Getty Images)
Wheaton
The cost of living in Wheaton may be a little on the higher side compared to some other Chicago suburbs, but as the saying goes, 'you get what you pay for.' Wheaton is a great place for parents and children, and Chicago Magazine ranked the city "the healthiest of Chicago's largest suburbs." Wheaton is composed of nearly 1,000 acres of land, and is home to over 50 parks. If that wasn't enough to make you fall in love, Wheaton also has great public schools and one of the best libraries in the United States.
 (Photo by Sean Gallup/Getty Images)
Downers Grove 
Also named one of America's friendliest towns, and one of the most livable cities for kids, Downers Grove is the kind of place you think only exists on TV. After all, who knew that being one of the best Chicago suburbs also meant being so close to perfection? Downers Grove has plenty to do for children and parents alike, including great restaurants and sports activities.
 (Photo by Al Bello/Getty Images)
Winfield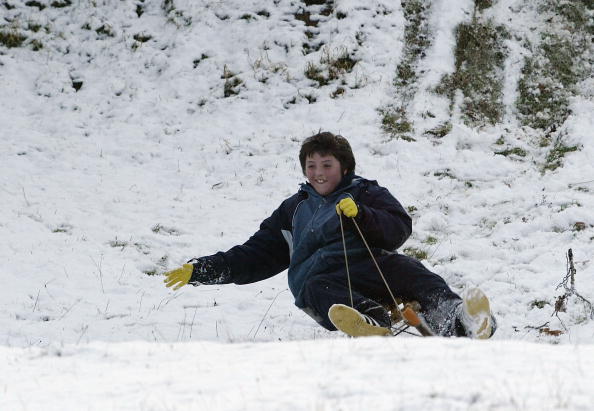 With a population of less than 10,000, you may think that Winfield is nothing more than a sleepy little town with not much to offer. However, Winfield earns the honor of being one of the best Chicago suburbs for young couples, which means that it will likely in turn be a great place to start a family. While you won't get much of the big city atmosphere, Winfield still offers plenty of restaurants, parks, and beautiful homes.
(Photo by Jamie McDonald/Getty Images)
Lisle
When it comes to Chicago suburbs, Lisle has the best of both worlds. Not only is this a great place for single people, but it's also a great place for families. If you and your family love nature, you'll find an extra special place in your heart for Lisle, which is also one of the 'greenest' places in the area. Lisle also boasts a cute downtown area with lots of cute restaurants and shops that are perfect for shopping or just walking around with your family.
(Photo by Matthew Lloyd/Getty Images)
Buffalo Grove
This village is one of the fastest growing Chicago suburbs, not to mention the best. Although it's not too far from the city, Buffalo Grove manages to have the perfect suburban feel that a lot of people have a hard time finding. The community is safe, and it's the kind of place where you don't have to worry about your kids all of the time. Plus, the town offers plenty of annual festivals to keep residents feeling close-knit. If you're looking for a place that reminds you of the type of suburb you've always dreamed about, but also has some upbeat flavor, Buffalo Grove is the place for you!
(Photo by Matt Cardy/Getty Images)
Lead (Photo by Scott Olson/Getty Images)