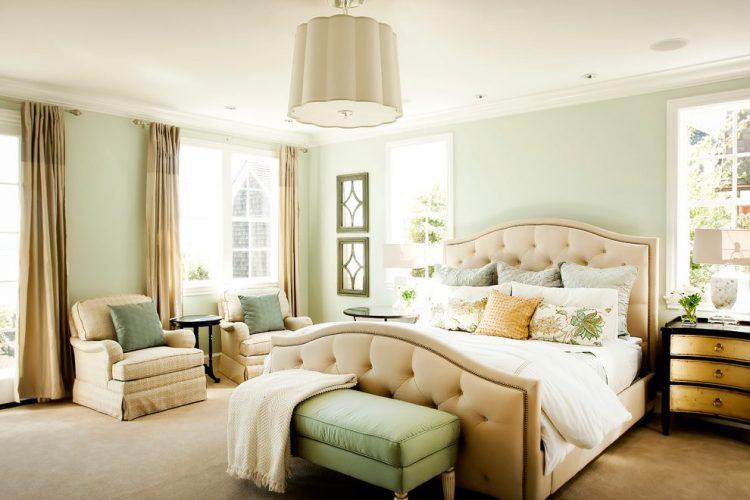 Green is one of the best colors to use in the bedroom because of how easily it blends with just about every other hue. There's a huge range of shades to choose from, and whether you prefer deep and dark emeralds or trendy mint, you'll be able to find a green paint that perfectly matches your room's mood and decor. Even when used on just one accent wall, green can pack quite a punch and make a big style statement. Here are ten beautiful master bedrooms with green walls.
1. Fresh and trendy
The verdant shade of green used in this master bedroom is bold without being overbearing. In addition to green walls, this bedroom has a pale green ceiling in a complementary shade, with each portion of the room being separated by thick white trim. Black and white seating, decor, window treatments, and furniture take the design in a fashion forward direction, and the use of a brighter green shade for the bed pillows and throw make the room look even more fun.
2. A mix of modern and traditional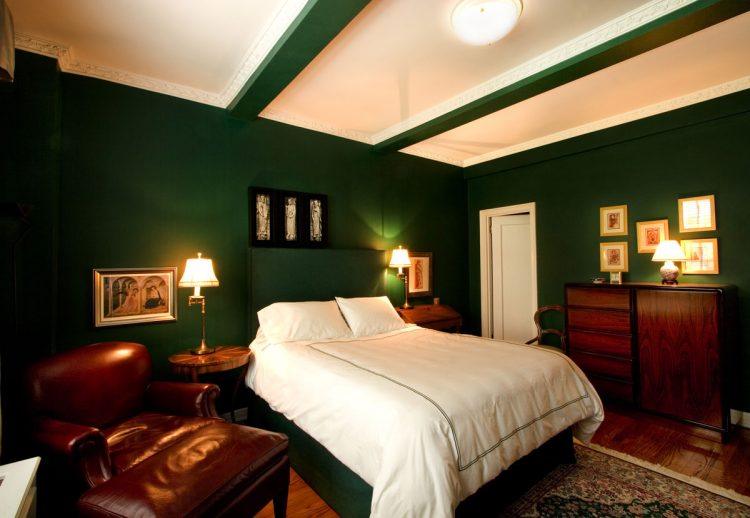 Modern bedrooms with green walls don't have to feature loud colors, as shown in this sophisticated space. The clean lines of the furniture and white bedding have a modern appeal, while the inclusion of a classic floral motif rug, vintage artwork, and the decorative trim around the ceiling have a traditional aesthetic. The two styles manage to meld well here, and keeping the room uncluttered and light on decorations helps everything look more cohesive.
3. Lime accents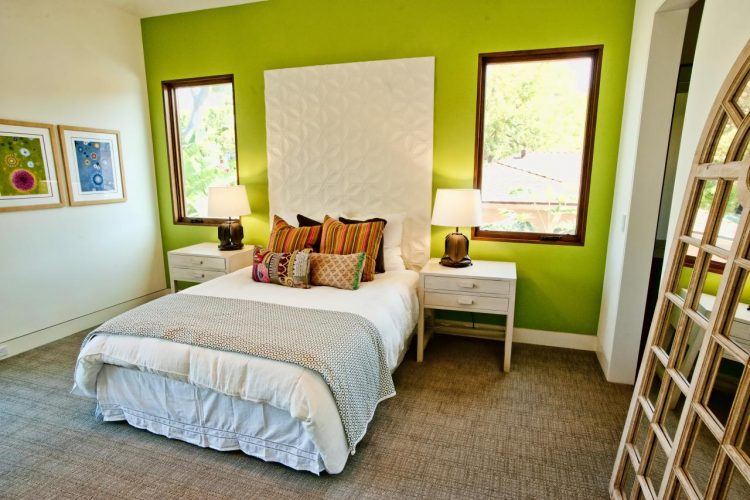 Lime green is a great color to use in the bedroom, but since it's so bright and bold you may prefer using it in smaller doses. Whether your space is large or more modestly sized, choosing one accent or feature wall to paint lime green will be plenty to make an impact. This bedroom has a lime green wall that's contrasted with an elaborate white headboard and offset by two wood framed windows. A set of art prints and pillows in different patterns bring in more colorful elements, and opting for neutral bedding and flooring keeps the design from looking too busy.
4. An opulent refuge
Mint green is often used today in contemporary and modern designs, but it can look stunning in classically styled bedrooms as well. This space features mint throughout the room, and combined with gilded features and furniture, golden window treatments, and a dramatic gold chandelier the color takes a new turn. Even if your master bedroom doesn't have the architectural features of this one, you can use the combo of gold and mint to create a design that looks luxurious and stately.
5. Stylish and elegant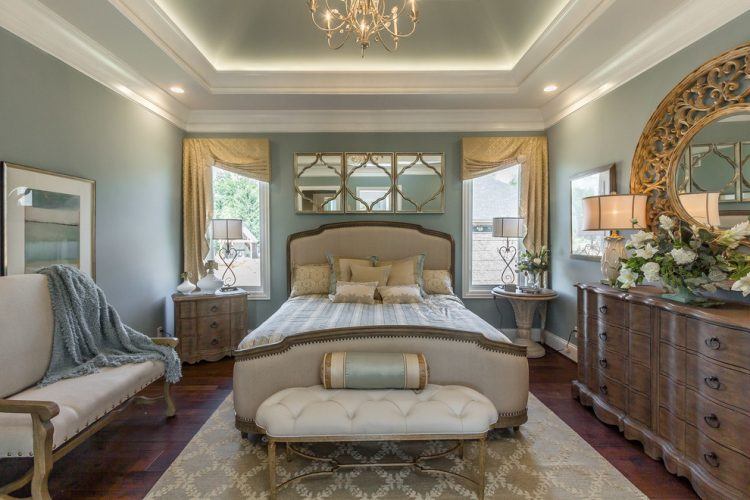 This is another bedroom with green walls that has gorgeous golden accents, but the color is a fabulous shade of pale sage instead of mint. Aged wood flooring brings warmth to the room, and the style of the furniture beautifully complements the design. A couple of white floral arrangements and a trio of pretty mirrors above the bed add lovely touches.
6. Light and casual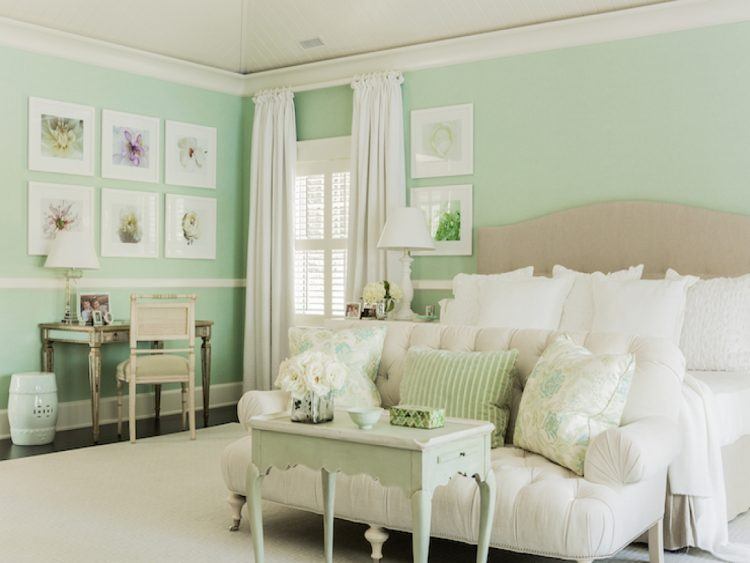 Thinking about using a very bright shade of green, but not sure you'll like it covering your bedroom walls? The answer may be opting for a lighter version of the hue. This wall features a light shade of lime that looks like a layer of sorbet. It's light, refreshing, and injects energy into the space without being overwhelming. The white bedding, mix of pale shades, and large cream colored area rug help give the room a very airy and spacious feel. To keep things interesting, the art prints hung around the room have pops of bolder color.
7. An unexpected pairing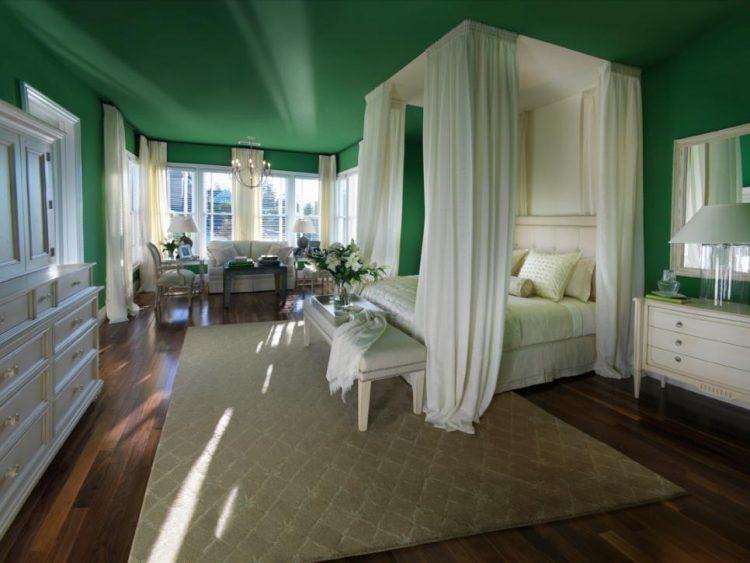 Emerald green is one of those colors that's in between being dark and vibrant — it has significant visual impact, but you can still use it in large doses because it's a cool shade. This bedroom has emerald green walls and ceilings, and the overall design exudes modern sophistication. A grand four poster bed covered with flowing cream curtains matches the look of the window treatments, and soft, plush furnishings keep the room from feeling pretentious or overdone. Because the emerald is paired with cream instead of bright white the contrast isn't as great, which makes this design work well.
8. Warm and welcoming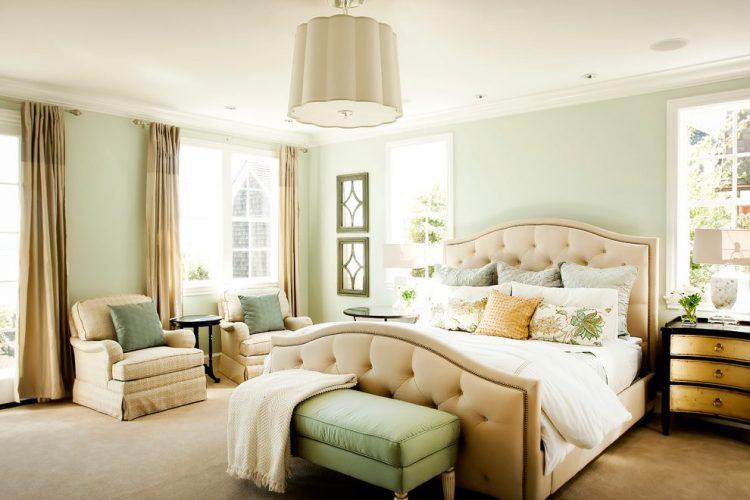 Most think of green as a cool color, but it can lean towards being warm depending on the shades it's paired with. This bedroom with green walls combines a very pale green with deeper tones of sage, warm tan, and ivory to create a gorgeous retreat that's relaxing and comfortable, yet very stylish. The design keeps it simple with the decor, which helps the patterns and textures on the furnishings stand out more.
9. Trendy touches
While some master bedrooms use green walls as a highlight, you can also use the color as a neutral background. The key is choosing a shade that's neither too cool or warm, such as the wall paint seen here. It makes a great complement to the other tones in the room, and the interesting light fixture above the bed stands out even more against the sage. A bright white ceiling makes the walls appear taller, and two well placed vases of orange flowers add a beautiful bit of vibrant color to the design.
10. Industrial chic
There are a number of ways to color block a wall, and this space shows how dramatic the effect can be. The majority of the walls in this room are a lively shade of green, but the portion above the door frame is painted white. This extends the height of the wall and provides a stark contrast between where the two colors meet. The fact that the door's paint was made to look aged brings even more interest to the space. A bold blue tufted headboard, grassy green accents, and industrial decor make awesome complements.