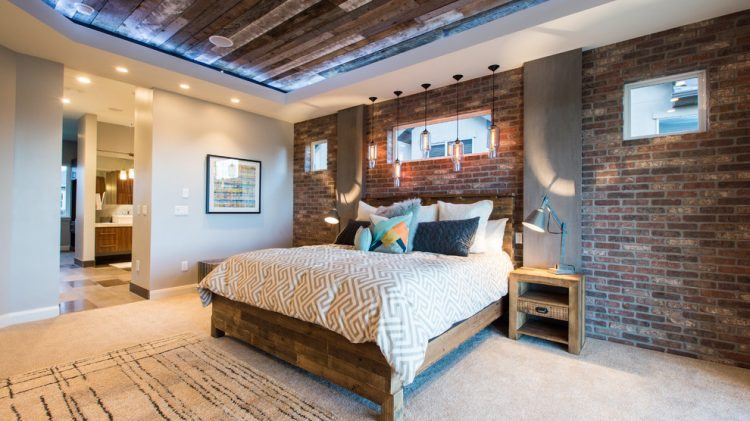 Exposed brick can be a visually interesting architectural feature and the highlight of any room, but many people simply don't know what to do with it. It's not easy to hang a picture on a brick wall, and few people know that it can be painted to match existing decor. Once you discover how great exposed brick can look in a bedroom, you'll see it in a whole new light. Here are ten great master bedroom designs that feature exposed brick.
1. Oh-so realistic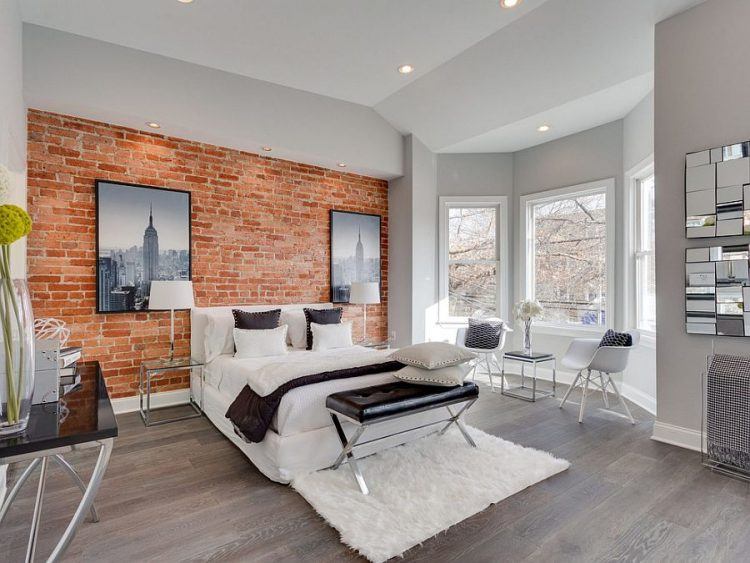 If you're heading into this article with exposed brick-envy because your bedroom doesn't have a brick wall, there is a solution. Look at this design: it's super stylish, has excellent decor, and the wall behind the bed truly makes the room. However, that wall uses a large vinyl decal and isn't really exposed brick. Still, you'd never know by looking, and you can get the same effect at an affordable price by buying a brick wall decal from your local hardware store or online. Keep that design trick in mind as you look at the rest of these bedrooms.
2. A gorgeous glass ceiling
Bedrooms with exposed brick already have one great architectural feature on the walls, but this room also has one hanging up above. The glass ceiling lets in a flood of natural light that makes the area feel more spacious and also provides a unique view outside. The vintage vibe of the decor is a perfect match for the worn brick that covers the walls.
3. Bright and bold patterns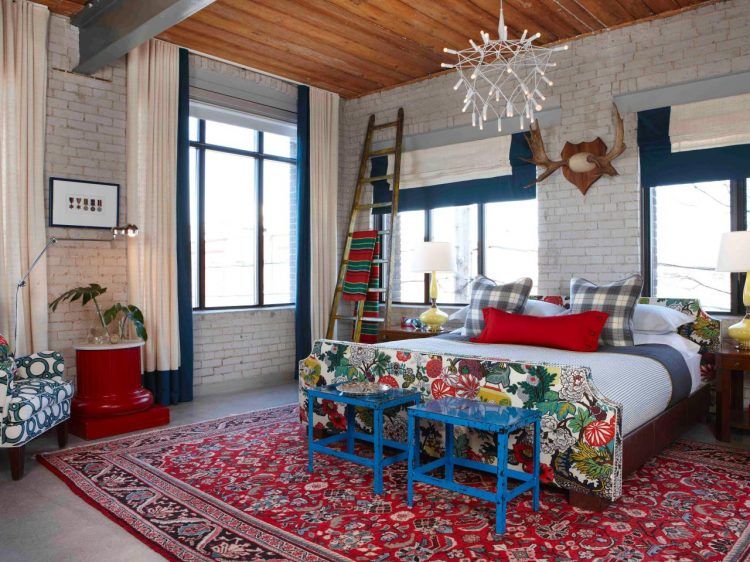 It's totally possible for bedrooms with exposed brick to have a variety of bright colors and patterns and still look great. This design features rich, vibrant shades that create a wonderful eclectic look with a few rustic and traditional touches. Even the bed frame boasts a multicolored floral motif, and the large area rug brings in even more color. Because the brick wall in the room is a light, neutral color, this design works well.
4. Beautiful brown brick
This bedroom has several walls covered in exposed brick with a brown tone, which pairs quite well with the truffle colored accent wall behind the bed. Having so much brown and other dark shades in a space can make it feel more closed in, but this room is fairly large and recessed lighting placed throughout helps bring in more light. Aside from the furniture that sports clean lines, a hanging seat by a storage shelf adds a great functional and decorative element.
5. Upscale and trendy
Not everyone is in love with exposed brick, and if that's the case for you there's a way to get around it: make it blend in as much as possible with paint. This small master bedroom has a brick wall that was painted a light neutral gray, which makes it stand out much less. The addition of gold accents around the space, dramatic window treatments, and a feature wall with matte black floral wallpaper draw attention to other areas of the room. If you're trying to minimize the look of the exposed brick in your space, you can take the same approach: paint over the brick and add elements to draw attention elsewhere.
6. Sultry and brooding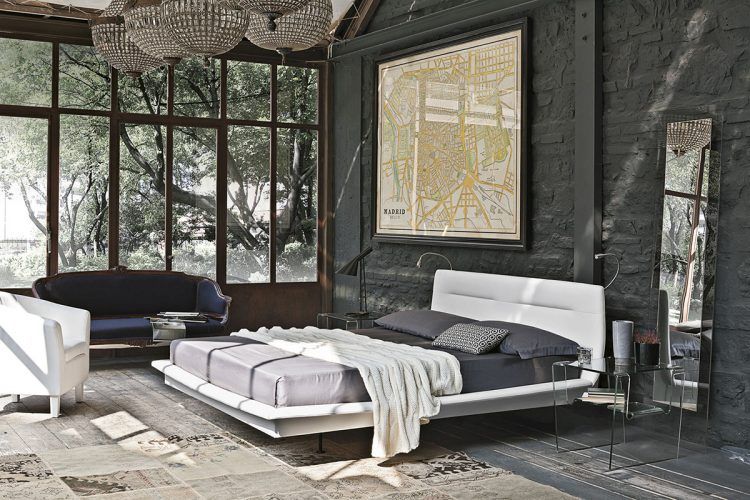 Those who have bedrooms with exposed brick in a color that they don't like can simply paint over it. The process is similar to painting a normal wall with a few exceptions, and you'll get the texture that makes brick so great with a color that you prefer. This design features a wall that was painted a dark shade of gray, which gives the room a very sultry feeling. Modern furniture, gorgeous light fixtures, a massive art print by the bed, and a patterned area rug help create a look that's sleek and trendy.
7. Awesome industrial elements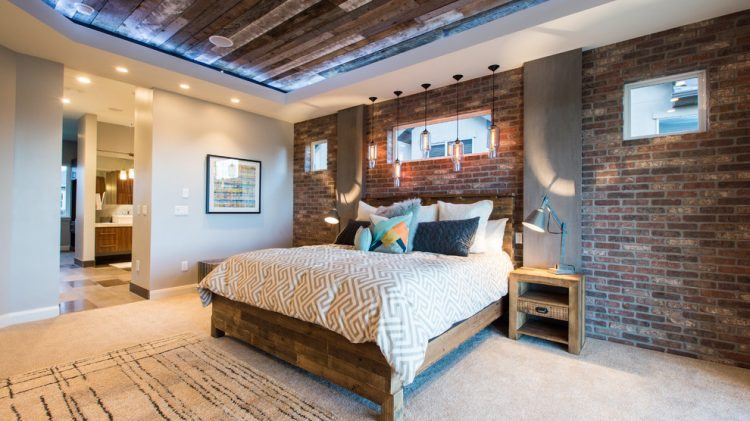 This room has a fresh industrial style, thanks to the group of hanging lights over the bed, a well worn exposed brick wall, and a wood planked ceiling. With so many great details, not much else was needed in the way of decor. Wood furniture with simple lines complements the look of the ceiling, and a neutral paint on the rest of the walls prevents any distraction from the space's architecture. Color is injected into the room via a few colorful throw pillows and a large art print.
8. An eclectic collection
This bedroom has high walls, which means all the more exposed brick to enjoy. The decor in the space is an eclectic mix that leans towards being contemporary, and the expansive glass windows help shine a light on all of the design's interesting details. Geometric light fixtures hanging from the ceiling are a refreshing break from traditional lighting options, and monochrome art prints hung throughout the room look great with the space's color palette. If you're wondering how to hang art on your room's brick wall, here's a short guide: carefully plan where you want to hang the print, mark the area in chalk, use a masonry drill bit, and drill your anchors into the mortar rather than the brick itself.
9. Rustic chic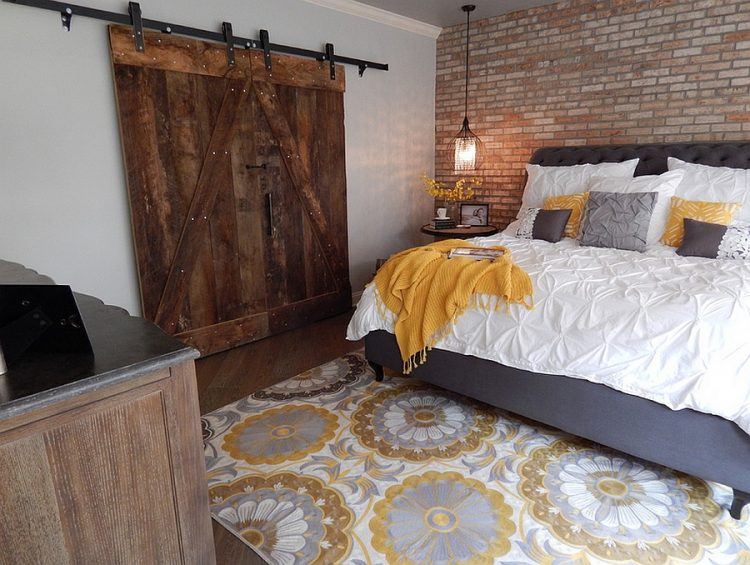 Bedrooms with exposed brick are ideal if you want to create a bedroom with a cozy and rustic vibe. This master bedroom is modestly sized, but it looks warm, comfortable, and stylish because of its decor and how well the colors in the room complement the brick wall. A sliding farmhouse style door makes another excellent component in the design — you can replace your bedroom's standard door and get the same effect. A great graphic print rug, unique pendant lights over the bedside tables, and a plush bed frame and bedding all look smashing alongside the room's architectural elements.
10. A wealth of fabulous details
You can hardly notice the exposed duct work in this bedroom because of the incredible decor, furniture, and a towering exposed brick wall. If you have exposed brick in your bedroom, don't think you can't experiment with fun paint colors. Here, a bright shade of periwinkle covers an accent wall behind the bed, which is itself an impressive metallic masterpiece. A plush neutral rug, pair of stylish lamps, and pops of orange all come together to create a fashion forward contemporary space. This design also proves that exposed brick can look fantastic when paired with high-polished silver or chrome plated furniture.