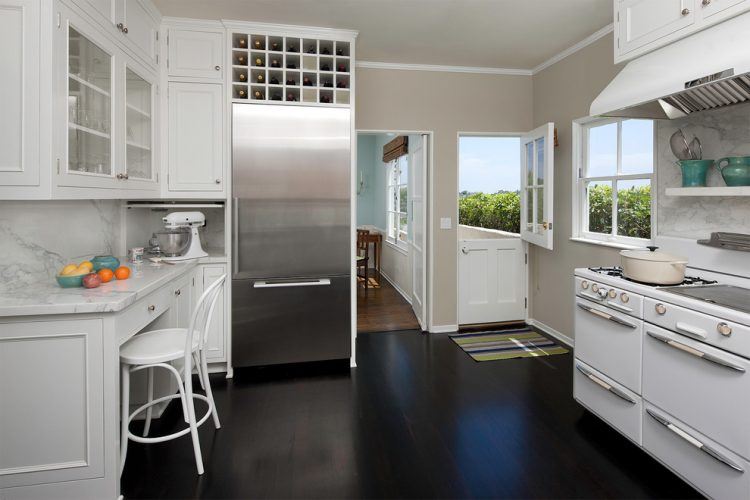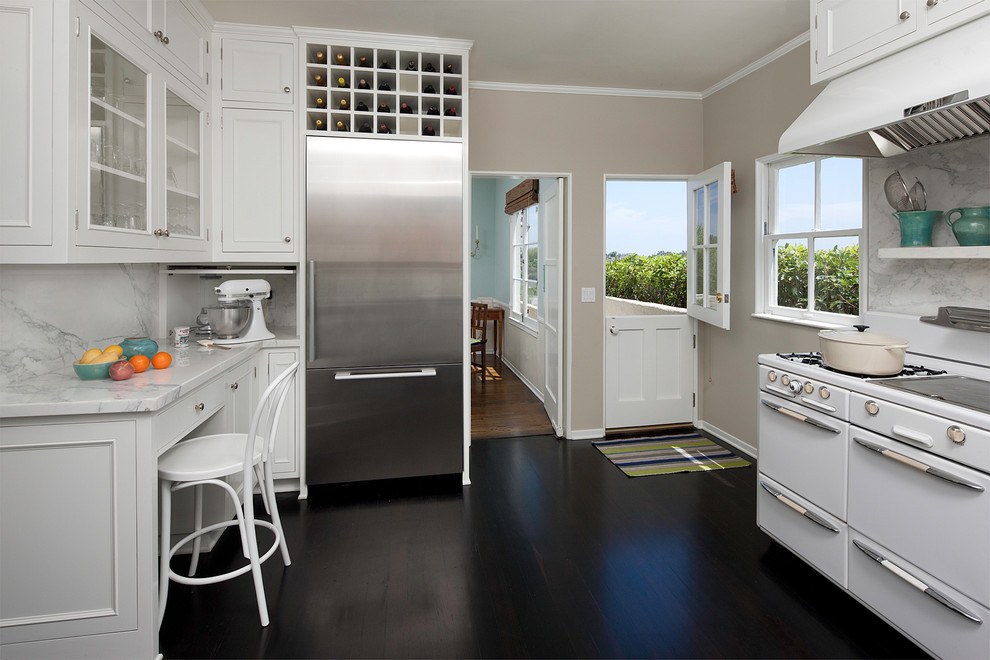 Hardwood is one of the best types of flooring that you can choose for your kitchen. It instantly lends kitchens classic beauty, warmth, and an upscale flair, plus it never goes out of style. Dark hardwood flooring has the potential to have a huge design impact and it will wear well throughout the years — if you have kids or pets, you'll be thankful to have it. Those who cook or bake often will also find hardwood invaluable when it comes time to clean.
Though there are numerous benefits to going with dark hardwood floors in the kitchen, many homeowners steer away from it because of the perceived design troubles that will follow. Will you have to get dark cabinets to match? Will going too dark with the flooring overwhelm the space? The answer to both questions is "no", as this type of flooring looks great in kitchens of all sizes and styles. Here are ten beautiful kitchens with dark hardwood floors that will make you want to upgrade your kitchen.
1. Modern farmhouse style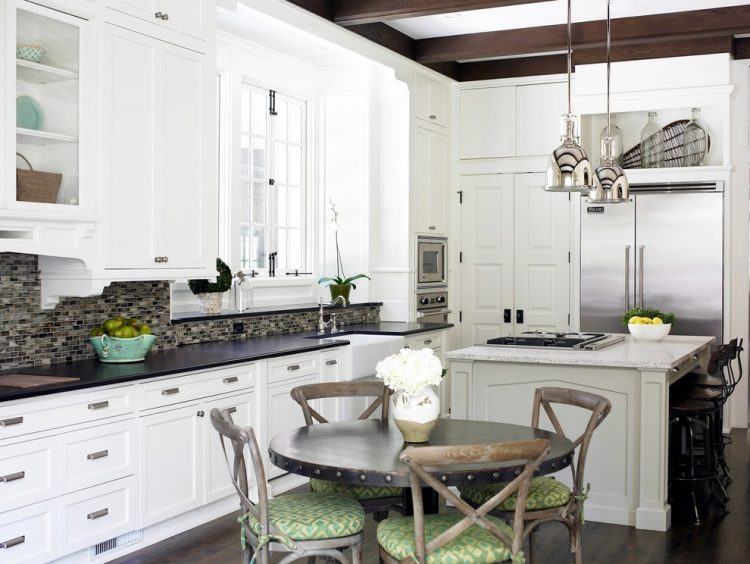 The finish on the flooring in this kitchen is the perfect match for its laid back, relaxed modern farmhouse style. A varied tile backsplash and white cabinets were chosen to pair with the flooring, and overhead exposed beams featuring dark wood mirror what's below. Pops of color placed throughout the space keep things interesting and cheery, and the metallic light fixtures in the center of the kitchen are the perfect touch.
2. A grand island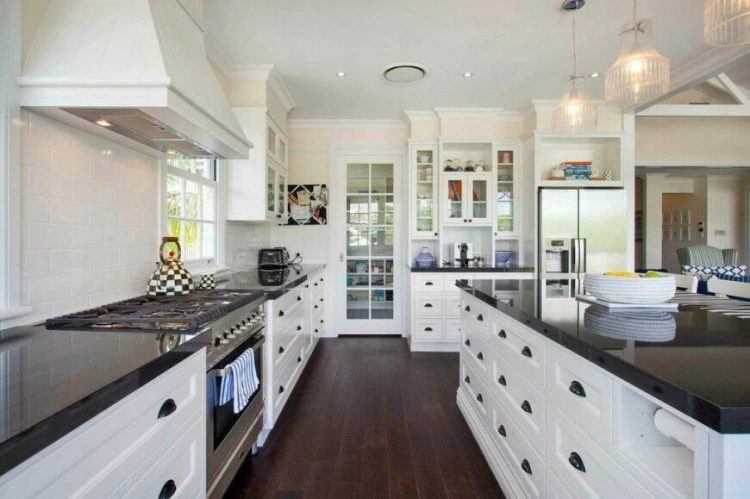 The only thing more noticeable than the gorgeous dark hardwood floors in this kitchen is the massive island near the middle of it. This would be a dream for anyone who thinks they currently lack counter space, and the many storage nooks and drawers integrated into it provide ultimate convenience. Elsewhere in the room are cabinets that match the style of the island, stainless steel appliances, and white subway tiles.
3. A striking pair
A bold floor can handle a bold area rug, such as this huge Aztec inspired one. The floor underneath it features a very dark stain, as do the open shelves near the kitchen sink. It was a good idea to choose white cabinets to balance out the color of the flooring, and adding in the area rug was even more brilliant. It's so lively and vibrant that little else in the way of decoration is needed in this kitchen.
4. Simply chic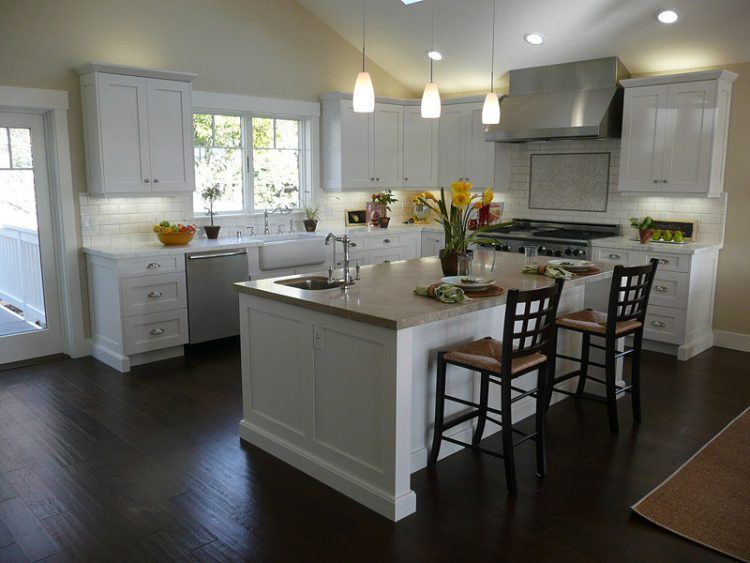 If you like classic, timeless designs that are simple and elegant, you can't go wrong by choosing dark hardwood floors for your kitchen. As this space shows, it's the perfect complement for traditional decor. A farmhouse style sink, white cabinetry with clean lines, and gorgeous marble and tile work together to create a kitchen that's not only attractive but inviting. A few well placed floral arrangements complete the look.
5. Contemporary flair
Even contemporary kitchens can look amazing with dark hardwood floors, and this one takes it a step further by including cabinets that are dark as well. It's a daring move that pays off in terms of style. Another standout feature of this kitchen is its coat of rich orange paint, which beautifully complements the tone of the wood. Stainless steel appliances and a large piece of art work tie everything together and keep the design fresh.
6. The perfect mix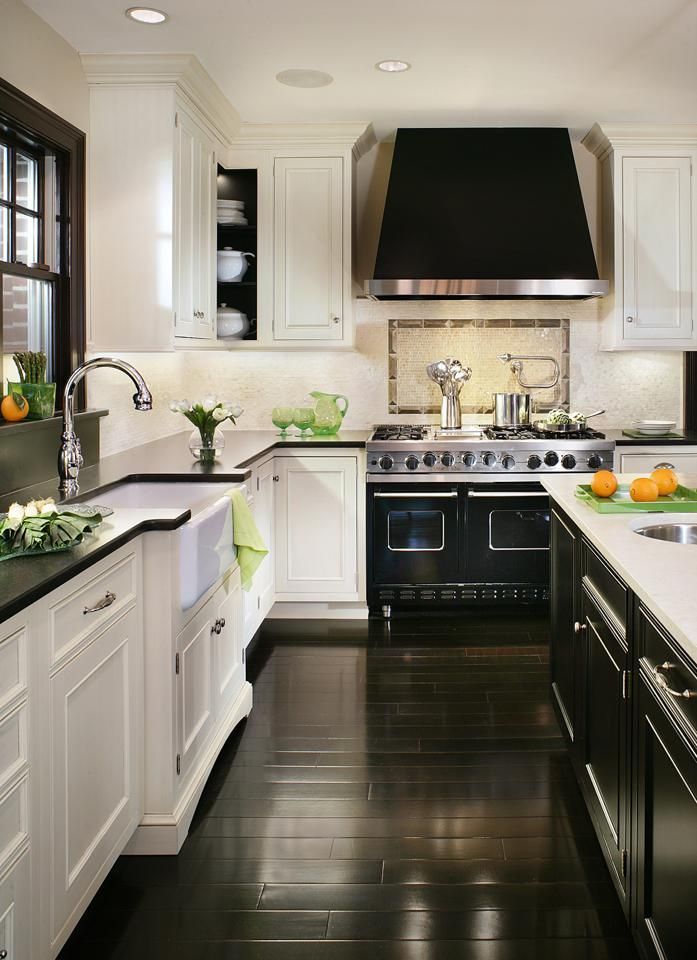 If you can't decide between whether to go with light or dark cabinets after getting dark hardwood floors, why not choose both? This stunning kitchen has an island with dark cabinets that matches the tone of the wood as well as white ones. The interesting detail is the tops of the cabinetry: the white cabinets feature dark tops while the dark island has a white top. The look is incredibly well balanced and the other fixtures and finishes throughout the space give the kitchen even more style.
7. Casual and relaxed
The warmth of dark hardwood floors is what makes them so suitable for kitchens with a casual and relaxed vibe. This design is very stylish and trendy, but it's also a welcoming space that anyone would feel comfortable being in. The tones of the floors, table, and bar stools work well together, and they're complemented by the style of the light fixtures in the space. Not only does this design look gorgeous, the kitchen is very well organized to make cooking, entertaining, and socializing a breeze.
8. Open and bright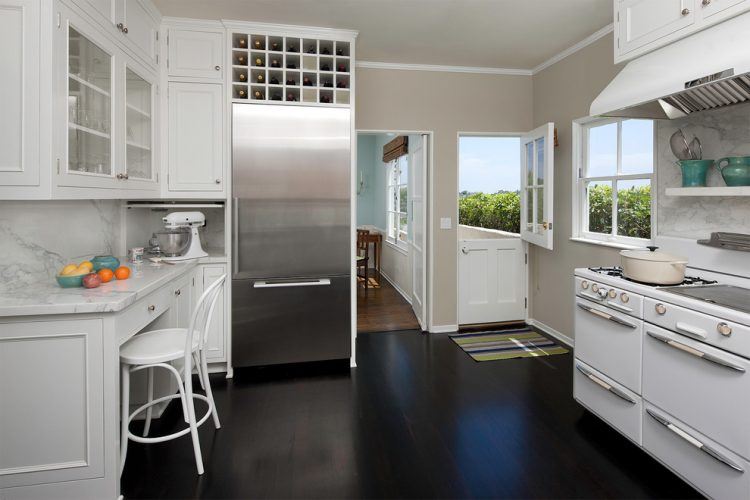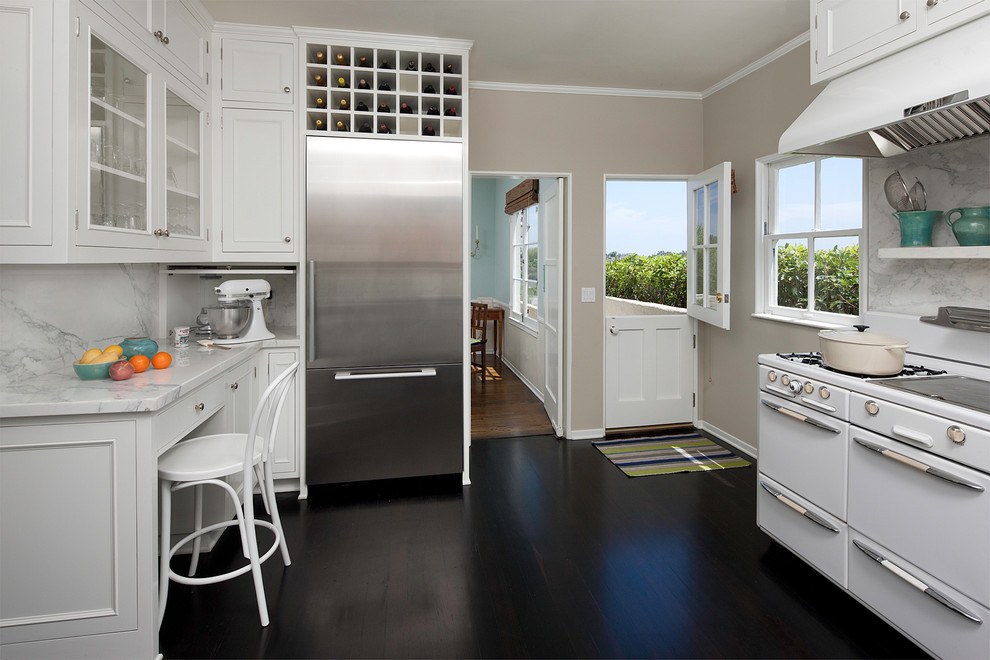 The floors in this kitchen are quite dark, but it's a stunning contrast to the gleaming stainless steel, white cabinets, and marble seen elsewhere in the space. A coat of light beige paint and ample sunlight streaming in through the windows allow the kitchen to feel spacious and airy. Vibrant accents in turquoise and shades of green also brighten up the room.
9. Simply well done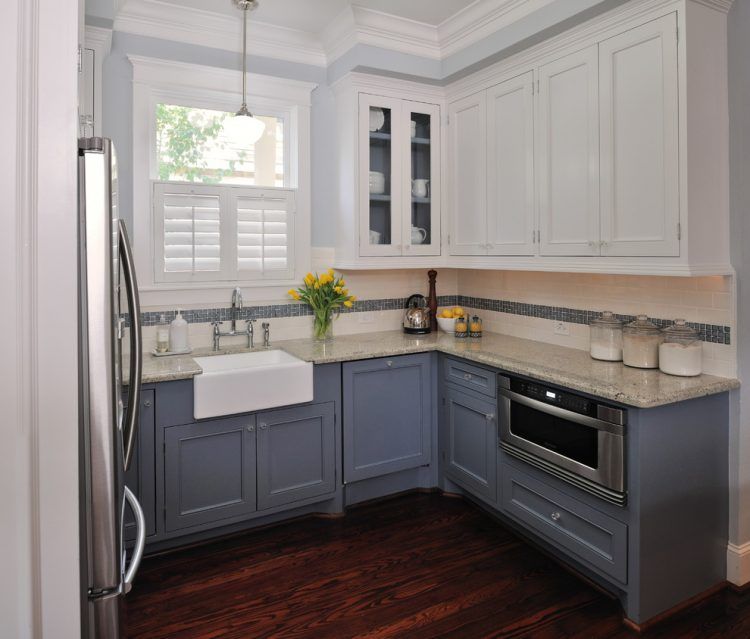 You don't need a huge kitchen to have dark hardwood floors or to obtain a beautiful look. This kitchen is rather compact, but it's still well organized, chic, and dripping in style. Its clean look is part of what makes this design so notable, as was the choice to go with slate lower cabinets to contrast with the wood flooring. The upper cabinets are white, but they have slate colored shelves to tie the look together.
If your kitchen is modestly sized, follow the example set in this design and keep it simple on your counters and with your decor. Too much decor will overwhelm the space and look cluttered, but a carefully curated selection of accessories will look fantastic.
10. Beautiful marble
Marble pairs exceptionally well with dark hardwood floors, as this design shows. The counters and backsplash are a beautiful marble, while the floors have a deep and rich stain. The contemporary space gets a boost from plenty of color placed throughout the room in the form of pottery, and an area rug near the sink adds another element of visual interest. Choosing natural window treatments helped the kitchen look more modern and balanced.