Vignettes are collections of decorative objects that can elevate the style of any space. The beauty of creating a fall vignette is that it allows you to have a special piece of seasonal decor without splurging on new furniture, painting walls, or hanging up new window treatments. Making a fall vignette is easy, and there are no fast and hard rules on how to go about it — you can choose to place one on your mantle, a table, hallway, or entryway and it will look gorgeous. Here are ten beautiful fall vignettes that will give you design inspiration.
1. Farmstyle crates and pumpkins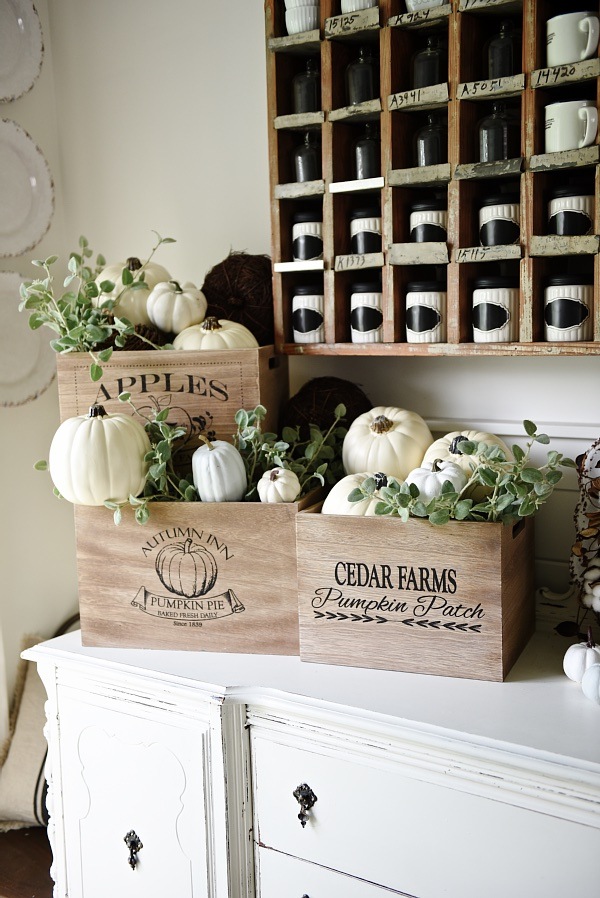 These crates have stenciled designs to give them a fall vibe. Filled with simple greenery and white pumpkins, it creates an abundant farmhouse chic display for a buffet cabinet. Tucking brown faux pumpkins made of reeds in between gives it an even more charming and rustic look. You can make your own stenciled crates inexpensively and fill them with gourds, leaves, vines, or flowers to create an autumnal vignette.
2. Rustic florals and accents
Fall vignettes made of dried florals can be especially striking and full of character, such as this display contained within four wooden crates. White pumpkins intermingle with feathers, dried wheat stalks, pine cones, and leaves to create a scene that's rustic with an updated country style. Using crates of different hues and sizes adds even more visual interest to the vignette.
3. A tray filled with pretty pieces
Short on space? Then consider containing your autumn vignette within a tray. Pick one that's distinctive and decorative, such as this chevron tray from Pottery Barn. Inside of it are two white ceramic luminaries of different sizes, several pine cones, a couple of coffee table books, and a trio of mason jars holding pretty blooms. If you want to mimic this look but would prefer to use faux flowers, filling your jars with gel water or actual water will make them look more realistic.
4. The seasons' first flowers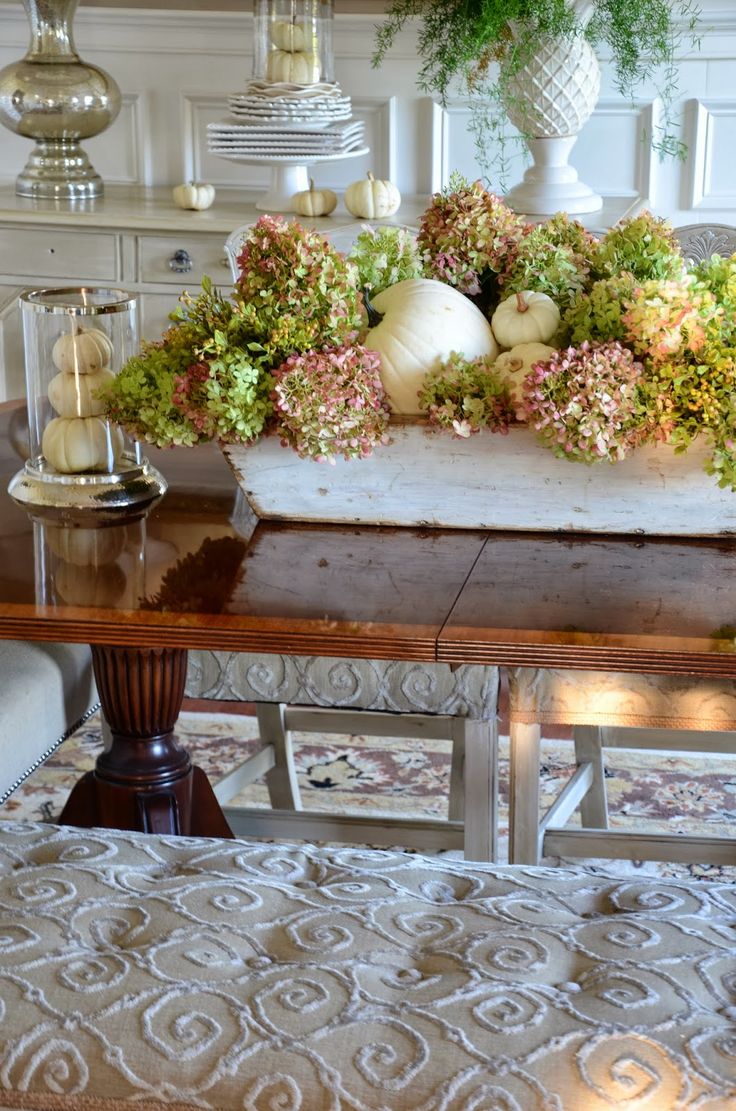 If you've got a garden and are waiting for fall's most characteristic blooms to turn color, consider picking a few that are still green to make your vignette. This table top vignette features a painted planters box overflowing with green flowers — some tinged with hints of pink — and white pumpkins of varying sizes. It's a gorgeous, stylish, and simple arrangement that would be a breeze to make. Sitting next to it is a group of three tiny pumpkins stacked on top of each other and contained within a glass candle holder.
5. Earthy tones and a adorable accents
Though the gourds in this vignette are cute, they're outdone by a duo of ceramic birds in front of the display. All other pieces of the arrangement are held on a vintage tray. It's stylish, charming, and beautifully complements the rest of the decor in the space.
6. Amber tones and glowing lights
Including candles in your vignette, whether they're pillars, candlesticks, or tea lights, can give it an incredible glow. This scene ramps up that effect by integrating various shades of amber, bronze, and orange. Combined with a set of three candles contained in autumn themed holders, the look is both welcoming and luminous. A ribbon laced wreath hung right behind the vignette brings out the colors in the candle holders, and a bronze metal pumpkin and handful of leaves strewn on the table provide even more autumnal appeal.
7. A small display with a big impact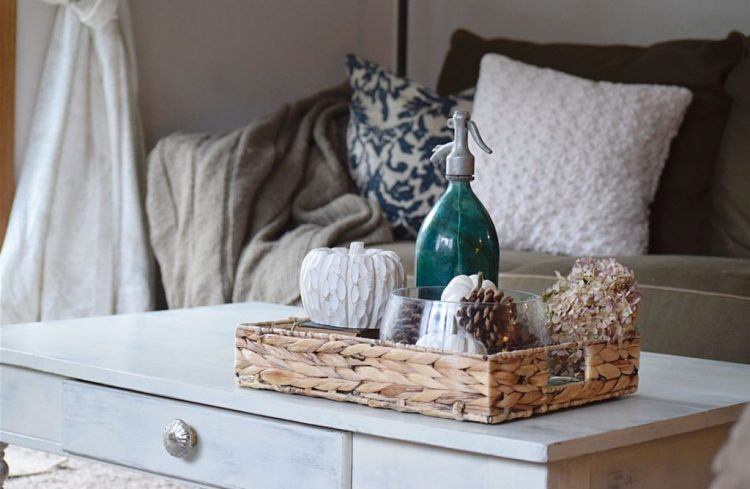 Modestly sized spaces demand smaller fall vignettes, such as this exquisite tray. Though there are just a few items here, each one contributes its own unique style and the result is beautiful. If you're working with a small area and you can't dedicate much room to your vignette, carefully curate the items included in it. Go for objects with different textures and colors, and include one bold piece to bring it all together. In the display seen here, an interesting bottle with swirls of blue-green hues makes a great contrast to the neutral toned pieces surrounding it.
8. A lovely autumn wreath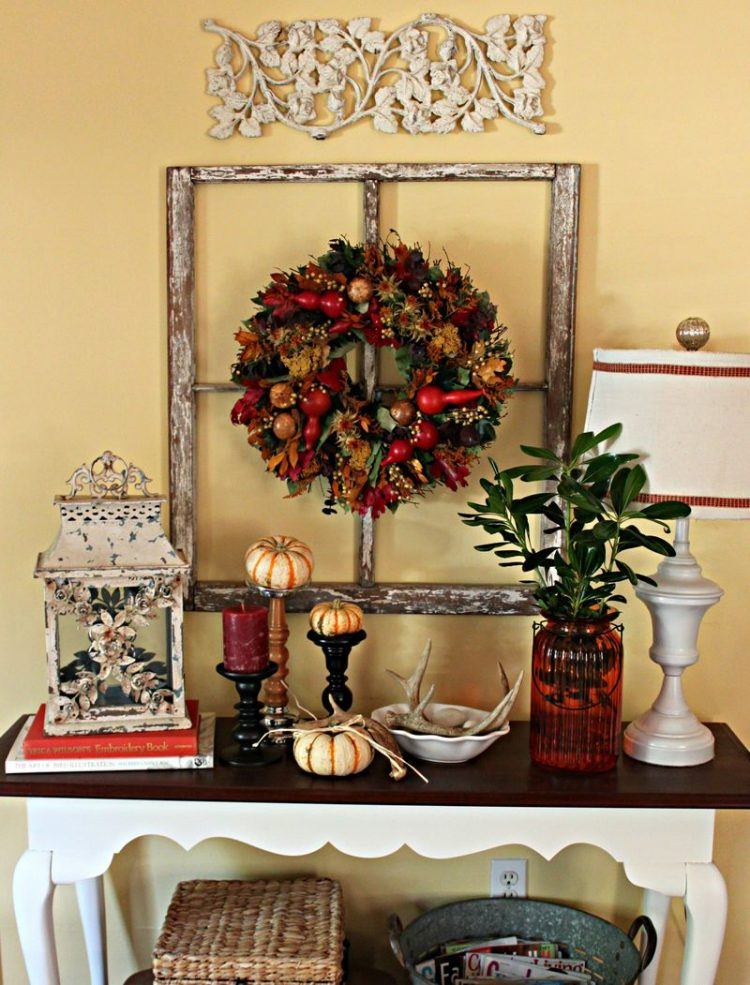 A wreath filled with bright reds, emerald, pops of orange, and bronze is the centerpiece of this delightful display. It has a traditional appeal, but it would look equally gorgeous in a farmhouse, rustic, or transitional space. A textured red vase holding green stems, a few adorable small pumpkins, two books, one vintage style luminary, and a lamp trimmed in red all set the scene for a fall vignette that creates a wonderfully warm and cozy look.
9. Gorgeous transitional pieces
The view of this room shows just how stylish fall vignettes can be. If subdued decor with fine details is your style, this vignette will provide plenty of ideas for your own creation. In this transitional room, a wood coffee table serves as the backdrop for a vignette comprised of two pretty ceramic pieces, a small stack of books, bright green foliage, metallic silver accents, and a silver pumpkin. This is the type of look that's definitely fitting for the season, but could easily transition into the winter months and still look fabulous.
10. Going vertical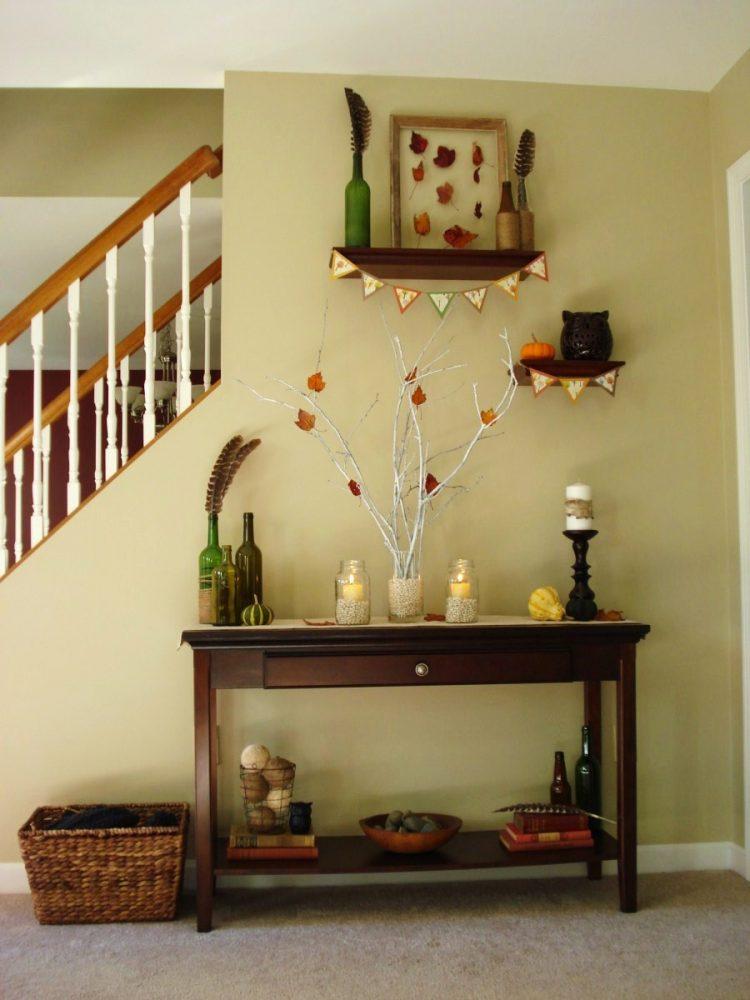 Fall vignettes don't have to be restricted to solid surfaces, as this display proves. It makes use of not only a side table but two shelves hung high above it to host a bevy of decorative pieces. Some are whimsical, such as the brown owl statue and cute banner, while others make a dramatic statement, which is the case with the flourish of white branches finished off with a smattering of golden leaves. Utilizing wall space in your vignette is a great idea if you want to experiment with decorative pieces of different styles or color families.