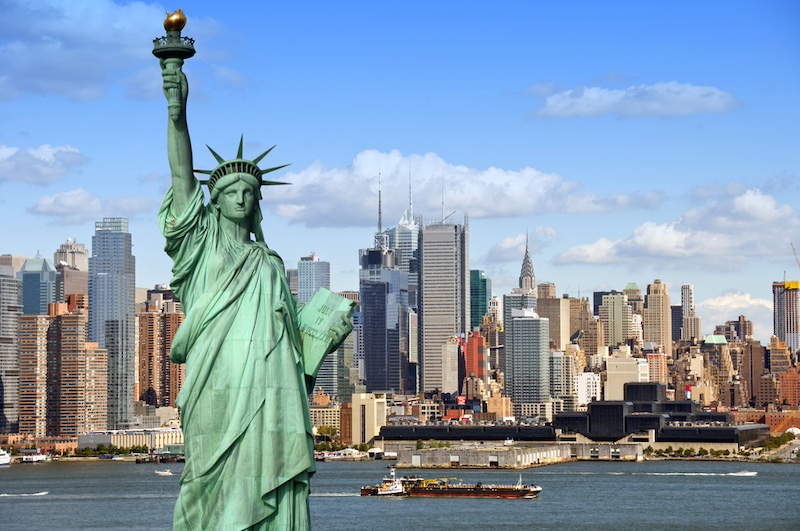 Tinseltown / Shutterstock.com
New York City and Chicago are two of the most iconic cities in the United States, each boasting its own unique culture, history, and attractions. Both cities have much to offer to visitors and residents alike, making it difficult to determine which is the better option for a vacation or even a potential move. In this article, we'll explore various aspects of both cities, such as cost of living, attractions, and lifestyle, to help you make an informed decision.
The cost of living is one crucial factor to take into consideration when comparing New York City and Chicago. New York City is known for being one of the most expensive cities in the country, with a cost of living 131% higher than the national average. On the other hand, Chicago offers a more affordable lifestyle, with its cost of living only 24% above the national average.
Each city is home to world-famous attractions, providing ample opportunities for exploration and entertainment. New York City is renowned for its landmarks, such as Times Square, the Statue of Liberty, and Broadway, while Chicago's rich history and architecture draw thousands of tourists each year, with attractions like the Willis Tower and the Art Institute of Chicago. As we dive deeper into the comparison, keep in mind that each city may have its own unique appeal depending on individual preferences.
Historical Background
New York City History
New York City was initially founded as the Dutch colony of New Amsterdam in 1626. It was later renamed to New York when the British took control of the city in 1664. Throughout its history, New York City has been a significant economic and political center, with a rich cultural heritage. The city played a critical role in the American Revolution, and it eventually became the first capital of the United States. It has since established itself as a crucial financial and business hub, attracting immigrants from around the world.
Chicago History
Chicago was incorporated as a city in 1837, and its growth was spurred by its strategic location at the intersection of major waterways and the nation's rail center. The city flourished as a hub for manufacturing, commerce, finance, higher education, religion, broadcasting, sports, jazz, and high culture. Despite the Great Chicago Fire of 1871, which destroyed the Central Business District, it rapidly rebuilt and continued to expand.
In the late 19th and early 20th centuries, Chicago emerged as a rival to New York in terms of prominence and influence. The city's architectural development, including the construction of numerous skyscrapers, showcased its ambition to challenge New York's status as America's greatest city. However, the introduction of an anti-skyscraper ordinance in 1892 limited building heights to 150 feet, effectively stalling its progress in this area.
Over time, Chicago has come to accept its nickname as the "Second City," with New York City maintaining its prominence as America's largest and most influential city. Nonetheless, the two cities have cultivated distinct identities, and both continue to thrive and contribute greatly to the nation's economy and culture.
Geographical Features
New York City Geography
New York City, the largest city in the United States, consists of five boroughs: Manhattan, Brooklyn, Queens, The Bronx, and Staten Island. These boroughs are situated in the southeastern part of New York State, on the Atlantic coast. The city occupies about 468.9 square miles, with a terrain characterized by low-lying hills, marshlands, and islands. Its unique geographical features include:
Waterways: NYC is surrounded and bisected by several significant water bodies, including the Hudson River, East River, and Harlem River. These rivers, alongside New York Harbor, have shaped the city's maritime history, transportation, and economic development.
Parks and green spaces: The city is home to numerous parks, such as Central Park in Manhattan, which covers 843 acres. Apart from that, there are more than 1,700 parks, playgrounds, and recreational facilities throughout the city.
Chicago Geography
Chicago, the largest city in the Midwest, is located in northeastern Illinois along the southwestern shores of Lake Michigan, one of the five Great Lakes. The city covers an area of approximately 227 square miles and is characterized by its flat terrain, a result of glacial activity during the last ice age. Some distinct geographical features of Chicago include:
Waterways: The majestic Lake Michigan is the most significant body of water in Chicago's geography. Besides, the city is also home to Chicago River and Calumet River, which have contributed to the city's growth and development, including its iconic bridges.
Parks and green spaces: Chicago is well known for its extensive park system, featuring over 600 parks, comprising more than 8,800 acres of green space. Notable parks include Millennium Park, home to the famous "Cloud Gate" sculpture, Grant Park, and Lincoln Park, which covers a vast area of 1,208 acres.
Both New York City and Chicago boast remarkable geographical features, including diverse waterways and vast park networks that have shaped each city's unique landscape and attractions.
Population and Demographics
New York City Population
New York City is the largest city in the United States, with a diverse population. According to the U.S. Census Bureau, the city's population is estimated to be over 8.3 million people. The city is known for its ethnic and cultural diversity, with residents hailing from various backgrounds from around the world.
The age distribution in New York City is relatively balanced, with 6.2% of the population aged 0 to 4 years, 5.9% aged 5 to 9 years, and the remaining population spread across different age groups.
In terms of race and ethnicity, NYC is a melting pot:
White: 42.7%
Hispanic or Latino: 29.1%
Black or African American: 24.3%
Asian: 14%
Not all percentages add up to 100% due to rounding and individuals identifying with multiple races.
Chicago Population
Chicago, located in Illinois, is the third-largest city in the United States. Its population is estimated to be around 2.6 million residents, also exhibiting a mix of various ethnic and cultural backgrounds.
Like New York City, the age distribution in Chicago is fairly balanced. As per the U.S. Census Bureau, 5.9% of Chicago's population is aged 0 to 4 years and 5.9% aged 5 to 9 years, with the rest being distributed across other age groups.
The racial and ethnic composition of Chicago is as follows:
White: 32.8%
Hispanic or Latino: 29%
Black or African American: 30.1%
Asian: 6.3%
Again, these percentages may not add up to exactly 100% due to rounding and multiple race identifications.
Both New York City and Chicago boast diverse populations, offering vibrant communities and rich cultural experiences to their residents. While Chicago's population is considerably smaller than that of New York City, both cities contribute significantly to the cultural and economic fabric of the United States.
Economic Comparison
Economy of New York City
New York City is a major global financial hub, with a higher cost of living compared to Chicago. The average household income in New York is 7% more than in Chicago and is 2% above the national average. However, this comes with a higher unemployment rate of 11.2% (source).
When it comes to housing, the median rent for a 2-bedroom apartment in New York (Manhattan) is $4,645, while the median home price for a 3-bedroom, 2-bathroom home is $2,388,421 (source). Utilities, groceries, and transportation costs are also higher in New York City compared to Chicago, with utility prices being 25% higher than the national average (source).
Economy of Chicago
Chicago, also known as "The Windy City," has a more affordable cost of living compared to New York City, with a cost of living index about 24% higher than the national average (source). The average household income in Chicago is 9% less than in New York and is 10% below the national average. However, Chicago has a lower unemployment rate of 9.0% (source).
Housing costs are significantly lower in Chicago, with a median rent of $2,754 for a 2-bedroom apartment and a median home price of $556,350 for a 3-bedroom, 2-bathroom house (source). In addition, utility costs in Chicago are 10% lower than the national average, and the cost of groceries and transportation is also less expensive compared to New York City (source).
Cultural Differences
Culture in New York City
New York City is often referred to as the cultural capital of the world, boasting a diverse population, numerous theaters, and renowned museums. The city is home to world-famous landmarks, such as the Statue of Liberty, the Empire State Building, and Times Square. The arts scene is thriving, with Broadway shows attracting millions of visitors each year, and numerous art galleries and museums, like the Museum of Modern Art and the Metropolitan Museum of Art, displaying some of the world's most prized art collections.
Multiculturalism is also a significant aspect of New York City culture. With over 800 languages spoken, the city is a melting pot of people from various cultural backgrounds. From enjoying authentic cuisine in various ethnic neighborhoods to celebrating events such as Chinese New Year or St. Patrick's Day, one can experience many different cultures within the city limits.
Culture in Chicago
Chicago, also known as the Windy City, has a rich cultural heritage that sets it apart from other major cities. Its iconic architectural style is famous worldwide, with the city being a pioneer in skyscraper design. In addition, Chicago offers a vibrant theater scene, including institutions like the Steppenwolf Theatre Company and Goodman Theatre, which showcase a wide range of dramatic productions.
The city is also known for its music scene, particularly in genres such as jazz and blues. Visitors can find numerous venues and festivals dedicated to these styles, such as the Chicago Blues Festival and the Green Mill Cocktail Lounge. Furthermore, Chicago has a strong tradition of comedy, and is home to The Second City, an acclaimed comedy club that has produced many famous comedians.
Chicago's art scene is also noteworthy, with institutions such as the Art Institute of Chicago, which houses a prestigious collection of artworks from various historical periods and styles. Additionally, the city's diverse population has led to an array of cultural events and cuisines, offering experiences such as the Taste of Chicago food festival and neighborhood celebrations like the annual Puerto Rican Festival.
Transportation Systems
New York City Transportation
New York City has an extensive and complex public transportation system, consisting of the subway, buses, and commuter rail. The subway is the largest and busiest in the United States, with over 400 stations and a daily ridership of millions. Buses are also widely used, providing service to all five boroughs. Commuter rail options include the Long Island Rail Road, Metro-North Railroad, and New Jersey Transit. Despite its size and reach, the New York City transit system is facing challenges, such as deteriorating infrastructure, and a struggle to keep up with the growing demands of the booming city.
Subway:
Over 400 stations
Daily ridership: Millions
Only US rail system among the 10 busiest in the world
Buses:
Service in all five boroughs
Commuter Rail:
Long Island Rail Road
Metro-North Railroad
New Jersey Transit
Chicago Transportation
Chicago's public transportation system is managed by the Chicago Transit Authority (CTA), which operates buses and the "L" train. The "L" is the second-largest rapid transit system in the United States, with eight lines and over 140 stations. It has been able to tackle many of the challenges that have plagued other transit systems, such as those in New York. For instance, Chicago has been more successful in addressing infrastructure issues and meeting the demands of a growing city.
"L" Train:
8 lines
Over 140 stations
Buses:
Extensive network throughout the city
Chicago has shown that effective management and investment in infrastructure can lead to a more efficient and reliable transportation system. Comparatively, New York's transit system is larger and busier, but faces challenges in maintaining and improving its infrastructure. Despite these issues, both cities provide essential public transit options for residents and visitors alike.
Tourist Attractions
Attractions in New York City
New York City offers a wide range of attractions for tourists, including world-renowned landmarks and museums. Some of the most popular destinations in the city are:
Statue of Liberty and Ellis Island: These iconic symbols of freedom and immigration history attract millions of visitors each year.
Central Park: This massive green space in the heart of Manhattan offers numerous activities and beautiful scenery for all ages.
Times Square: Known as "The Crossroads of the World," this bustling, neon-adorned hub is a must-see for any tourist in NYC.
Empire State Building: Visitors can enjoy panoramic views of the city from the observation deck of this historic skyscraper.
Broadway: The world-famous theater district is home to numerous award-winning plays and musicals.
In addition to these highlights, New York City offers a plethora of art museums, such as the Metropolitan Museum of Art, the Museum of Modern Art, and the Guggenheim Museum. The city also boasts a vibrant nightlife scene, with countless bars, clubs, and live music venues to explore.
Attractions in Chicago
While not as densely packed with attractions as New York City, Chicago still offers a variety of unique and memorable experiences for tourists. Some notable attractions in the Windy City include:
Millennium Park: This 24.5-acre park in downtown Chicago features the iconic Cloud Gate sculpture (also known as "The Bean"), the Crown Fountain, and numerous outdoor art installations, making it a perfect stop for art and nature enthusiasts.
Navy Pier: Housing amusement park attractions, restaurants, and museums, Navy Pier is a family-friendly destination that offers entertainment for all ages.
The Art Institute of Chicago: Frequently cited as one of the best art museums in the world, the Art Institute houses an impressive collection of works from ancient to contemporary times.
The Magnificent Mile: Stretching along Michigan Avenue, this shopping district features over 460 high-end retailers, restaurants, and hotels.
Willis Tower Skydeck: Formerly known as the Sears Tower, the Willis Tower Skydeck offers stunning views of Chicago and, on a clear day, four surrounding states from its observation deck.
From its world-class museums to its diverse culinary scene, Chicago has something for every type of traveler. Visitors can also explore the city's rich history, including the architecture of the Chicago School and the legacy of the 1893 World's Columbian Exposition.
Conclusion
New York City and Chicago are both major metropolises with a lot to offer in terms of culture, entertainment, and employment opportunities. Each city has its own unique vibe and attracts different demographics.
In terms of cost of living, Chicago has a clear advantage. The cost of renting a one-bedroom apartment in the heart of Chicago is about half as much as in New York City, and public transportation costs are lower as well. This makes Chicago more appealing to those who are budget-conscious or looking for more affordable housing options.
Both cities have a variety of popular museums, historical sights, and a thriving music scene. New York City might have a slight edge in terms of its renowned Broadway shows and cultural institutions. However, Chicago is also well known for its jazz and blues scene, making it an attractive option for music enthusiasts.
When considering family-friendly activities, both cities have a lot to offer. Chicago boasts numerous parks and a beautiful lakefront, while New York City has its iconic Central Park and world-famous attractions like the Statue of Liberty and the Empire State Building. Each city has its own set of pros and cons for families looking for a new place to call home.
In conclusion, choosing between New York City and Chicago depends on individual preferences and priorities. Both cities are vibrant, diverse, and full of opportunities, but they differ in terms of cost of living and lifestyle. It's essential for potential residents to consider what they value most in a new city to make the best decision for their unique needs.