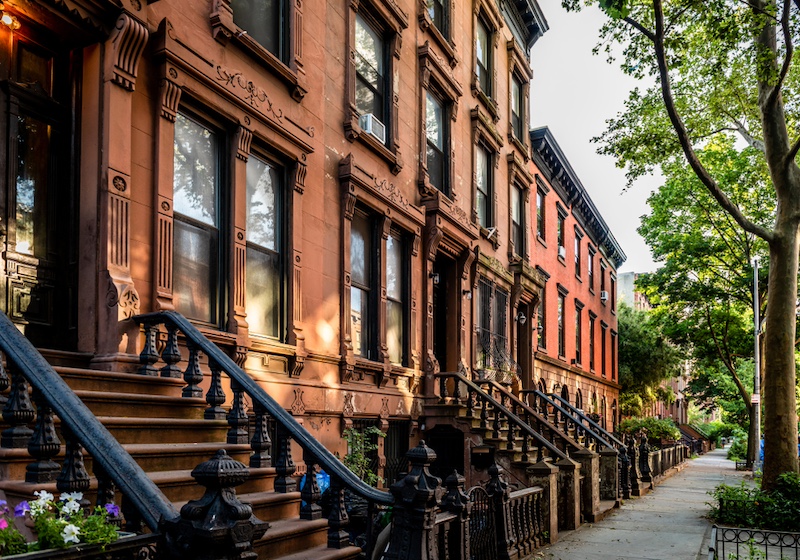 Tinseltown / Shutterstock.com
Brooklyn, one of the five boroughs of New York City, has experienced a significant transformation over the past few decades, becoming a hub for young families, professionals, hipsters, and artists alike. As the most populous borough in the city, Brooklyn offers a vast array of neighborhoods, each boasting its own unique identity and charm. From the trendy streets of Williamsburg to the family-friendly vibe of Park Slope, there is a neighborhood to suit any lifestyle or preference.
Central Brooklyn is home to neighborhoods like Crown Heights and Flatbush, which have a rich cultural history and a strong sense of community. In contrast, Southwest Brooklyn encompasses areas such as Bay Ridge, Bensonhurst, and Sunset Park, providing a diverse blend of residential and commercial spaces. In recent years, neighborhoods like Bushwick and Williamsburg have gained popularity due to their thriving arts scene and eclectic mix of shopping, dining, and nightlife options.
Brooklyn's neighborhoods not only offer residents diverse living experiences, but also serve as cultural melting pots, where people from all walks of life come together to create unique communities. As a result, the borough has become a prime destination for those seeking an authentic New York City experience beyond the glitz and glamour of Manhattan.
Historical Overview
Brooklyn, situated in the southeastern part of New York City, has a rich and diverse history that dates back centuries. Before being settled by Europeans, Brooklyn was inhabited by the Lenape Native Americans. In the early 17th century, Dutch settlers established the first European settlements in the area, which later became known as Kings County in 1683.
Over the years, Brooklyn grew rapidly, and in 1816, the most populous section was incorporated as a village. The area continued to expand, and in 1834, it became a city. During the 19th century, more communities, such as Williamsburg and Bushwick, were annexed to Brooklyn, eventually making it conterminous with Kings County.
Throughout the years, Brooklyn has seen various transformations, from an area dominated by marshes and farmland to the bustling urban borough it is today. Traces of its history can be seen in numerous neighborhoods, each with its own unique character and architectural styles.
In the early 20th century, Brooklyn was famous for its shopping, amusement, and business attractions and even had its own public transportation system, with the establishment of the Brooklyn and Queens Transit Corporation (B&QT) in 1929. This period of growth also saw the construction of many iconic structures, such as the Brooklyn Bridge and the Brooklyn Museum.
Over time, Brooklyn has become a melting pot of cultures and communities, with neighborhoods such as Williamsburg, Crown Heights, and Brighton Beach reflecting the diversity and vibrancy that define the borough. Today, it is home to 2.6 million people and stands as a testament to its rich history, which spans more than four centuries.
Geographical Layout
Brooklyn is one of the five boroughs of New York City, located on the southwestern tip of Long Island. It shares borders with Queens to the north and east, the Upper and Lower New York bays to the west, and the Atlantic Ocean to the south. The borough is divided into numerous neighborhoods, each with its own unique characteristics and history.
The neighborhoods in Brooklyn can be broadly categorized by their geographical region. Some of the major regions are as follows:
Central Brooklyn encompasses neighborhoods such as Crown Heights, Weeksville, Flatbush, and East Flatbush. Central Brooklyn also includes several smaller areas such as Beverley Squares, Fiske Terrace, Farragut, Remsen Village, Pigtown, and Wingate.
The Prospect Park area sits near the heart of Brooklyn, offering numerous recreational opportunities and green spaces for residents to enjoy. Several neighborhoods surround the park, including Park Slope, Prospect Heights, Windsor Terrace, and Prospect Lefferts Gardens.
North Brooklyn refers to neighborhoods located along the borough's northern edge, bordering Queens. This region includes neighborhoods like Greenpoint, Williamsburg, and Bushwick, which have seen significant development and transformation over recent years.
South Brooklyn includes a variety of neighborhoods bordering the Atlantic Ocean and Lower New York Bay. Some popular areas in this region are Brighton Beach, Coney Island, Gravesend, and Sheepshead Bay. South Brooklyn also contains the historic neighborhood of Bay Ridge, known for its picturesque views of the Verrazano-Narrows Bridge and well-preserved residential architecture.
East Brooklyn consists of neighborhoods on the eastern side of the borough, with locations such as Brownsville, Canarsie, and East New York. This area was historically home to many working-class communities and continues to evolve with new development and demographic changes.
These diverse neighborhoods contribute to the rich culture and vibrant atmosphere found throughout Brooklyn. As each area continues to develop and change, the geographical layout of Brooklyn remains an integral part of the borough's unique identity.
Famous Neighborhoods
Williamsburg
Williamsburg is a popular and trendy neighborhood known for its hipster culture, lively arts scene, and a wide variety of dining and drinking options. In recent years, this neighborhood has transformed into one of the most desirable areas in Brooklyn, commanding some of the highest rents across New York City. Williamsburg is perfect for those seeking a vibrant urban lifestyle with a touch of artistic flair.
Coney Island
Coney Island is a well-known neighborhood located along the oceanfront of Brooklyn, famous for its amusement park, iconic boardwalk, and picturesque sandy beach. The area has a rich history filled with entertainment and seaside charm, making it a popular tourist destination. Visitors can enjoy the amusement park rides, grab a hot dog at the iconic Nathan's, or sunbathe on the beach for a quintessential Coney Island experience.
DUMBO
DUMBO, short for Down Under the Manhattan Bridge Overpass, is a scenic neighborhood boasting stunning views of the Manhattan skyline and the iconic Brooklyn Bridge. Once an industrial area, DUMBO has transformed into a vibrant hub for tech startups, art galleries, and trendy restaurants and shops. The cobblestone streets and waterfront parks make it an ideal location for both residents and visitors seeking a picturesque urban landscape.
Brooklyn Heights
Brooklyn Heights is one of the borough's most charming and historic neighborhoods, featuring elegant brownstones, tree-lined streets, and stunning views of the Manhattan skyline. As the first designated historic district in New York City, this neighborhood is known for its architectural beauty and rich history, as well as its proximity to the Brooklyn Bridge Park. The peaceful atmosphere and elegant architecture of Brooklyn Heights are perfect for those seeking a sophisticated urban lifestyle.
Cultural Highlights
Food and Dining
Brooklyn is renowned for its diverse culinary scene. Visitors can enjoy a wide range of options, from mouthwatering pizza at Di Fara Pizza and Grimaldi's to authentic Mexican cuisine at Casa Enrique. The borough also offers various foodie destinations, such as Smorgasburg, a popular food market showcasing a curated selection of local vendors.
Vegan and vegetarian options: Brooklyn hosts an array of plant-based restaurants, including Champs Diner and Modern Love.
Coffee culture: Cafes like Devoción and Toby's Estate serve up some of the best coffee in the city.
Iconic dishes: Be sure to try iconic Brooklyn foods like an egg cream at Brooklyn Farmacy & Soda Fountain or a bagel with schmear at Bagel Hole.
Arts and Entertainment
Brooklyn is a hub for arts and entertainment, with its many museums, galleries, and music venues. Highlights include:
Brooklyn Museum: Housing an extensive collection of art, this museum offers something for everyone, from Egyptian artifacts to contemporary works.
Street Art: Neighborhoods like Williamsburg, Bushwick, and DUMBO feature impressive displays of street art, including the popular Bushwick Collective.
Live Music: Music lovers can catch a show at venues such as Brooklyn Bowl, Elsewhere, and Rough Trade.
| Venue | Address | Type |
| --- | --- | --- |
| Brooklyn Bowl | 61 Wythe Ave | Music Venue |
| Elsewhere | 599 Johnson Ave | Music Venue |
| Rough Trade | 64 N 9th St | Record Store and Music Venue |
Sports And Recreation
For those looking to stay active while exploring Brooklyn, the borough offers various sports and recreational opportunities.
Brooklyn Bridge Park: This waterfront park boasts basketball courts, soccer fields, and playgrounds, as well as stunning views of the Manhattan skyline.
Prospect Park: Designed by the creators of Central Park, this green oasis features walking trails, a large lake, and the iconic Prospect Park Carousel.
Cyclone Roller Coaster: For a thrilling experience, take a ride on the historic Cyclone at Coney Island's Luna Park.
In summary, Brooklyn offers a rich cultural experience for visitors, with diverse dining options, engaging arts and entertainment, and numerous sports and recreational activities.
Transportation
Subway System
Brooklyn is served by an extensive subway system, connecting residents to various parts of the borough as well as Manhattan and other parts of the city. The New York City Subway map provides a clear overview of the available lines and stops, helping individuals navigate the network with ease.
Major subway lines serving Brooklyn neighborhoods include the 2, 3, 4, and 5 trains. For example, Crown Heights residents have easy access to these lines and benefit from less crowded commutes compared to Manhattan. However, large coastal enclaves in south Brooklyn may experience limited transit access, with greater distances to subway stations.
Biking
Biking has become a popular means of transportation in Brooklyn, with many young professionals, artists, and others embracing it as an alternative to public transit or driving. The borough has seen an increase in biking infrastructure, such as:
Dedicated bike lanes on streets
Bike-sharing systems, like Citi Bike
Bike-friendly public spaces and parks
Neighborhoods like Williamsburg and Bushwick have become particularly well-known for their biking culture, offering residents a convenient, healthy, and environmentally friendly way to commute.
Education
Public Schools
Brooklyn is home to a diverse range of public schools, which are managed by the New York City Department of Education. The borough is divided into 12 districts, numbered 13 through 32. Each district offers various educational opportunities for students, from elementary to high school. The schools in Brooklyn strive to maintain racial diversity, though only 20% of them are considered racially representative.
Some well-regarded public schools in Brooklyn include:
P.S. 321 William Penn, located in Park Slope
Millennium Brooklyn High School, situated in Park Slope
Edward R. Murrow High School, found in Midwood
To find a specific school by address or name, refer to the New York City Department of Education's Find a School search tool.
Universities
In addition to its public schools, Brooklyn is also home to several universities and higher education institutions. These universities provide students with access to quality education in a wide range of disciplines.
Some notable universities in Brooklyn include:
Brooklyn College, a part of the City University of New York (CUNY) system, offering undergraduate and graduate programs in liberal arts, sciences, and professional studies
Pratt Institute, a private college with programs in architecture, design, art, and liberal arts
St. Joseph's College, a private institution with a strong liberal arts tradition, offering undergraduate and graduate degrees
Living close to these institutions in Brooklyn neighborhoods like Greenpoint provides students with the accessibility they need to attend classes and enjoy the lively artistic and cultural scene that the borough has to offer.
Real Estate
Residential Areas
In Brooklyn, there are several popular residential areas with varied housing options. Some well-known neighborhoods include Bedford-Stuyvesant and Crown Heights, which offer homes for sale at average prices of $923,370 and $940,461, respectively.
Residential properties in Brooklyn consist of various types, such as:
Houses
Townhomes
Multi-family dwellings
Condos and co-ops
Apartments
These homes can range in price, with options like a 2-bedroom, 1-bathroom apartment in a desirable location being listed for $395,000.
Commercial Areas
Brooklyn also boasts thriving commercial areas, featuring a diverse mix of retail and office spaces. In these bustling neighborhoods, businesses can find ample opportunities to establish or expand their presence.
Some notable commercial districts in Brooklyn include:
DUMBO (Down Under the Manhattan Bridge Overpass), known for its tech and design companies
Red Hook, which offers a mix of retail and dining establishments alongside industrial properties
The available commercial real estate in Brooklyn varies from expansive warehouses to modern office buildings. With a strong and growing economy, Brooklyn remains an attractive option for businesses looking to invest in this dynamic borough.
Community Services
Brooklyn neighborhoods offer a variety of community services to cater to the diverse needs of its residents. This section highlights some of these services, including hospitals and healthcare, public facilities, and parks.
Hospitals And Healthcare
Brooklyn is home to several hospitals and healthcare facilities providing essential medical services to its residents. Some notable hospitals in the area include Brooklyn Hospital Center, Kings County Hospital Center, and Maimonides Medical Center. These hospitals offer a wide range of services, including emergency care, surgical procedures, and specialized care. In addition to hospitals, Brooklyn neighborhoods have numerous local clinics and private practices to cater to various medical needs in the community.
Public Facilities
Public facilities in Brooklyn neighborhoods aim to serve and support residents through various means. Brooklyn Community Services is one such organization that offers over 50 award-winning programs across 28 locations. This organization empowers low-income residents of all ages, providing services ranging from early childhood development to support for senior citizens.
Another notable organization is Brooklyn Neighborhood Services, which focuses on community building and workforce development initiatives for families in the area. They provide assistance in maintaining stable, nurturing environments for children and support for parents seeking employment opportunities.
Parks
Brooklyn is known for its beautiful parks, which offer recreational space and contribute to the overall quality of life in the neighborhood. Some popular parks in the area include:
Prospect Park: Covering over 500 acres, this park serves as a green oasis and a hub for cultural events, sports, and leisure activities.
Brooklyn Bridge Park: A waterfront park that offers stunning views of the Manhattan skyline, sports fields, playgrounds, and a range of recreational activities.
McCarren Park: Located between Greenpoint and Williamsburg, this park houses a swimming pool, sports fields, and playgrounds for the community to enjoy.
These parks provide spaces for relaxation, exercise, and socialization, improving the overall wellbeing of the Brooklyn community.