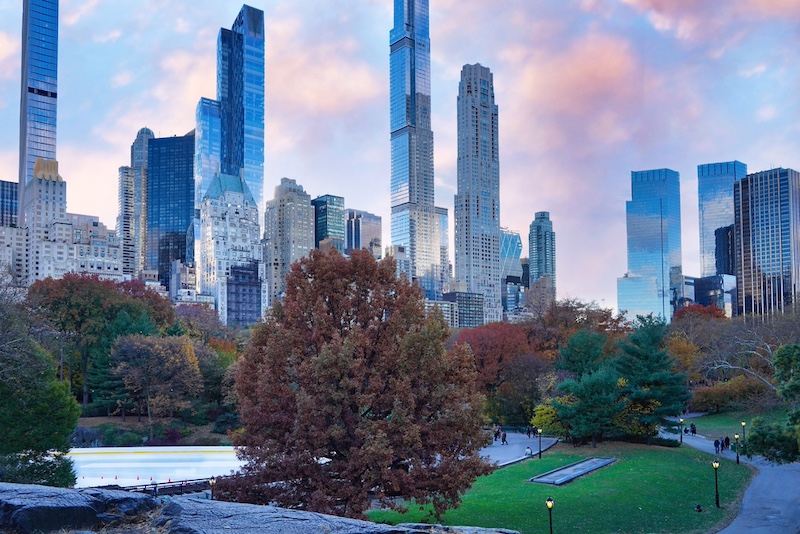 Billionaires' Row refers to a collection of ultra-luxury residential skyscrapers and the surrounding area near the southern end of Central Park in Manhattan, New York City. This prestigious zone has become synonymous with opulence and exclusivity, as it is home to some of the wealthiest individuals. Many of the buildings in this area are considered "supertall," with heights exceeding 1,000 feet (300 meters), and rank among the tallest in the world.
The moniker "Billionaires' Row" extends beyond Manhattan, as it has been applied to several streets or neighborhoods worldwide that feature residences of extremely affluent individuals. Despite its association with wealth and prestige, some areas known as Billionaires' Row have faced challenges in living up to their names. Regardless, these rows continue to attract the attention of luxury real estate enthusiasts, developers, and of course, billionaires.
In this article, we will delve into the history and characteristics of the various Billionaires' Rows around the world. Additionally, we will discuss the architecture, iconic residents, and controversies that have brought both fame and intrigue to these exclusive enclaves.
History of Billionaires Row
Billionaires Row refers to the ultra-luxury residential skyscrapers and surrounding area situated near the southern end of Central Park in Manhattan, New York City. The development and increasing popularity of these high-end residential buildings began in the early 21st century as the city faced an influx of global wealth from investors and wealthy individuals looking for exclusive real estate opportunities.
The architecture and design behind these towers play a significant role in pushing the boundaries of modern advancements. Featuring slender and tall structures, several of these buildings are considered supertall as they exceed 1,000 feet in height, earning their place among the world's tallest buildings. Most of the towers can be found along 57th Street, giving rise to an alternative moniker for the area: "Supertall Row."
Over the years, Billionaires Row has attracted the attention of a diverse clientele, from international billionaires to celebrities seeking high-end real estate options. With each new tower constructed, the design, amenities, and focus on luxury living continue to push boundaries, providing unparalleled panoramic views of Manhattan, top-of-the-line amenities, and a truly opulent lifestyle for those who can afford it.
As a result, Billionaires Row has not only gained a reputation as a playground for the rich but has also served as a symbol of the widening wealth gap in the United States and across the globe. Despite the controversies surrounding some of the skyscrapers, especially concerning their effect on nearby real estate and the city's skyline, Billionaires Row remains a symbol of luxury, aspiration, and architectural innovation.
Significant Landmarks on Billionaires Row
Real Estate Developments
Billionaires' Row, located near the southern end of Central Park in Manhattan, is home to several ultra-luxury residential skyscrapers, setting it apart in the New York City real estate market. A notable development on Billionaires' Row is Central Park Tower, the world's tallest apartment building, offering unrivaled panoramic views of the city from heights exceeding 1,000 feet. This prestigious area includes Central Park South, renowned for housing some of the priciest residential real estate globally.
Historical Buildings
While Billionaires' Row is primarily known for its modern supertall buildings, it also has a number of historical buildings that contribute to the area's unique character. The buildings in the vicinity date back to different eras and architectural styles, showcasing the city's rich history. Many of these structures have been meticulously preserved or adapted to blend in seamlessly with the sleek, contemporary towers surrounding them.
Parks and Public Spaces
One key element that makes Billionaires' Row a highly sought-after location is its close proximity to Central Park. This urban oasis offers residents a peaceful respite from the bustling city, with picturesque landscapes, winding paths, and serene ponds. The presence of Central Park directly adjacent to Billionaires' Row not only elevates the area's value but also provides easy access to recreational opportunities and iconic attractions like the Central Park Zoo and the Bethesda Terrace.
Key Figures of Billionaires' Row
Billionaires' Row is a group of ultra-luxury residential skyscrapers located around the southern end of Central Park in Manhattan, New York City. These buildings not only offer extravagant living spaces but also cater to some of the world's wealthiest individuals. In this section, we will discuss key figures associated with Billionaires' Row, focusing on the number of billionaires and their collective net worth.
The buildings in Billionaires' Row are mostly located along 57th Street, and many of them fall in the supertall category, with heights greater than 1,000 feet (300 m). This makes them among the tallest buildings in the world, providing their residents with unparalleled views of the cityscape and Central Park.
As for the residents themselves, it is difficult to pinpoint the exact number of billionaires living in these towers due to privacy concerns and the possibility of properties being owned through trusts or corporations. Nevertheless, it is safe to say that several billionaires do call Billionaires' Row home.
In a broader context, the number of billionaires worldwide has been on the rise. According to Forbes, the 35th annual World's Billionaires List for 2021 has registered a record 2,755 billionaires, a significant increase of 660 from the previous year. Cumulatively, their net worth amounts to $13.1 trillion, up from the previous year's collective value.
This growth in the billionaire population has undoubtedly contributed to the demand and development of ultra-luxury residential projects such as those found in Billionaires' Row. The properties in this exclusive enclave are known to fetch record-breaking prices, reflecting the colossal wealth of their potential occupants.
To summarize, while it is challenging to provide an exact figure for the number of billionaires residing in Billionaires' Row, it is evident that the area caters to an increasing population of the world's wealthiest individuals. The stunning architectural marvels of these supertall buildings, coupled with their prestigious location, make them a highly desirable choice for those with immense financial capabilities.
Economic Impact
The wealth of the world's billionaires has increased significantly amid the pandemic, with their combined wealth rising by $5 trillion. This increase has raised concerns over the widening wealth gap and exacerbated income inequality as millions of individuals struggle with the economic impact of COVID-19 *.
In the United States, for example, the wealth of American billionaires grew by $845 billion by September 2020. This stark rise in wealth is equivalent to the GDP of the Netherlands and is now concentrated in the hands of less than a thousand people *.
The increasing concentration of wealth has significant economic implications. When wealth is concentrated in the hands of a few, it can lead to reduced consumer spending, as the wealthy tend to save more and spend less as a proportion of their income. This reduced spending, in turn, can slow down economic growth and exacerbate existing inequalities.
It is worth noting that the skyrocketing stock market has played a significant role in pushing the net worth of billionaires up by more than $2 trillion since the start of the pandemic *. This unequal distribution of wealth is a persistent issue that stimulates discussions on potential wealth tax implementations and other measures to address the disparities.
To sum up, the continued growth of billionaire wealth in the face of global economic challenges highlights the widening economic disparities and raises concerns about the broader economic impact of wealth concentration.
Cultural Significance
Billionaires' Row, located on the southern end of Central Park in Manhattan, New York City, has gained prominence as a symbol of wealth and luxury in modern culture. This area, known for its ultra-luxury residential skyscrapers, houses some of the world's wealthiest people. Several of these buildings fall under the supertall category, standing taller than 1,000 feet (300 meters), and are among the tallest in the world.
These architectural marvels have not only changed the skyline of New York City but have also significantly impacted the real estate market. The development of Billionaires' Row has created a demand for high-end, luxurious living spaces, attracting an exclusive clientele. Many of these towering residences offer unparalleled views of Central Park and the city, making it a highly sought-after and prestigious address.
From a societal perspective, Billionaires' Row epitomizes the widening income inequality present in cities like New York. As opulence and extravagance become synonymous with this area, it sparks discussions and debates surrounding the concentration of wealth and the impact of these towering symbols of globalization and capitalism on local communities.
In popular culture, the high-profile residents and the luxurious lifestyles associated with Billionaires' Row serve as inspiration for various forms of art, such as music, films, and literature. These lavish residential towers have come to represent modern urban life and stand as monuments to the immense wealth and power that exists within their walls.
In summary, the cultural significance of Billionaires' Row lies in its representation of wealth, luxury, and exclusivity, as well as its impact on the real estate market, urban skyline, income inequality, and artistic inspiration. By fostering discussions around these issues, Billionaires' Row remains a constant source of fascination and relevance in contemporary culture.