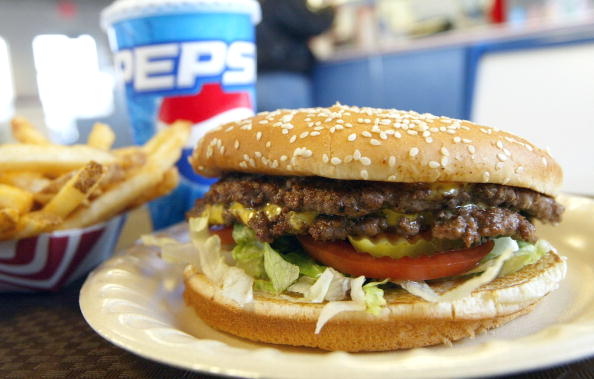 Eating out is a pleasurable experience, one you can share with friends, family or simply sitting at a cafe with a good book. However, it is prudent to note that eating out is not necessarily a healthy habit, especially if you enjoy the 'greasy spoon' type of eatery. Such places pile on inexpensive ingredients such as fats, sugars and salt, knowing that you are accustomed to such flavor, pump up the price, make a sweet profit all the while contributing to your poor health.
Below, we have compiled 20 of the worst fast food offenders in the world of fast food eating today. These offerings were chosen based not only on their high caloric content, but also sodium, saturated fats and trans fats. While having an occasional treat won't do much damage, frequent indulging in the fast food lifestyle can leave you sick, weak and fatigued. Do your research, and carefully study what it is you are eating, as the old adage is most certainly true: We are, exactly what we eat. Keep reading to see the 20 worst fast food items.
(Photo by Justin Sullivan/Getty Images)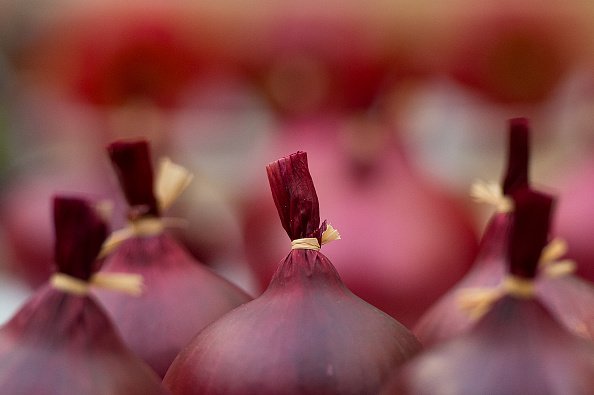 Outback Steakhouse Bloomin' Onion Appetizer
Yes, while it is true that onions are quite good for you, filled with such good things as vitamins and antioxidants, that won't matter so much with this well-loved appetizer. The Bloomin' Onion Appetizer arrives to your table a lovely, crisp golden brown, as its been dipped in a delicious, somewhat salty batter and deep-fried. Not to mention Outback own "Spicy signature Bloom Sauce" is so lush that you really should order extra at the outset. What you get with this appetizer is quite a bit of salt, sugar and fat. The Bloomin' Onion comes in at 1560 calories for the entire appetizer, with each serving of 1/6 having about 324 calories, 26 grams of fat and 22 milligrams of cholesterol. As you'd expect, the sodium is rather high at 642 milligrams. Indeed, not for the timid of spirit, webMD has listed the Bloomin' Onion appetizer on its list of 'health horror foods'.
(Photo by Ben Pruchnie/Getty Images)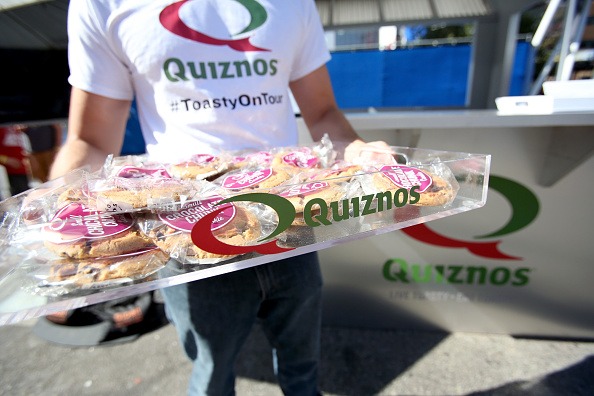 Quiznos Classic Italian Sub 
The Quiznoz Classic Italian Sub, regular size holds between its buns, 870 calories, 420 of which are fat calories. With 85 milligrams of cholesterol, and a quite robust 2440 milligrams of sodium puts the Quiznos Classic Italian Sub in the category of 'unhealthy'. If you like the taste, it might be a healthier option to choose the smaller version of the sandwich. However, there is no easy way around it, as it will still pack a negative one-two punch right to your gut, expand the waist line and work its way up your arteries. Crammed with salty, processed meats brimming with preservatives, such as salami and pepperoni, this sub should only be eaten as a treat, as high sodium levels are associated with high blood pressure and stroke and make it one of the worst fast foods.
(Photo by Jonathan Leibson/Getty Images for Pandora Media Inc)
Carl's Jr. The Original Six Dollar Thickburger, 1/2 lb
If you are in the mood for a killer burger, or indeed a plethora of killer burgers to choose from, then look no further than Carl's Jr. When you enter Carl's Jr. for a burger, don't expect to eat a healthy meal. These burgers are loaded with sodium, calories and fat. The 1/2 pound Original Six Dollar Thickburger is one such animal. With 1/2 pound of burger slathered with two slices of melted American cheese, lettuce, tomato, red onion, pickles, mustard, mayo and ketchup, and 1050 calories per burger, you'd best be hoping you live next to a hospital if you make these a habit. This burger has 650 calories from fat alone with a grand total of 72 grams of fat, 27 grams are saturated fat and 3 grams trans fat. Cholesterol is at 150 milligrams and sodium at 1770 milligrams. An additional 10 grams of sugar has been added to the already present 20 grams of sugar to this burger, which is the equivalent of 5 teaspoons of sugar per serving. This is a highly processed burger with additives that include calcium disodium EDTA, polysorbate 80, yellow number 5, autolyzed yeast extract, and DATEM, among others.
(Photo by Dave Rowland/Getty Images)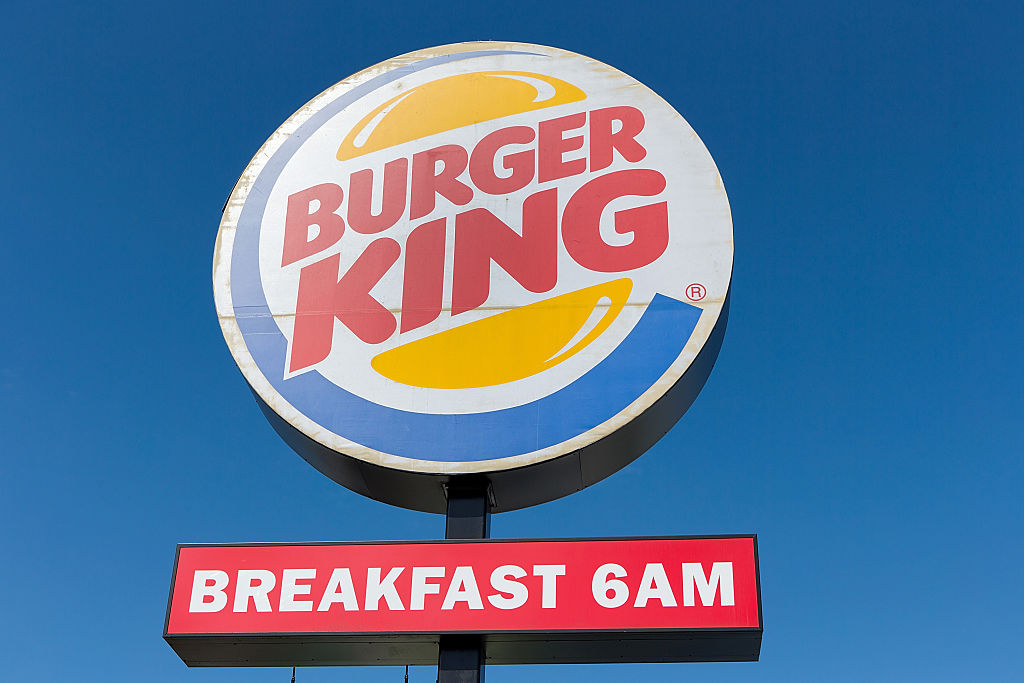 Burger King's Ultimate Breakfast Platter
The Ultimate Breakfast Platter by Burger King is a highly processed, massive mound of sodium, fats, sugars and excess calories. This breakfast platter includes scrambled eggs, hash browns, sausage, one baked biscuit and three pancakes with syrup. This meal has the equivalent of 10.5 teaspoons of sugar, over 50% of your RDA of saturated fat, and DATEM, a rather controversial dough conditioner which some individuals choose to avoid. The Ultimate Breakfast Platter ranks high in sodium, at 2920 milligrams, so take care if you have blood pressure issues. Total caloric intake for this meal is 1450, with 750 calories from fat. Total fat content is 84 grams with 30 grams coming from saturated fats and 1 gram from trans fat, with 505 milligrams of cholesterol. Additional additives you may need to be aware of include artificial flavorings and monosodium glutamate.
(Photo by Dave Rowland/Getty Images)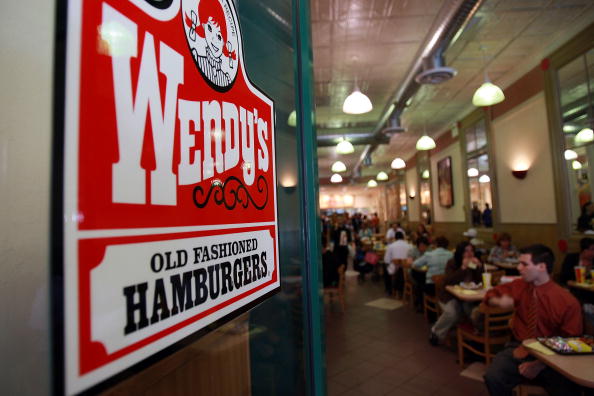 Wendy's Dave's Triple Cheeseburger
The Dave's Triple Cheeseburger from Wendy's is jam-packed full of sodium, calories, cholesterol and fat. At a heart stopping, 1070 calories this cheeseburger is not for the health conscious. Rather, one could say that it is the perfect meal for those planning on a future cardiac arrest. As for fats, it has 650 calories from fat, 30 grams of which are saturated fats, and 4 grams of trans fats. Sodium levels are high for this one at 1930 milligrams, and cholesterol is high at 260 milligrams. In total, with this burger you are eating 63% of your RDA in calories, 98% in fat, 87% in cholesterol and 84% in sodium. Ingredients include a quarter pound of beef, American cheese, lettuce, tomato, red onion, pickles. Additives include polysorbate 80 and benzoate.
(Photo by Spencer Platt/Getty Images)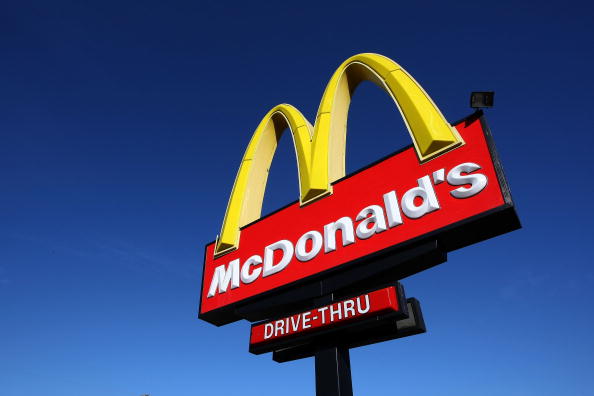 McDonald's Big Breakfast Platter With Hotcakes And A Large Biscuit
If you are looking to start the day right, with load energy and sass, then this is most certainly not the route to take. More than likely you will feel tired, stuffed and perhaps a bit bloated afterwards. McDonald's Big Breakfast Platter comes with hotcakes, a large biscuit, scrambled eggs, and a sausage patty, all of which adds up to a weighty 1150 calories, 68 % of your total RDA. This platter also contains 60 grams of fat and 575 milligrams of cholesterol, which is 192% your daily RDA of cholesterol. If you have high blood pressure, you'd best keep away from this deathtrap, as it has 2260 milligrams of sodium. The entire breakfast platter is one serving and weighs in at 15.3 ounces. That is almost one pound of very unhealthy, processed and hard to digest food hitting your system.
(Photo by Justin Sullivan/Getty Images)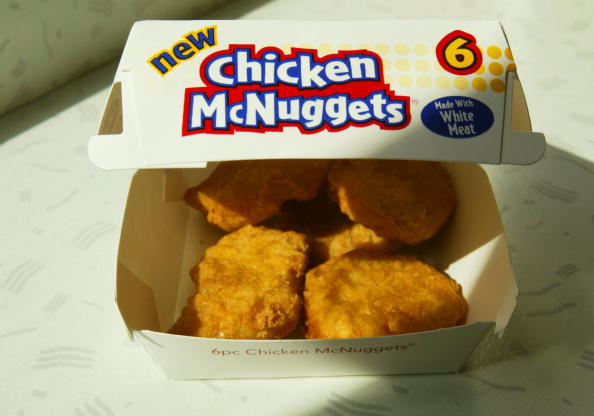 McDonald's Chicken McNuggets (20 piece)
Don't let their cute, snack size fool you, these rubbery little balls of malnutrition are far from healthy. At 890 calories per 20 piece serving, they are artery hardeners in the making. By eating a serving of these little nuggets of death, you will consume 480 calories of fat, 53 grams of which are saturated fats. You'll also get a nice helping of sodium and cholesterol, as they contain 1680 milligrams of sodium and 145 milligrams of cholesterol. Additives that the more health conscious consumers may be concerned about include TBHQ and Dimethylpolysiloxane. While technically one serving is only four Chicken McNuggets, I think that we realize that the reality of anyone eating only four is just simply not in the cards. Most people will inhale way more than four Chicken McNuggets in their sleep. Indeed, in all truth they'll probably eat the entire order.
(Photo by Chris Hondros/Getty Images)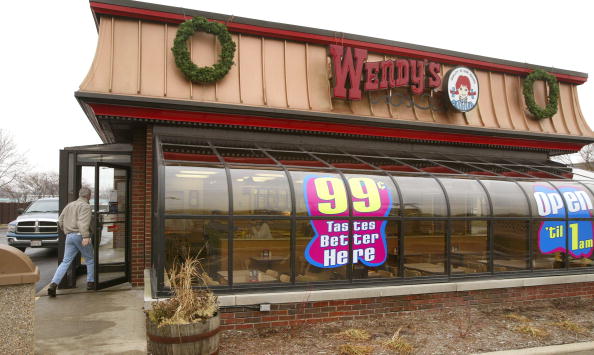 Wendy's Baconator Cheeseburger
The 'Baconator' by Wendy's is a highly processed quarter pound burger made with smoked bacon, whose ingredient list is filled to the brim with additives, and is noted as one of the worst fast foods. Such additives include Calcium Disodium EDTA, which is designed to prolong its shelf life and retain any flavor, you know, just in case the burger is not exactly fresh when served. One serving equals one burger and has quite a beefy calorie count of 950, with a fat count of 62 grams, 24 grams of which are from saturated fats. Just one of these meaty terrors will net you 3 grams of unhealthy trans fats, which are 200% your daily RDA limit, 205 milligrams of cholesterol and a sky-high sodium count of 1860 milligrams. So yes, you probably will feel a bit stuffed and puffy after downing the cheesy Baconator. If that is not enough, you also get the equivalent of 2 teaspoons of sugar in this burger. The smoked bacon has additional additives such as sodium nitrite, sodium phosphate and sodium eryhthobate. Take care here and read up on your additives, as additives such as sodium nitrite have been shown to have negative effects on people's health, including affecting oxygen circulation and increasing the risk of cancer.
(Photo by Tim Boyle/Getty Images)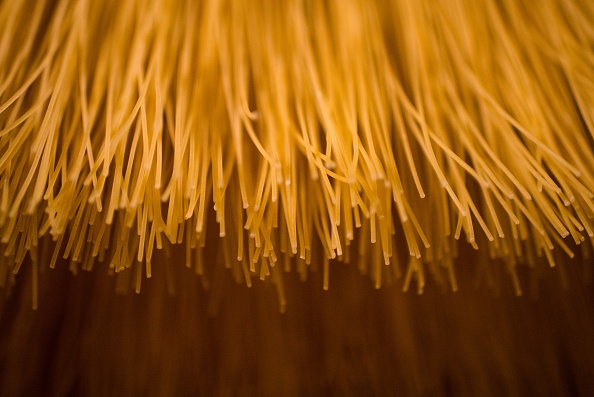 Olive Garden's Tour of Italy Pasta
I know what you're thinking, how delicious a massive plate brimming with sauces, pasta and meat would taste. If that sounds right up your alley, then head on over to Olive Garden. Olive Garden's Tour of Italy Pasta is designed for the pasta lover who enjoys thick, rich ingredients awash in robust Italian flavor, which this provides. It also provides an excess of calories, sodium and saturated fats. Just one serving of the Tour of Italy Pasta dish is 1520 calories, with 860 of those calories coming from fats. Total fat content for the 'Tour' is 96 grams with 48 grams coming from saturated fat. This means that the The Tour of Italy Pasta dish contains 282% of your RDA of saturated fats, plus 1.5 grams or 100% RDA of your trans fat allowance, and this is so not good for your overall health, specifically your circulatory system. For those watching their cholesterol take heed, for you get 340mg or 113% of your daily allowance of cholesterol, too much of this and they'll be scraping out your carotid arteries in a few years. The sodium count will knock your socks off at soaring 3250 milligrams. This meal includes lasagna, breaded chicken parmigiana and fettuccine Alfredo. All of this is bathed in a beef and Italian sausage meat sauce.
(Photo by David Ramos/Getty Images)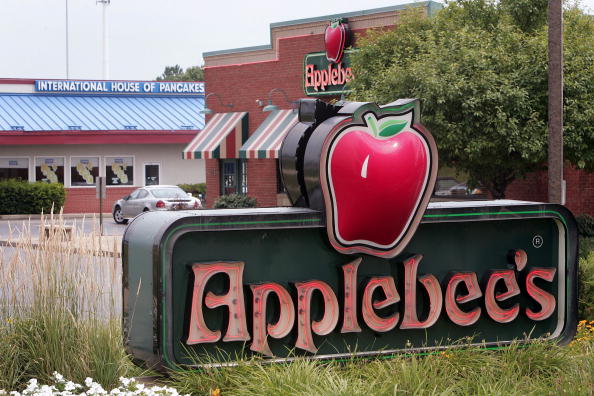 Applebee's Quesadilla Burger
The Quesadilla Burger by Applebees's is not for the one for the faint of heart, or those with high blood pressure concerns. If you could sum up the Quesadilla Burger in one word, it would be 'stuffed', because that is what it is. The Quesadilla Burger is composed of processed, preservative filled bacon, cheddar cheese, and pepper jack cheese. They then take this fat laden quesadilla and pack it tightly with a beef burger. The entire meal is then complimented with Applebee's own Mexi-ranch sauce and a side order of fries. As an interesting side note, the sodium level for this burger is so high, at 3,390 milligrams that the Center for Science in the Public Interest (CSPI) named Applebee's Quesadilla Burger a "prime candidate for Applebee's Don't-Have-a Stroke (on our property) Special". Thats not all, as sodium isn't the only issue. You also have to contend with 1430 calories, 106 grams of fat, with 47 grams saturated and 2 grams trans fat. So, if you do have this for dinner, make a plan to spend the evening hitting on the couch, and feeling a little puffy-eyed and maybe a bit bloated.
(Photo by Scott Olson/Getty Images)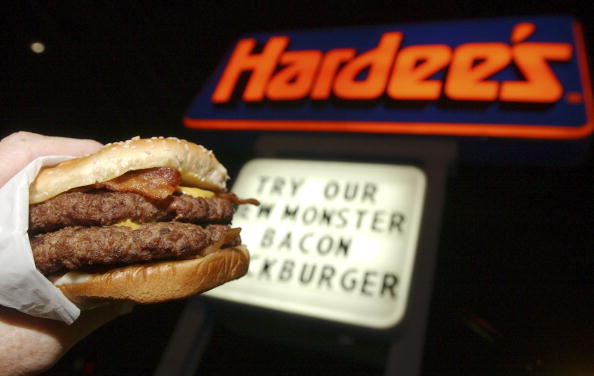 Hardee's 2/3 LB Monster Thickburger
Hardee's 2/3 LB Monster Thickburger is just what the name implies, a monster of a burger that stands two greasy beef patties deep, drowning in three melting slices of artery clogging American cheese, and four processed bacon strips. When you add it all up, it's 13.6 ounces of fat, sodium and unnatural chemical additives. Just one of these highly processed burgers contains 1330 calories, with 860 fat calories, 95 grams of fat with 35 grams being saturated fats. Cholesterol levels hit the roof at 215 milligrams, with sodium a towering 2820 milligrams per serving. If that is not bad enough, the added sugars accumulate to around 3 teaspoons of sugar per burger, or 11 grams. As far as additives go, Hardee's 2/3 LB Monster Thickburger contains artificial flavors, sodium stearoyl lactylate, and MSG-like ingredients such as yeast extract, autolyzed yeast and hydrolyzed proteins. So individuals who are sensitive to MSG should think twice before indulging in this monster.
(Photo by Erik S. Lesser/Getty Images)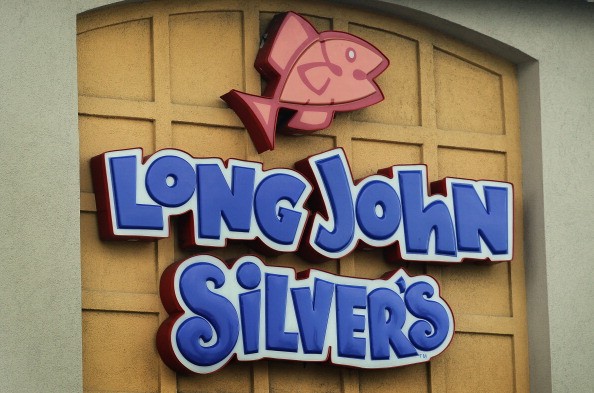 Long John Silver's 2 Piece Whitefish Fillet Combo
When we usually think of fish as a meal, 'healthy' often comes to mind. After all, fish are filled with necessary fatty acids. Indeed, many people take fish oil capsules just for that benefit. However, in all truth, it is how the fish is prepared that matters, and in the fast food world jungle, if its meat you might as well fry it. Long John Silver offers fish lovers a combo that many cannot refuse, but depending on their individual health issues, perhaps should. Long John Silver's takes their fish and breads it in a tasty, but rather salty batter, then combines the fish with a meal option called a combo. The combo includes a side order of fries and one medium drink of choice. All told, this meal, including the drink, fetches about 2,140 milligrams of sodium and hits the mark at 1,230 calories. For those concerned with food additives, the batter is made with MSG.
(Photo by Scott Olson/Getty Images)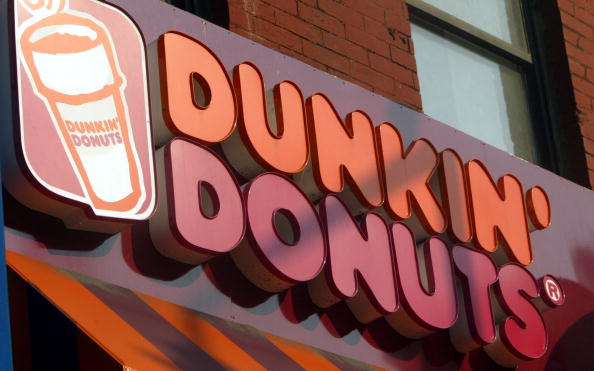 Dunkin Donuts Sausage, Egg & Cheese on Biscuit
This breakfast meal from Dunkin' Donuts will more than likely leave you feeling stuffed, tired and puffy afterwards instead of feeling vibrant and energized. This is a highly processed breakfast meal which means it contains different additives to prolong its shelf life, such as potassium sorbate, BHT and MSG. Calorie-wise its 680 calories, which is pretty steep for just one bagel. The calories from fat content are 440, with 49 grams of fat total, 21 grams being saturated fat, and .5 grams trans fat. Cholesterol level is high as well, with 215 milligrams, and sodium is a steep at 1560 milligrams. Additional food additives for the Dunkin' Donuts Sausage, Egg & Cheese on Biscuit include propylene glycol, calcium propionate and sodium aluminum phosphate, to name a few. While it may be a convenient breakfast grab at the train station on your way to work or school, it might be more prudent to make a nice healthy breakfast at home instead.
(Photo by Mario Tama/Getty Images)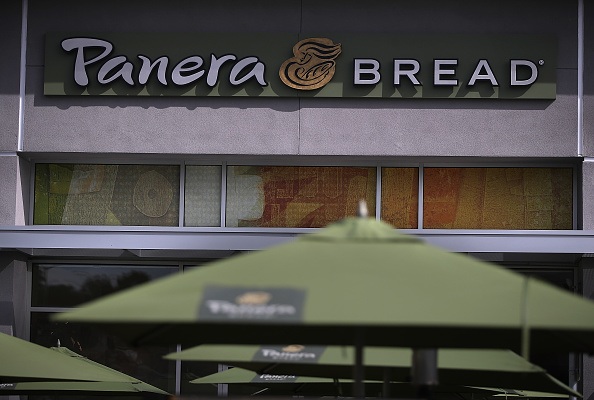 Panera Bread's Mac & Cheese – Large Size
Mac and cheese is one of those food combinations that most people have grown up with, and still enjoy. Panera Bread put their own spin on this time-honored, simple and fun comfort food by developing the Panera Bread Mac & Cheese meal, which comes in different size variations. The large size has 950 calories per serving with 29 grams of fat and 2 grams of trans fat. Cholesterol is high at 150 milligrams as is the sodium level at 2200 milligrams. If you have sensitivities to MSG, then be aware that Panera Bread Mac & Cheese contains yeast extract, which is considered an MSG-like substance and may cause similar effects, such as headaches and fatigue. This is a delicious convenience food to be sure, but one that may make you feel puffy and bloated due to the high levels of sodium.
(Photo by Justin Sullivan/Getty Images)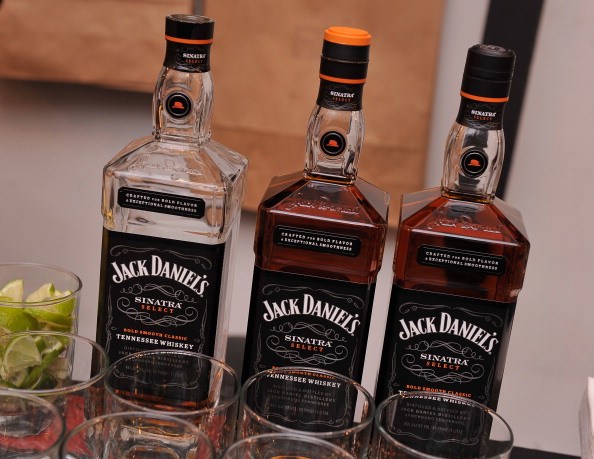 TGI Friday's Jack Daniel's Ribs & Shrimp
Most people are very familiar with the entertaining atmosphere and excellent service offered at their TGI Friday restaurants. One of the more popular dishes is the Jack Daniel's Ribs & Shrimp dish. An order of TGI Friday's Jack Daniel's Ribs & Shrimp contains a full rack of baby back port ribs, which have been grilled and seasoned generously with Cajun spices. It is then glazed with TGI Fridays signature Jack Daniels sauce. The ribs are accompanied with battered and fried butterfly shrimp and a side order of fries. While presented well, there is no denying the fact that this meal is not for the best of your health. First, it is high on saturated fats, calories and sodium, with 1730 calories per order/serving, 74 grams of total fat content, with 22 grams of that being saturated fat. Saturated fats are quite dangerous as they are responsible for the thick build up of bad cholesterol in our blood vessels over the years, which leads to heart disease and stroke. The sodium level is the real shocker here at 4140 milligrams, which is about 180 percent of your RDA for sodium.
(Photo by Stephen Lovekin/Getty Images for New York Magazine)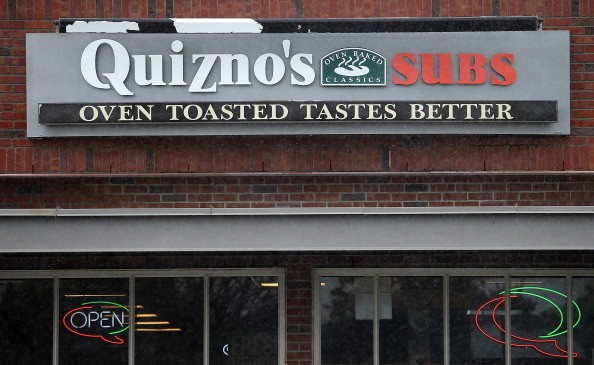 Quiznos Tuna Melt with Cheese and Dressing Sub, Large Size
Who does not love a great tasting sub sandwich? Indeed, there is sometimes nothing like stopping for a thick, substantial and tasty sub chock-full of your favorite ingredients, on your way home from work, school or play. One such sub is the Quiznos Tune Melt with Cheese and Dressing. The Quiznos Tuna Melt with Cheese and Dressing is delectable and delicious to be sure, but it is also not exactly healthy eating. As you can choose how your Tuna Melt is made, ingredients may differ, but the basic design of the sandwich is tuna, cheese, vegetables and dressing. Calories for a large are approximately 1,760 with total fat content at 133 grams, 25 grams of that saturated fat and 1.5 grams trans fat. Cholesterol is high at 200 milligrams, and sodium is way up there at 2,120 milligrams. Keep in mind that when you purchase a sub sandwich, these numbers can change, and often for the worse if you decide to add options such as extra meat, bacon, cheese, guacamole or bread.
(Photo by Justin Sullivan/Getty Images)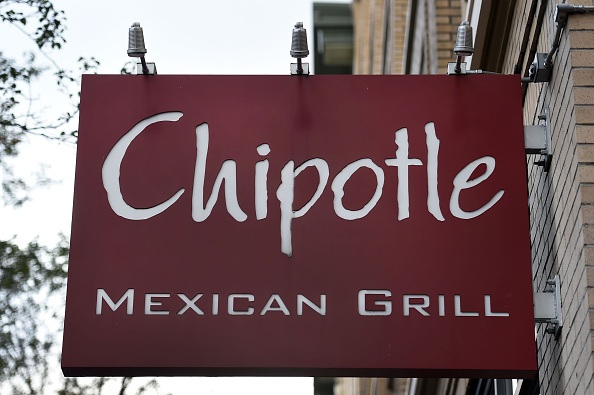 Chipotle's Carnitas Burrito
If you are not familiar with the word 'carnitas', it simply refers to bits of pork which has been simmered in oil until tender. The Carnitas Burrito by Chipotle is one where you combine your Carnitas with ingredients of your choosing. Chipotle allows you to add and take away ingredients via its website to see just what it is you will be eating, which is a great idea. As these Carnitas Burritos are made unique to taste, we'll go with a basic blend to test out the level of calories, fats and sodium. Remember, your Carnitas Burrito may vary. If we were to construct a Chipotle Carnitas Burrito with a flour tortilla, carnitas, white rice, pinto beans, fresh tomato salsa, sour cream, cheese and guacamole the numbers would add up fast. Calories for the entire burrito would average 1350 per serving, calories from fat would be 595. Total fat content is a whopping 65.5 grams, with 23.5 grams being saturated fat. Cholesterol is 135 milligrams, and sodium is high at 2750 milligrams. The Carnitas Burrito from Chipotle is an artery clogger to be sure, and also an invitation for a stroke to come to call, so choose your ingredients with care, and don't press your luck.
(Photo by Steve Dykes/Getty Images)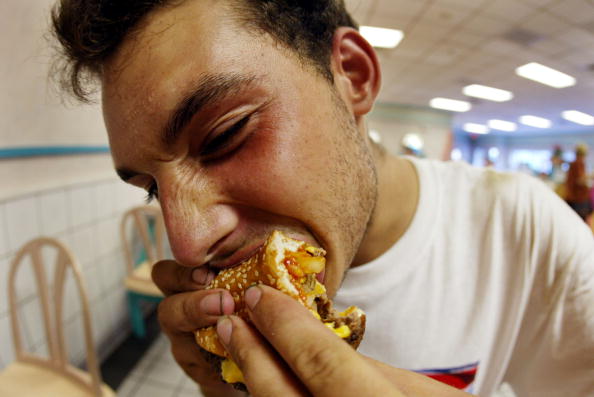 5 Guys Bacon Cheeseburger
The Bacon Cheesburger offered up by 5 Guys is not only heavy on the sodium and fats, but is also a highly processed food additives. The Bacon Cheeseburger by 5 Guys may have a nice taste, but make sure you can handle all the sodium. This burger is made with bacon processed with sodium nitrite, sodium phosphate and sodium erythorbate, along with 4.5 grams of added sugars which is the equivalent of 2.5 teaspoons of sugar per serving. Overall calories are 920, with 560 of those calories coming from fat. Total fat content is 62 grams and 29.5 grams are saturated fats. Cholesterol is 60% your RDA at 180 milligrams, and sodium for this burger is high at 1310 milligrams. Additional additives include Sorbic acid as a preservative, apocarotenal and annatto for color. As you can plainly see, it relies heavily on chemicals to keep its freshness, while not immediately dangerous, it is something to consider for the health conscious individual.
(Photo by Joe Raedle/Getty Images)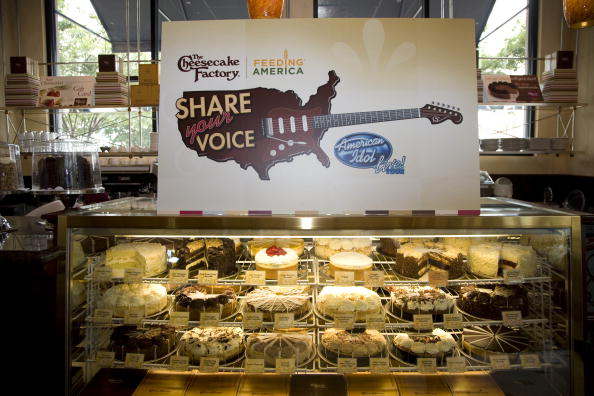 Cheese Cake Factory Chocolate Tower Truffle Cake
Cheese cakes are not exactly on the top of anyones list for a healthy food choice, and the Chocolate Tower Truffle Cake from the Cheese Cake Factory is no exception. The Chocolate Tower Truffle Cake by the Cheese Cake Factory is a heart pounding portion of a dessert that is high in calories, sodium and saturated fat. Described as having 'layers and layers of fudge cake and chocolate truffle cream and chocolate mousse', there is no doubt this is going to hit hard on the arteries. However, if you are going to treat yourself, why not go all the way? Each slice of the Chocolate Tower Truffle Cake has 1680 calories and 49 grams of saturated fats, that is 288% of your total RDA for saturated fats. Sodium levels are up there at 970 milligrams. While it is an intense desert, indulging once in a while might not be an issue.
(Photo by Roberto Westbrook/Getty Images for The Cheesecake Factory)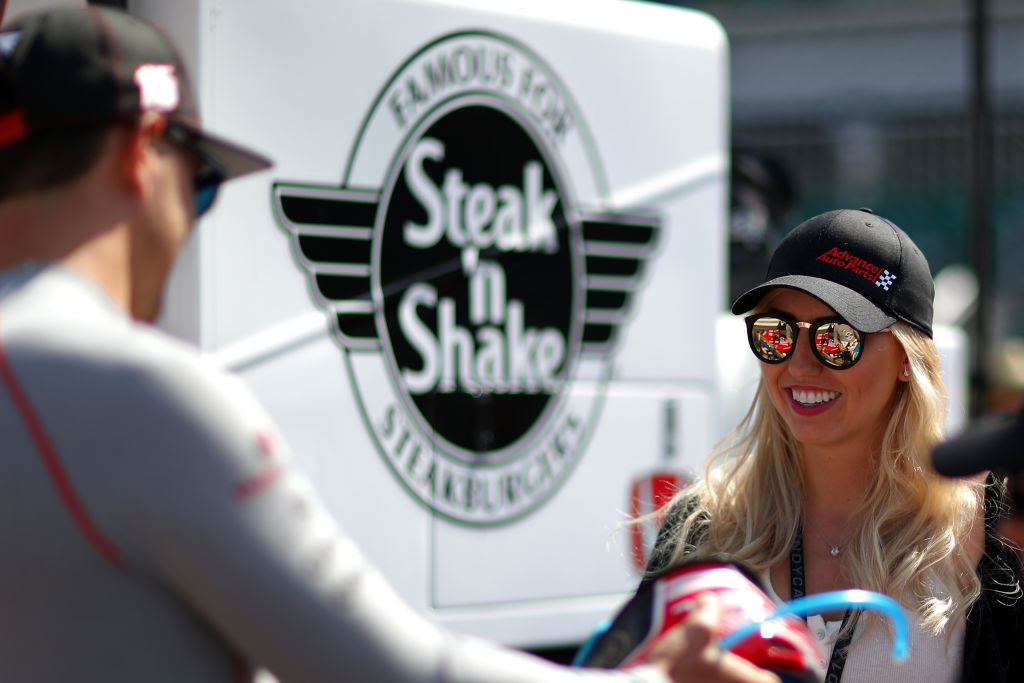 Steak n' Shake 7X7 Steakburger 'n Fries
Usually only offered during the night-time hours at select Steak n' Shakes, the 7×7 Steakburger by Steak n' Shake is a monster of a burger, with 7 beef patties stacked up one on top the other with 7 slices of cheese in between each burger, and one of the worst fast foods to consume. It's not a big as you might think, as the patties are not huge, but it still comes across as a carnivores dream. As you would have guessed already, a burger with 7 beef patties is going to rack up some mad calories, fat and sodium. According to the official Steak 'n Shake website, the 7×7 Steakburger has 1800 calories total, with 1170 from fat for a fat content of 135 grams, 62 grams of which are saturated fats and 3 grams are trans fats. Cholesterol smashes the through the roof at 390 milligrams, and sodium is a towering 4060 milligrams. Let me repeat that for those who have health concerns such as high blood pressure or possible cardiac conditions: 4060 milligrams of sodium. Let that sink in. This is indeed a sloppy and greasy dish, making it every burger lovers dream.
(Photo by Chris Graythen/Getty Images)