Your curb appeal can have an enormous impact on not just your enjoyment of your home but also the value of your home on your local real estate market. As a result, you want to make sure that your landscaping is as pleasing as possible by using all of the tools at your disposal. Flowers are a popular choice for excellent reasons, ranging from their brilliant colors to their infinite possibilities. However, you need to exercise considerable care and caution when choosing flowers for your landscaping because not all flowers are suitable for all properties, whether because of their colors, their appearances, their hardiness, or something else altogether.
Here are 10 types of flowers that you should be using for your landscaping:
1. Roses
Roses are a landscaping classic. This is because of both their beautiful appearance and their famous fragrance. As a result, roses seem like natural centerpieces for their surroundings, but it is important to note that a lot of cultivars bloom for more than a few weeks, meaning that it might be better to use them as accents instead. With that said, it is important to note that there is an incredible number of rose cultivars out there, meaning that you can count on finding something suited to your needs and circumstances so long as you are willing to search for it. Most packets of rose seeds cost somewhere around $5, and by choosing the right cultivar, you can minimize the time and effort needed to get them to grow.
2. Geraniums
Geraniums might not be as prestigious as roses, but they are popular nonetheless. In main, this is because they bloom throughout the summer, thus ensuring long-lasting usefulness. Combined with the fact that they come in a riotous range of colors, they are a great landscaping tool if you want to experiment. Best of all, geraniums are relatively hardy flowers, meaning that you can get your $5 packet of geranium seeds growing with minimal time and effort.
3. Petunias
Petunias are another great choice for experimenting because of the versatility provided by their colors as well as their cultivars. Something that is particularly true because they can continue blooming into the fall with the right care and attention, though it should be noted that there is a limit to how much cold they can take. As a result, so long as you choose the right cultivar, you can count on them being long-lasting adornments for your landscaping, thus providing great value relative to their low cost.
4. Violets
If you want to add some violet to your landscaping, there is no better choice than violets, which are not just pleasing to the senses but also easy to grow because of their hardiness. Furthermore, violets are renowned for their pleasing smell, which is why some people like to cultivate them for more practical uses as well. Since these flowers tend to grow low to the ground, you should consider using them to border your beds instead of forcing them into the center, but since you can buy packets of seeds for around $5, you should not hesitate to set up something suited to you instead.
5. Vincas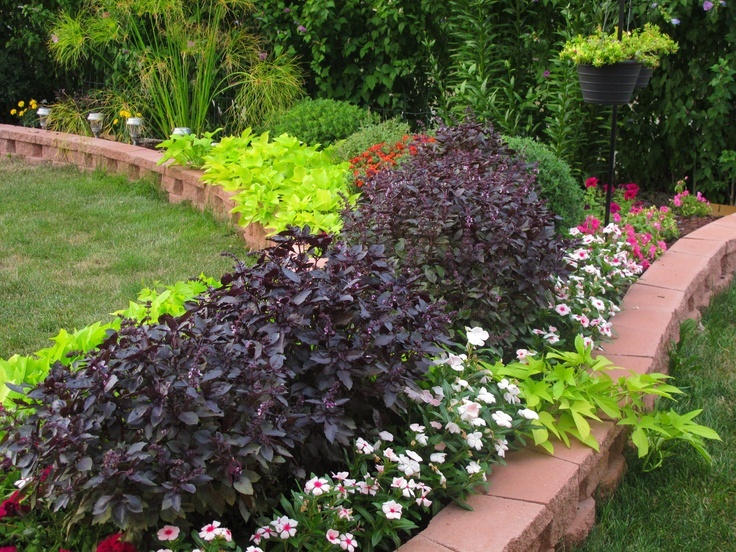 Vincas are a useful way to create a little ornamentation for the borders of your landscaping. This is because they are an annual flower that happens to be remarkably low-maintenance. In fact, it is interesting to note that vincas actually see common use as ground-cover because they grow so quickly and so low to the ground. Unsurprisingly, vinca seeds cost little to buy and grow.
6. Impatiens
A lot of flowers need plenty of sun. In contrast, impatiens are considered to be shade-tolerant, meaning that they are useful for lending some color to the base of trees as well as other plants that tower over them. They are particularly true because some cultivars are annual, meaning that you can count on their service throughout much of the year. Impatiens seeds are even cheaper than some of the other choices mentioned here, which is all the more convenient when combined with the fact that impatiens are relatively easy to care for.
7. Zinnias
With that said, some flowers shrivel up when exposed to too much sun, meaning that they are not suitable for planting in such locations. Fortunately, if you want something to fill up those locations, you can use zinnias, which are capable of soaking up lots and lots of sunshine with no deleterious effects whatsoever. Naturally, zinnias are cheap, hardy, and easy to grow, which combine with their gorgeous blooms to make an excellent choice for your landscaping.
8. Blanket Flowers
If you live in a dry climate, you should consider growing blanket flowers, which are tolerant of both heat and drought. When used to border beds, they can highlight other plants sharing the same spaces, thus providing color while also enhancing the appearance of the landscaping as a whole. With that said, they are not particularly long-lived plants, but since they are both affordable and simple to care for, that should not be too big of a problem.
9. Veronicas
Veronicas tend to shoot up, meaning that they are a great choice for a position of prominence in your landscaping, particularly since they come in such a vivid shade of blue. Better still, they are low-maintenance perennials, meaning that you should get more than enough value out of their affordably priced seeds. By planting them, you can count on your landscaping becoming that much bolder throughout the summer and the early fall with its brilliant color.
10. Sage
Technically, the sage used as ornamental plants is not the same as the sage used as herbs. However, it is interesting to note that their flowers are edible, meaning that you might want to give it a try if you are interested in that sort of thing. Regardless, sage combine blossoms with healthy-looking stems of green, meaning that they are an interesting choice for landscaping filler if not necessarily as centerpieces in their own right. Combined with their affordable hardiness, it is no wonder that it is such a popular perennial.