No killing people and no stealing and other laws to that effect are typically pretty good laws. Few people will argue with those as they pretty much encompass all things you should not do. But there are some cities (and states) across the US that have instituted some laws that might make you raise an eyebrow with their silliness. In fact, I'm willing to bet that most of you (myself included) are hardcore criminals if you go by the offenses that some cities consider illegal. Read on to find out some of the most insanely bizarre laws in US cities and add up the number of heinous crimes you've committed over the years.
Photos by Getty Images
Tucson – No Spurs in Hotels
So let's go ahead and go out on a limb here and say that the cowboys in this particular Arizona city might not be happy about this law. If they were spurs inside a hotel lobby, they could get into a lot of trouble with the law. It is strictly forbidden and can result in several different circumstances. So at the end of the day, you need to take off your boots and walk barefoot through the lobby when entering and exiting your hotel. Because that is far less disgusting and gross than just wearing the boots.
Photos by Getty Images
Southington, Connecticut – No Silly String
There is a strict – and silly – law in this Connecticut town that absolutely forbids anyone use or have silly string. And this has been a strictly enforced law for about two decades now. It's considered dangerous and officials and law makers do not want to see what kinds of awful things could potentially happen in their apparently very safe little town if someone were to carry around silly string and create dangerous and hilarious situations. Good thinking, law makers.
Photos by Getty Images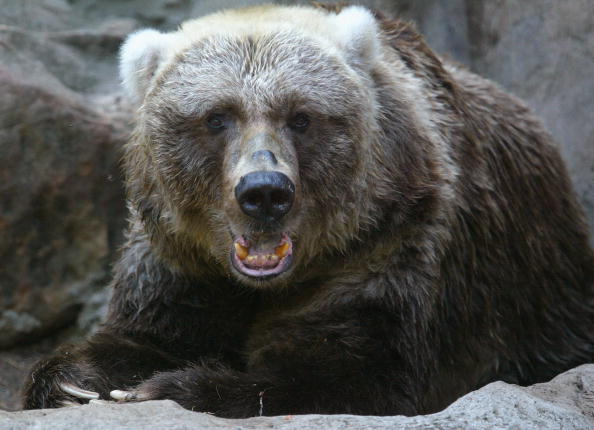 All Alabama Cities – Bear Wrestling is Prohibited
So if you want to wrestle a bear for the hell of it, you're going to want to do it somewhere other than Alabama. Because this is the one state in the country in which it is illegal to wrestle a bear for any purpose. Two thoughts on this one that are my own; I don't think this is a silly requirement. I think this is probably a great requirement. But at the same time I don't think it needs to be a law. I think it's just common sense; you see a bear, you do not wrestle the bear. But that leads me to this; how many people wrestled bears here to the point that it was turned into a law?
Photos by Getty Images
All North Carolina Cities – You may Not Sing Off-Key
Well, I guess I'm going to jail. Every time I'm in North Carolina and my favorite music comes on the radio, I sing very loudly. And I'm off-key every single time. As someone who cannot carry a tune, it's illegal for me to open my mouth and sing along. I guess cops around here like to hang out in karaoke bars to get their monthly quota. Because I know it's not all Mariah and Whitney up in those places after a few libations.
Photos by Getty Images
Las Vegas – No Pets on the Strip
If you bring your pet on the strip in Las Vegas, you are a horrible person. The law makers and officials here will take you straight to jail. There is, after all, little room on the strip for anything but gamblers, drunks and hookers looking to make a quick buck. We'd say that there are probably drug dealers out here, too, but that would be illegal like having a dog on the strip, so there are obviously none of those around. Don't break this law, people.
Photos by Getty Images
All Connecticut Cities – Cheating at Games is a Felony
As a whole, cheating at games is not nice. But if you cheat on a game in Connecticut, it's considered a felony. So you better watch out who you are hanging out with and teach your kids that games are meant to be played fairly at all times or they'll end up in front of a very serious jury who will sentence them to some serious jail time. For cheating at a game; because that's what the law should be prohibiting.
Photos by Getty Images
All Arizona Cities – No Cutting Cactus
If you dare cut cacti in Arizona, you will be in a lot of trouble. It's considered illegal for many reasons, but we don't care why it's illegal. We care that if you even think for one second that you can just landscape or take care of your own lawn, you will be in heaps of trouble. That's not entirely true, truth be told. We have no idea if it's illegal to cut your own personally purchased and planted cacti or if it's just illegal to cut this stuff in the wild. Either way, it might be best to just keep from cutting the cacti.
Photos by Getty Images
All Texas Cities – You May Not Sell Your Eyeballs
If you're hard up for a little cash and looking for a side job, you can do just about anything you want. But you may not, under any circumstances, sell your eyeballs. You can give them away, but it would be illegal to sell them. I guess law makers around here "see" something that we don't about the number of eyeballs being sold for profit. I mean, really, who wouldn't have gone there with that one. See, what eye am saying? I can't stop. I'm sorry.
Photos by Getty Images
Cleveland – No Patent Leather Shoes in Public
Officials in Cleveland have put a strict ban on women wearing patent leather heels in public. It's illegal because it might allow others to catch a glimpse of what is under their skirt, and that would be awful. So for the sake of keeping women safe and  not at all violated, officials decided to just shove them in jail if they wear shiny shoes in public rather than trying to take care of perverts and creeps that walk the streets in this busy city.
Photos by Getty Images
All Wyoming Cities – No Buffalo Control
If you attempt at any time to control a buffalo in Wyoming, it will be big trouble for you. You cannot, at all, even attempt to control one of these animals as it would be considered awful and illegal. So keep your buffalo at home and make sure you're not trying to boss them around at all. If they tell on you for being bossy, it's your behind that's going to have to explain that to the cops while they buffalo laugh. I mean, I can't even write this one with a straight face.
Photos by Getty Images
All Rhode Island Cities – No Dying Ducks
I'm sorry to say, all people who love colorful water foul, but if you even think for a second that you are going to dye a duck or any other bird that lives in the water any color other than it's natural color, you are going to jail. You can color your own hair, your kids' hair or anyone else's hair, but you may not color the feathers of a duck. They must age naturally and with grace, not with artificial coloring that might allow them to look a bit younger.
Photos by Getty Images
All North Carolina Cities – No Unmarried Couples in Hotels
Talk about old-fashioned rules; if you pretend to be a married couple in a North Carolina hotel when checking in, it's considered illegal. But the good news for cheaters and adulterers is that there is not, that I was able to find, any stipulation that states you have to be married to one another when you check into a room in this lovely state. So as long as you are married, but not acting as if it's to one another, you are probably safe and good to go.
Photos by Getty Images
Rocky Hill, Connecticut – No More than Four Games per Arcade
Family fun day is not going to be easily found in any Rocky Hill arcades. Due to strict gaming laws in this city, you will not find more than four electronic arcade games in any arcade, which means lines are long for the few that are present. You might want to take up something else fun for the family on a weekend day, such as a picnic in the park. There are no rules as to how many plates you can have out there or how many jump ropes are allowed at one time for the kids.
Photos by Getty Images
Waterbury, Connecticut – No Noises While Cutting Hair
Perhaps someone was thinking about how much they like the peace and quiet when they have their 'hair did' and came up with this one. There will be absolutely no humming, singing or other noise making when you are cutting or coloring someone's hair in a salon. You may speak to your customer, but you may not speak to them in anything that sounds even remotely song-like. So the next time you want to tell someone you like big butts, think again. That would be illegal.
Photos by Getty Images
Flint, Michigan – No Butt Cracks or Underpants Showing
Flint is considered one of the most dangerous cities in the country, but they do have one thing going for them. This city decided to put an 'end' (hahaha! Get it?) to men and boys wearing pants that show their underpants and/or behind cracks. You show this off with baggy pants and it's a fine for you, buddy. We can't say this is a silly law, because it's not. But it does seem like the fashion police have more of a say here than the actual police. We don't hate that, though.
Photos by Getty Images
All North Carolina Cities – Bingo has a Time Limit
If you love bingo, you are not in luck in North Carolina. If you consider playing a game that lasts more than five hours, you will be in a lot of legal trouble. It's considered against the law for any bingo games to last this long, and anyone caught violating this law will be faced with legal issues and fines. So there will be no world record breaking bingo playing here, people.
Photos by Getty Images
Paulding, Ohio – Police May Bite Dogs
Dogs are often put down when they bite a human as it is considered dangerous. But if a police officer in Paulding, Ohio decides that a dog needs to be calmed down and nothing else works, he may bite the dog to calm him down. It makes sense; when a dog is acting erratic and dangerous, you would want to stick your face as close to its body as possible and actually bite down. That will likely calm the dog right down. This act certainly will not infuriate the dog even more. Not a chance. Really.
Photos by Getty Images
Gainesville, Georgia – No Eating Fried Chicken with Utensils
We all love a good old-fashioned piece of fried chicken, right? Right; but if you live in Gainesville, Georgia, you better eat that chicken with your fingers. If someone catches you eating it any other way, it's considered highly illegal and is punishable by law. We cannot even express to you how illegal this is, and we are disappointed in anyone eating fried chicken with anything but their fingers. Really, coming from the south, it should be illegal to do this everywhere.
Photos by Getty Images
Quitman, Georgia – Chickens may Not Cross the Road
If ever you've wondered why the chicken crossed the road, you were not wondering about a chicken in Georgia. That would be quite illegal. In fact, chickens here are not permitted to cross the street. Do not ask me what kind of punishment or discipline they will face if they do, however. I just report the laws, I don't make the laws. If you happen upon a chicken crossing a road in Quitman, you should call the law immediately. I'm sure they have nothing else on their plates so they can drop what they're doing and come handle the law.
Photos by Getty Images
All Rhode Island Cities – No Selling Toothpaste and Toothbrushes to the Same Customers on Sundays
For whatever reason, Rhode Island officials have determined that the biggest issue of crime in their area is the fact that evil criminals with nothing good in mind are buying toothpaste and toothbrushes together, and it must be stopped. But, only on Sundays. Apparently, those with oral hygiene concerns may only purchase these things together Monday thru Saturday. Doing so on Sunday is illegal since people clearly plan to use these items in a criminal manner – like a brush with death, perhaps. I couldn't. Really.
Photos by Getty Images